The internet can be cruel and unforgiving. And Bianca Devins, a teen from New York, U.S., experienced this first hand. And also in person even after her death.
Devins was just a recent high school graduate, a student at Mohawk Valley Community College with a dream of getting a degree in psychology in order to help people with mental illness.
She was stabbed to death in Utica, a city in the New York State, on July 14, 2019, shortly after attending a concert in New York City. The case gained made headlines around the world, simply because pictures of Devins' deceased body were shared on the internet by the killer.
It was speculated that Devins was killed by an online stalker.
But after investigations, Oneida County District Attorney Scott McNamara revealed that the prosecutors believe Devins was murdered by an someone she actually knew.
It was believed that Devins even had a romantic relationship with her killer.
The name is Brandon Clark. He was 21-years-old when he murdered Devins.
Clark killed Devins after accompanying her to the concert for Nicole Dollanganger, a Canadian singer-songwriter and artist that is known for her music that frequently pertain sexuality, violence, sexual violence, BDSM, poverty, self-harm, eating disorders, loss and struggles with mental health.
Related: Grant Amato's Case, And The Murders Because Of Obsessing A Bulgarian Webcam Model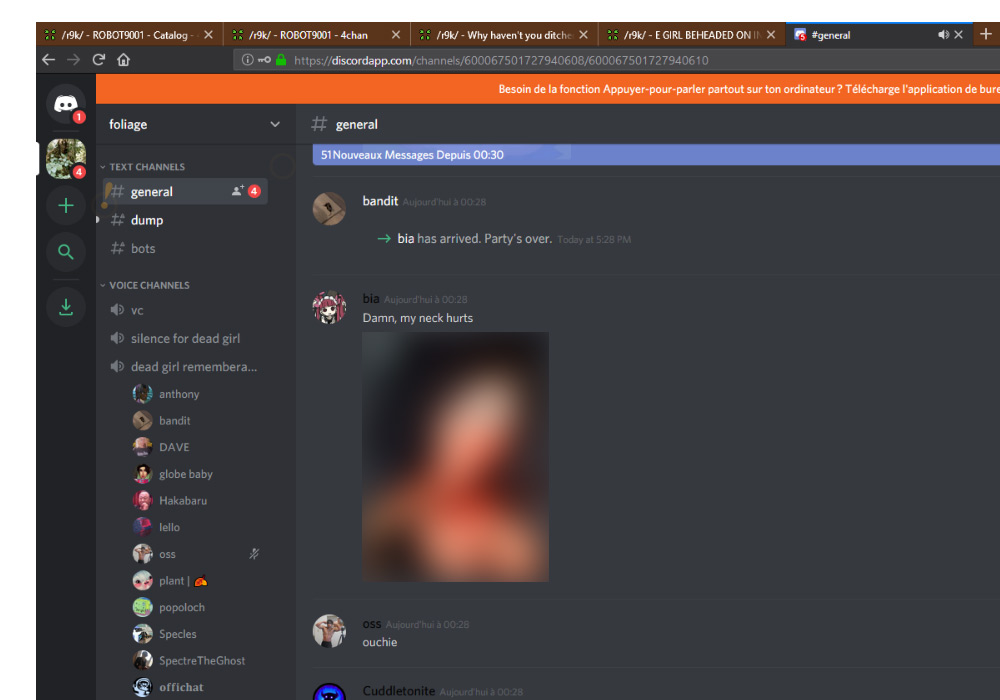 One of Devins photos after the murder (blurred). The photos were first shared on Discord, before spreading elsewhere on the internet.
It all began when Bianca Devins met Brandon Clark on Instagram earlier in 2019.
After keeping their communication strictly on the platform, they started meeting in person months later. At that time, Clark attended Devins' graduation party. They quickly became friends, but Devins was also quick in realizing that Clark "wanted more" than just a friendship.
Clark often referred to himself as Devins' boyfriend despite her saying otherwise.
It was found that Clark was obsessed with Devins, that his internet history was full on her. Clark searched for her name, and frequently checked her social media accounts, and also saved many of her photos.
Clark that seemed to be Devins' stalker, grew up in an unstable family, where he experienced seeing his father abusing his mother. At one point, Clark was forced to being placed in state foster care. But still, Devins' mother described Clark as "charming" and "polite".
As for Devins, she too had experienced some rather dark past.
She was said to have struggled with mental illness that include depression, anxiety, borderline personality disorder, and post-traumatic stress disorder. These were the result of her strained relationship with her father.
Due to her illness, she was reportedly seeking refuge in online communities, where she can share and befriend with people.
Places she frequently spent online, include platforms like Discord and 4chan.
According a mental-health counselor Devins once confided with, Devins had fantasized about injuring herself by jumping off a roof.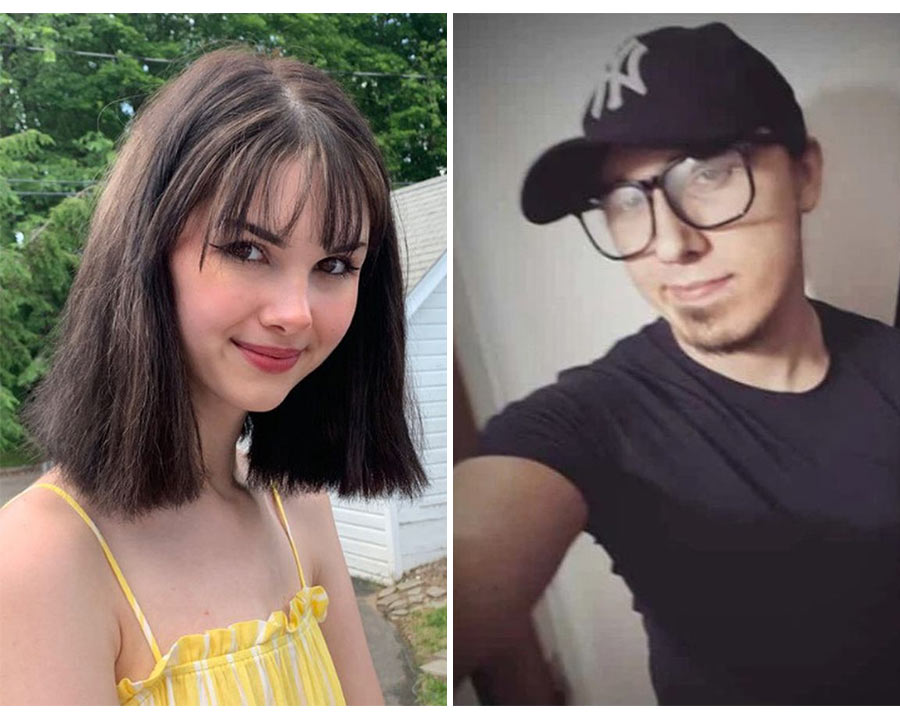 Bianca Devins (left), and Brandon Clark (right).
One day, Devins and Clark was on their way to the concert and met another friend named Alex.
After smoking marijuana in Clark's car, the three went to Dollanganger's concert. It was during that time that Clark saw Devins kissed Alex. This angered Clark.
When the concert ended, Devins slept in the back on Clark's car. Clark who was jealous, tried to make Devins explain why she kissed Alex. Devins apologized, but said that they were in an open relationship, meaning that they were non-monogamous.
Clark that had his anger peaked, began assaulting Devins, and eventually repeatedly sliced her neck with a knife he hid behind his seat.
Fatally wounded, Devins died.
After the gruesome act, Clark posted pictures of her dead body on Discord. As if taunting Devins' male followers on the platform, Clark posted them with the caption:
"Sorry fuckers, you're going to have find someone else to orbit."
Shortly after Clark uploaded the footage to Discord, others started sharing it on messaging boards, as well as on Instagram, with the hashtag #RIPBianca. The gruesome murder was documented on the web, and went viral for anyone to see at the time.
Quickly, the Oneida County Dispatch received numerous calls informing them that a man posted a murder on a social media site, saying that he was also threatening to harm himself.
Just when The Utica Police Department began an in-depth search for the two, Clark called 911 and made incriminating statements. Just like what the police has received from reports, Clark was suicidal at the time.
"My name is Brandon, the victim is Bianca Michelle Devins, I'm not going to stay on the phone for long because I still need to do the suicide part of the murder-suicide," he said in the 911 call.
After determining that the call came from Poe St in Utica, officers were dispatched to the wooded area.
The officers found a black SUV parked in the quiet area, with a man lying on the ground beside it.
Related: Teenager Allegedly Murdered His Neighbor For The Sake Of TikTok Content
When the officers approached the man with caution, and asked where the woman was, the man said that beneath the tarp, was the female he killed.
This was when they found a colored tarp not far from the SUV where they were standing. The officers were alarmed after they noticed protruding brown hair from beneath the tarp.
And it was indeed beneath the tarp, that the officers saw that Devins suffered extensive injuries to her neck, which almost decapitated her.
After thinking that the man was unarmed and when the officers were focusing on what was beneath the tarp, that Clark took out his smartphone. it was at this time that it's believed he took photos with Devins by laying across her deceased body.
"I'm sorry Bianca," the caption on the since-deleted photo reads.
Before the officers realize what was going on after that, the man almost immediately began stabbing himself in the neck with a knife.
His life was saved after being transported to St. Elizabeth's Hospital by the emergency care unit that arrived soon after. Clark's life was spared after he underwent emergency surgery.
At first, the police believed that Clark was angered, probably due to jealousy. But after seeking for evidence from the crime scene, they found that Clark actually had planned to murder her, as the police recovered duct tape, knives, rope and other tools at the scene of his arrest.
The police also found what seems to be a suicide note at his relative's home.
It was reported that the police also found another message near Devins' deceased body, which reads: "May you never forget me".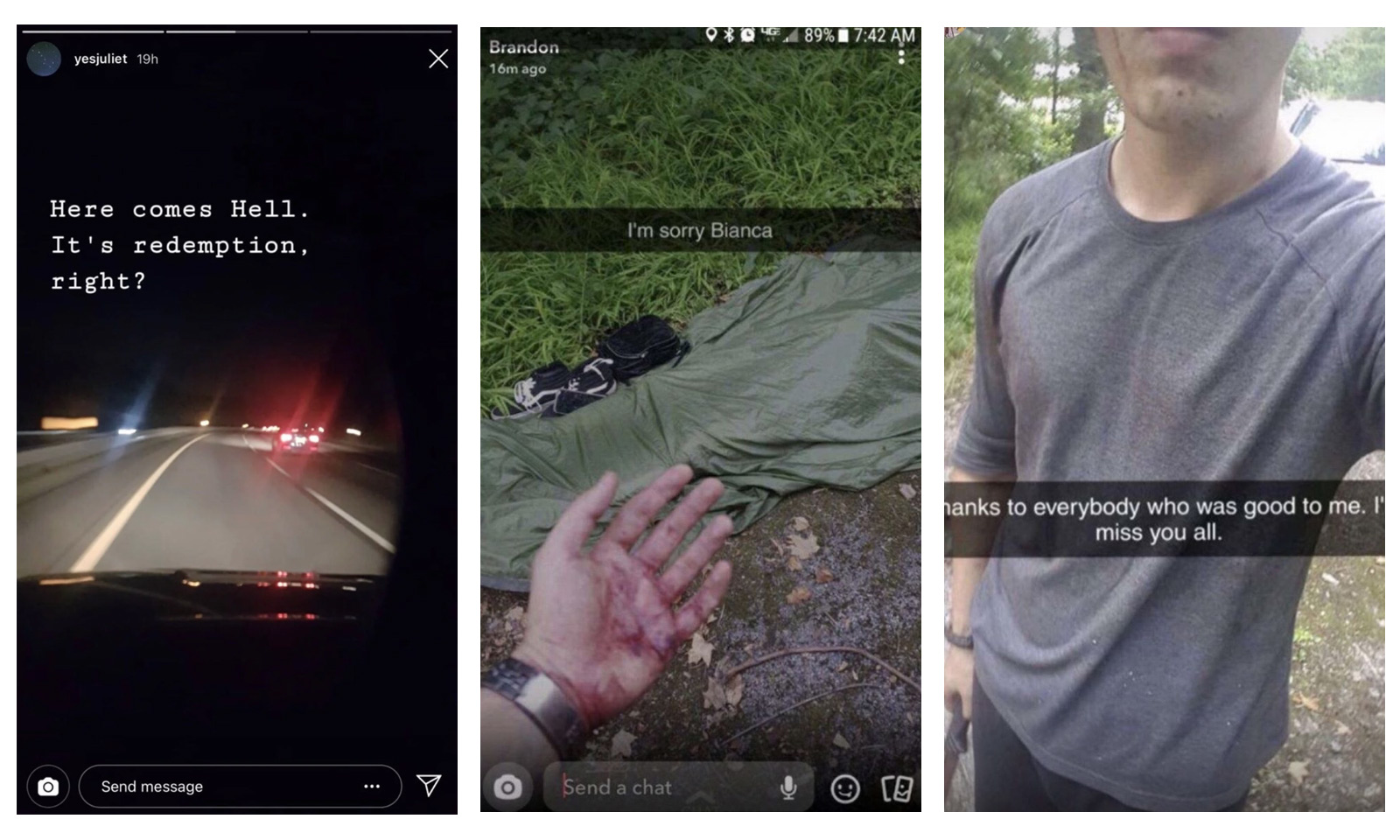 The moment Clark made for himself, before and after murdering Devins.
In the wake of Bianca Devin's death, her photos continued to spread.
This made social media companies, most notably Facebook, to block Clark's account on both Facebook and Instagram to contain the spread. It also created signatures for the photos to prevent them from being shared, and also blacklisted the hashtag #yesjuliet.
As for Discord, it was forced to unplug the server where Devins' deceased body was shared.
Despite the attempts, people kept on spreading the gruesome photos.
The authorities, Devins' family members, and even Nicole Dollanganger herself asked people to stop sharing the photos. But yet again, the internet can be unforgiving.
Hundreds of social media accounts, both old and new, started claiming that they have all of the photos, and asked people to follow their accounts first and spread the word, if they want to see the pictures. It also spread fast on sites like 4chan.
In other words, Devins' death was exploited on the internet.
Bianca's mother Kim has lobbied for social media platforms to amend their policies in order to stop the spread of such gruesome photos.
Kim and the rest of the family were relieved by the guilty verdict, which stopped a trial, which would have included the video footage Clark took.
"[We're] relieved," said Kim. "I'm glad we don't have to go through the trial."
"I'm grateful he has chosen to plead guilty. Bianca did not deserve this, she did not deserve this,' said Devins' grandfather, Frank Williams.
Wearing an orange outfit, Brandon Clark appeared in court on September 30, 2019. A scar from the wound when trying to commit suicide is seen on the right part of his neck.
Devins was said to be a social media influencer.
Among other reasons, most of Devins' fame came after her death not only happened because of her gruesome death, but also because of her 'e-girl' influencer status, where she often referred herself to as a cute and innocent girl.
But it was later suggested that her fame was caused by the many publications by the media. News may have exaggerated the case, and the teen's notoriety, which in turn made her followers counts to skyrocket.
Murder that is publicized on the internet, is said to be one the ways for the murderer to generate attention and generate fame. Flaunting crimes in nothing new, and the internet (social media, forums and so forth), allow the deranged murderer to amplify the message.
This is almost similar to the murder that was orchestrated by the "Snapchat Queen" in 2016.
Investigator Peter Paladino said that Clark murdered Devins in order to differentiate himself from the other "beta orbiters". Oneida County Assistant District Attorney Sarah DeMellier claimed Clark has told "different people in his life different reasons why he did what he did".
For the murderer, this can give the feeling of having control. As a man, the murderer may feel a boost in masculinity that is connected to his social status.
On July 29, 2019, Brandon Clark, the murder suspect, faces 25 years to life in jail after he initially pleaded not guilty to second-degree murder.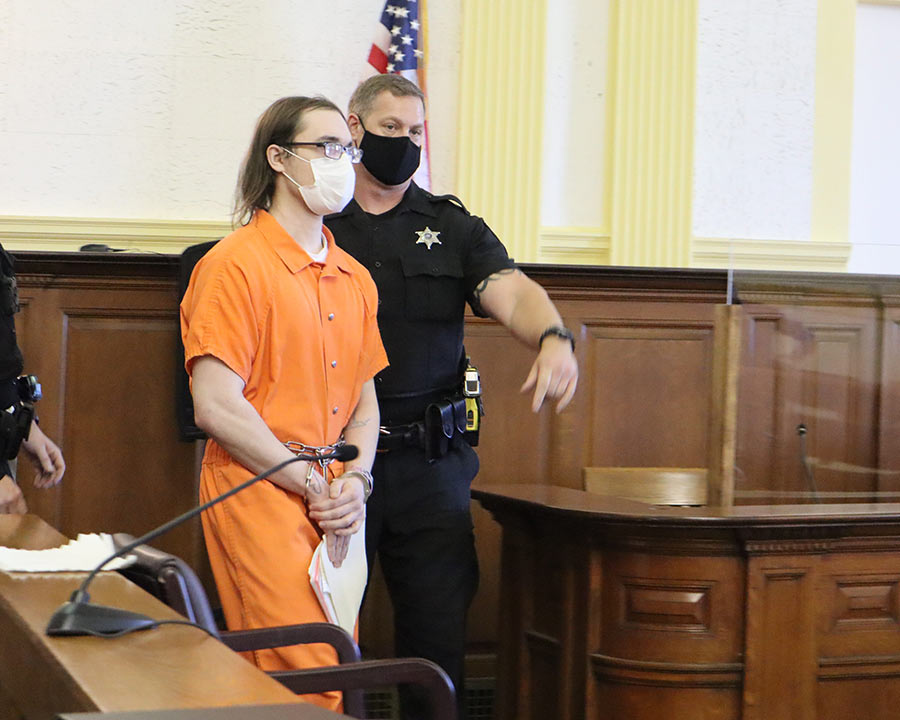 Wearing an orange outfit and face mask, Brandon Clark appeared in court on October 14, 2020.
With the sentencing commence for months, delays happened because of the 'COVID-19' coronavirus pandemic.
Then in June 2, 2020, Clark filed a notice to withdraw his guilty plea. This happened after Clark told the court that he started reading books about laws and started reviewing his own case. Displeased with his previous lawyer, Clark was allowed to get another lawyer.
And later for the second time, due to the coronavirus pandemic and the increase in virus cases across the U.S., the New York court systems are again limiting in-person court appearances.
This means the scheduled sentencing of convicted killer Brandon A. Clark in Utica has been adjourned for the second time due to COVID-19.
Devins' mother criticized the prosecution for portraying him as a "manipulative monster", that after it was reported that Clark's browsing history included searches on how to find the carotid artery, which is the artery that branched out directly from the aorta, which carries oxygen-rich blood to the brain via the neck.
There were also searches about how to incapacitate or kill someone, and searches about how to choke and hang someone.
The mother believes that Clark had planned to murder her daughter all along.
On September 21, 2020, Brindisi and Devins' family introduced "Bianca's law".
The family proposed a legislation to require all social media networks with more than $10 million in revenue and more than 100,000 monthly users to establish an office dedicated to identifying and removing violent content that violates their moderation standards.
While Clark pleaded not guilty, he did reportedly expressed remorse in court.
"I think I need to realize what I did I can't undo, as much as I want to … I apologize to all the people that knew and loved her. I apologize to everybody affected by this, to everybody who had to see that horrific picture of her. I know sorry is not enough and it won't take back what I did. I wish I had more to give," Clark said.
Bianca Devins was only 17 when she died. Her funeral took place on July 19, 2019.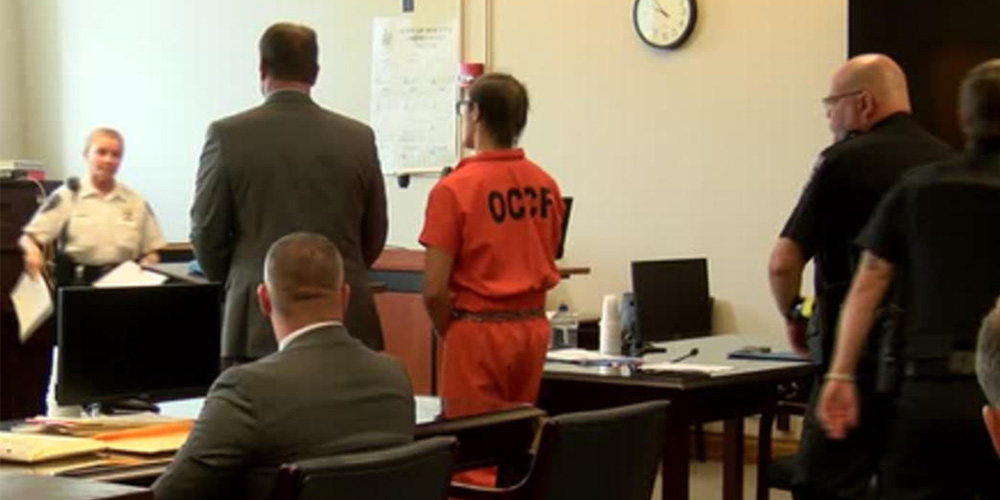 Brandon Clark wearing an orange outfit during his sentence on March 16, 2021.
In March 2021, Clark who was responsible for the gruesome death Bianca Devins has been sentenced to 25 years-to-life in prison.
Clark who is a Cicero native, appeared in court after pleading guilty to the second-degree murder a year earlier.
"I hate myself for what I did to her. I don't understand how I could do something like that," he said addressing his regrets to himself, at the court in Utica. "I hate myself for what I did. I'm so sorry I put everyone through this. I'm so sorry that I put Bianca through this."
Devins' family was present for the sentencing, speaking beforehand.
Sister Olivia who appeared at the court, is 17, the same age as Bianca when she was killed.
She said that she kept seeing photos of her sister in the most gruesome conditions posted by unknown people. She even had to delete her social media accounts because of this.
"Many random people set their profile pictures as my sister's death photo and went on my page knowing I would, without a doubt, see it," said Olivia in tears. "The picture, to this day, continues to be sent to me, but I now have all of my social media accounts deleted."
Olivia also said that she has been experiencing terrifying and vivid nightmares, and said that she has developed fears of meeting anyone new since her sister's death.
"We are more cautious, and sometimes very apprehensive about going out in public. We're all very guarded of all of the young children in the family," said Frank Williams, Bianca's grandfather. "Our deepest thoughts now are with Bianca, our angel, who has given so much love to this family, to her friends, and the legacy she's going to give to us forever," Williams said.
To Clark, Williams said that, should he ever be eligible for and seek parole, "you can be certain that our family will represent Bianca and will ask the reviewing board to consider."
She had a bright future, and that was taken from her, mother Kim said.
And because of that, she was the first to implored the judge to sentence Clark to prison "for the rest of his life."
"We seek closure in regards to the crime that took our beautiful angel from us by respectfully asking the court...to make sure that Brandon Clark remains in prison for the rest of his life, so that he cannot harm anyone else and inflict this horrific pain on any other family," she said.
For her, the worst part is that she won't ever receive abt more hugs, kisses or "I love yous" from her daughter.
She added that the family has waited a long time for this sentencing to happen.
With Clark's sentence, the chapter for this case finally ends.
Related: Qandeel Baloch, And The Death That Came After Her Internet Fame Hits Back