In biology, the female sex in human is the being that produces the egg cells, who are created through two X chromosomes. But in the society, things can get a bit more complex.
While a person's sexual attractiveness is to a large extent a subjective matter that is highly dependent on a person's interest, perception, and sexual orientation, female tends to be at the center of human sexual attraction because of the traits they have.
If the eyes are people's window to the world, humans consider female a female, if the person has larger breasts, wider hips, and a higher body fat percentage. Women also tend to be less muscular and relatively shorter than men.
Despite sexual attractiveness or sex appeal on female widely varies, but the affect is the selection of mate choice. "Sexier" or "prettier" women tend to attract more men.
And this is in line with the fact that men tend to have a greater interest in visual sexual stimuli than women.
Because many men place a greater emphasis on physical attractiveness when considering sexual attractiveness, they bring this fact to the internet.
Before, things were limited to the real world, with the internet sexual attractions have gone digital.
With the technology, sex can travel through cables and wirelessly.
In many parts of the world, male dominate the community. The gender gap left women with less privilege and less chance to earn an equal living to their male counterpart.
Women are also often the target of online harassments.
Because things don't look good for women, there have been lots of women who try to defend their rights.
While feminism has the capacity to change things, there is one particular sector where women can thrive far surpassing their men counterpart.
And that is when they work inside the entertainment industry.
Particularly on the internet, if women work as webcam models or become 'e-girls,' the gender gap for the women can cross from exploitation, to opportunity.
Again, this is because men tend to have a greater interest in visual sexual stimuli than women.
A webcam models are usually women who models on the internet via their webcam. More than often, they model or stream sexually explicit material in a chat room or by appointment with private customers.
With the advancing internet and its many forms of e-commerce platforms, models can earn money, with sums that can even provide them with more than just a living.
E-girls on the other hand, are women who embody a cute, almost childlike style that draws inspiration from anime and cosplay cultures. These people are often flirtatious and many times, overtly sexual, like doing eye-rolling and protruding their tongues.
These "electronic girls" were first around in the early 2000s, to suggest those girls who spends most of her time online.
More than often, e-girls sport dark colors similar to emo styles in the days of MySpace and Friendster. Many e-girls use colors that is a combination of black with red, purple, and neon green being among the most popular ones. Also, e-girls tend to use heavy black eyeliner, similar to those girls in the early 2000s, with artists like Avril Lavigne and some other lead singers of hit emo bands.
E-girls are also known to dye their hair with eye-catching colors, or bleach it to have a more platinum look, or to give themselves brighter highlights. An example of this, is singer Billie Eilish.
Some e-girls use steel and leather accessories, while others prefer the more punk-like approach with chains and spikes.
The reason why men can pay big money to see those women in action, or have them as online companionship, is because men can please their eyes, and receive an ongoing fantasy.
For many of the men, this can be the answer to their loneliness.
Particular those who pay for e-girls, many are buying the fantasy experience because certain people may not have the time or success finding a partner in real life.
On one side, online pornography can satisfy some men's sexual needs, and on the other side, there are men who wish to have a woman who give them attention.
While men can also become webcam performers or e-boys, the gender gap can be very different.
To be at the same level, men may need to perform homosexually on webcams, or become e-boys that embrace the elements of emo, mallgoth, and the scene culture.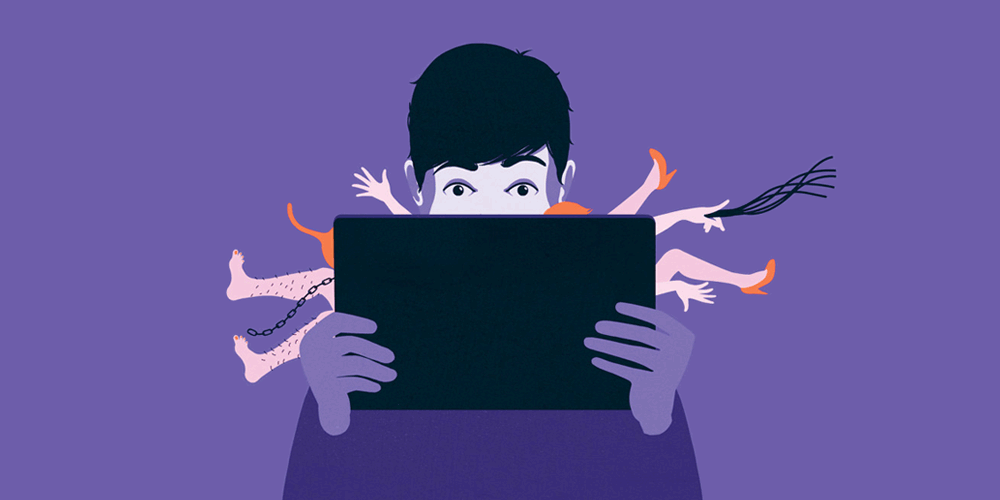 For women in this business, the advantage is that, they can command the fees.
The disadvantage however, stems from the fact that online, they are still women. And women are still subjects of harassments.
According to a 2021 study by Pew Research Center, 33% of women under the age of 35 say that they've been sexually harassed online. And when it comes to webcam performers and e-girls, the online harassment and sexualization is constant, to the point that some of these women fear retribution or stalking in real life and obscure their identities.
Some of the women have even received rape threats and even death.
One notable incident, was back in 2019, when a famous 17-year-old e-girl, Bianca Devins, was killed. Another example was in 2022, when Carol Maltesi, an OnlyFans star, was brutally murdered.
Ultimately, being a female online performer is multifaceted.
To some women in a number of countries, it can be an aesthetic, or even a career path.
Women who are into this industry and the e-girl subculture should know that behind their possible unfathomable profitability, the challenges is that vigilance is a must.