Women in Pakistan are playing an increasingly important role in the country.
Since allowed to vote starting 1956, a number of Pakistani women have held high positions in offices, as well as attaining high military posts in the country's armed forces.
While in overall, women's rights in Pakistan has improved with increasing number of educated women, their status is still seen differently across classes and regions, due to uneven socioeconomic development and the impact of tribal and feudal social formations that happen in many parts in Pakistan.
For these reasons, women in Pakistan can still face domestic violence, honor killing, rape, abduction, forced marriages, and induced abortions.
Fouzia Azeem, or best known by her stage name Qandeel Baloch, is an example of how harsh an outcome can be when the internet and society are put together.
Qandeel Baloch craved stardom, and social media gave her what she wanted. In return, she experienced an unfortunate death. (Credit: Dawn News)
Qandeel Baloch was born in March 1990 to a relatively poor and underprivileged family.
With her interest in singing and acting, she first made her public debut in 2013, when she auditioned for Pakistan Idol. Following her audition that didn't end well, she made a social media sensation the made her popular despite her failure. She then turned up to become an internet celebrity.
She was even one of the top 10 most searched people on the internet in Pakistan, mostly because of her social media posts, where she often went against the norms of Pakistani's society and lived life on her own terms that she thought was right.
She was also famous for her catchphrases, some of which became popular among Pakistani youth.
Besides appearing regularly on Pakistani talk shows, and served as digital manager at Neptuner Web Solutions, she was also referred to the Kim Kardashian of Pakistan.
In many ways, many in Pakistan considered her a role model, especially since she is a woman, and had for multiple times spoke about rights and showed how women can also express freedom. Because of this, Baloch was met with many controversies, and was considered bold and outrageous by the largely conservative Pakistani community.
She was bold and courageous in doing this, soon after seeing her media presence grew.
She rose to fame on social media networks among Pakistanis, where she discussed her daily routine, her rights as a Pakistani woman, and various controversial issues that weren't a norm for a woman to speak about.
Qandeel Baloch was known as a model, actress, social media celebrity, and also an activist.
Using her influence to comment on women's position in the Pakistani society.
For example, Baloch released a music video entitled Ban, which mocked the government's restrictions that are placed on women in the country.
As one of the extremes, Baloch once said that she was inspired by other famous names, including Indian former porn star Sunny Leone, Indian dancer Rakhi Sawant and Indian film actress Poonam Pandey, all of whom were controversial figures.
Following the issues she experienced with her family and then ex-husband, as well as the case with the Multan-based religious scholar, Mufti Abdul Qavi, where she was in a video with the cleric, sitting together in a hotel room, it was on July 15th in 2016 that Baloch was drugged and then asphyxiated by her brother.
At that time, she was asleep at her parents' home in Multan in Punjab.
Her dead body was first found 15-36 hours after death.
Her brother Waseem Azeem confessed to the murder, saying that his sister was "bringing disrepute" to the "family's honor".
"She [Qandeel Baloch] was bringing disrepute to our family's honor and I could not tolerate it any further. I killed her around 11:30PM on Friday night when everyone else had gone to bed. My brother is not involved in the murder," said Waseem when he was apprehended, confessing his crime.
Her father, Muhammad Azeem, said that "my daughter was brave and I will not forget or forgive her brutal murder," accusing her son to be responsible for Baloch death and accused him to had killed her for her money.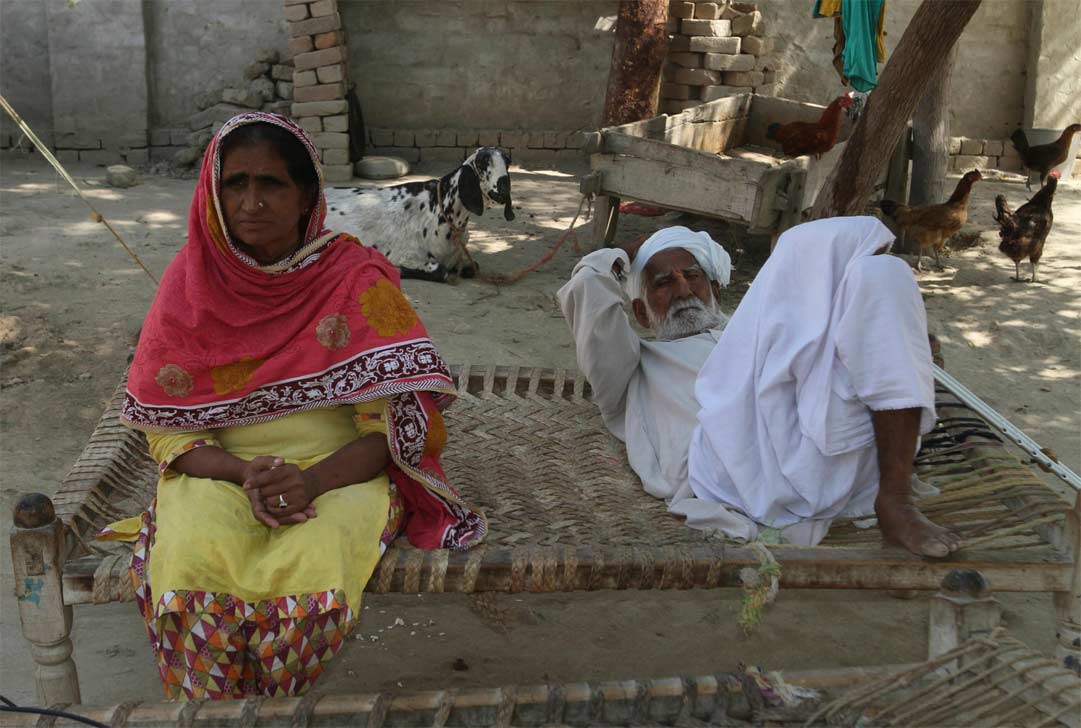 Qandeel Baloch parents aren't rich landlords like what she said they were. (Credit: Asim Tanveer/AP)
Qandeel Baloch was one of Pakistan's first social media star. And this is why her death made headlines around the world.
While her brother has been sentenced for her death, but the origin of this tragedy can be traced back to her lifestyle in a country that gender inequality is high.
While there is no doubt that Baloch was provocative, many of her followers and fans mourn her death.
The murder simply reflects a divided nation.
Baloch, was killed at the age of 26, in a tragedy that is called the honor killing.
This kind of crime is nothing new in the conservative Pakistani society. But the biggest difference here is that, Baloch was a celebrity that willingly played with fire. She knew that her fame would grow along the many likes and hates she received, and that she used them all to propel herself to fame.
Baloch was an example of a simple girl transforming to one of the country's biggest celebrity, with the help of the internet. She craved stardom, and social media gave her what she wanted. Many considered her as an attention-seeking woman, and can do anything that may cross some classes and power boundaries in the process
It's the end result that wasn't a happy ending.
And making things more tragic, her death came not long after she told her parents, promising that she only needed a little more time before she quit the work she was doing.
In other words, she was going to stop whatever she was doing at the time, including making the controversies.
But unfortunately, her death came sooner.
Further reading: The "Blue Whale Challenge" Phenomenon