In the 1990s, the internet was young and was relatively unknown for many people on Earth.
Google wasn't there, and the internet was still relying on internet directories, with Yahoo! sitting at the peak, and discussion forums that were flourishing quite rapidly. During those years, at the pinnacles of the media, included Pamela Anderson and Tommy Lee.
Pamela is best known for her 22-years-career being a Playmate at Playboy. She has also appeared on more Playboy covers than any other model. It was then her action-drama series Baywatch, which cemented her status as a sex symbol. Tommy Lee on the other hand, is known as the drummer for heavy metal outfit Mötley Crüe.
Tommy first met Pamela on New Year's Eve in 1994 at a club on Sunset Strip in Hollywood. The two made headlines after famously married in 1995 after knowing each other for less than a week.
If this only was not enough to put their names up on the young internet, their sex tape did.
When their honeymoon sex tape leaked, it quickly became the first sex tape to have disrupted the internet, and became the first prime example of viral internet pornography.
It was like the 90s' 1 Night in Paris, and Kim Kardashian, Superstar.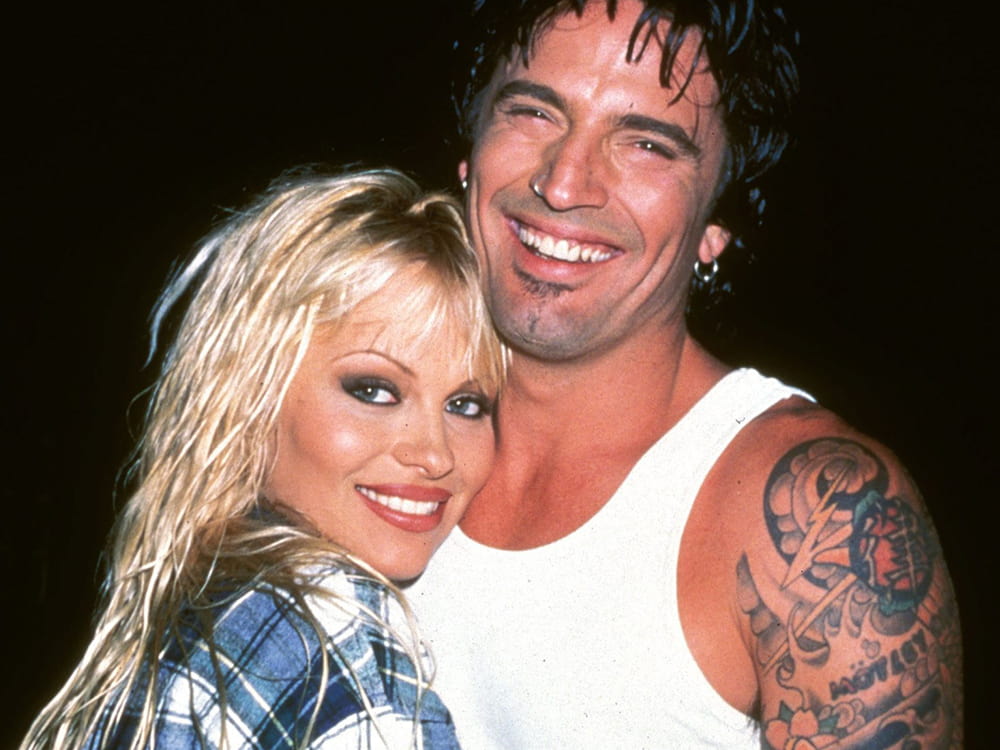 Pamela Anderson and Tommy Lee were a power couple back in the 1990s.
It started when the couple made a tape that is about an hour long, to document their honeymoon while staying on a houseboat at Lake Mead. Among others, it included scenes where the two were explicitly engaged in sexual acts, including sexual intercourse.
The tape essentially documented their personal lives as a couple, and has a sentimental value.
"We watched it once when we returned home, then put it in our safe, hidden underneath a carpet in my studio control room in the garage," Tommy said.
When the two returned from their honeymoon, the two love birds realized that they didn't know where the other lives. This was when Tommy enthusiastically mentioned that he has a mansion on the cliff in Malibu, and Pamela agreed to move in with him.
Following this, Tommy who was renovating the house, wanted to make some changes in plans, to also have Pamela's vision to be included in the designing of the house.
And Rand Gauthier was there.
Gauthier was a former porn star, and Tommy hired him as an electrician to renovate the couple's mansion.
It was reported that Gauthier didn't do his job right, and that the Lees fired him and refused to pay him the $20,000 they promised.
At one point, Tommy was so angry at him that he pointed a shotgun at Gauthier.
"I was never really that popular with people," Gauthier told Rolling Stone in 2014. "But I had never been held at gunpoint. It screwed with my head."
In retaliation, Gauthier planned to steal something. And what caught his interest, was a safe he found at the house.
Knowing that the Tommy and Pamela are high-profile celebrities, rich and famous, Gauthier is certain that whatever is hidden behind that safe must be expensive.
The safe in question, was apparently the safe that had the sex tape in it.
To steal the safe, Gauthier made as much intel as he could about the couple's residence, to then made an excuse, in which he said that he wanted to retrieve his tools he left there at the house.
With his knowledge of the house' floor plans, Gauthier knew his way in and out of the mansion. Gauthier crawled on his hands and knees, and at some point, had to cover himself in a white Tibetan yak fur rug to disguise himself as Pamela's dog for the security cameras
After getting to where the controls are located, he disabled the security cameras, and made a swift move to sneak into the garage to pick up the safe.
This was not an easy task, as the safe was "as big as a fridge and weighed 500 pounds when empty." But still, Gauthier managed to pull the safe from its place, and load it on his truck.
After that, Gauthier rearranged everything to look as if nothing had been moved.
Gauthier who brought the safe to his place, managed to crack it open after spending an hour "cutting into the back with a borrowed demolition saw outfitted with a composite diamond carbide blade."
Inside, he found a number belongings he anticipated to find: expensive jewelry and watches, as well as firearms. But what he didn't expect, was finding a black, Hi8 camcorder tape.
Fueled by curiosity, Gauthier brought the mysterious tape to the porn studio where he once worked, and watched it there with his friend, the studio manager, Milton Ingley.
Further reading: The Leaked Iranian Sex Tape Scandal That Ended Zahra Amir Ebrahimi's Career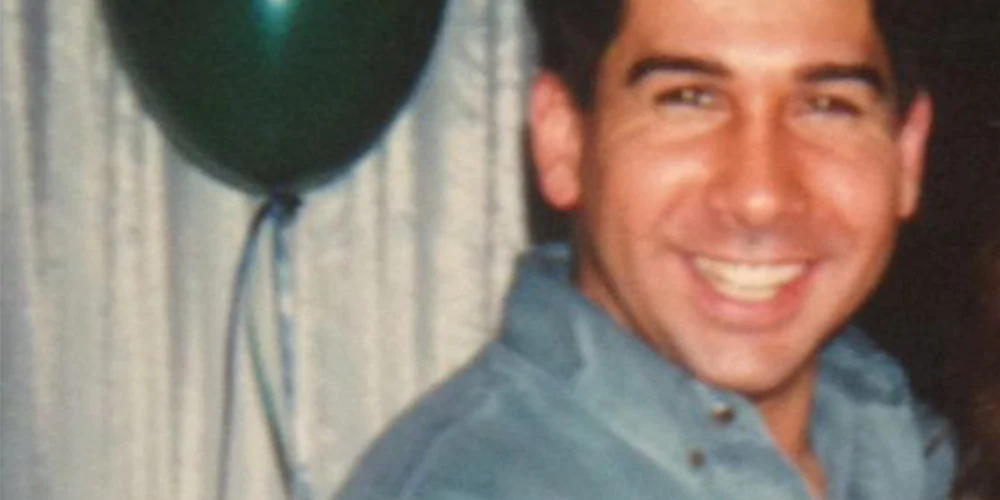 Rand Gauthier, pictured in a cropped old photo.
"We put it in and see what it is, and of course, cha-ching," Gauthier recalled when watching the 54-minute tape. "The dollar signs fly before our eyes. But we're going, this is the kind of thing people will get killed over."
Realizing how big this sex tape could be worth, Gauthier put the danger and the morality issue aside, and started planning to sell the tape by teaming up the porn studio owner.
But due to how risky it was to have that tape, no one wanted to touch it, except mobsters.
When the pair received help from New York City mobster Louis "Butchie" Peraino, a member of the Colombo crime family, who agreed to loan Gauthier and Ingley the capitol to distribute the tape themselves, the two went to the World Wide Web.
The two decided this after Gauthier explained about this new thing called "the world wide web" where they can advertise the tape without anyone being able to trace it back to them.
They started setting up websites, like pamsex.com, pamlee.com, and pamsextape.com, to sell copies of the tape for $59.95, and have them delivered discreetly to the buyers.
Gauthier dreamed that one day, he could become filthy rich, and afford buying a castle in Spain.
At that time, only a few million people had access to the internet in 1995, meaning that Gauthier and Ingley practically worked under the radar.
As for Pamela and Tommy, the couple only discovered this fact when they realized that the safe was missing, which was about a month later.
"My heart stopped for a second when I realized it had been stolen," Lee recalled. "We knew the tape was in the safe but we never thought that the thieves were after anything but guns and money."
The Lees filed a $10 million lawsuit to attempt to prevent the tape from being published.
Knowing that Tommy and Pamela were after him, Gauthier went into hiding.
While the California State Superior Court denied the request for a temporary restraining order, Gauthier was suffering from paranoia and insomnia. And making things worse, his profit started declining when people started duplicating the tape themselves, and after copycat websites began to appear, selling the tapes for prices that were cheaper than his.
Because he still owe Peraino, who expected his loan to be repaid, Gauthier needed to act fast.
Since the demand was still on the rise, Gauthier made a shortcut to make quick cash by selling the sole distribution rights to the Internet Entertainment Group, or IEG.
Tommy and Pamela realized this when they hired a detective.
This was why they started suing IEG because the company bought it from him.
It was Pamela who started suing the video distribution company, filing a police report for the first time in early 1996. But by then, it was way too late. The damage was done.
IEG declined to stop the distribution of the tape, mainly because it had legally obtained a copy of the video by purchasing it.
Following this, IEG started making the sex tape public on its websites.
The 39-minute video included scenes from the couple's wedding ceremony, and a "wild and sex-filled" boat trip on Lake Mead in Nevada, among other scenes, according to IEG.
In just five hours, the traffic to its websites were tripled.
According to the story, the company was earning revenues in excess of $20 million per year, thanks to "a burgeoning online industry" made up of "hundreds, if not thousands, of websites selling video phone sex, live chats, video feeds from strip clubs, digital images, online magazines, fan newsletters and paraphernalia."
But with the sex tape, IEG and other porn companies made more than $100 million in less than 12 months through legitimate sales alone.
During this time, the video cemented itself as the first true celebrity sex tape that has gone down in history as one of the most demanded ever.
And the Lees earned nothing.
"Not being able to do anything … about [the tape] was adding so much frustration and stress to our relationship," Tommy said. "It was just consuming us."
"I made not one dollar," once said Pamela in an interview. "It was stolen property."
It should be noted that at this time, most people were still using dial up modems with speed of only 56 kbit/s.
The Lees tried to stop the distribution of the video on IEG, or at least suppress the video from being shown on various websites, and they did this for months.
The distribution of the sex tape continued, until the company finally agreed to put down the video.
"We made a deal to stop all the shenanigans," Pamela said.
"I was seven months pregnant with Dylan and thinking it was affecting the pregnancy with the stress and said, 'I'm not going to court anymore. I'm not being deposed anymore by these horny, weird lawyer men. I don't want to talk about my vagina anymore or my public sex — anything."
But that was only temporary, as IEG said that it has entered into an agreement with the Lees.
Following this, the case was dropped, and the Lees stopped preventing its distribution through arbitration.
The couple announced this decision on December 1, 1997.
After the Lees reached an agreement with IEG, the company began making the tape available to subscribers to its websites.
The company said terms of the agreement are confidential.
"In order to protect what privacy they have left, the Lees have entered into a confidential settlement agreement with IEG," said Marleah Leslie, a spokeswoman for the couple, in a statement.
"I am prohibited from discussing the terms of the agreement. The Lees have never intended to profit nor have they profited from the stolen tape and are sick about the whole situation."
Since the interest was high, the tape again raised wider legal issues, with many suggesting whether the distribution of the tape would violate the couple's right to privacy.
IEG argued.
Read: Female Officer Arrested Gang Leader, Gang Members Responded By Leaking Her Personal Photos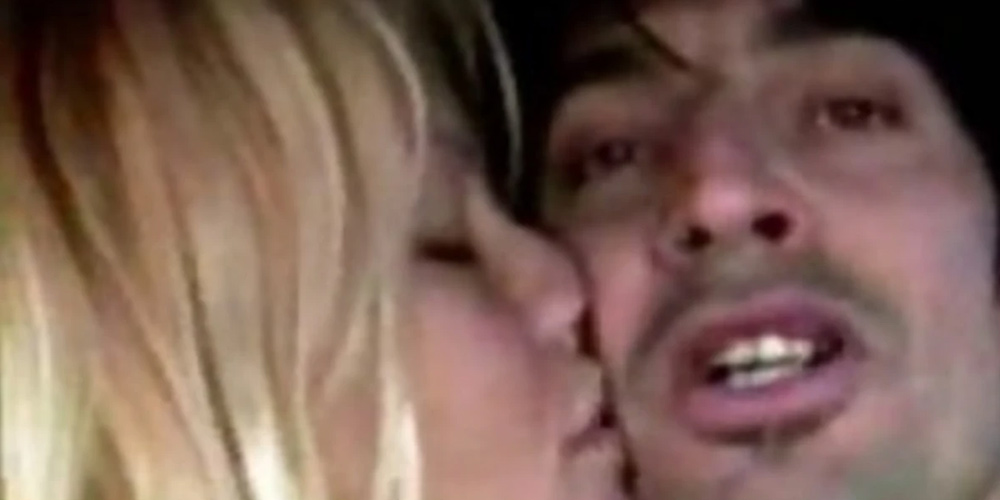 A screenshot of the sex tape of Pamela Anderson and Tommy Lee.
The company said that the two celebrities simply forfeited their privacy rights by just publicly talking about the video. Some skeptics however, saw this as a publicity stunt.
"We were happy to have an arbitrator decide the issue," said Seth Warshavsky, President of IEG.
"We noticed the depositions of the Lees' associates and former intimates and were prepared to ask them questions about their relationships with the couple. Before we could begin the depositions, we reached a settlement with the Lees, the term of which must remain confidential."
It should be noted that the sex tape of Pamela Anderson and Tommy Lee was not Pamela's first.
Previously, she had another sex tape she made with Bret Michaels, the musician from Poison. But this sex tape was not announced, nor published, before her sex tape with Tommy was leaked.
Pamela and Tommy ended their marriage in 1998, when Tommy landed in jail after physically assaulting Pamela. They were then in on and off relationships until at least 2008.
Shortly after this, a sex tape from South Korea's beauty pageant also made headlines, as it leaked to the internet through file-sharing websites.
In 2018, it was announced that the case, as well as the biography of Pamela and Tommy were going to be made, with Lily James starring as Pamela Anderson, Sebastian Stan as Tommy Lee, and Seth Rogen as Rand Gauthier.
In December 2020, it was announced that Hulu greenlighted the project with an eight-episode limited miniseries, with Craig Gillespie as its director, and Rob Siegel as writer.
The planned debut for the miniseries is with three episodes on Hulu in the U.S., Star+ in Latin America and Disney+ internationally on the 2nd February, 2022. The rest of the episodes follow after that on a weekly basis.
On November 2021, Hulu released the first teaser of Pam & Tommy.
Further reading: The Leaked Sex Tape Of Hoàng Thùy Linh, The Biggest Scandal In Vietnam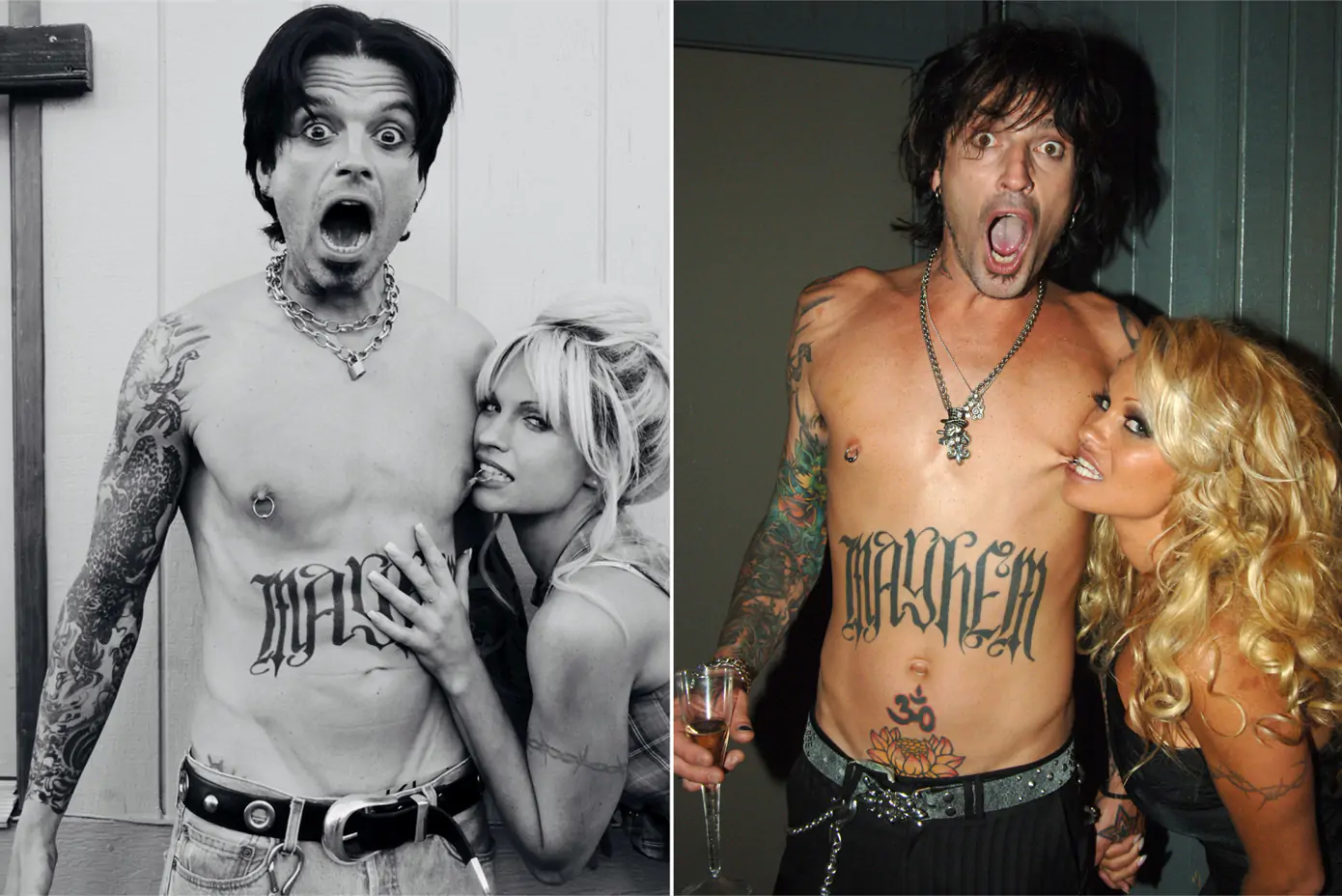 Sebastian Stan and Lily James recreated the moment between Tommy Lee and Pamela Anderson, for Hulu's Pam & Tommy.
In the modern days of the internet, where information travel in near light-speed, virality of celebrities come and go pretty quickly.
This is why people are competing for the same eyeballs, in an increasingly fierce competition.
But back in the days when the internet was young, Pamela and Tommy were two bankable celebrities, famous and rich, and living on a fast lane.
They attracted the spotlight and media coverage wherever they go.
In short, the two were the source of paparazzi's feeding frenzy.
And their sex tape is arguably the precursor to a whole era of leaked, private content. It was the prime example of a sex tape that went from a bootleg to a viral internet sensation.
Subsequently, it reinvented both the term sex tape and internet porn. As the first, nothing else can come close to it.
"They're in love and a couple and they're just having fun with each other, and I think that's great," Gauthier said, when he recalled the moment. "I'm jealous. I wish I had something like that."
It was reported that Gauthier and Ingley made $77 million by selling the tape online, and by selling the rights to IEG. But in the end, Gauthier was left with nothing.
"I think these violations of privacy happen way too often — and the way that the media responds and us, as a society, respond is often so awful, particularly toward women," Lily said. "There are these huge double standards, women are torn down and reduced… So I think we really need to look at that."
As for the couple's house, it was a six-bedroom, six-bathroom home, reportedly built in 1991. It was situated at 31341 Mulholland Highway, before California wildfires destroyed it in 2019.
Following the release of Hulu's Pam & Tommy, Pamela Anderson announced an "intimate" and "definitive" project with Netflix.
The actress and activist revealed on Instagram that her documentary film is supposed to fix the controversial Pam & Tommy, which she said was made without her approval or involvement.
Pamela said that she was indeed contacted by Hulu, asking for her involvement. But at the time, she wasn't interested.
Lily James, the actress who played Pamela in the series, said that she tried to reach out to Pamela before filming, but Pamela never responded.
"I was really hopeful that she would be involved. I wish it had been different," she said.
"My sole intention was to take care of the story and to play Pamela authentically. I was very hopeful that we would be in touch right up until we started filming."
Pamela's lack of involvement wasn't because of a "personal vendetta" against Lily or any of the cast, or against Hulu for that matter. It's just because she simply didn't want to revisit the period depicted in the show.
The Baywatch star is reportedly not thrilled about how a horrific chapter of her life being exploited for entertainment.
In other words, Pam & Tommy is regarded to be violating Pamela the same way as her leaked sex tape did.
Not only Pamela, as many close to her were unhappy of Hulu's Pam & Tommy, especially because it highlights the existence of the sex tape, which is something of the past Pamela isn't fond of speaking.
Anderson has allegedly expressed her disdain for the series, reportedly refused to even watch it.
"Still nothing and I totally respect that. That's her choice. It's a bizarre thing because I've played her, and I feel so attached but […] I hope that if she was ever to watch it, she would feel that the show was just so behind her," said Lily James, who reportedly had to wear 50 sets of customized, gel-filled prosthetic breasts while filming the series in order to replicate those of Pamela Anderson's 34DD assets.
In May 2021, Courtney Love said that Hulu's project was giving Pamela "complex trauma," and that it was "very painful for Pamela Anderson and for anyone that loves her."
She even called the project a "piece of shit," and said her heart went out to Pamela.
John Corabi, who fronted Mötley Crüe from 1992 to 1996, once said that he didn't appreciate a fictional detail the Hulu series added.
He also called the series as whole "so full of bullshit," and said the fictional take on Pamela and Tommy's lives a "criminal."
It's worth noting, that Hulu's series are based on the story on a 2014 Rolling Stone article, which means that Hulu didn't have to get any permission from any of the parties involved.
Among other reasons, Pamela later showed that she wanted to fix the portrayal of her, and that is by partnering with Netflix.
Through Netflix, Pamela wants to share her story of her life, her way.
She doesn't want to be that woman who is so used to pleasing men's fantasy due to the blonde bombshell stereotype. She was a pinup girl, and considered a bimbo by many.
But that is not what Pamela wants to be known on screen.
She has lots more to tell.
On the Netflix version, Pamela wants it to be an actual documentary, and more than just exploiting the details of the past she would rather forget.
To ensure that everything is what should be shown and told, Pamela said that she has told his son, Brandon Thomas Lee to co-produce it.
"My life. A thousand imperfections. A million misperceptions. Wicked, wild and lost. Nothing to live up to. I can only surprise you. Not a victim, but a survivor. And alive to tell the real story," she said in a handwritten note on Netflix letterhead.
In a tweet, Netflix added that the film is to "feature the pop culture icon setting the record straight as she looks back on her professional path and her personal journey."
Read: Pamela Anderson's Classic And Signature Hairdo Has Taken Over TikTok
Pamela Anderson is ready to tell her story in a new documentary.

The film, which has been in the making for several years, will feature the pop culture icon setting the record straight as she looks back on her professional path and her personal journey. pic.twitter.com/vSNvsQPE48

— Netflix (@netflix) March 2, 2022
Sebastian Stan, the actor who played Tommy Lee on the Hulu series, said that he is looking forward to see this documentary.
"I think it's great. I'm feeling grateful and hopeful that the show inspired further conversation and another deeper look that it deserves, so I look forward to seeing it," he said.
Lily later added that she is "so excited" after hearing Pamela Anderson's plan.
"It's amazing," James said. "I can't wait to watch it."
Read: Tommy Lee Flashed His Penis On Instagram, Decades After His Sex Tape With Pamela Anderson