Months after the death of Mahsa Amini, a 22-year-old woman apprehended by the government's morality police for apparently not wearing her hijab properly, images and videos of people flooding the streets continue to spread.
From evidence of people tearing up photos of Ayatollah Ruhollah Khomeini, to women removing their hijab, and endless videos of protesters marching down the streets.
The outpouring of anger following Amini's death was visible to the world.
Nationwide protests have gripped the country, and there is nothing the authorities could do about it.
As long as connectivity is present, citizen journalism shall thrive.
Read: The Anti-Hijab Social Media Campaign Where Iranian Women Remove Their Hijab In Public

Following Mahsa Amini's death, people in Iran were protesting about the regime and the conservativeness of the country.
"Daily demand for virtual private network (VPN) services in Iran is up over 3,000% compared to before the protests," Simon Migliano, the head of research at Top10VPN.
This number is a massive increase, given that demand was already healthy before the social media shutdown.
"Social media plays a crucial role in protests all around the world," Simon Migliano, head of research at Top10VPN. "It allows protesters to organize and ensure the authorities can't control the narrative and suppress evidence of human rights abuses."
"The Iranian authorities' decision to block access to these platforms as the protests erupted has caused demand for VPNs to skyrocket."
The most popular VPN services during the protests in Iran have been Lantern, Mullvad and Psiphon, according to Top10VPN, with ExpressVPN also seeing big increases. Some the highly popular VPNs used by Iranians are free to use, while others require a monthly subscription.
Many countries and companies are also helping Iranians get easier access to information since the authorities have increased their restrictions.
Google has also launched a VPN service for Iranians. Another third party, Nthlink, reported that its VPN saw a massive surge in use from 40,000 users a day to about a million users.
Swiss startup Proton also saw a significant increase of users to its VPN service balloon, peaking at as 5,000% during the Iran protests compared to average levels. Proton is best known as the creator of ProtonMail, a popular privacy-focused email service.
"Since the killing of Mahsa Amini, we have seen a huge uptick in demand for Proton VPN," said Proton CEO and founder Andy Yen. "Even prior to that, though, VPN usage is high in Iran due to censorship and fears of surveillance."
"Historically, we have seen internet crackdowns during periods of unrest in Iran which lead to a rise in VPN usage."
VPNs aren't the only methods Iranians use to circumvent internet censorship.
Volunteers are setting up so-called Snowflake proxy servers, or "proxies," on their browsers to allow Iranians access to Tor, which is a specialized software that routes traffic through a "relay" network around the world to obfuscate their activity.
"As well as VPNs, Iranians have also been downloading Tor in significantly greater numbers than usual," said an activist.
Read: Death Of Iran's Social Media Celebrity Chef Amid Hijab Protest Sparks Even More Anger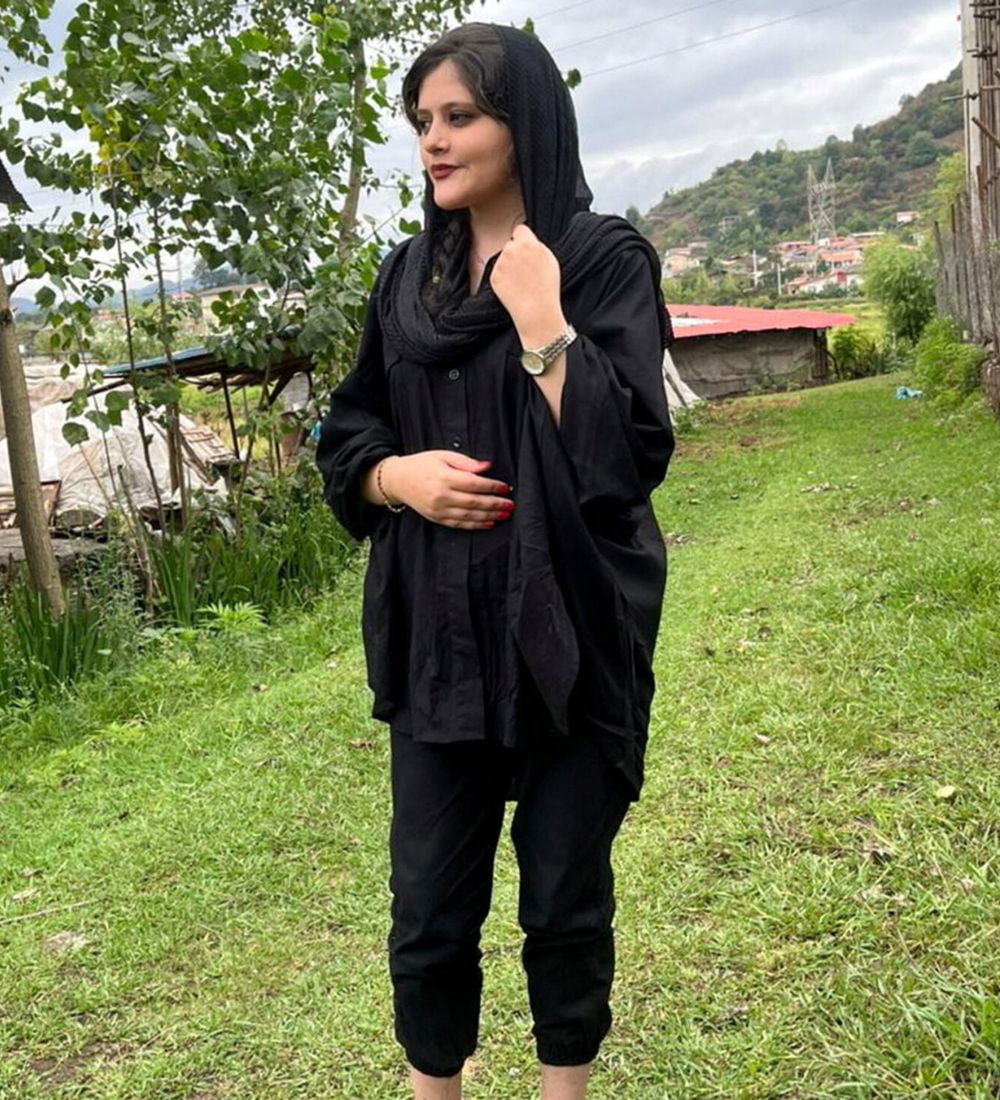 Mahsa Amini.
When the Iranian government started limiting the internet, and throttling it in order to keep information within country from spreading out, people tend to circumnavigate the cyber crackdowns by downloading virtual private networks, which allows them to get around restrictions to certain blocked sites.
As a result, endless images and videos of the protests made their ways out of Iran, with many of them becoming newsworthy content by many around the world.
But every single attempt to connect to the outside world through the internet is futile is if the country shut off basic internet completely.
The government of Iran knows this very well, and this is what exactly happened in several regions across the country.
Western news organizations largely aren't publishing stories from Iran, since the authoritarian-led country has history of curtailing the free press, jailed journalists, and blocked the internet.
Most of the time, foreign news organizations rely on their vast networks of contacts and groups, as well as student-run news agencies, and social media reports for information.
Take one out, international news can get crippled.
Activists in Iran said that the primary purpose of the shutdowns is to disrupt communication among people organizing protests on the ground and stifle dissent.
"They don't want you to be able to communicate with your friends, with your family, with your colleagues, because simply if you're going to basically create a group […] you're going to be more effective in the way that you are doing protest," said an activist.
Making things worse, with less reliable sources, the information can get murky, and that government can launch disinformation campaign to bury the truth.
"They (the Iranian government) have a cyber army and they massively produce social media videos, even fake interviews," said an activist.
The government, he said, has also attempted to set traps to manipulate Western media into reporting falsehoods: "They can then say foreign media is reporting fake news."
While the Iranian government is seeking to manipulate the conversation outside its borders, it is simultaneously using its state-controlled television and radio apparatus to control the narrative inside the country.
It's worth noting though, that despite the lack of internet, there is a massive amount of people who have access to satellite dishes and getting their news from the outside.
Even without the internet, information from foreign news outlets passed through this medium cannot be controlled by the government.
"The ability of the state," an activist said, "to be able to push their narrative has been significantly weakened."
Read: Iranians Made The Burning Of Ayatollah Khomeini's Ancestral Home Viral On Social Media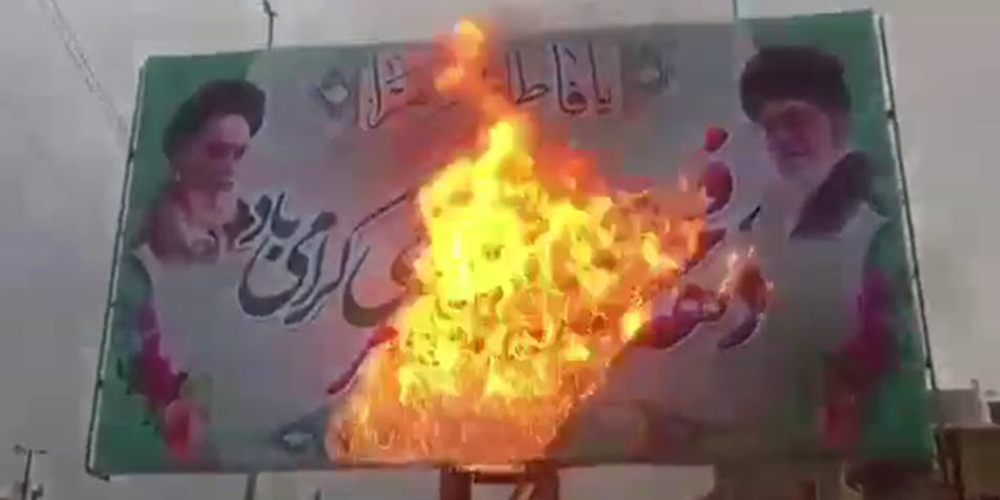 A poster of Ayatollah Ruhollah Khomeini and Ebrahim Raisi is burned.
In previous attempts, the Iranian government blocked access to VPNs. But this time, the country went as far as blocking its citizens' connection to Google Play store and App Store so they cannot download any apps to circumvent its censorship.
"Google has allowed users in Iran to access free, publicly available services related to communications and/or sharing of informational materials. This includes products like Google Search, free consumer Gmail, Google Maps and YouTube. It is important to note that, although Google can decide to make these services available, we cannot ensure they are accessible within Iran," said Google.
"Ongoing legal or technical barriers may block the provision of certain services, but we are exploring whether additional products might be made available."
In comparison to the full shutdown in 2019, the blackout following Amini's death is more targeted and sophisticated.
Outages first started hitting Iran's telecommunications networks on September 17th, according to data from internet monitoring company NetBlocks.
Read: Iran's Prominent Celebrity Stripped Her Clothes Off On Instagram To Support 'Women, Life, Freedom'
Confirmed: A significant internet outage has been registered in Tehran, #Iran with real time network data showing connectivity at 67% of ordinary levels; the incident comes amid protests over the death of Mahsa Amini and may affect coverage of events on the ground pic.twitter.com/a8fjaaLoYG

— NetBlocks (@netblocks) September 16, 2022
This was a day after Amini's death.
According to Alp Toker, director of international technology platform NetBlocks, the government of Iran is deploying three different methods to restrict the internet in the country: internet outages, mobile service disruptions, and the ban on Instagram and WhatsApp.
Iran is doing this based on its experiences, like because of the fact that U.S. sanctions that have been commencing for years have unwittingly accelerated Iran's development of an internal network, the National Information Network project.
This makes it cheaper, and also a lot easier for the Iranian government to shut off the "external" internet without disrupting government operations such as banks, financial systems and hospitals.
However, the challenges of the Iranian government doesn't only come from its own citizens, because the international community, as well as foreign governments and tech companies are also part of it.
U.S. President Joe Biden's administration has expanded its general license to Iran to "support the free flow of information" and has authorized American tech companies to provide people inside the country access to certain tools that help them communicate with each other amid one of the worst internet shutdowns in history in Iran for breadth and scope.
Among the attempts, include giving the permission for Elon Musk to activate SpaceX's Starlink internet service for Iranians.
While digital activists and Iranian digital natives welcome these moves, they fear they may not be enough to address the issues average Iranians face every day while attempting to connect to the internet.
But still, it's better late than never.
Read: Hollywood Celebrities Stand With #StopExecutionsInIran Campaign: 'The World Is Watching'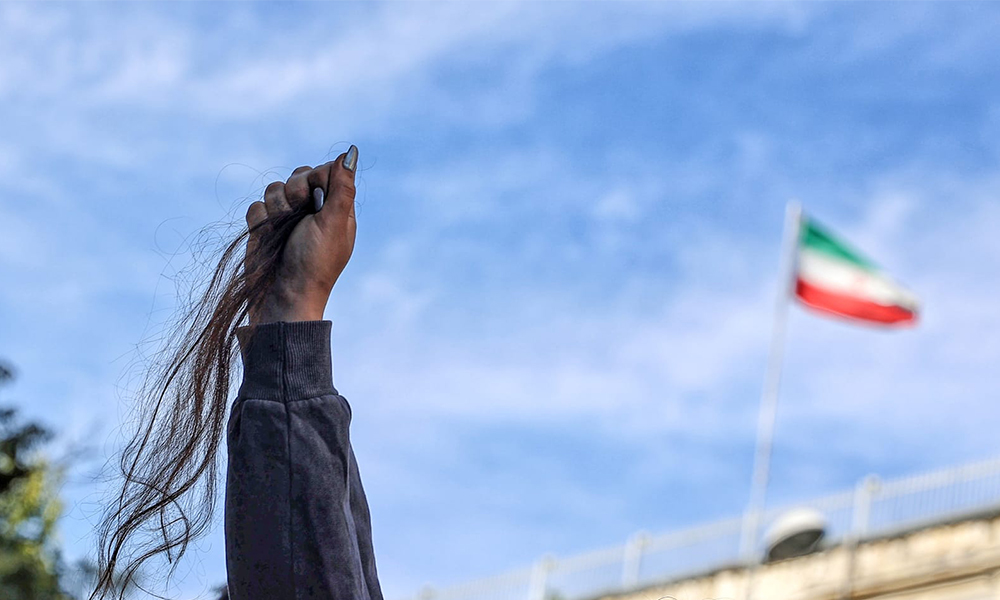 A photo of a woman's hand holding her hair after cutting it, with the Iranian flag in the background.
While at the front, things are pretty straightforward, in the back, hackers are also doing their works to support Iranian citizens.
Anonymous, the international hacktivist collective, claimed to have broken into the database of the Iranian Parliament, obtaining the personal information of lawmakers. Anonymous-affiliated groups also said that they released data purported to have come from various government services, ministries and agencies, as well as university.
A YouTube account purporting to be affiliated with the group said the Iranian assembly had been hacked.
"The Iranian parliament supports the dictator when it should support the people, so we are releasing the personal information of all of them," they said.
On the messaging app Telegram, Atlas Intelligence Group, another hacking group, claimed to have doxxed a number o Iranian officials and celebrities by leaking their phone numbers and email addresses.
It also offered to sell apparent location data on the Islamic Revolutionary Guard Corps, a branch of Iran's armed forces.
While it is difficult to verify the hackers' claims, cybersecurity experts said that there are numerous signs of disruption to Iran from vigilante hackers.
Russia saw a similar rise in demand for VPNs in March after Moscow tightened internet curbs following the invasion of Ukraine.
In December 2022, a senior Iranian official said that Iran had abolished the morality police, the state media reported, after months of protests set off by the death of Amini.
The morality police "was abolished by the same authorities who installed it," Attorney General Mohammad Javad Montazeri said during a meeting at which officials were discussing the unrest, according to state media reports.
Read: Elon Musk Wants To Bring Starlink Satellites To Iran, To Help Protesters Connect With The Internet