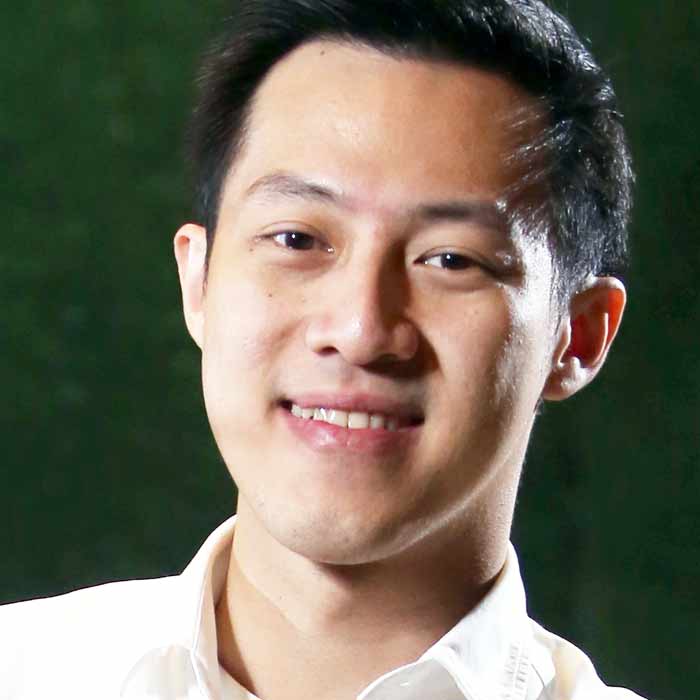 "Do what you like, passion is number one."

- Andrew Darwis
Responsible for controlling and maintaining the quality of information technology at Kaskus, Andrew Darwis continues to identify opportunities for creating and adopting new innovation. He identifies marketplace obstacles and technical hurdles, and assesses technology trends and evolving social behavior that will support the company's success.
His patience and persistence from day one has succeeded in making Kaskus the largest Indonesian community - not just in Indonesia, but among users across the globe.
With Kaskus, Darwis has made his name as one of Indonesia's most successful internet entrepreneur.
Early Life
Andrew Darwis was born on July 20th 1979, in Jakarta, the capital city of Indonesia. He is the second of three siblings. Darwis's started his education in the elementary school Tarakanita in Pluit Jakarta before continuing his education at the junior high school at Tarakanita Pluit Jakarta.
After graduating from junior high school, he chose to continue Gandhi National School for high school, in Ancol, Jakarta. His passion in IT and computers was seen after successfully created a site for his uncle's furniture business. This leads his studies to University of Bina Nusantara, Majoring Information Systems.
At that time, Darwis had trouble finding a suitable university in Indonesia, because in his time at then university, multimedia has not yet become a common livelihoods in Indonesia.
He then decided to continue his studies abroad at the Art Institute of Seattle, majoring in Multimedia & Web Design. At first, Darwis's parents do not agree with his wishes. They think his university choice would be going to waste too much money, not to mention the living cost. But after much insistence by Darwis, his parents eventually agreed, with an exception that Darwis must pay for his living cost while studying by himself.
"I was already enrolled at Bina Nusantara university, but I was interested in web designing and there were no school for it in Indonesia at that time. A friend suggested that I went to the U.S. and so I did," said Darwis.
The Birth Of The Community
While attending college at Seattle University, majoring Program Multimedia & Web Design, he got a steady job as a web developer for U.S.-based lyrics.com to pay his living cost.
In 1999, Darwis and his friends, Ronald Stephanus and Budi Dharmawan, were given a project to make a software by his professor. Back then, most students built narcissistic websites containing their personal bios," said Darwis, recalling the beginning of his lifelong project.
"The three of us [Darwis along with Stephanus and Dharmawan] thought of making a news portal about Indonesia. You know how Indonesians suddenly love their country more when they're abroad."
Darwis was inspired with building a community, and created a website called Kaskus. The site was established on 6 November 1999 after they rent a server for $3 as their initial capital.
Darwis, Stephanus and Dharmawan were then making Kaskus a portal which was originally intended as an informal forum of Indonesian students abroad. The name "Kaskus" itself is an abbreviation of the word "Kasak-Kusuk", that means whispering or gossiping.
Since Darwis hasn't for a journalistic background, he had troubles populating the site with contents. Stephanus and Dharmawan took their place as content creators and translates many English articles to Indonesia to populate the website. The process of populating the site took 3 years.
Back then, they used to browse for Indonesian news on CNN and Reuters, translating them into Indonesian and uploading them to the website.
"After several months, we'd grown tired of this model of manually copy-pasting the web content. So we shifted to a Web 2.0 approach, inviting user content," Darwis says.
The story of Kaskus forum was not starting as a smooth project. Kaskus in the early days was not popular, and people were not as much interested to visit the forum. And after 3 years populating the site and opening the site by inviting users but see failure, Stephanus and Dharmawan decided to leave the project, leaving Darwis as the sole person to manage the forum. The failure of Kaskus made Darwis learnt a lot and began to fix his work on the website.
Changing The Perceptions Of The Community
Andrew Darwis began changing the design and categorizing the forums. Kaskus changed, not only as the site contains news, but many sub forums that have been developed by Darwis. He created sub forum about games, and adult content (called BB+17). Darwis also provided a special forum category called "FJB" means sale and purchase forum. The change has made a big impact and benefit for the online businesses, and the many people started their online businesses even though they don't have website. Since then, the popularity Kaskus developed by Darwis began to show changes.
At this moment, Darwis met Ken Dean Lawadinata. As the two become friends, the two helped each other in managing the website. And in 2008, Kaskus is legally registered as a company by the name PT Darta Media Indonesia.
Darwis's persistence in the development of the site continued after he graduated from Seattle University and returned to Indonesia. At the time they returned to Indonesia, Darwis and Lawadinata met troubles with the authority's law about adult content the site members had been publishing. The site that was well-known for adult content was told to be closed due to the massive spread of adult related materials throughout its massive community.
From a school project, Kaskus grew to be an online community of various interests, from hobbyists to supernatural aficionados, from online sellers to adult content addicts. The last category, an adult one popularly known as BB+17, has now been relegated to its past.
"A day after I returned to Indonesia a year ago, the government issued UU ITE, which bans adult content on websites, and a good citizen, we have to obey the law. And so we took out that chat category," Darwis said.
After shutting down the BB+17 sub forum that placed adult contents, Darwis and Lawadinata started to further promote the forum by creating their own T-shirts and made celebrities wear them. These pictures were then uploaded to the forum.
With new sub-forums and by giving a new perception about the forum, the site that was deemed to fail, rose significantly. The site that already had 1,2 million members in August 2008, grew to a massive 2.5 million active members in January 2011, and ranked sixth most visited site in Indonesia according to Alexa.
The first online community that was accommodated in Kaskus helped gamers to seek a more open-minded forum. A gamer friend of Darwis who was banned from a gaming community website for having "too much to say" asked him to build an alternative forum.
From the not-so-serious game chats, the forum grew into talking and sharing more serious informal information on politics and current affairs. With most of its users being male, the adage boys will be boys slowly grew on Kaskus.
Darwis took his position as CEO before becoming the CTO of the company to spend more of his time for the Kaskus development. With his position as "mimin", nickname for administrator of Kaskus, he also helps the poor people by making charity program that he publish in Kaskus. And with Lawadinata as CEO replacing him, the forum is growing fast and become one of the biggest Indonesian online community.
Currently with over 5 million active members and 13 million unique visitors each month, Kaskus continues to grow every second. Kaskus has received many awards: The Indonesian Best Communities for 2005 and 2006 versions of Alexa.com and Wikipedia. In August 2005, PC Magazine Indonesia awarded Kaskus as being the best site and largest online community. And selected as the best choice of PC Magazine readers in 2006. Nomination Kaskus Indonesia from Microsoft as the Innovative Top Website in 2008, the nomination from Indosat with Kaskus The Online Inspiring Award in 2009, and The Big Place Market 2012 by the President of Indonesia.
His creation is something that he can rightly be proud of. His success also led him to meet Craig Newmark, founder of U.S. online ad site craigslist.org
Now, Kaskus as a web portal lives up to its tagline: Indonesia's largest online community. The sole project is now employing more than 90 people in its headquarter at Palma Kuningan Tower in Jakarta, managing hundreds of servers. The community ran using vBulletin forum software but then changed using a new engine developed by themselves called a New Kaskus in mid-2012.
Despite that Kaskus has been popular in Indonesia, Darwis still has an ambition to continue to develop the content (existing facilities in the website), later on people from outside Indonesia are also going to buy some items on FJB.
Personal Life
His love for IT world has made him acquired Master of Computer Science from Seattle University, after he completed his studies in Multimedia & Web Design at Art Institute of Seattle.
Although Darwis has his own office room, on the 10th floor of Palma Kuningan Tower, he is rarely seen in his personal space. He is more interested to see the work of his employees by himself and is more seen on the 11th floor where his programmers work. His office room that he calls "the war room", is just occupied by a single telephone on his desk.
Darwis dedication for his work is seen from the start of morning where he start managing the site, all the way until midnight when he sleeps, and continues routinely everyday. His ambition and influence in the community has made his name on the forum as the godfather of Kaskus.
"I think the [godfather] title is way too big for me. I don't think I deserve it," Darwis said.
Darwis said that Michael Jackson is his hero. "I like his ambition in wanting to save the earth, in order to make a better world for all of us," he said.
Today, his mother and three siblings who used to complain about him dominating the telephone line for connecting to the internet take pride in how his hobby and passion has turned into a serious business.
"They used to sabotage the phone so I would get disconnected when I was using the dial-up connection. Now they are proud of me."