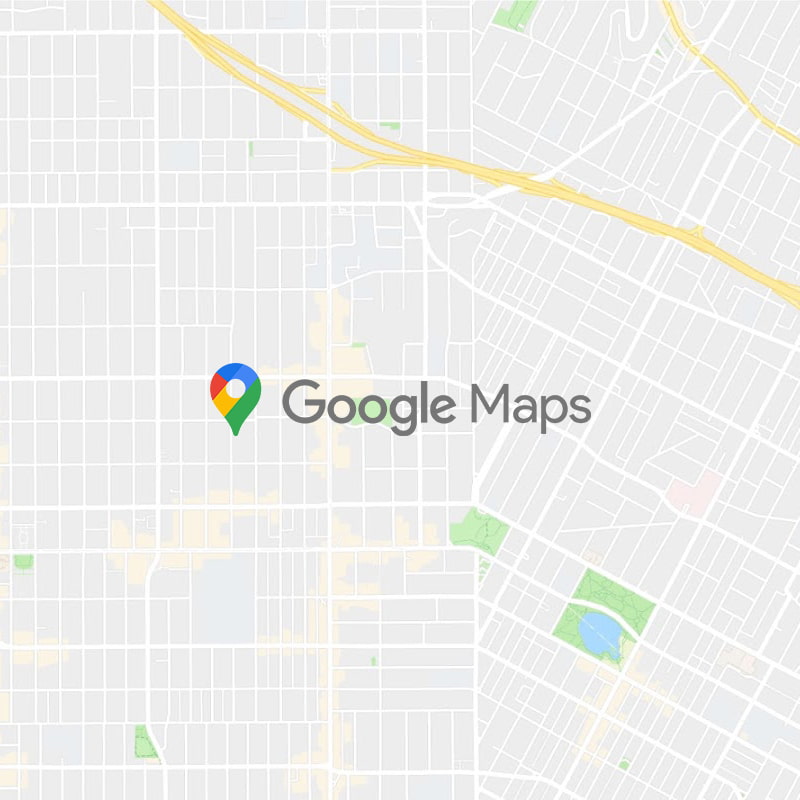 It's hard to imagine a time not too long ago when people still relied on paper maps and printed directions. Tools like Google Maps changed all that.
Google Maps is easily the most popular mapping service and navigation tool. With its many features and flexibility, and the way data is updated in near real-time among many others, Google Maps to most people, can render other similar tools obsolete.
And with Google at its back, people can be certain that the app is utilizing vast resources to their maximum potential.
Google has been working hard to make the Maps app a useful tool for users to navigate the world and it's continuing to roll out new features. And this time, this tool is becoming even better, with Google announcing an array of updates, ranging from on-map weather updates to AR-powered indoor navigation.
Among the upgrades the company is unveiling, they should make the app even more helpful in more scenarios.
There's a lot to cover, as the company said on its blog post, that it is on track to deliver "over 100 AI-powered improvements to Google Maps" this 2021.
First, there is an upgrade to the user-interface for directions.
Here, Google Maps uses tabs for each transportation type: one for driving, then mass transit, walking, ride shares, and biking.
In this redesign interface, Google Maps is putting everything in a flat list.
Users however, can hit the 'options' button and set their preferred mode of transportation. Users can for example, prioritize routing options for driving, walking, trains, buses, motorcycles, bikes, ride shares, "bike and scooter shares" and ferries.
Users can even pick multiple items, so all of their top choices will be first in the list.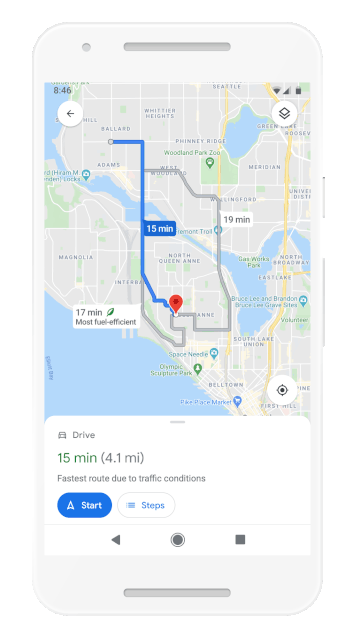 Credit: Google
Google Maps can also show that little green leaf next to transportation methods.
In order to promote cleaner methods of transportations, Google Maps will calculate things like traffic, starts and stops, and road elevation to come up with a CO2 rating for each trip. If it finds a route that is more fuel-efficient but longer, it can notify users about it. And if both routes take the same amount of time, fuel efficiency will be used to decide which one to choose.
This feature is coming to users in the U.S. first, before a "global expansion" is on the way.
And as for countries that have designated "low emission zones" that restrict vehicles like diesel cars which cause pollution, Google Maps wants to start alerting users if they are going to navigate through one of these regions and offer alternative directions when necessary.
Initially, this particular feature is aimed to be released first in Germany, France, Spain, the Netherlands and the UK.
To make this eco-friendly routing options available, Google collaborates with the U.S. Department of Energy's National Renewable Energy Lab.
Credit: Google
The next major update, is Google Maps taking on the weather.
To welcome the update, Google Maps adds two additional layers to its app: Weather and Air Quality.
Since weather is something that users may have to look into before travelling, Google Maps is including that information right inside Google Maps. And as for the air quality information, it should be useful for those who are allergy sufferers or people in places where air quality is regularly an issue.
According to Google, it uses "Data from partners like The Weather Company, AirNow.gov and the Central Pollution Board power these layers that start rolling out on Android and iOS in the coming months. The weather layer will be available globally, and the air quality layer will launch in Australia, India, and the US, with more countries to come."
Google said that the features can show current temperature and forecasted hourly weather conditions.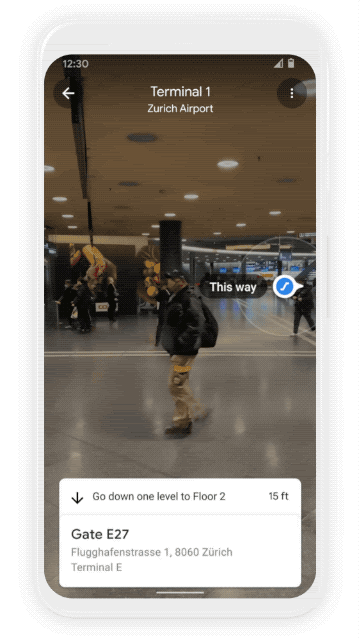 Credit: Google
The next big update, is indoor AR navigation.
Google Maps is already having an AR navigation to commuting for both Android and iOS users in select cities since 2019. Google Maps uses AR Core-based 3D sensing and Google's massive trove of street-view imagery to determine users' direction via the camera and what it is pointed at.
And this time, Google is bringing that AR navigation feature indoors.
Google has demoed this feature in an airport terminal, where it can do things like figure out users' location (GPS doesn't work well while indoors) and identity which floor users are at. In the demo, the feature can even tell where the escalator is, and to go to how many levels up or down to reach the intended location inside the airport.
To make this feature work, Google uses Wi-Fi based positioning and uses AI to scan billions of Street View photos. Using the information, Google Maps can then pinpoint users' location and orientation, to then put a layer on top of that to show navigating information through the users' camera.
The only hardware required for this feature to work, is either Google's ARCore or Apple's ARKit, which is something most newer phones already do.
Google said that it had to "develop an entirely new technology" that it's calling "global localization." Google Maps' director of product said in a press briefing that this has become "the backbone of the Live View feature we know today."
Google calls the feature "Indoor Live View" and says it "is live now on Android and iOS in a number of malls in Chicago, Long Island, Los Angeles, Newark, San Francisco, San Jose, and Seattle. It starts rolling out in the coming months in select airports, malls, and transit stations in Tokyo and Zurich, with more cities on the way."
Google said that it wants to roll this technology out to "airports, transit stations, and malls," where it will be able to "help you find the nearest elevator and escalators, your gate, platform, baggage claim, check-in counters, ticket office, restrooms, ATMs and more."
None of these upgrades are possible without the advancements of machine learning technology. This is why Google said that the upgrades are "redefining" what a map can be with new information and AI.