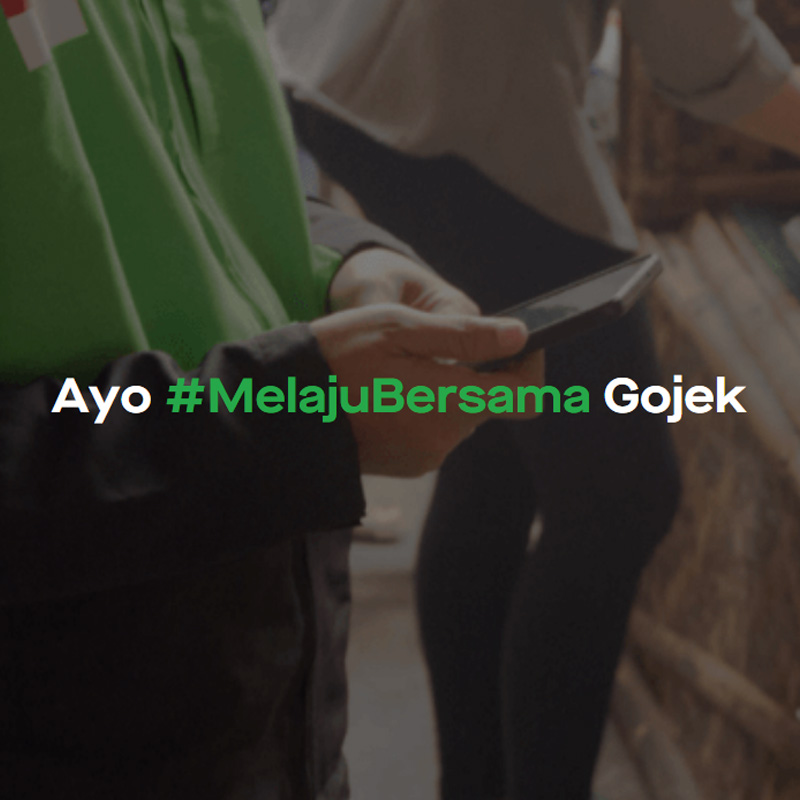 Gojek is Indonesia's ride-hailing decacorn. But it has since grown beyond just that.
In commemoration of the Indonesian MSME National Day on August 12, 2020, Gojek launched a website to help micro, small and medium enterprises (MSMEs), knowing that many businesses in the country has yet to embrace the internet,
Called melajubersamagojek.com, Gojek offers end-to-end solutions for businesses to go online through various efforts. The site is meant to provides advice and assistance to business owners where they can browse through a range of solutions provided by Gojek's ecosystem to solve their problem.
Business owners can also answer questionnaires so Gojek can identify the most suitable solution for them.
"Going digital is not easy if there is only one part of the value chain that is digitalized. That is why we offer end-to-end solutions," Gojek co-CEO Andre Soelistyo said during an online press conference.
Gojek stated that there were currently 500,000 merchants in its ecosystem, 90% of which are MSMEs.
It also said 120,000 new merchants had registered in the last four months.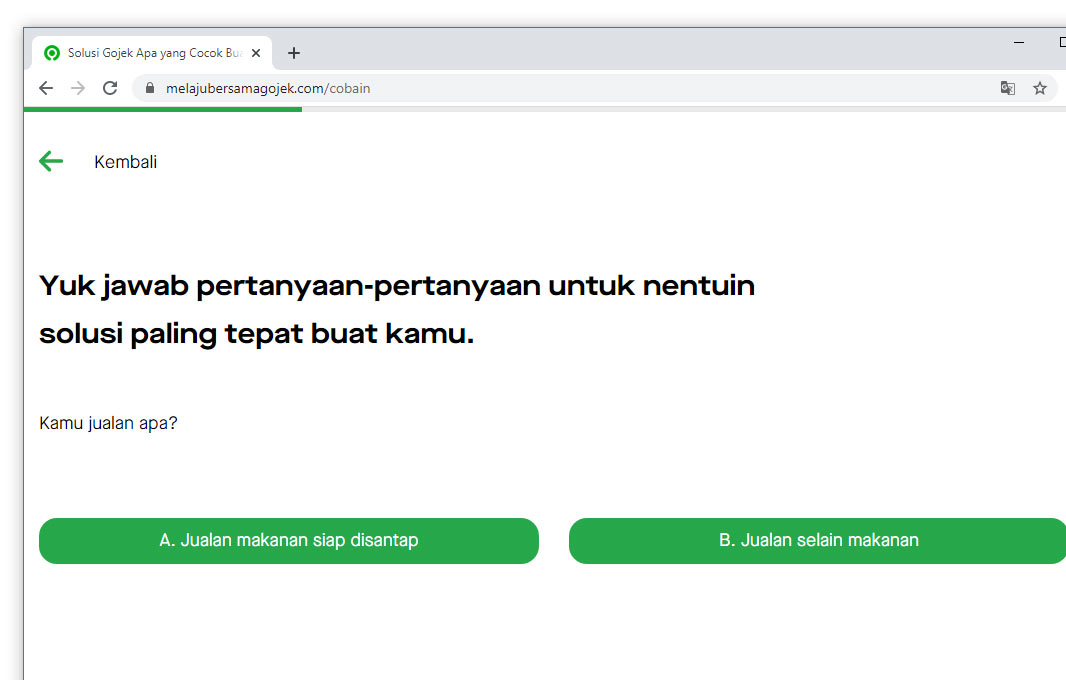 Melaju Bersama Gojek offers questionnaires to help entrepreneurs find the solutions Gojek has for them.
Gojek's digital solutions for MSMEs include Selly, a keyboard and dashboard app to help businesses manage their customer service; MidTrans Payment Link, a payment service for online businesses; GoBiz, an app for online business management, Moka, online cashier application and cashless payment tool; GoSend, GoBox, GoPay, GoFood, and GoShop.
In other words, Gojek wants to provide businesses with the tools needed for marketing, order processing, payment, delivery, to administration.
Andre said that these solutions can be used directly by all types of enterprises, either small or big.
Beside technological solutions, Gojek also supports MSMEs through training programs and capacity building, such as Gojek Wirausaha, Go-Nusantara, Komunitas Laris Manis GoSend, and Komunitas Partner GoFood (KompaG).
Through Gojek's end-to-end solutions, Gojek hopes to speed up MSME transformation from offline to online business, enabling greater contribution to Indonesia's economy.
"We are driven by the spirit of mutual cooperation in helping MSMEs through collaborating with many parties, especially the government and other institutions with similar missions, bringing the small enterprises to the next level," said Andre.
Melaju Bersama Gojek also offers solutions to businesses who want to expand their reach online, or improve their existing workflow.
The initiative that covers all the efforts and technology provided in the super app's ecosystem to help digitize MSMEs, comes after the 'COVID-19' coronavirus pandemic in Indonesia has hit many small and medium enterprises (SMEs), which account for more than half of the country's gross domestic product (GDP).
Falling demand has become a major cause affecting small businesses. 85% of MSMEs were said experience declining sales between March and June, according to a study by the Demographic Institute of the University of Indonesia's (UI) Economics and Business School in collaboration with Gojek.
44% of them saw their sales performance drop by more than half.
Overall, Indonesia's GDP shrunk 5.32% year-on-year in the second quarter, considered the steepest decline since the first quarter of 1999.
Minister of Cooperatives and Small Medium Enterprises (SMEs), Teten Masduki, represented by Human Resources Development Deputy, Arif Rahman Hakim, said that by joining the digital platform, those businesses can potentially adapt quickly.
Gojek's strategy is also appreciated by the Indonesian Minister of Finance, Sri Mulyani Indrawati, represented by Assistant Minister for Tax Supervisory at the Ministry of Finance, Nufransa Wira Sakti.
Nufransa also urged entrepreneurs to register themselves for the MSMEs corporate income tax cut. He reported that only 9%, or around 200,000 out of 2.3 million, of MSMEs that are tax subjects had asked for the tax cut.
"I also urge people to buy MSMEs products so that our economy can run again," he said during the event.