Mia Khalifa entered the adult entertainment as a porn star when she was 21 years old.
Also known as Mia Callista, the Lebanese-American woman only performed for three months, but her name continued to appear on top of most other adult performers, even years after she left.
The adult website xHamster reported that Khalifa was the most searched-for adult actress of 2016, and in 2018, three years after she left the industry.
Pornhub reported that she was the second-highest ranked person on its site. And years later, she remains one of the biggest names in the industry.
What's more, she managed to garner mass media attention in a way many of her peers, never could.
In short, Khalifa is one of the "overrated" performers, given the length and scope of her porn career.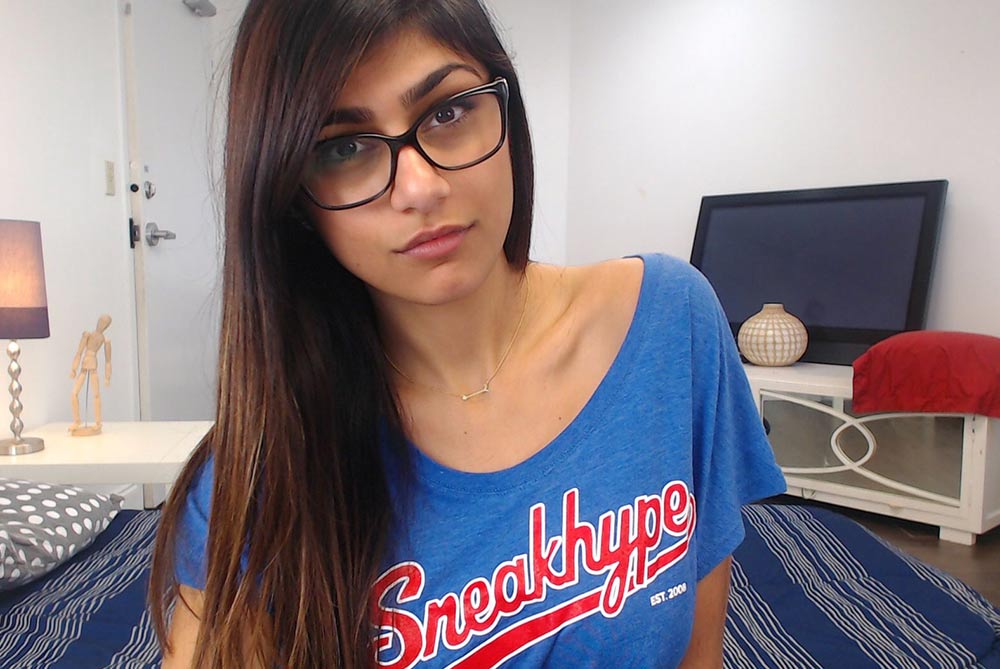 Mia Khalifa.
Khalifa earned her initial burst of fame when she performed porn while wearing a hijab in 2014. This kind of video was new at the time, which in the adult entertainment industry, always draws attention, and also because it was controversial.
The hijab threesome scene boosted her name into popularity, far beyond most others.
Unlike some of her peers who are from countries in Middle East, or have Arabic dialects and accent, Khalifa was different because she looked distinct, like due to her two Lebanese-specific, Arabic tattoos, and when she spoke about her Middle Eastern roots.
"There aren't many Lebanese, or Middle Eastern, porn performers," said Alex Hawkins, VP of xHamster. "Aside from immigration issues, there is not a huge homegrown porn production culture in much of the Middle East, the way there is in South America" or Europe.
In November 2016, an online petition called for Khalifa to be appointed by President-elect Donald Trump as the next United States Ambassador to Saudi Arabia.[28]
BangBros that filmed Khalifa performing with hijab, received outrage from Lebanon, with haters claiming that she had brought disgrace to the nation and insulted Islam. Lebanese media also made Khalifa a national debate about the acceptability of porn and female agency.
She has consistently spoken out against the accusations that she was bringing shame to Muslims and to the Lebanese, but few really listened to her.
"Women's rights in Lebanon are a long way from being taken seriously if a Lebanese-American porn star that no longer resides there can cause such an uproar," she once said. "What I once boasted to people as being the most Westernized nation in the Middle East, I now see as devastatingly archaic and oppressed."
Not only did her brief porn career estranged her from her family and country, but she also received death threats, including from the Islamic State, in which the latter edited her face onto a future execution victim.
"Not even a week later the death threats were racking up. The entire Middle East was after me."
After she left porn, the porn industry welcomed a whole niche of hijab content after her scenes, indicating that there's a consistent consumer base for it. But Khalifa's videos remain especially popular.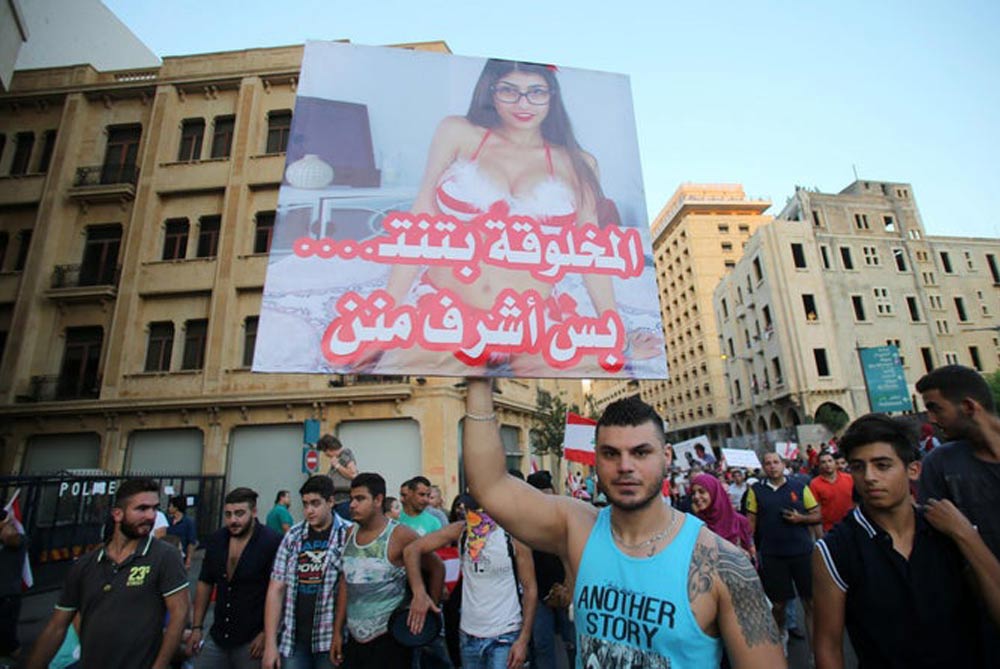 A Lebanese protester with a poster bearing an image of Lebanese porn star Mia Khalifa, reading "It is true that this woman does sex but she is more decent then them" during a mass rally against a political class in Beirut (Credit: AFP/Getty Images)
The quick fame and controversy were some that drove Khalifa away from the industry.
And after leaving the industry, Khalifa managed to keep her porn fame, despite she doesn't really wanted, due to her appearance, and her Middle East origins; she was born and partially raised in Beirut, Lebanon, before moving to the United States as a child.
From porn, she transitioned her career to more normal jobs, such as becoming a paralegal and bookkeeper, to then a social media personality, webcam model and sports commentator. She also performed as a webcam model; sells photoshoots, merchandise and access to exclusive content on a membership website.
She was also a co-host.
Using her garnered fame as Mia Khalifa, she spoke out against the porn industry and the loss of privacy the job caused her in a 2019 interview with BBC's HARDtalk.
From fans from when she was still in porn, to new fans who started liking her due to her internet personality, she shows no sign of losing popularity. In other words, Khalifa's fame has far outlived her porn career. But many said that her porn rank is likely to hold as long as her social influence remains.
In August 2019, she said that as Mia Khalifa the porn star, she only earned $12,000. And with the fame continues on porn sites, she never received any royalties from them.
In 2020, she said that:
"Where I am now is the byproduct of making the best out of a bad situation. I would trade death threats and constant hate/entitlement from men over my body for $15/hour and a quiet life where no one looks twice at me or grabs me in public in a heartbeat."