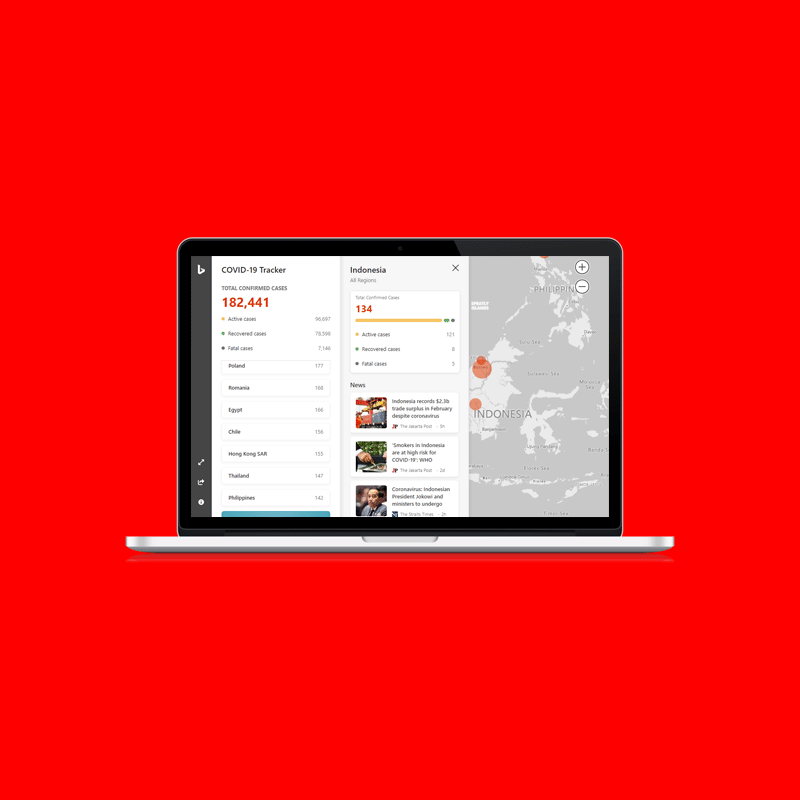 While China has relaxed travel to and from Wuhan, the rest of the world is still struggling with the COVID-19 coronavirus.
As the disease is still spreading, claiming many victims and lives, more and more companies are developing tools to keep people informed about the pandemic.
And here, Microsoft has introduced a live coronavirus tracker dashboard to Bing, so users can track this virus as it spreads.
According to Microsoft, Bing aggregates data for the dashboard from trusted sources, like the World Health Organization (WHO), the U.S. Centers for Disease Control and Prevention (CDC), and the European Centre for Disease Prevention and Control (ECDC), and the Wikipedia page on the 2019-20 coronavirus pandemic.
The dashboard that can be accessed by visiting https://bing.com/covid, looks plenty similar to other trackers out there, but with added features.
For example, the usual left-hand side bar that shows confirmed cases about COVID-19 listed per country, has its items clickable to show more details as well as localized news about the selected country.
Unfortunately for the news feed, Microsoft's COVID-19 tracker appears to be having trouble surfacing relevant and most recent news stories.
But still, Bing has put quite the efforts to make the dashboard as simple as possible, but without eliminating the information needed to make it intuitive.
What's more, the dashboard is also mobile friendly.
Many COVID-19 trackers out there aren't purposely built for mobile users. But Bing's version looks just as information and functional in both desktop and mobile environment.
The map shows regularly updated numbers for how many confirmed cases of the COVID-19 disease have been reported.
Areas affected are displayed with orange circle overlays, with the size of the circle indicating the total number of cases. Hovering over a circle will show the numbers for confirmed cases, recovered cases, and fatal cases.
Trackers like this is very informational and useful to whoever wants to track the spread and the impact of the disease.
Unfortunately, cyber criminals have been taking advantage of the public's interest in tracking COVID-19 to spread their malicious campaigns.
Previously, hackers are piggybacking the trend to spread their malicious campaign, including impersonating WHO and creating a malicious dashboard.
To prevent unwanted hacks, people are advised to only visit official websites to access the tracking tools.