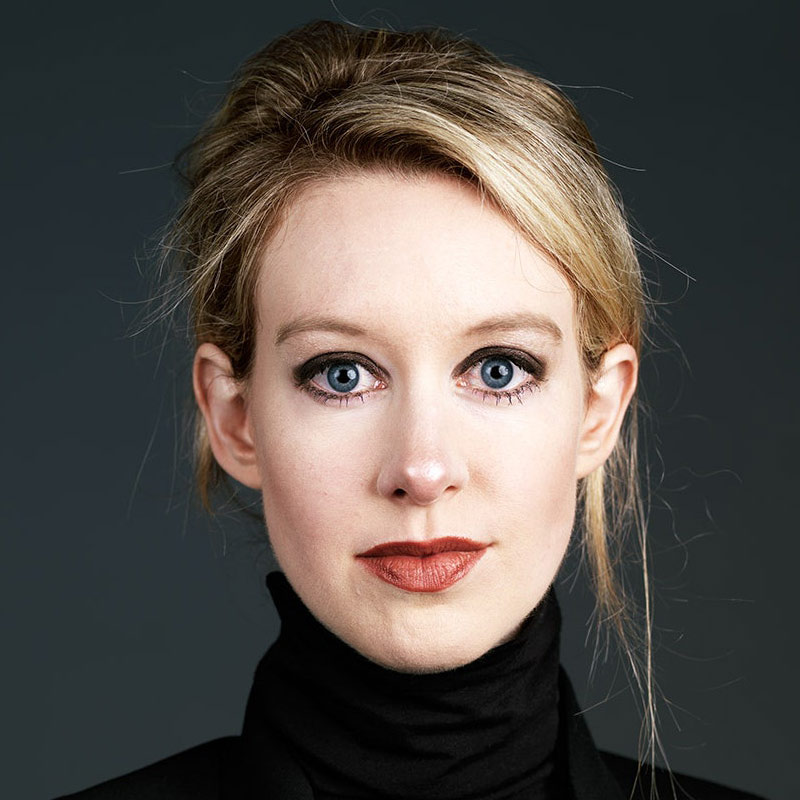 "Find what you love, and don't let it go no matter what."

- Elizabeth Holmes
The health industry is evolving fast. With better technology, hardware, and with advancing human knowledge, far more illnesses and diseases can be cured and prevented.
But despite the fast development on the field, rarely do health-related devices are utilizing the internet to provide seamless integration between the process of testing and analyzing, and communication between patients, doctors and the companies involved in the process.
Theranos is a story that could be considered a massive pitch to the advancement of medical computing. But at the same time, the biggest fraud Silicon Valley has ever seen.
Elizabeth Holmes, was the person behind the idea. She was the mastermind, a genius in persuasion who managed to convince a lot of people through her looks and appeal. Her company Theranos claimed to have devised blood tests by only requiring a very small amounts of blood, and could be performed very rapidly with automation.
Having raised millions of dollars and getting billions in valuation, Holmes as the company's major shareholder, was the world's youngest self-made female billionaire.
But the 'bad blood' that flowed within the company, Holmes's personal net worth then dropped from $4.5 billion to virtually nothing.
Then there she was, as Fortune named her as one of the "World's Most Disappointing Leaders".
Early Life
Elizabeth Holmes was born in Washington, D.C., on born February 3, 1984.
As the daughter of a U.S. government aid worker and a congressional committee staffer, she grew up in Washington, D.C., and also in Houston, Texas, while also spending some of her time in China.
She then attended St. John's School in Houston. She claimed that during her teenage years, she started to have interest in computers and programming. She claimed that her first business was selling C++ compilers to Chinese universities.
When she grew older, Holmes attended Stanford University's summer Mandarin program, and in 2002, studied chemical engineering. She also worked as a student researcher and laboratory assistant in the School of Engineering.
In one summer break during her freshman year, Holmes took a job at the Genome Institute of Singapore to work on a computer chip designed to detect the presence of the severe acute respiratory syndrome coronavirus (SARS-CoV-1) virus in the body.
It was during that time that she was tested positive for the virus.
During the process, she had to have her blood blood tested numerous times, and the processes included doctors inserting large syringes. Her fear for needles encouraged her to create something that can collect blood samples with minimal invasion.
She became interested in developing more-efficient medical devices that could improve upon traditional diagnostic testing and therapeutic assessment. Upon her return to Stanford, Holmes patented a device that can be attached to a person's body and measured the effectiveness of a given medication by comparing parameters of chemical markers produced by a diseased region with those of the therapeutic agent.
Her idea from there, was to found her own company.
Founding of Theranos
It was in March 2004 that Elizabeth Holmes dropped out of her college at Stanford's School of Engineering, and used her tuition money as an initial funding for her company, which would become a consumer healthcare technology company devoted to developing minimally invasive laboratory testing services.
Holmes founded the company called Real-Time Cures in Palo Alto, California, and serves as its CEO to "democratize healthcare". But when she pitched the idea to some of her professors and experts, they were all skeptical. They said that her idea is not going to work, explaining that it would be literally impossible for a blood testing device to work with such a small amount of blood sample.
Holmes was resilient, and managed to get Channing Robertson, her advisor at Stanford's School of Engineering, to back her idea.
It was in 2003 that Real-Time Cures was renamed to Theranos (a portmanteau of "therapy" and "diagnosis"). Robertson became Theranos' first board member, as it was him who initially introduced Holmes to investors.
The Relentless Passion
Some of the most well-known Most Silicon Valley entrepreneurs were dropouts.
Microsoft co-founder Bill Gates to Facebook co-founder Mark Zuckerberg are two of the most prominent examples.
But what they did, was struck gold by doing what they do best, which is coding.
But the health industry involves the combined brains of scientists, doctors, researchers and more, all put together, in a growing field that is thousands of years old. Various hardware and medical devices are needed. The medicine and chemistry are fields require decades of research before a breakthrough can be found.
But Holmes was relentless.
Promising Technology, Wrapped In Lies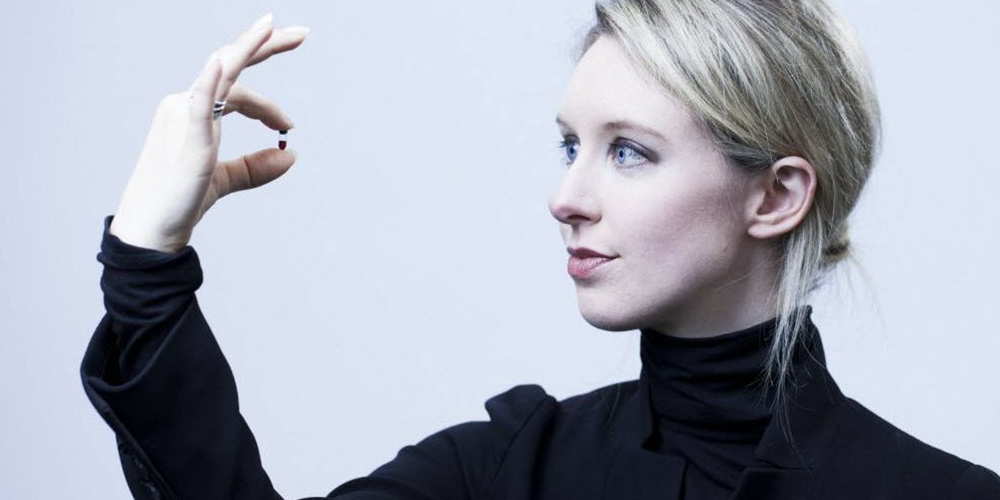 Elizabeth Holmes holding the "nanotainer", a container capable of holding only a few drops of blood for the claimed hundreds of tests.
Blood tests help doctors check for certain diseases and conditions.
Through blood tests, doctors can also understand the functions of a person's organs, knowing how well they are doing, and understanding how well treatments are working.
Traditionally, blood tests involve doctors taking 5–10 ml blood samples to be sent to the labs. The blood sample is usually taken in a small quantity, taken usually from the vein in the arm using a needle. Sometimes, a finger prick can also be used.
In the labs, workers will analyze the blood.
They will first use the whole blood to count blood cells among others, and then separate the blood cells from the plasma (serum) using a device called a centrifuge.
After this, workers can then analyze the different substances present in the blood.
While blood can reveal many of a person body's functions, blood samples from blood tests aren't usually enough to diagnose many other diseases. And to many people, getting their blood taken through a needle can be traumatic.
This was where Theranos claimed to have developed devices to automate blood tests.
Using a needle prick, the device can conduct miniaturize blood tests using microscopic blood volumes. Theranos dubbed its blood collection vessel the "nanotainer" and its analysis machine the 'Edison'.
This nanocontainer can hold just around a few drops of blood at most.
The Edison device was supposed to be a point-of-care system that could connect to the internet to run various clinical blood tests. The patent for the Edison described it as a device that could communicate with the Internet to receive instructions for which blood tests to run on the samples and then communicate those results back through the internet.
The results would then be compared to medical data available on the internet, and that the Edison device would then run supplementary blood tests that were more targeted based on the results for better comparison results.
Theranos' technology held a lot of promise.
When the entire world rely on people sending blood samples to be fed on huge machines in a clinical sterile lab, Theranos was introducing something anyone can do.
Traditional blood testing relied on drawing blood in a process that is often painful for patients and costly for insurance carriers. Theranos claimed goal, was to improve laboratory blood collection and testing by miniaturizing and automating the process.
However, the technology has been criticized for not being peer reviewed.
Many questioned the device's accuracy and reliability, whether or not it needed regulator's approval and so forth.
But Holmes was a prolific seller, and a capable communicator. With her looks and charm, she was also a profound manipulator.
Lies After Lies
Elizabeth Holmes really believed her own story, making her think that she did nothing wrong.
The best Holmes is known for, is deception.
When talking about Theranos, Holmes often mentioned the story about her beloved uncle who was diagnosed with skin cancer, which quickly became brain and bone cancer. He died too young and Holmes hoped that with the help of her blood-testing technology, "less people [will] have to say goodbye too soon."
In fact, Holmes was never close to her uncle, and only used his name for marketing purposes.
Theranos' special device, was said to be capable of running hundreds of blood tests on just a few drops of blood. The 'Edison' device which was later called the 'miniLab', was marketed as faster, cheaper and more accurate than all other blood-testing equipment available in the market.
Holmes said this, and it was all a lie.
The device was only able to run a dozen or so tests, and leave the hundreds more samples to be tested separately using existing equipment that are common in labs.
In other words, Theranos's device only tested a small sample, while sending the rest of the blood samples to be tested on third-party devices that are already proven by the health industry. Holmes hid this fact and told investors that Theranos only used its own equipment.
When Theranos struck a deal with Walgreens and Safeway stores, Holmes lied about how Theranos' technology worked. Holmes didn't just say that the technology worked, as she also went to great lengths to make it look like it worked.
Theranos also gave investors fake demonstrations and misleading information about its clinical trials.
Holmes also lied when she said that Theranos's technology had been deployed by the U.S. Department of Defense in the battlefield in Afghanistan, and on medical evacuation helicopters. The truth was that, Theranos' products was used only in the Department of Defense burn study, and never more than that.
Holmes also lied to investors about Theranos' earnings. She said that Theranos was going to make $100 million in a year when the company only made about $100,000.
And making things all worse, Holmes delivered all those information to the media.
Then about the black turtleneck she often wore. She said that her mother dressed her in turtlenecks since she was small. But in fact, it was her employee that first introduced her to Steve Jobs' turtleneck attire in 2007.
Then about her voice, she often spoke in a deep baritone voice, something that is unusual for a woman her age. A former Theranos colleague claimed that Holmes can use a voice typical of a woman in her twenties, in which he experienced when Holmes first greeted him when he was new to Theranos.
Her family said that Holmes does have a baritone voice, but many in the public suggested that she wanted to impersonate the voices of other influential people in the tech industry who are mostly men.
For a person capable of pulling of a massive deception like Holmes, it is said that it's possible because Holmes believes in her own lies, making her think that she did nothing wrong.
She really believed her own story.
The Fall of Elizabeth Holmes
Some lengthy investigations on Theranos were initiated after a The Wall Street Journal received a tip from a medical expert who thought that the Theranos blood testing device seemed suspicious.
Journalists and investigators started questioning ex-Theranos employees and obtained some of the company's documents. When Holmes knew that someone was probing her company, she quickly initiated a campaign through her lawyers and stopped the article from being published.
The investigations however, quietly continued.
It was John Carreyrou from The Wall Street Journal who first exposed the facts, one by one.
Carreyrou continued exposing Holmes in a series of articles and, in 2018, published a book titled, Bad Blood: Secrets and Lies in a Silicon Valley Startup.
"At the end of my book, I say that a sociopath is described as someone with no conscience. I think she absolutely has sociopathic tendencies. One of those tendencies is pathological lying. I believe this is a woman who started telling small lies soon after she dropped out of Stanford, when she founded her company, and the lies became bigger and bigger," Carreyrou said.
"I think she's someone that got used to telling lies so often, and the lies got so much bigger, that eventually the line between the lies and reality blurred for her."
Holmes denied all the claims, and she said that in public.
But after the Centers for Medical and Medicaid Services (CMS) found that Theranos' labs were lacking staff proficiency, procedures and equipment, the regulators banned Holmes from owning or operating a certified clinical lab for at least two years.
After it was found that Theranos' devices weren't capable of doing what they were supposed to do, and the revealing of all the truths behind her lies, approximately 99% of Theranos shareholders reached an agreement with the company to dismiss all current and potential litigation in exchange for shares of preferred stock.
Holmes released a portion of her equity to offset any dilution of stock value to non-participating shareholders.
Charged with defrauding Theranos' investors out of more than $700 million with exaggerated claims, in 2018, Holmes settled an SEC lawsuit, which included her surrendering voting control of Theranos, a ban on holding an officer position in a public company for 10 years, a $500,000 fine, and forfeiting 19 million shares of Theranos stock.
On September 4, 2018, Theranos announced to investors that it would cease operations and release its assets and remaining cash to creditors after it failed to find a buyer for the company.
At its peak in 2015, Theranos had more than 800 employees.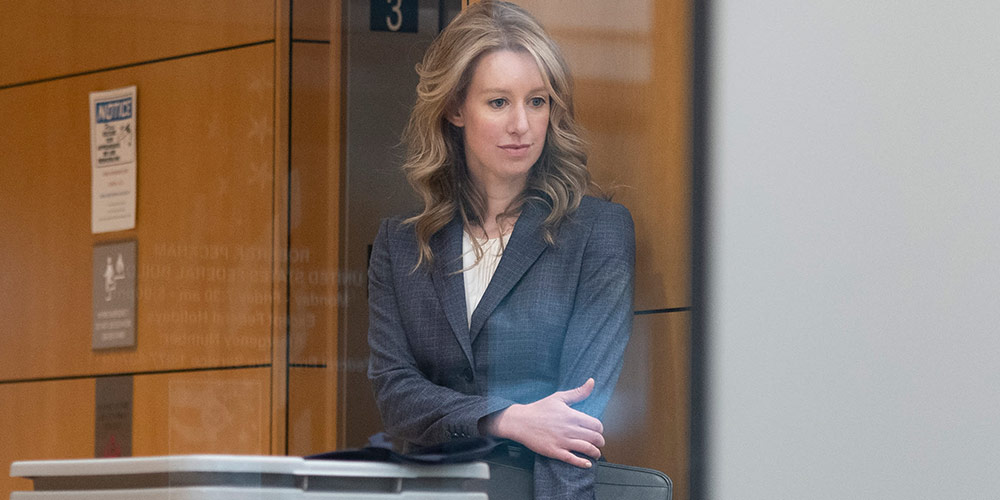 Elizabeth Holmes at her hearing at the U.S. District Court House inside Robert F. Peckham Federal Building in San Jose, California, on November 4, 2019.
Her case is handled at the U.S. District Court for the Northern District of California.
But due to the 'COVID-19' coronavirus pandemic, her case was pushed back.
If convicted, Holmes faces a maximum sentence of twenty years in prison, a fine of $250,000, plus restitution, for each count of wire fraud and for each conspiracy count.
Personal Life
Young, beautiful, wealthy and famous, Elizabeth Holmes was once regarded as one of the most admired CEO of Silicon Valley.
Through her deception ability, she managed to fill Theranos' board and investors with many influential people.
From Silicon Valley venture capitalist Tim Draper, Rupert Murdoch, the Walton family, the DeVos family including Betsy DeVos, George Shultz the Cox family of Cox Enterprises and Mexican businessman Carlos Slim Helú.
The board also included high-profile individuals like Henry Kissinger, a former secretary of state; William Perry, a former secretary of defense; James Mattis, a future secretary of defense; Gary Roughead, a retired U.S. Navy admiral; Bill Frist, a former U.S. Senator (R-TN); Sam Nunn, a former U.S. Senator (D-GA); and former CEOs Dick Kovacevich of Wells Fargo and Riley Bechtel of Bechtel.
But what Holmes promised them, was a lie.
Most if not all of those who invested to the company, lost a huge amount of money when Theranos filed for bankruptcy.
Holmes also received numerous recognitions. But later, those recognitions weren't anymore recognized.
At her peak, Holmes held a a 50% stock ownership in Theranos, and a billionaire with at least a net worth of $4.5 billion. After filing for bankruptcy, Holmes net worth dropped to almost nothing, and even owed $25 million in debt.
Holmes was in relationship with technology entrepreneur Ramesh "Sunny" Balwani, a Pakistani-born Hindu who immigrated to India and then the US. Holmes met Sunny when she was 18, and Sunny was 19 years older than her. At that time, Sunny was still married to another woman.
Sunny was Theranos' Chief Operating Officer, and an advisor to Holmes.
When the two were together, they ran Theranos with "secrecy and fear".
And when the investigations happened, Holmes said that she fired Sunny, while Sunny said that he left Theranos of his own.
If Holmes is convicted, Sunny won't be off the hook. Sunny can also face up to twenty years in prison and a more than $2.7 million fine, the U.S. government has said.
In 2019, it was reported that Holmes was engaged with William "Billy" Evans, a heir to the Evans Hotel Group.
The two reportedly first met in 2017, and were first seen together in public in 2018 at Burning Man, the art festival in the Nevada desert. Holmes was wearing Evans' MIT "signet ring" on a chain around her neck, and the couple reportedly posts photos "professing their love for each other" on a private Instagram account.
Evans' parents are reportedly "flabbergasted" at their son's decision to marry Holmes.
The couple eventually married in 2019 in a private ceremony, and live in San Francisco.