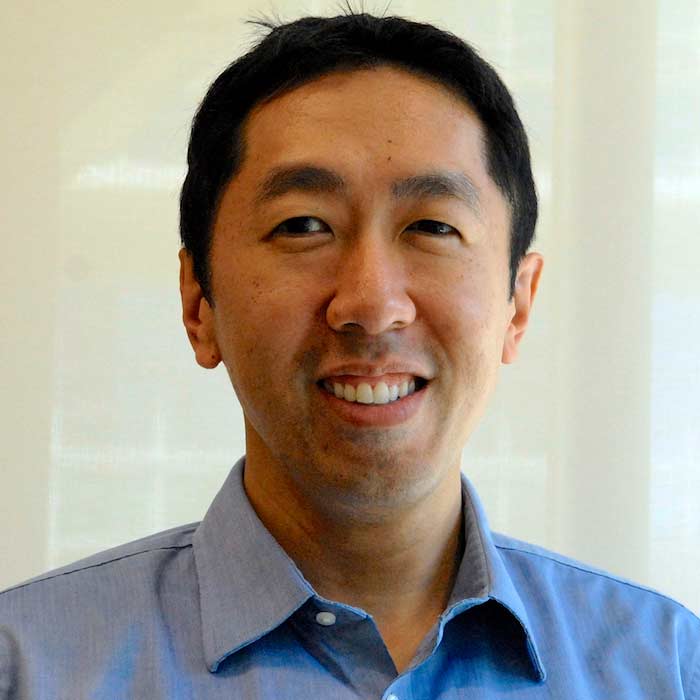 AI has tremendous potential that I think in the coming five or ten years we'll make tremendous progress in perception.

- Andrew Ng
The most important attribute for someone to become a successful in a professional field is to keep up with trend changes. This will influence work, strategy and success. Andrew Ng is one of the figure that has all that attribute.
Ng's work has a tremendous impact on artificial intelligence (AI). His work has affected speech recognition software, robotics, machine learning, neural networks, real-time language translation, and many more. With his experience and knowledge, he is one of the people that successfully shines the light into the dark mystery of the 'digital brain' which has puzzled and amazed many science fiction fans.
Early Life
Andrew Y. Ng (Chinese: 吳恩達) was born on April 18th, 1976 in United Kingdom. Born from Singaporeans parents, Ng spent time in Hong Kong and Singapore. He graduated from Raffles Institution in Singapore in 1992 and got his undergraduate degree in Computer Science from Carnegie Mellon University in Pittsburgh, Pennsylvania in 1997. Later, Ng got his Master's degree from Massachusetts Institute of Technology in Cambridge, Massachusetts in 1998, and received his Ph.D from University of California, Berkeley in 2002.
His passion of computers came at an early age, where he once later explained that it is complex than most other studies.
"I think that computer science is fundamentally about scale. I think that in many professions that individuals could choose to go into, there are few disciplines as scalable as engineering or as computer science specifically," said Ng.
Careers
On the same year after he received his Ph.D degree, Ng started working at Stanford University as an associate professor in the Department of Computer Science and Department of Electrical Engineering. He later works as the Director of the Stanford Artificial Intelligence Lab where he taught and conducted research in artificial intelligence, machine learning and robotics, and launched an online education program.
In 2008, Ng started SEE (Stanford Engineering Everywhere), which was Stanford's first attempt at free, online distributed education. His goal is to give everyone access to the best professors in the best universities in the world without having to pay for anything. Ng taught one of these courses, Machine Learning, which consisted of video lectures by him, along with the student materials used in the Stanford CS229 class. The courses were hosted on ml-class.org, had over 100,000 students registered for its first iteration. This MOOC (Massive Open Online Courses) was one of the first successful MOOC made by Stanford professors.
Since then, hundreds of thousands of people have viewed his machine learning lectures on YouTube, and over 1,000,000 people have viewed his and other SEE videos.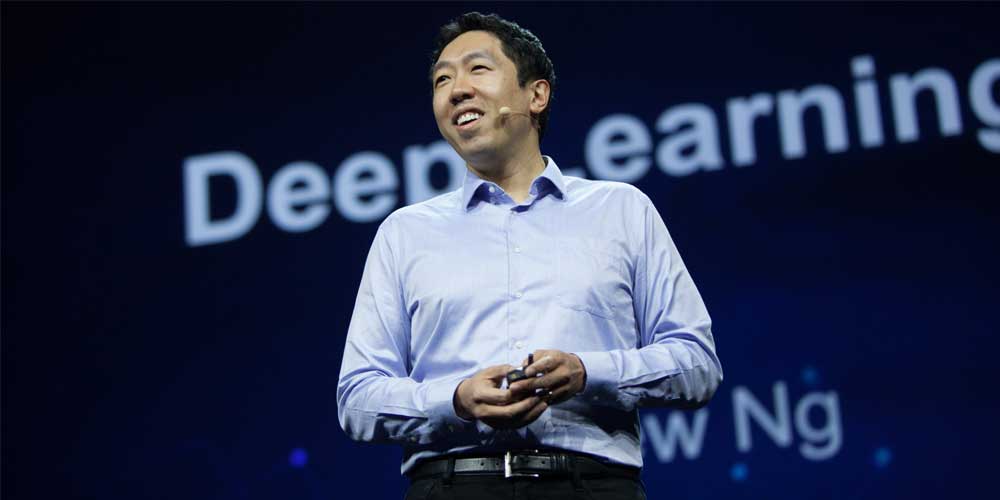 In January 2011, Andrew Ng joined Google, working as the founder and leader of Google Deep Learning project in its Google X division, the company's experimental division. There, Ng helped in leading the Google Brain project to develop large-scale artificial neural network technology using the company's distributed computer infrastructure.
His notable work was in creating the neural network that is "trained" and uses deep learning algorithms powered by 16,000 CPU cores, able to recognize higher-level concepts. This led to the famous "Google Cat" result, in which the system learned by itself how to recognize objects (such as cats) simply by watching YouTube videos, without ever having been told what a "cat" is. The project's technology is currently used for speech recognition in Google's Android mobile operating system.
"The world is so complex," said Ng. "My instinct is to try to select incredibly flexible learning algorithms and let the learning algorithms examine data from the world and to sort out what is true or what is not true about the world for itself."
After successfully leading the development of Stanford University's main MOOC and taught the online Machine Learning class, Andrew Ng co-founded Coursera in 2011, a venture-funded online education startup, with Daphne Koller. The for-profit educational technology company works with universities to make some of their courses available online, and offers courses in physics, engineering, humanities, medicine, biology, social sciences, mathematics, business, computer science, and other subjects.
One of the reason that he wanted to create a startup was because he was influenced by a book called The Lean Startup by Eric Ries. The book has given Ng the philosophy in building his startup . At Coursera, Ng holds the Chairman of the Board. Ng eventually left Google to concentrate on his ventures.
He researches primarily in machine learning and deep learning. His early work includes the Stanford Autonomous Helicopter project, which developed an autonomous helicopters, and the STAIR (STanford Artificial Intelligence Robot) project, which resulted in ROS, a widely used open-source robotics software platform.
Ng also serves as an Advisor of ZhiLabs SL. He serves as Assistant Professor of Computer Science of Stanford University, where he teaches machine learning and published extensively on topics related to robotics, AI and related fields. He has also developed a number of neuroscience-informed approaches to building artificial learning systems. His team has won best paper and best student paper awards at ACL, CEAS and 3DRR. Some of his work in computer vision has been featured in a series of press releases and reviews.
Ng also serves as a Member of the Technical Advisory Board at Numenta, Inc. He is a Member of the Technical Advisory Board of Grok.
On May 16, 2014, Ng announced in his Coursera blog that he would be stepping away from his day-to-day responsibilities at Coursera, and joins Baidu as Chief Scientist, working on Baidu Brain project, which also involves overseeing their Silicon Valley AI lab.
Personal Life
Andrew Ng currently lives in Palo Alto, California. He married Carol E. Reiley in 2014. The two met at the IEEE International Conference on Robotics and Automation in Kobe, Japan, and, as Carol puts it, "sparks flew." She is a surgical roboticist at Johns Hopkins University and is involved in a new robot startup.
As a professional in his field, Ng has received numerous awards and recognitions. He is a recipient of the Alfred P. Sloan Fellowship, and the 2009 IJCAI Computers and Thought award, one of the highest honors in AI. Ng was named in 2013 to the Time 100, the list of "100 Most Influential People in the World," as well as to Fortune's "40 under 40" list. In 2008, he was named to the MIT Technology Review TR35 as one of the top 35 innovators in the world under the age of 35. Ng was also awarded a Sloan Fellowship and the Computers and Thought Award.
Ng places a major concern about the growing population. "I think our planet faces a lot of challenges - I think that global poverty and inequality are some of the major challenges facing our society."