The internet can reach far across the globe, capable of surfacing news and stories that are never heard of by even the most cunning. But even with its help, the police still couldn't find a missing person.
One of which, is Lars Mittank.
He was 28-years-old when he was referred to as "the Most Famous Missing Person on YouTube". That was because Mittank disappearance happened mysteriously, and people were eager to know what had happened, and what happened to him.
In a 30-second video footage taken on July 8, 2014, just after sunrise, a CCTV footage at the Varna Airport in Bulgaria, Mittank was seen dressed in a yellow T-shirt and was running from a terminal, with an apparent fear shown on his face.
He stopped briefly at the main entrance, before he again ran to cross the parking lot, to them climbed over barbed-wire security fence, and straight into a forest where he then disappeared.
Mittank who reportedly left behind a backpack and suitcase, which contained his wallet, passport, phone and others. But still, his possessions failed to provide any clue into his disappearance.
With people eager to know what happened, the footage from the terminal where Mittank disappeared, have been watched by more than millions of times, shortly after it the video was uploaded to YouTube.
During the years he went missing, the incident triggered multiple conspiracy theories, some worse than the others.
Lars Mittank.
At the time, Mittank was on a holiday with his five friends, all their late 20s, at a seaside resort of Golden Sands, Bulgaria (the Bulgarian Riviera).
Before the incident, his friends said that Mittank showed no sign of odd behavior whatsoever.
"The week went by really fast," Paul Rohmann, one of Mittank's friends said to a German television in 2016. "We relaxed on the beach, swam in the pool, played football, went clubbing. He was relaxed. He was in a good mood."
"I noticed he didn't eat much," added Tim Schuldt, who was also on the trip. "He'd have a bowl of soup or a small plate of salad, and that was it."
Nothing else, was odd. The only moment that was clearly odd was probably on the day they were about to fly back to Germany.
It was then revealed that Mittank had ruptured his eardrum during a fight outside of a bar with some four other tourists after a football match a few days earlier. Due to this condition, Mittank was worried that he couldn't fly out of Bulgaria because the cabin pressure inside airplanes could make his ear condition worse.
He told his friends, who had checked out of the hotel at noon, to fly back to Germany without him.
Mittank initially experienced a hard time finding a room to stay, considering that the moment was high season and hotels were occupied. But luckily, Mittank found a vacant room at Hotel Color Varna.
The hotel was cheap, and close to the airport, meaning that it shouldn't cause him trouble as he too should fly back to Germany the following day, as his doctor ordered.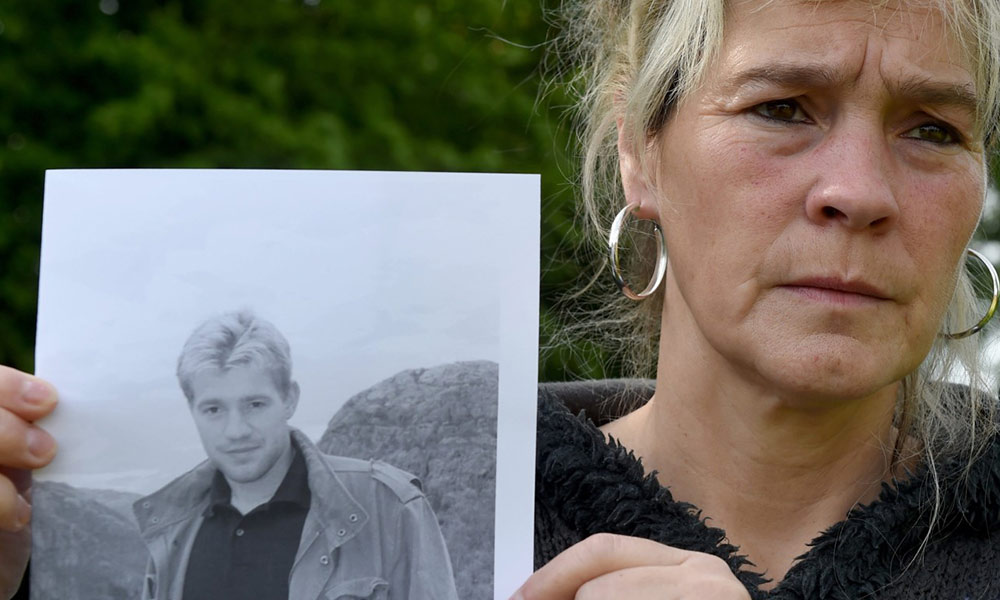 Lars Mittank's mother, Sandra Mittank, holding a photo of his only son.
Inside the hotel room he was staying, Mittank called his mother, whispering and acting strangely. He told her to cancel his bank cards, and said that he was being followed. He was trying to hide, before hanging up the phone.
"I thought, God, my son is in danger," said Sandra Mittank in an interview. "I could hear his heart pounding over the phone. He said people were trying to rob him or kill him."
Later, he texted her about Cefuroxime 500 and the antibiotics he needed for his ears.
After Mittank disappeared, the police checked the CCTVs at the hotel, and found him running up and down the foyer, and looking out the window, as if expecting for something. Late at night, Mittank again showed some strange behavior by hiding inside the elevator, and leaving the hotel for about an hour.
In the morning, he again called his mother to say that the people who were chasing him were getting close.
"In hindsight, I should have asked him more questions," Sandra has said. "But his cell phone was running out of battery, so our final conversation didn't last for long."
This was the time he left for the airport.
Mittank waved down a taxi and rode to the airport. He texted his mom: "I just made it to the terminal…"
Inside the airport, it was when he saw a construction worker entered the room (the terminal was being refurbished) that Mittank started to freak out.
"I don't want to die here. I have to get out of here," he said as he muttered something under his breath.
He suddenly leapt from the chair he was sitting, exited the room, left his luggage behind, and started running to pass the boarding gates, past the check-in desks and baggage drops, all the way through the airport's main entrance, to then across the parking lot, and into the wooded area around the airport.
With the footage released the next day, Lars Mittank made the national news.
"Every time I see that video, I feel like I want to protect him," Sandra has said. "I want to rescue him."
With Mittank disappearing without a trace, people never really stopped speculating.
In the comment section of the video, a user wrote that "he planned for his disappearance. I would bet my money on it." Another user wrote that "he swallowed drugs and freaked out", and another user wrote that Mittank should have died from an "overdose".
There were more sinister theories, too.
Lars Mittank was like running for his life in the footage captured by a CCTV camera.
In large part because it happened in Bulgaria, which was known to have one of the highest rates of human trafficking in the European Union. Some users suggested that Mittank was forced human trafficking, or may have been killed, or had his organs removed and traded.
"I think if he is alive, then he's either being tortured or was sold as a sex slave," another user wrote.
"It's definitely not anything good, and he would be better off dead if that were the case. I feel really bad for his mother. I can't imagine losing my boy and not having closure."
Not just YouTubers were trying to solve the case with their own opinions, as those on Reddit and online forums were also scrambling with their thoughts.
Another speculated that during the brawl that ruptured his eardrum, Mittank could have sustained a concussion, where symptoms don't show up for a day or two. This may explain his fear and anxiety of being followed. Mittank may also developed some sorts of mental illness immediately after the fight, which again may explain his irrelevant confusion.
Others said that the four men who Mittank fought with earlier, were indeed after his life, and were around when he was alone at Hotel Color Varna. Mittank may had left for an hour during the night to solve the dispute, but with no success. The four men were then seen after him at the airport, which may had freaked Mittank out.
Some even wrote that his fight that ruptured his eardrum may had been a lie, and only an excuse to not return to Germany, and start something new.
His mother hired a local private investigator to look into the case.
There were sightings, both from the real world and from information from the internet. But none proven to be Mittank.
"There's a good chance he'll come back," Sandra has said. "He just needs my help."
The original YouTube video has been taken down because YouTube has terminated the uploader's account.