Quinn Finite was a model.
However, as 'COVID-19' coronavirus hits and spreads as a pandemic, she no longer felt comfortable leaving her home for photoshoots.
This is why she had to start supporting herself through other means.
When she began searching for ways to earn money, she wondered whether she should start an OnlyFans account, which she describes as a "paid Instagram." She knew that pay-per-view adult subscription platforms like OnlyFans gained immense popularity following the coronavirus crisis.
The platform allows 'fans' of the content creators to subscribe to their videos and photos on a monthly basis.
In Quinn's case, she charges $8.99 for her fans.
"It's been great working from home and having that kind of freedom," Quinn said. "I love modeling and being creative."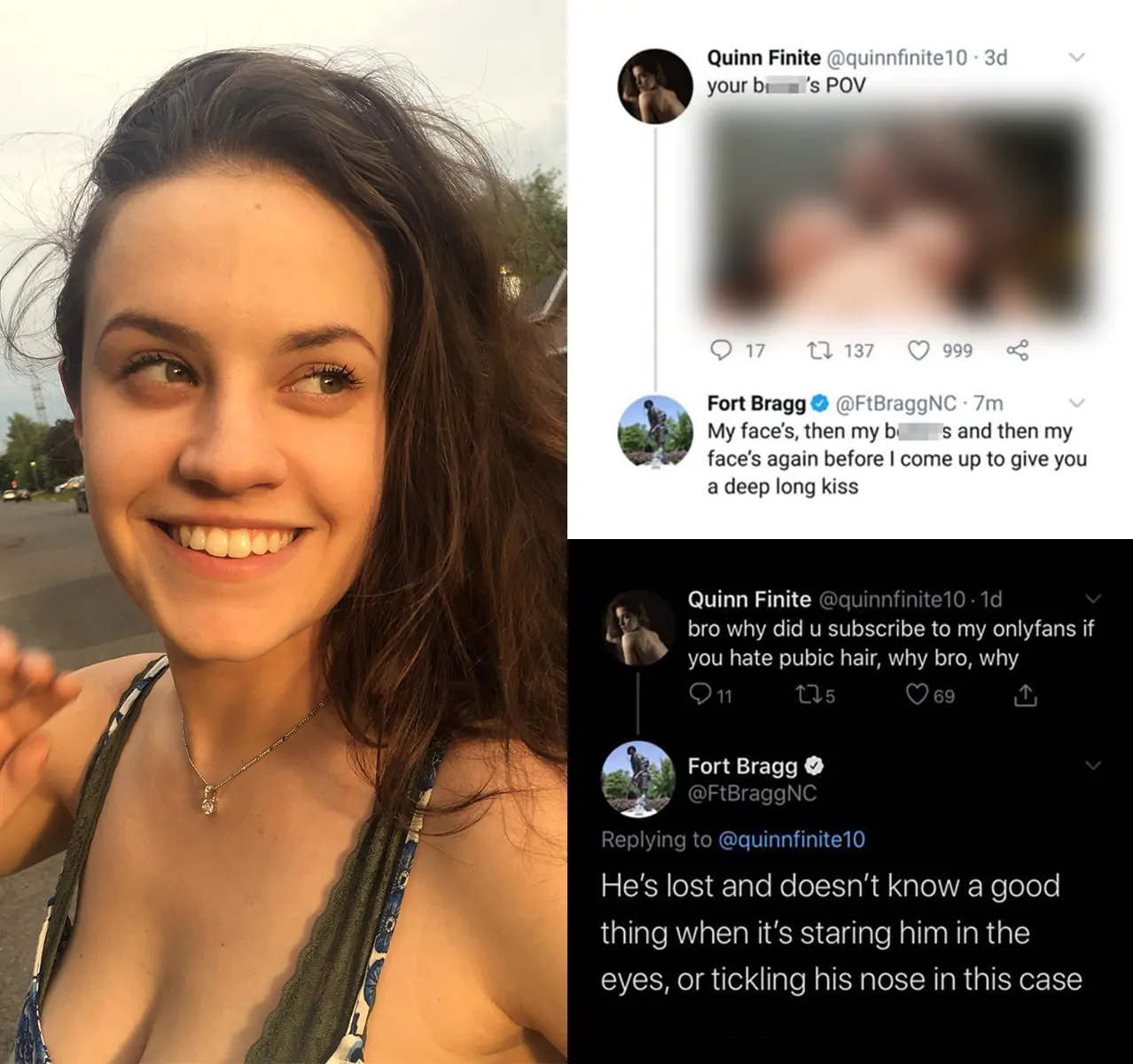 Quinn Finite, and screenshots of U.S. Army's lusty tweets. (Credit: Quinn Finite/Reddit,Twitter)
Days past like normal, until one day she received a notification. She thought that it was probably just "some guy saying some horny things".
She neglected it.
It was only the next day that she was surprised to see hundreds of notifications on her phone.
"Holy s---, this is the largest U.S. military installation," Quinn said.
"I was just like: 'Oh, OK. It's just some guy saying some horny things to me," Quinn recalled.
"It's like nothing too different — I get these types of comments every single day, hundreds of them, so I didn't really pay attention to it until I reopened my phone again and had hundreds of notifications."
Quinn realized that she was receiving more notifications than anytime she had in the past, after the official Twitter account for Fort Bragg, the home of the U.S. Army's Airborne and Special Operations Command, had replied to her tweets with lust and visible to the public.
Fort Bragg, which is considered one of the largest military installations in the world, commented on her pubic hair, and also reacted to one of her explicit images, by also suggesting that Quinn and the operator of the Twitter account should engage in sexual acts.
Twitter users responded with jokes and all, making the tweet to quickly go viral.
Hours later, Fort Bragg responded by claiming its account was hacked.
"As many of you may know, there were a string of explicit Tweets from our account this afternoon," said a representative for the North Carolina base in a statement. "This was not the work of our admins. Our account was hacked. We apologize to our followers."
The next morning, the XVIII Airborne Corps also apologized for its earlier statement and identified an "administrator" as the source of the tweets, and an "appropriate action" was underway.
Before the Fort Bragg tweets, Quinn was earning about $7,000 a month.
Following Fort Bragg's lusty tweets, Quinn said that she's on her way to book a $35,000 per month earning from her about 4,000 subscribers.
This morning, at the initiation of an investigation into yesterday's incident regarding inappropriate tweets on the Fort Bragg Twitter account, an administrator for the account identified himself as the source of the tweets. Appropriate action is underway.

— XVIII Airborne Corps (@18airbornecorps) October 22, 2020
"It was plenty to live off of, but now I kind of quintupled my income," she said.
"They kind of keep coming," Quinn said. "I thought it was over, but there's still waves. It's so interesting to see how the internet works that way."
"You can't even pay for this kind of promotion," Quinn said. "This is the jackpot."
OnlyFans rank its content creators based on their number of subscriptions, tips, and other factors. Those in the top 1% of earners are said to be making at least $15,000 a month and, at the top end, more than $100,000 a month.
Quinn here, was in the top 1.2% of content creators on the platform. But following the viral tweet, she became one of the sub 1% of earners.
As for the identity of the unnamed "administrator" who started all this, the U.S. Army is not giving any information.
Quinn thanked this person through some of her tweets. She also said that she hoped they "got let off easy."
"I honestly hope that he follows me on his personal account," she said. "I don't think he'll ever message me saying, 'Oh that was me,' but it would be nice to hear from him."
"Real talk someone shouldn't have lost their job over this - I'm sorry for any harm done," she added.
Following this incident, Fort Bragg's Twitter account @FtBraggNC has been taken down.
(I don't know what happened to the person but I wish them well)

— Quinn Finite (@quinnfinite10) October 22, 2020