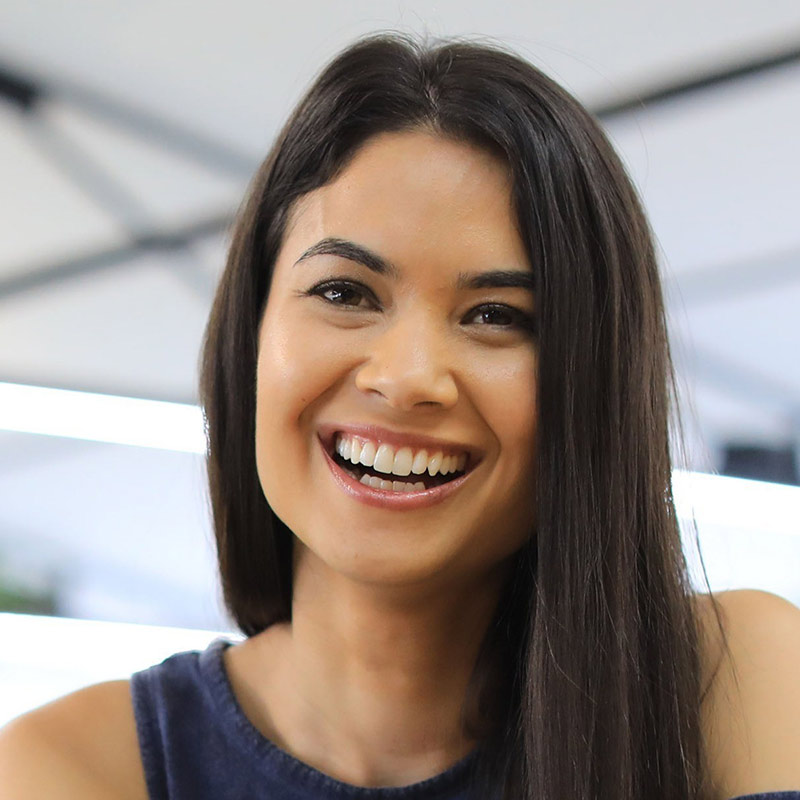 "Plant lots and lots of seeds and hopefully one will grow!"

- Melanie Perkins
The tech industry is quickly evolving. Those who cannot keep up will be left behind in others' business dust. It's the harsh fact. But when one manages to succeed, fame and fortune are just around the corner.
Melanie Perkins had no technical knowledge and background. She also lacked the Silicon Valley resources many of her peers have.
Perkins, as a woman, was far from being seen in the industry.
In fact, she even claimed that she was rejected by over 100 local investors in Perth.
When she put everything she had, her future started to shine bright.
With Canva, it didn't take long until Perkins became one of the richest people in Australia.
Early Life
Melanie Perkins was born in Perth, Western Australia, in May 13, 1987.
Perkins, who is the daughter of an Australian-born teacher and a Malaysian engineer of Filipino and Sri Lankan descent, attended Sacred Heart College, a secondary school located in the northern Perth suburb of Sorrento.
Unlike many tech founders before and after her, Perkins never had a passion for tech. Instead, she was inspired to become a professional figure skater. To achieve her dreams, she would routinely wake up at 4:30 am to train. Perkins began showing her passion for entrepreneurship when she reached her teens.
At that time, she started her first business, which was selling handmade scarves at shops and markets.
While the business was small, she considered this as a valuable experience, saying that "she never forgot the freedom and excitement from building a business."
Then, after graduating high school, Perkins was enrolled at the University of Western Australia, where she majored in communications, psychology and commerce.
It was when she also worked as a tutor in her university, teaching graphic design in 2006, that she noticed the difficulties her students had to endure, when they were learning complex software, like Adobe Photoshop or Adobe InDesign.
"People would have to spend an entire semester learning where the buttons were, and that seemed completely ridiculous," said Perkins.
"I thought that in the future it was all going to be online and collaborative and much, much simpler than these really hard tools."
This sparked an idea.
What if she could make something that could make graphic design a lot easier.
Fusion Books
Melanie Perkins and Cliff Obrecht, during the early days of Fusion Books.
With her entrepreneurship experience, it didn't take long until Perkins saw a business opportunity.
Her idea was to make a design platform where no technical experience was required.
To pursue this idea, Perkins dropped out of college at the age of 19 to create Fusion Books. Cliff Obrecht, Perkins' boyfriend, became her first business partner.
The thing is, neither Perkins or Obrecht knew how to code.
With no proper entrepreneurial background nor coding skills, the couple contacted Greg Mitchell, a friend that ran a software development company.
The two spent A$50,000 they loaned from friends and family to have Mitchell's company develop the first version of Fusion Books.
The project she and Obrecht created, allowed students to design their own school yearbooks by using a simple drag-and-drop interface. The tool has a bunch of design templates the students could use, including tools to edit photos, create illustrations, and customizing the fonts.
Originally, Perkins wanted Fusion Books to be the one-stop solution for the entire design process. The thing is, the idea made Fusion Books compete with more established companies that own more popular design apps.
Perkins and Obrecht had no resources for such a bold attempt.
"it did not seem the logical thing to do," she said.
This was when she started the guerrilla tactic, in which she would call schools to have them become clients of Fusion Books. Perkins also received help from her mother, who was a teacher who would also coordinate school yearbooks.
In fact, both of her parents were supportive, and that they would often help her with the printings.
After a few years, Perkins successfully grew Fusion Books into the largest yearbook company in Australia, and expanded it to have clients in foreign countries, including neighboring New Zealand, to as far as France.
"My mum's living room became my office, and my boyfriend became my business partner, and we started enabling schools to create their yearbooks really, really simply," explained Perkins.
The early days of Fusion Books. Melanie Perkins used her mother's mother's garage, driveway and hallway for the startup's 24/7 printing operation.
Canva
But in order to grow, one must not remain stagnant.
For Perkins, her Fusion Books project should evolve. And the next step wasn't easy.
This is because the market for yearbooks design software was extremely limited, and that most if not all design software can do the same, or even better despite the steeper learning curve.
"My boyfriend and co-founder, Cliff Obrecht, and I were university students, with no money and no engineering or business experience. We didn't know what a startup was, let alone know anyone who was in one. We just had a problem that we wanted to solve and an absurd amount of determination."
"I don't really consider it to have been a risk or something that needed courage. I was at uni and thought that if things didn't work out I could always go back and finish my studies."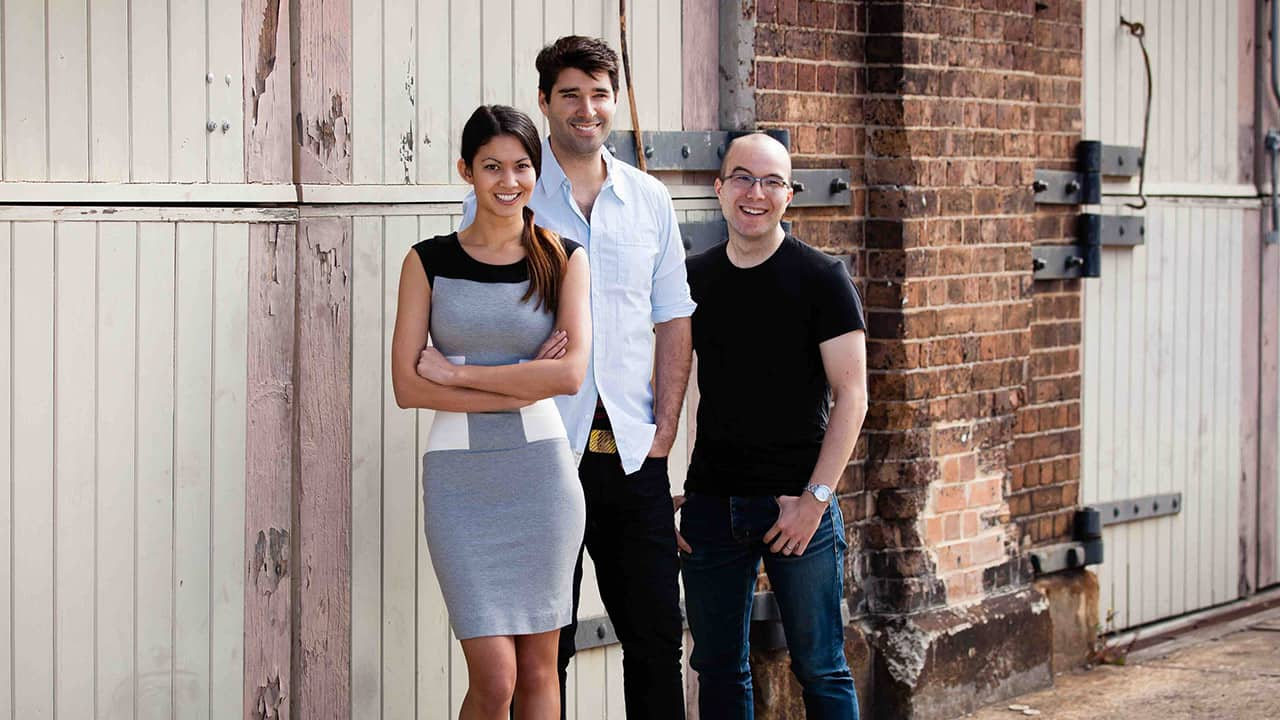 (left - right) Melanie Perkins, Cliff Obrecht, Cameron Adams. They are the three founders of Canva.
Perkins claimed that she was rejected by over 100 local investors in Perth.
Among the reasons, was because her office was in Australia, which is from tech hubs; she had no Harvard, Stanford or MIT background; and that the initial idea for Canva, a design software that goes beyond yearbook design, was overpriced.
"It hasn't been easy," said Perkins. "There was three years between that first pitch and actually landing investment and we had hundreds of rejections. But that was really helpful, because every time we got a knock back and understood why people wouldn't invest, we changed and revised our pitch. Failure was never an option."
But then it was in 2011, when a prominent investor, Bill Tai visited Perth to judge a startup competition. Perkins and Obrecht saw this as an opportunity, and pitched Tai the idea.
The two didn't get much attention.
But regardless, she adapted fairly well after that experience, and after that, they began attending similar events, they had the chance to visit Silicon Valley.
At the time, Perkins was like a fish out of water in Silicon Valley because Perkins didn't blend with the Silicon Valley mainstream.
For example, she didn't use an iPhone or an iPad, nor own a tablet. She came overdressed, overdoing her style. And as for her pitch deck, she printed it instead of running it on a laptop.
But still, Perkins and Obrecht managed to meet Lars Rasmussen, the co-founder of Google Maps.
When the two pitched him the idea, he was impressed. Rasmussen however, told the two to "put everything on hold" until they found the team capable of fulfilling that idea.
"I thought that he didn't really like what I had to say. He was on his phone, and I thought that meant he wasn't really engaged in what I had to say about the future of publishing," Perkins recalled. "But then I got home and realized that he was actually introducing me to a few people."
Rasmussen offered himself to become their advisor, and introduced Perkins and Obrecht to Cameron Adams, an ex-Google employee with the relevant technical expertise and knowledge.
Adams was not interested. He was more focused into building his own company, and was about to raise funds. But Perkins was persistent.
Adams softened up, and agreed to join Canva, effectively becoming its third founder.
The earliest team at Canva.
When Canva was finally established, Perkins became its CEO, whereas Obrecht became its Chief Operating Officer. Adams gets the role of Chief Product Officer.
Canva became a visual communications company, and the rest is history.
Sooner than later, Perkins managed to receive funds after funds. And since the demand for the web-based design app increased, Perkins essentially doubled her wealth month after month.
While it may appear to be an underdog, Canva that encompasses even more features, represents a direct challenge to titans and more popular products like Google Docs, Microsoft Office and Adobe.
Sooner than later, Canva's client include many of Fortune 500 companies.
Canva kept on growing, particularly during COVID-19. During that time, the DIY graphic design platform brought in nearly $1billion revenue before Christmas of 2020, thanks to the pandemic induced work-from-home boom that has given it 60 million customers in 190 countries.
Melanie Perkins and her team, celebrating Canva's first 1 million user milestone.
Personal Life
Melanie Perkins had no intention of becoming a woman in tech. But the opportunity and the thrill, simply gave her the eagerness to venture to the unknown.
During Fusion Books' difficult times, Perkins even forced herself to know and learn kite surfing, after she was told that many prominent venture capitalists use this as a way to network with founders.
Since knowing this, Perkins would regularly kite-surf with venture capitalists, and Bill Tai was one of them.
"Every time he (Tai) would say how was my business going, he'd also be like 'how's your kitesurfing going?'" Perkins recalled.
"I had not done it before — and, to be honest, it's not something that I would normally, naturally try," she said. "But yeah, decided to give it a go because when you don't have any connections, you don't have any network, you just kind of have to wedge your foot in the door and wiggle it all the way through."
Besides that, Perkins was also an avid traveler and credits her trip to India as a life-changing experience.
Melanie Perkins credits kitesurfing as an activity that led her to her first successful pitch.
In 2019, Obrecht proposed to Perkins on a holiday in Turkey, and that the he tied the knot on Rottnest Island, using an engagement ring that is only worth $30.
Melanie Perkins married Clifford Obrecht, after the two became lovers early during the Fusion Books days.
While both Perkins and Obrecht, thanks to their immense share at Canva, are billionaires, the two have been far from materialism and hedonism.
"What is the point of hoarding stuff," the two once said. In fact, they have expressed a desire to donate most of their fortune to charity.
This is the reason why in November 2021, they joined the Giving Pledge, the non-profit Charitable organization founded by Bill Gates and Warren Buffett, to commit at least half of their fortune to philanthropic purposes.
Due to her achievement in from a young age, Forbes named Perkins as one of the world's "Top Under 30 of the Decade". During her venture, Perkins has also appeared on numerous others' rich lists.
With this, Perkins managed to break into the male-dominated tech sphere, and show that women can also shine.