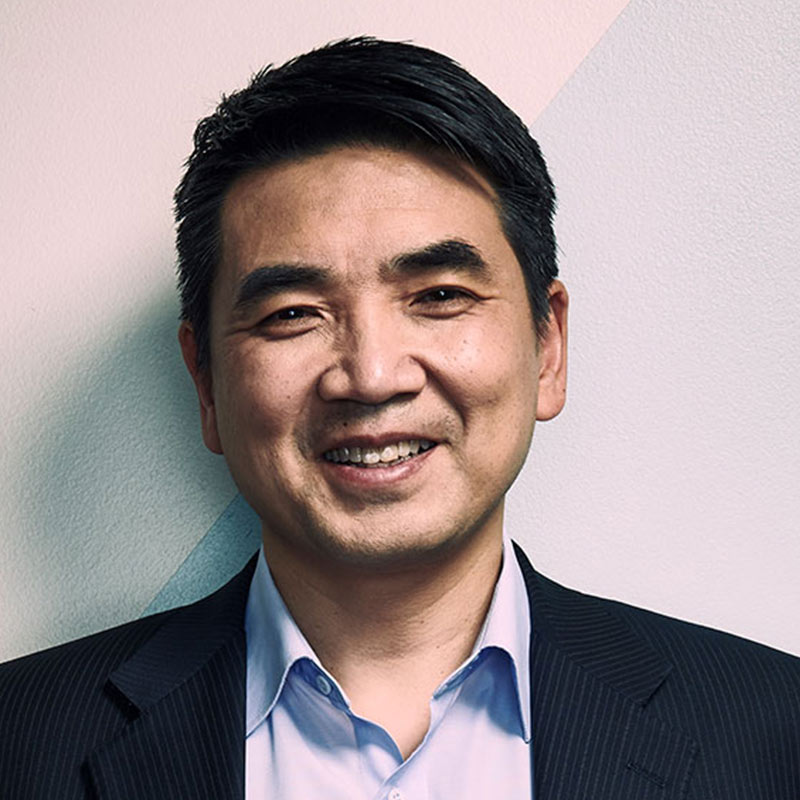 "Empathy, humanity and support for each other is more important than revenue, than growth."

- Eric Yuan
His company was already known by many people, years before making headlines all over the world. But at that time, it was far from other well-known technology companies, let alone if compared to those that rule the ecosystem.
As an immigrant to the U.S. from China, Eric Yuan is known as a person who practices what he preaches. Yuan started from zero, and couldn't even speak English.
But when there is a will, there is a way. And Yuan has proven that to be true.
As the founder of Zoom, the service that provides video conferencing software over the web, Yuan that is a humble man right from the start, tried to be present at every company event he could possibly attend.
And with that, and in just a few years, Yuan he managed to grow Zoom, the company he founded, from a struggling company to the almighty company so disruptive that could even make Google, Microsoft, Facebook and some others to take notice and on high alert.
And that without having to reinventing the wheel.
Early Life
Eric S. Yuan (Chinese: 袁征) was born in 1970 in Tai'an, a prefecture-level city in Western Shandong Province of the People's Republic of China.
As the son of geology engineers, Yuan came from a decent family. He entered the university in 1987, after he was inspired to develop videotelephony software in order to communicate with his girlfriend easier. At that time, Yuan and his girlfriend Sherry were enrolled in two different universities that were separated by a 10-hour train ride.
"I was only able to see her twice a year and it took more than 10 hours to get there by train," Yuan told Forbes.
"I was young then — 18 or 19 years old — and I thought it would be fantastic if in the future there was a device where I could just click a button and see her and talk to her."
He then earned his bachelor degree in applied mathematics with a minor in computer application from Shandong University of Science and Technology.
He then continued studying to get his master's degree in geology engineering from China University of Mining and Technology in Beijing. Yuan then completed a Stanford University executive program in 2006.
This was when he went to live in Beijing, and then also in Japan.
It was in 1995 that Microsoft co-founder Bill Gates went to Japan to speak in a conference.
The billionaire gave a speech about the dot-com bubble, inspiring Yuan to move to the U.S. in 1997, in order to become part of the emerging technology.
It took Yuan eight failed attempts to obtain a U.S. visa. And when he finally got to the U.S., Yuan was also experiencing a hard time since he couldn't speak English at the time.
Yuan was 27 at the time.
Career At WebEx, And Then Cisco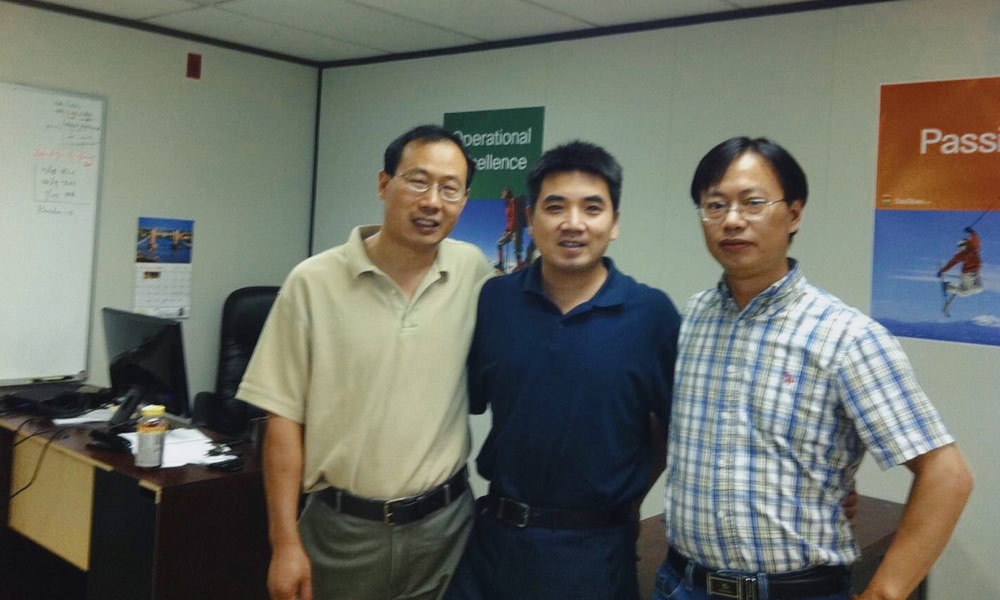 Eric Yuan, early in his career.
His first career in the U.S., was at WebEx, a web conferencing startup.
"For the first several years, I was just writing code and I was extremely busy," Yuan said, mentioning that the only hobby he had during this time was playing pick-up soccer.
WebEx was young at the time, and Yuan was one of the very first employees of the company. Loyal to the company, Yuan was present when WebEx was acquired by Cisco Systems in 2007. This was when Yuan was appointed as its Vice President of Engineering.
Then in 2011, Yuan had an idea for creating a more mobile-friendly video conferencing system. He pitched the idea to his employer, but was rejected.
Displeased, Yuan left Cisco, the company he helped grow, and founded his own company, Zoom Video Communications.
"Cisco was more focused on social networking, trying to make an enterprise Facebook," said Yuan. "Cisco made a mistake. Three years after I left, they realized what I said was right."
Zoom, The Struggling Startup
For Yuan, founding and growing a company was not like a walk in the park.
Without any entrepreneurship knowledge or experience, Yuan had a difficult time convincing any investors to back his venture. Desperate, he was forced to borrow money from his friends and family.
"They thought the market is so crowded, the game is over," Yuan said.
Yuan received countless of rejections. Even his wife, who was his girlfriend back then in China, initially questioned his decision about leaving Cisco.
But that didn't stop Yuan from pursuing his idea.
"I told her, 'I know it's a long journey and very hard, but if I don't try it, I'll regret it,'" Yuan recalled.
"During the early stages of Zoom, I personally emailed every customer who canceled our service," Yuan said.
"One customer replied to my note and accused me of sending auto-generated emails 'impersonating' the CEO — he said Zoom was a dishonest company! I wrote back that the email was indeed from me, and that it wasn't generated by one of our marketing tools. He still didn't believe me, so I wrote back again and offered to meet him on a Zoom call right that minute to prove it was me writing the emails. That call never did take place, but he stopped accusing Zoom of being dishonest!"
Zoom, The Almighty Titan
Yuan's efforts weren't in vain.
Zoom managed to get an increased number of users, and this led to a $6 million Series A funding round from Qualcomm Ventures, the founder of WebEx, his former employer, Yahoo! founder Jerry Yang and others.
It was in 2013 that Zoom managed to partner with a number of well-known companies, including Logitech and InFocus. This gave Zoom a huge boost in popularity.
Not anymore that Zoom was the unknown underdog as in September that year, the company raised $6.5 million in a Series B round from Horizon Ventures and from existing investors.
At that time, Zoom had 3 million users.
Then in February 2015, the company received a Series C funding, accounting to $30 million from investors like Emergence Capital, Horizons Ventures (Li Ka-shing), Qualcomm Ventures and others. At this time, Zoom had 40 million users, 65,000 organizations, and a total of 1 billion meeting minutes since it was established.
It was in 2017 that Zoom was finally considered a unicorn. This followed after the company raised $100 million in Series D funding from Sequoia Capital at a $1 billion valuation.
Confident and ready, Yuan led Zoom to have one of the most successful IPO of the year, in April 18, 2019. Quickly, the company was valued more than both Lyft and Pinterest.
Zoom was one of the very rare instances of a tech unicorn to make an IPO debut with a profit. And that is by boasting a long list of corporate customers that include Samsung, Uber, Walmart and Capital One
"A new game starts today," he said at the time.
In just 8 years, Zoom managed to evolve from zero to hero, with nothing capable of stopping its growth.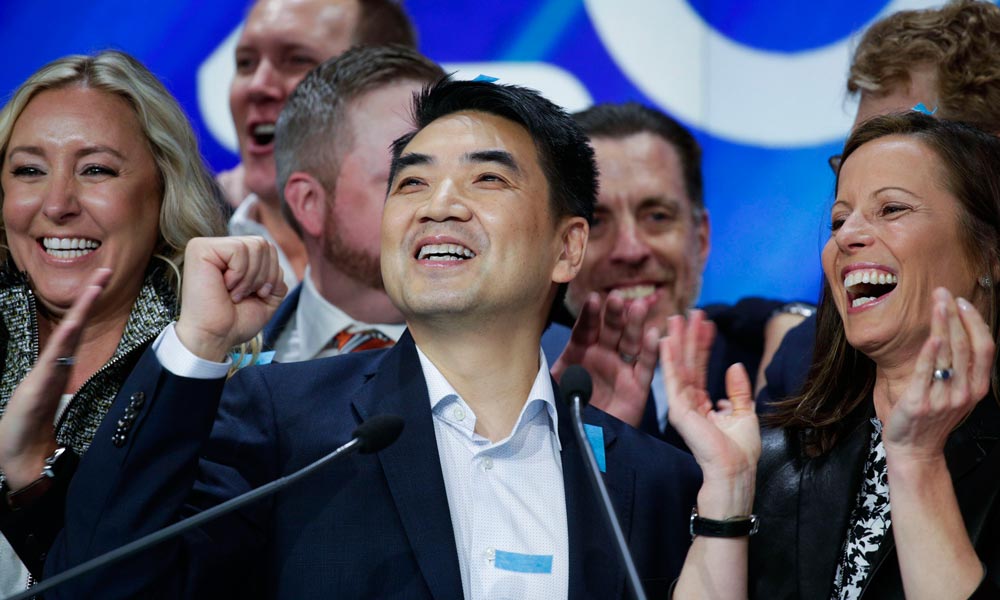 Eric Yuan during Zoom's IPO.
'COVID-19', A Blessing for Zoom
Then came 2020, the year that the coronavirus started plaguing the world.
During the crisis, Zoom saw a major increase in usage for remote work, distance education, and online social relations. With an increasing number of companies, organizations, institutions, schools, universities and others switching to online communications, Zoom benefitted handsomely.
By February 2020, Zoom had gained 2.22 million users. This is more users than it managed to get in the entire 2019. This led to an increase in the company's stock price in early 2020, going up from less than $70 per share in January 2020 to $150 per share by the end of March.
In April 2020, Yuan announced that Zoom's daily users have gone up to more than 200 million.
In June, Zoom was valued at over $67 billion.
In September, Zoom's stock price had increased 569% over the course of the year, lifting its market cap to $129 billion. And since then, Zoom became known as the leader of video-conferencing app all over the world.
In October, Zoom's market cap crossed $140 billion.
Personal Life
Eric Yuan and wife.
Eric Yuan married his girlfriend Sherry at the age 22, at the time when he was still enrolling for his master's degree at China University of Mining and Technology in Beijing.
Living in Saratoga, a wealthy Silicon Valley suburb in California, the couple have two sons and a daughter.
It was since 2007 that Yuan became an American citizen.
As a family man, Yuan was highly involved in his oldest son's basketball career.
"Out of a team of 15 kids, Eric was the most involved parent from day one," said his son's coach Gabe Fodor. "A lot of these CEOs and founders barely have time to hang out with their kids. This guy didn't only go to the games, but he was at the practices."
Yuan did occasionally take meetings on Zoom while attending his son's games, with Yuan saying the set the background of his call as the Santa Barbara beach, making them think that he was there.
"After the meeting, I swipe," revealing a sweaty high-school gym. "And they all say, 'What?'"
Despite his busy schedule as the head of one of the fastest growing company Silicon Valley has even seen, Yuan tries to limit his business trips to only twice a year in order to spend more time with his family.
"Customers have always said, 'Eric, we'll become your very important customer, you've got to visit us,'" Yuan said. "I say, 'Fine, I'm going to visit you, but let's have a Zoom call first.'"
Covid-19-Made Billionaire
It's through his stake in Zoom that Eric Yuan get a majority of his fortune.
From his stake, Yuan's name rocketed upwards to Bloomberg Billionaire Index, reaching the top 100 richest person in the world. His net worth also earned Yuan a privileged spot on the Forbes 400.
Before 2020, Yuan's name wasn't on either list. Yuan only became billionaire at age 49, which was in 2019.
But despite his billionaire status, Yuan and his family aren't living in a flashy lifestyle.
Yuan lives by the motto "Hard work and stay humble,"
"If I was 25, maybe I would be very excited," Yuan told The Telegraph about his wealth. "But those things don't have any impact on me. Money is not going to bring me happiness."
Yuan is said to be more interested in convincing more people to embrace remote working. Especially after the coronavirus pandemic.
"Millennials grew up realizing that they can get the job done without having to go to the office," he said. "Give it maybe 10 years and the millennials become the leaders and then it will become very common. Coronavirus is just a catalyst. Sooner or later this is going to be normal because the world does not belong to us anymore, it belongs to the younger generation."