Parler is an American microblogging and social networking platform.
While it's significantly smaller than the likes of Twitter, which is also a microblogging platform, Parler is popular among alt-tech users, as well as among the supporters of U.S. President Donald Trump and a lot of conservatives.
Because the social media is also popular among conspiracy theorists and right-wing extremists, posts on the platform often contain far-right content, antisemitism, and conspiracy theories, including QAnon.
Even that it's smaller than Twitter, Parler is often described as an alternative to Twitter, popular among users who are banned from mainstream social networks after opposing their moderation policies.
And here, the platform that markets itself as a "free speech" and unbiased alternative to mainstream social networks, has been banned from Google Play Store, Apple App Store and Amazon Web Services.
Read: Donald Trump, The First Country Leader Permanently Banned From Twitter
Parler has been banned from using the services of Apple, Google and Amazon.
Following complaints that Parler was used to coordinate the 2021 storming of the U.S. Capitol Building, Apple removed the Parler app from its App Store on January 9.
Apple banned Parler after the platform failed to introduce a moderation plan to protect public safety. This followed Apple in giving Parler 24 hours to mitigate the "planning of illegal and dangerous activities" occurring on its service or face expulsion, BuzzFeed News first reported.
"[T]here is no place on our platform for threats of violence and illegal activity," the iPhone maker said.
"The processes Parler has put in place to moderate or prevent the spread of dangerous and illegal content have proved insufficient," Apple told Parler. "Specifically, we have continued to find direct threats of violence and calls to incite lawless action in violation of Guideline 1.1 - Safety - Objectionable Content."
After Apple, Google has also suspended Parler from its Google Play app store.
And soon after Apple and Google, Amazon also banned Parler from operating through its cloud infrastructure.
"[W]e cannot provide services to a customer that is unable to effectively identify and remove content that encourages or incites violence against others," the email continues. "Because Parler cannot comply with our terms of service and poses a very real risk to public safety, we plan to suspend Parler's account effective Sunday, January 10th, at 11:59PM PST."
Parler was launched in 2018 by John Matze, Jr, Jared Thomson and Rebekah Mercer, and quickly became the safe haven for people banned by popular sites including Facebook and Twitter.
The Henderson, Nevada–based company markets itself as a free speech alternative to mainstream social networks and taken a more relaxed approach to content moderation. This attracts conspiracy theorists, hate group members, and right-wing activists who have openly incited violence through the internet.
It was in mid-2020 that Parler experienced huge surge in usage.
Some of the most notable events, was in June, when it was reported that the Trump campaign was looking for an alternative social media, and Parler was considered. And another was in July, when Jair Bolsonaro, the right-wing President of Brazil, joined Parler after his son Flávio Bolsonaro endorsed Parler on Twitter.
Then in October, it was reported that people associated with the Russian Internet Research Agency had been operating social media accounts on both mainstream and alt-tech platforms, including Parler.
And in October, after Facebook, Instagram, and YouTube acted to ban content supporting the far-right QAnon conspiracy theory, thousands of its proponents migrated to Parler.
Before being banned from Apple, Google and Amazon, and besides the call to storm the Capitol Building, posts include calls for the execution of U.S. Vice President Mike Pence and calls for encouraging the conspiracy theories to defend Trump.
President Donald Trump's family members and surrogates, as well as Republican lawmakers like Senator Ted Cruz and Congressman Devin Nunes, have all established Parler accounts. These people were reportedly encouraging the public and their supporters to join them there on Parler.
Parler is also popular among a number of conservative media companies.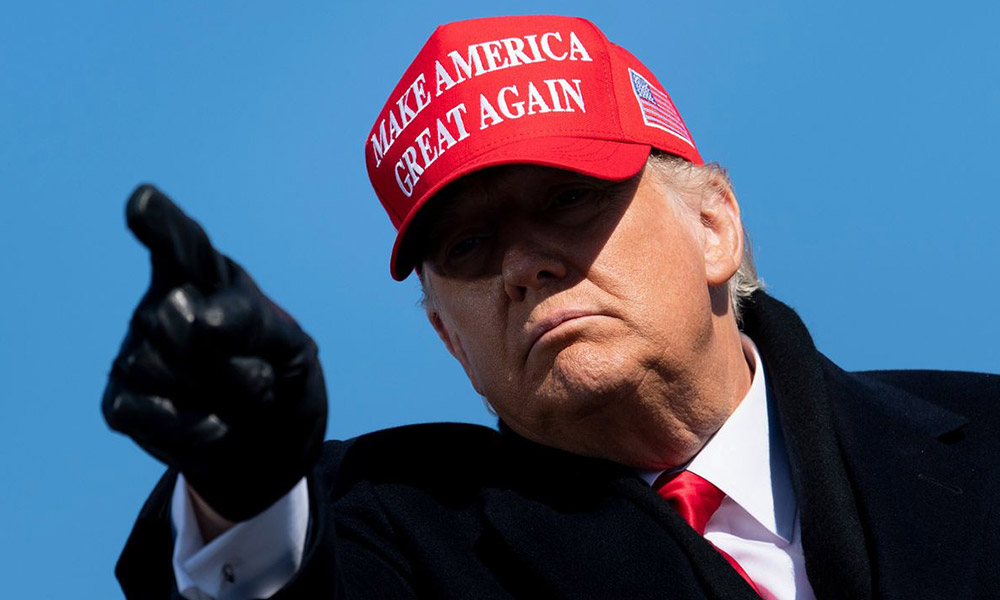 Supporters of U.S. President Donald Trump were using the social media Parler as their free speech alternative to mainstream social networks.
Being banned from the three platforms hit Parler hard.
Parler's chief executive, John Matze, said that Parler could be "unavailable" for up to a week in order to "rebuild from scratch", the Washington Post reported.
Matze said that the ban was "a horrible way to handle this."
"Guess they arnt [sic] really concerned about the 'violence' that is against our rules anyway," Matze posted on Parler. "If they actually cared, they would try to help. Not dump the app and send a break up public statement."
"Apparently they believe Parler is responsible for ALL user generated content on Parler. By the same logic, Apple must be responsible for ALL actions taken by their phones. Every car bomb, every illegal cell phone conversation, every illegal crime committed on an iPhone, Apple must also be responsible for," Matze said of Apple.
Following the bans, Twitter CEO Jack Dorsey shared a tweet showing a picture of a cropped screenshot of the Top Charts on the App Store.
Before the ban, Parler was the most downloaded app. But soon after the ban, it was gone.
Matze responded by saying that "we were number one until the fake news rage mob at Twitter and your anti-competitive friends went after us," Matze wrote.
"That's real cute," he added
Parler's complaints echoed those of the far-right movement, like the message board 8Chan, which was rejected by mainstream web service providers. 8Chan was born as the more lawless alternative to message board 4chan, the birthplace of the QAnon conspiracy theory.
Further reading: 80TB-Worth Of Parler User Data Was Scraped For The Internet To See