In China, where homegrown products can rule the world, anything can be possible.
China is where the trio BAT (Baidu, Alibaba and Tencent) ruled the tech ecosystem. But still, there are chances for valuable challengers with potentials to become the alternatives to their predecessors.
One example is ByteDance, which is considered one of the world's most valuable startup, after its apps like TikTok received more than one billion downloads on both Android and iOS.
This time, the company has released another app it calls 'Feiliao' (飞聊). Or, in English it translates to 'Flychat'.
The app is a hybrid of an instant messenger and interest-based forums. Available for both Android and iOS, but initially exclusive to users in China, it allows people can find "familiar [features like] chat, audio and video calls. In addition, you can discover your friends in the interest group and share what's fun; as well as share your daily life and interact with close friends."
There are two kinds of chat groups in the app, open groups and normal groups.
Open groups resemble forums on Baidu Tieba, where all posts are visible to all users, and where there is no limit to the number of members. On the other hand, normal groups are similar to private chat groups and have a limit of 100 users per group.
Group creators automatically become the administrator and can name other members as moderators.
Users can also join celebrity fan groups, where they can interact with the celebrity and tip him or her, according to Feiliao's user guide.
Feiliao "is an open social product," said ByteDance. "We hope Feiliao will connect people of the same interests, making people's life more diverse and interesting."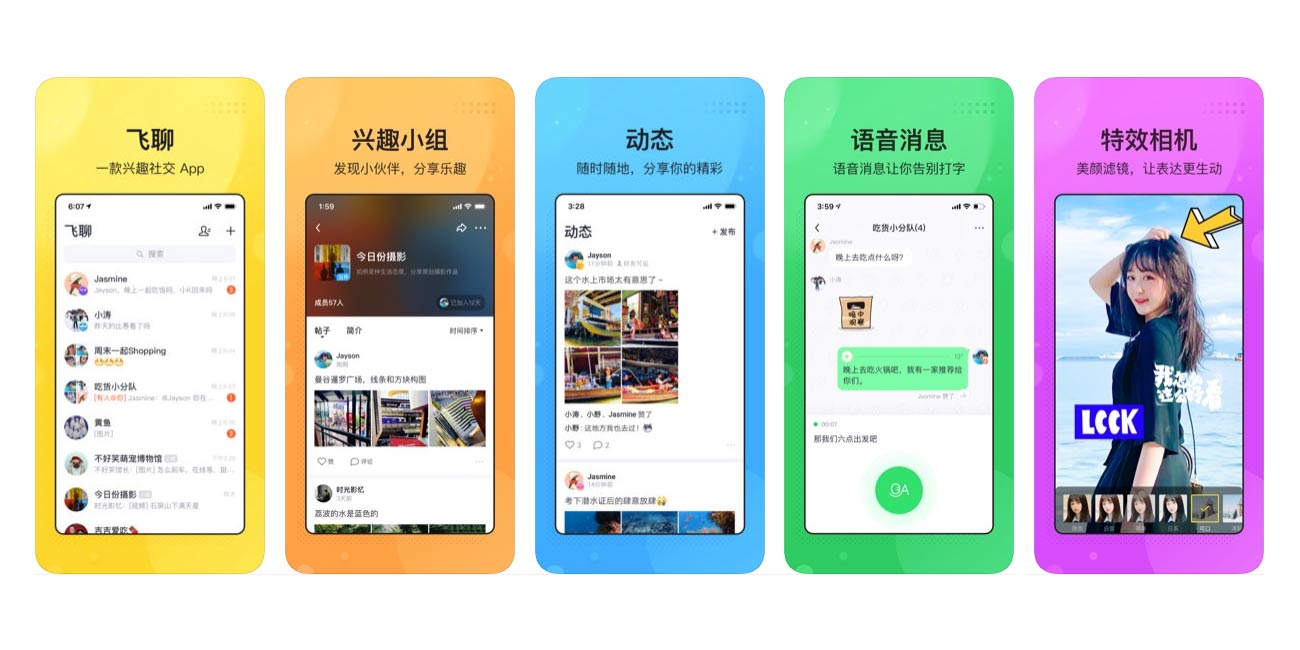 Having backed by ByteDance's popular TikTok portfolio, Feiliao quickly garnered partnership.
Alibaba, Tencent's long-time nemesis, is enabling Feiliao's payments function through the Alipay digital wallet. Linking Feiliao with Alipay enables users to send transfer cash between users using hongbao, or red packets, and tip official accounts using gold "likes," according to the app.
Previously, Alibaba has also partnered with Bytedance's TikTok, allowing users to sell goods via Taobao stores.
With TikTok turning heads around the globe, ByteDance leverages its popularity to position Feiliao in the market where users reside. Feiliao is meant to be just another player in the race to give Chinese users their daily dose of news and entertainment.
As the market is becoming more and more crowded, it has never been previously more intense. And clearly here, ByteDance intends to cash in on that trend.
ByteDance Vs. Tencent
Unlike the West and most part of the globe, where users can choose between different platforms and their products, people in China are forced to pick a side: it's either Alibaba or Tencent for e-commerce, or Tencent or ByteDance for entertainment and social content.
As a start, Feiliao seems to be a lot similar to the Reddit/Facebook hybrid Jike (meaning "immediately") developed by If Tech, of which Tencent is an investor. This app allows users to discuss specific topics in groups.
Some are already calling it a WeChat challenger.
Fueled by popularity of TikTok and the power of the younger millennials and Generation Z, the arrival of Feiliao further fuels ByteDance's quest to become the most popular social-messaging app in China, a market dominated by Tencent's WeChat.
But upon closer inspection, Feiliao requires more targeting. This is a contrast to WeChat, which is already to go-to-place for daily communication, in addition to facilitating payments, car-hailing, food-delivery and more convenience, Feiliao encourages users to create contents that are centered around their penchants and hobbies.
So no, Feiliao isn't really a direct take on WeChat. But still, there is no doubt that tension exists between ByteDance and Tencent as the former's apps captures more user attention.
According to a report published by research firm Questmobile, ByteDance accounted to 11.3 percent of Chinese users' total time spent on 'giant apps' (those that surpassed 100 million MAUs) in March 2019, compared to 8.2 percent a year earlier.
In comparison, the percentage controlled by Tencent was 43.8 percent. This is down from 47.5 percent. The remaining shares are divided between Alibaba, Baidu and others, which all grew only by slightly from 44.3 percent to 44.9 percent on a year on year basis.
Feiliao arrives only four months after Bytedance unveiled its video-focused chatting app Duoshan (meaning "many flashes"), which is more like a standalone Snapchat-inspired video-messaging app, that allows users to record and send short videos that disappear after 72 hours.