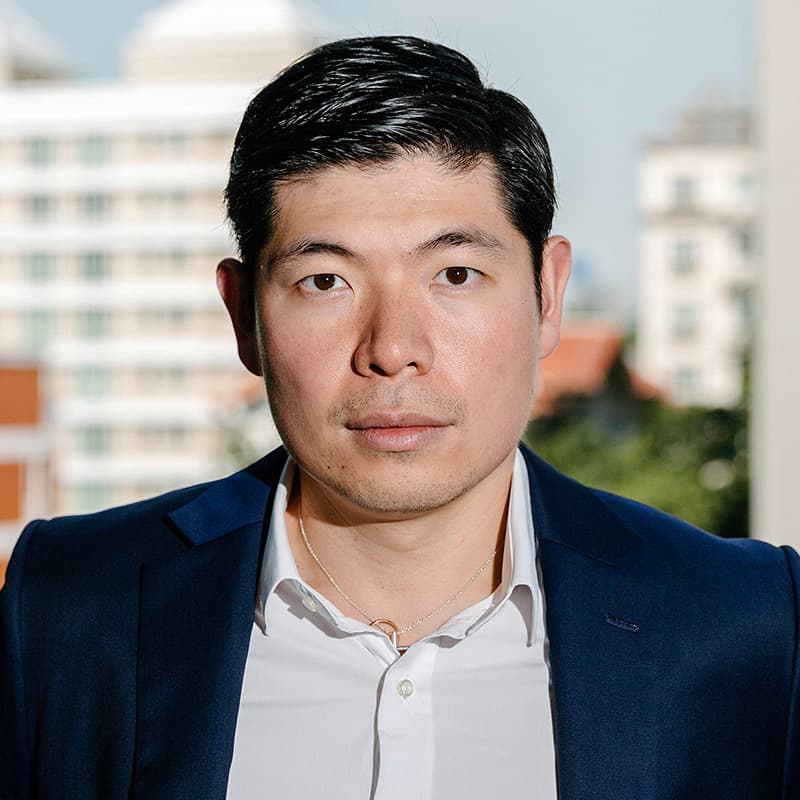 "The key thing I learned in entrepreneurship is, never say 'no', you must always say 'yes'"

- Anthony Tan
Taxi-hailing apps have become a norm. While it was a business that started in the West, there are plenty of players from the East. in Asia, and particularly in Southeast Asia, Grab is the largest of them all.
None expected Grab to be big, even its founders were struggling at first.
But after managing to win several battles against competitors and following a major industry reshuffle, Grab has risen strongly. With money out and more pouring in, the Malaysian-based ride-hailing company has encompassed many of its users' lives.
And with that, the company successfully reign the ecosystem, led by Anthony Tan.
The secret of Tan's success lies in fully understanding the nuances of the market he is targeting, giving feedback on it, and bringing the lessons he learned into the company.
Early Life
Anthony Tan (陈炳耀, Chen Bingyao) was born in 1982. When he was small, Tan didn't talk much, making many people to assume that he was dumb. People even thought that he was deaf.
But at that time, Tan was living in a society where too many languages were spoken. In Malaysia, people speak Mandarin, Hokkien, Malay language and English. And with that many, the young Tan couldn't adapt well.
"No, I wasn't deaf or dumb. I understood the language, I just got confused. There were so many languages… being spoken around me. We had an Indian driver, who had a different accent altogether. So everything was just jumbled up," said Tan.
Tan is the grandson of Malaysian taxi driver Tan Yuet Foh who founded Tan Chong Motor Holdings, Bhd., a car dealership company. Tan Yuet Foh, successfully established the company with a vast distribution network in Malaysia, in which eventually, the company succeeded in becoming the main distributor of Nissan cars in Malaysia.
Tan's father, Tan Heng Chew, was one of the richest men in Malaysia in 2015 and graduated from civil engineering. He inherited the family business. Tan's mother, worked as a stockbroker in Malaysia.
For more than often, the young Tan had to hear about the hard struggles his grandfather had to endure before finally hitting success.
His parents often spoke about how Tan's grandfather defied 14 hours of rain, waiting for the Chairman of Japanese car Datsun outside the Japanese Embassy to convince him to give him a chance to sell just two cars.
"'But you don't have any experience,'" the Chairman's answered, Tan said. But his grandfather wasn't taking a no for an answer, and the rest is history.
"These are humbling stories and they stuck in my head for a very long time. The key thing I learned in entrepreneurship is, never say 'no', you must always say 'yes'," Tan said.
With his various family experiences, the young Tan was taught to become a businessman right from the start. Despite being the youngest of three siblings, Tan is also the heir to his family business.
Tan recalled that his first interest in becoming a businessman came at the age of 6, and made his first deal when he sold X-Men comic books when he was 11.
At that time, the comic books were his own, bought by his father for him when the family went to an international comic convention in Singapore. When he returned to Malaysia, his friend wanted to have some of the comics but hadn't got anything to trade the comics with. Because of this, his friend bought them from Tan with money, instead of bartering them like how Tan wanted.
"Like every little kid, I was addicted to comics, loved X-Men. I saw other kids wanting what I had. So we said, 'Hey! Let's trade.' Soon after we started trading, I realized that they didn't have much to trade with. So, I accepted cash, and I made some decent money, I must add," recalled Tan.
This was the time that Tan understood the concept of business.
He learned that by selling his comics, he could earn money. And that money can bought even more comics (goods) to be sold.
"I'm not sure if I was on the borderline of manipulating the prices, but I mean that I was a businessman at that age, learning to convert cash into more stock, and stock into more cash," Tan added.
His second big milestone was at the age of 14, when he volunteered to raise money for the AIDS Foundation.
Embracing the "never say no" family motto, Tan graduated with a Bachelor of Arts with Honors in Economics and Public Policy from the University of Chicago, to then attended Harvard Business School when he grew older.
Founding My Teksi, The Grab Predecessor
It was at Harvard that Anthony Tan became very interested in entrepreneurship.
When he was in Harvard Business School, Tan had a dream of creating an enterprise of his own, which could take care of social welfare and more.
One day, his friend Tan Hooi Ling complained to him about the terrible conditions of the Malaysian taxi industry.
At that time, Ling came to Malaysia and took a taxi ride, and was cheated by the driver. She was angry and complained to Tan, and asked his why he couldn't do anything about it.
The friend wasn't sure if the driver was taking the right route and what should have been the right fare.
"Why do the taxis suck?" Ling asked Tan. "Your grandfather used to be a taxi driver. Your grandfather founded a car business in Malaysia, but your female friend still encounters many safety problems when taking a taxi. Why don't you do something about it?" Ling asked Tan.
This incident caused Tan to think. This motivated him to make taxi rides safer in Malaysia.
It began with a business plan called the "mobile app that connects taxi seekers directly with taxi drivers closest to their location in the chaotic Malaysian urban environment". Some of the two's professors thought that the project was interesting, but difficult to execute.
"Anthony! Life is tough enough. You just have to focus on one bottom line… the idea is too hard, isn't proven yet in the real world. It's nice on paper. In cases, this is nice to hear, but too difficult to implement," the professors said.
Nevertheless, that business plan was the runner-up in the Harvard Business School New Venture Competition in 2011, winning a total of $25,000.
After graduating, Tan then founded the My Teksi app in Malaysia in 2012 together with Tan Hooi Ling. My Teksi started with an initial funding $25,000 the two received from the competition at Harvard Business School and also from Tan's own personal funds.
Although the pair had started the company, Tan experienced difficulties.
Struggling
First, Ling had to return to McKinsey & Company after graduation to serve out her bond with the consulting firm as a condition of sponsoring her education. She later moved on to work with San Francisco-based software company Salesforce. This condition forced Tan to work on his own.
Without Ling, Tan worked his way up from the very bottom, desperately trying to build his company.
Tan said that he clearly remembered during initial launch that he had to persuade taxis in Malaysia to use his app. The drivers weren't at all interested.
It was only when he remembered that his father was a taxi driver that Tan realized he needed to know things more on the consumers' side and not on the drivers' side only. So then, Tan spend days taking taxi rides to understand the issues of commuting using the transportation method in Malaysia.
He then became a driver for My Teksi just to understand what needed to be fixed on the drivers' side.
Tan strongly believes in the Japanese philosophy of 'See yourself, do yourself, cure yourself'.
"Every time we hire someone at GrabTaxi, we spend a lot of time talking about what our values are, about mutual trust, about reputation. I tell employees, you must be a taxi driver for one day. You must talk to the driver, feel his pain. We all know how it is to be a passenger, but always look at the driver when you build a product. You must always build from their point of view," said Tan.
Second, In order to seek early financing and greater development, Tan that devoted himself to building his company decided to resign from his position as Head of Supply Chain and Marketing at Tan Chong Group, the job title he held in the family business at the time.
This angered his family, especially his father. Not only that his father rejected Tan's financing needs, but also threatened to deprive him of his family property inheritance rights. But it was his mother who later stood up for him, and stepped forward to become the company's first angel investor.
At that time, his mother admitted that she didn't understand the business model of the project her son was involved in, but she only hoped Tan for the best.
Grab And Rising
"It's hard for my family to understand what I was going to do, and I don't blame them." Anthony Tan said. "Before embarking on this journey, you need to realize that for startups, if you want to win and grow quickly, You must make a lot of personal sacrifices."
With money to give My Teksi a little boost, the startup was rebranded as GrabTaxi, and expanded to the Philippines in August 2013, and also to Singapore and Thailand later that year.
Tan's approach with his company was unlike Uber that was competing with taxi companies right from the start. Instead, Tan cooperated with taxi companies.
It was in 2014 that GrabTaxi managed to partner with HDT Holdings, and introduced 100 BYD e6 electric taxis in Singapore to form the largest e-taxi fleet in Southeast Asia. With confidence, Tan expanded GrabTaxi to Vietnam.
It was also in 2014 that GrabTaxi moved its company headquarters from Malaysia to Singapore.
Knowing that his company is starting to get good traction, Tan then launched GrabCar to further cement its foundation in the business. GrabCar was created as an alternative form of transportation that uses personal cars instead of taxis through a licensed partner in an effort to overcome the lack of public transportation during peak hours. Also in 2014, GrabTaxi launched its first GrabBike service in Ho Chi Minh City as a trial service.
A year later in 2015, Ling returned and started working full-time with Tan with Grab. Upon returning, she took on the title of COO.
With the two finally working together side-by-side, GrabTaxi managed to successfully penetrate the markets in Vietnam and Indonesia.
In 2016, Tan rebranded GrabTaxi to Grab.
The Grab Empire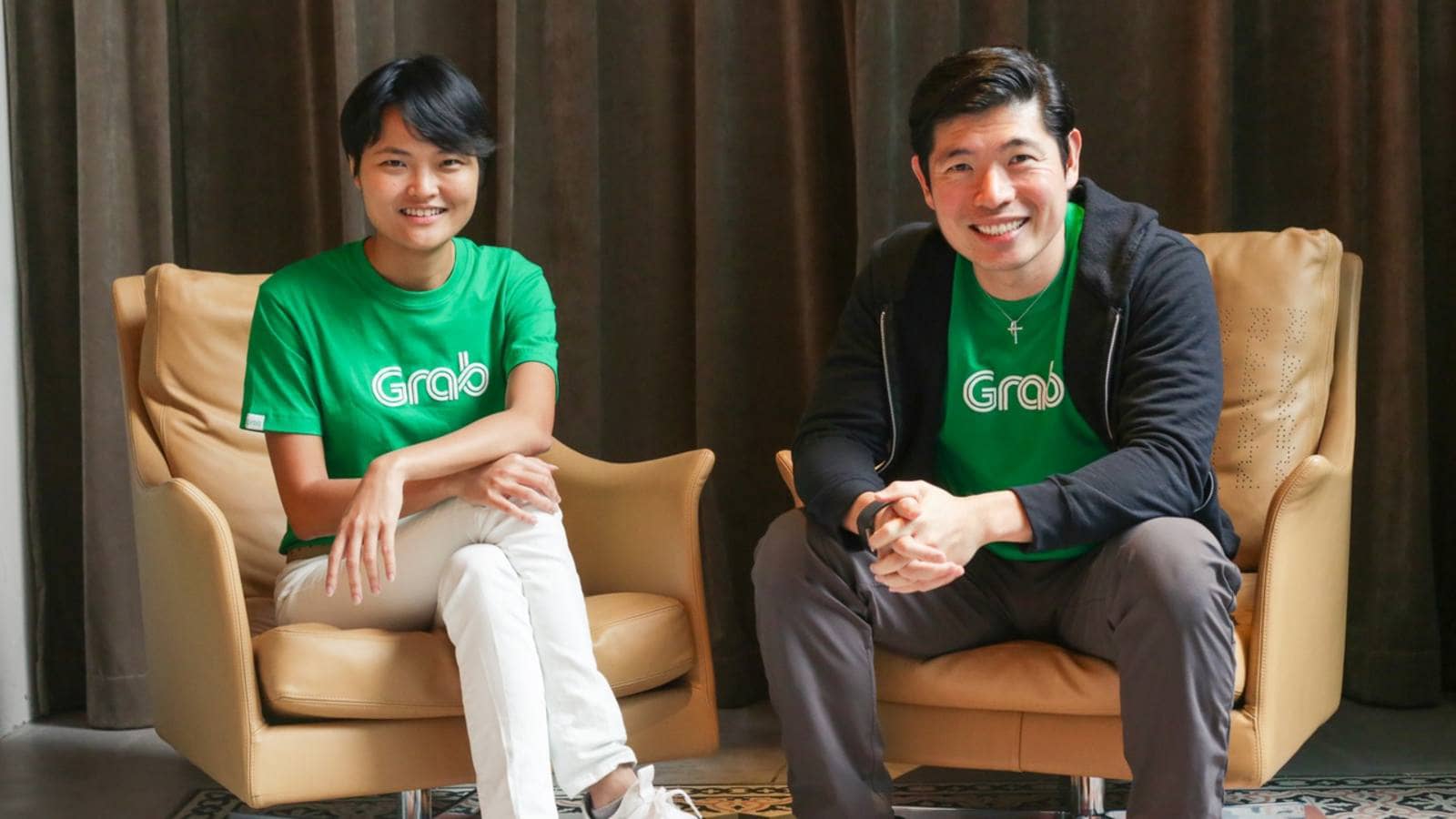 Grab founders: Anthony Tan (right), sitting next to Tan Hooi Ling (left).
With simpler naming that is easier to remember, Grab encompasses all the company's products: GrabCar (personal cars), GrabBike (motorcycle taxis), GrabHitch (carpooling) and GrabExpress (last mile delivery).
In 2016, Grab added GrabChat messaging feature for riders and drivers, and also GrabShare, which offers taxi and car-sharing services.
In 2017, Grab launched GrabCoach for booking larger vehicles. GrabFamily for family with young children, and JustGrab, a simplified flat-fare structure.
In 2018, Grab launched GrabWheels, an eScooter rental service, and GrabCar Plus, which offers a larger vehicle in exchange for a 20% premium fee.
It was at this time, that Grab became the largest and most powerful startup in Southeast Asia.
Grab Against Uber: Conquering the American Operation
It was in March 2018, Grab merged with Uber's Southeast Asian operations.
As part of the acquisition, Grab took over Uber's assets and operations, including UberEats, which led to Grab's expansion of food delivery services.
Grab managed to beat Uber in its own game, mainly because Grab's strategy involves embracing the locals. Doing this, the company managed to effectively localized its operations.
Despite people believed that Grab would be annihilated by the older Uber, which was at the time the world's largest online ride-haling company, Tan has proven otherwise. Grab was able to fend off the American company from Southeast Asia.
And with the resignation of Uber founder Travis Kalanick due to the outbreak of company management issues and negative news issues, Tan quickly propelled Grab to occupy whatever Uber had left in Southeast Asia
Grab Against Gojek: Fighting Indonesia's Champion
Following Grab's win over Uber, Tan's conquest in Southeast Asia was one step to completion, until Gojek coming up strong.
Gojek, founded in 2010 by Nadiem Makarim, is Indonesia's decacorn, and is one of the most capable of slowing down Grab's speedy growth. Having the same approach as Grab, which is localizing its services, Gojek is the biggest tech startup in Indonesia, that has also extended its reach to other countries in Southeast Asia.
Due to the similar approach, Grab sees Gojek as a more formidable opponent than Uber.
And here, the competition between them is like a battle of honor of one to resist the other.
At first, Gojek initially wanted to change the motorcycle industry in Indonesia. But it somehow developed unexpectedly fast. When Grab acquired Uber Southeast Asia, Gojek was valued at $5 billion, and was already conquering a strong market in Indonesia.
Both Gojek and Grab also have the same concept of developing a "super app", a business approach that was first introduced by Chinese apps, like Tencent's WeChat. Both Grab and Gojek are developing in this direction, by including all of their massive empire into their respective apps.
At one time, the Gojek founder had a dispute with Tan, believing that Tan stole his super application platform model. Tan replied, saying that: "Having a good idea does not guarantee success."
It was reported that Tan and Gojek founder Makarim are actually friends. They know each other personally because they were classmates during their studies at Harvard. However, due to business competition, they now "talk very little."
Despite Gojek is the most formidable opponent in the ride-hailing and the "super app" business, Grab is seen as the more capable.
This is why it was planned for Grab to merge with Gojek. And when that happens, Tan seeks the title lifetime CEO. With the title, Tan seeks for considerable voting rights, veto power, and input into his salary.
Grab is bigger than Gojek because it has a higher valuation and a bigger geographical presence. If the two rivals should merge, Grab should have the upper hand. Initially, Gojek asks for 40% of Grab's shares, in which Grab reportedly said is too much since it sees itself as the more financially-secure of the two.
Personal Life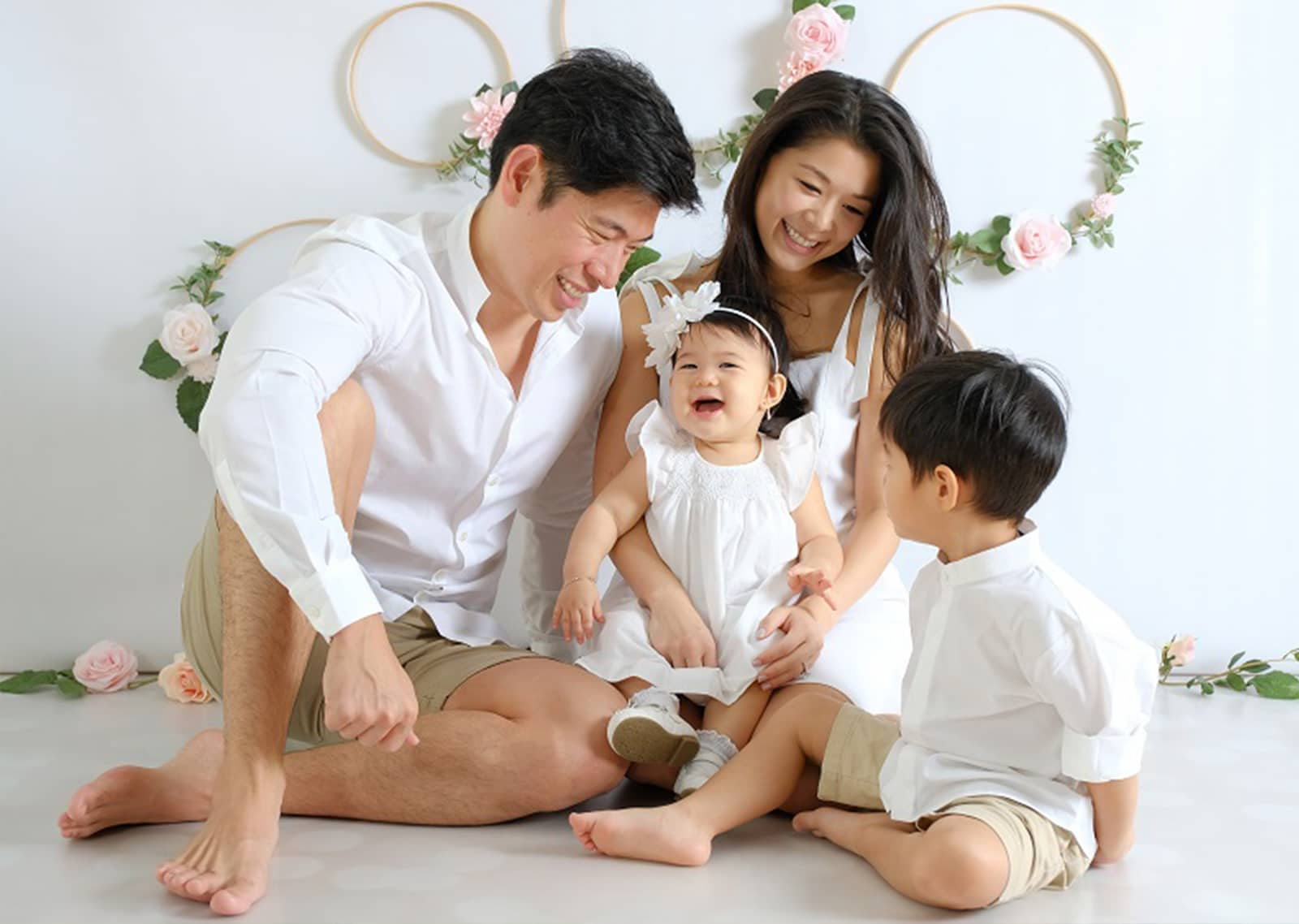 Anthony Tan with his wife and children.
Anthony Tan is married to Chloe Tong, the daughter of Phileo Allied Bank founder and Edge Media Group owner Datuk Tong Kooi Ong.
As a mother of two, Chloe Tong is known to be a fitness junkie. She said that she and her family eat balanced meals together, snack and fruit and some mealtime fun. At home, the family always have healthy snacks around and some freshly cut fruits in the fridge.
"People read about Grab in the news but they don't see the lows and the heartache and sleepless nights it took in those early days," Tan's wife recalled. "I don't have the usual issues other people my age have, and it can be quite daunting and overwhelming. But I'm just so proud that we managed to get here, and that we are impacting so many lives."
When the two were still dating, Chloe Tong would ask Tan to stay active, and said that "we would hit 20,000 steps just running through airports, carrying our luggage up the stairs and doing little HIIT exercises in our hotel rooms. Once, we even walked across the border to Shenzhen from Hong Kong, because there was an urgent meeting. We had to stay fit to survive building up a startup."
The couple flew frequently together, and Chloe wanted her husband to stay up to his prime health.
At the 2014 Asian Entrepreneurship Conference in Jakarta, Anthony Tan said that the establishment of Grab was purely accidental, and it was Tan Hooi Ling and some of his good friends studying at Harvard who inspired him.
He was also influenced by his grandfather who created an automobile empire from scratch long ago.
Tan said that his grandfather only spoke Hokkien and had no friends. Even without the support of his family, he still managed to create such a successful business.
The secret of GrabTaxi's success lies in fully understanding the nuances of the Southeast Asia region, and giving feedback on it, and bringing the lessons learned into the company.
"We understand the daily income needs of taxi drivers. We also know that most people use cash and respect the local culture of different business locations. Understanding these subtle differences can mobilize them to work for us. Take an example. In other words, different cities in the Philippines have different dialects. If you use GrabTaxi services in a certain city, the customer service staff will use the local dialect to serve you," Tan said.