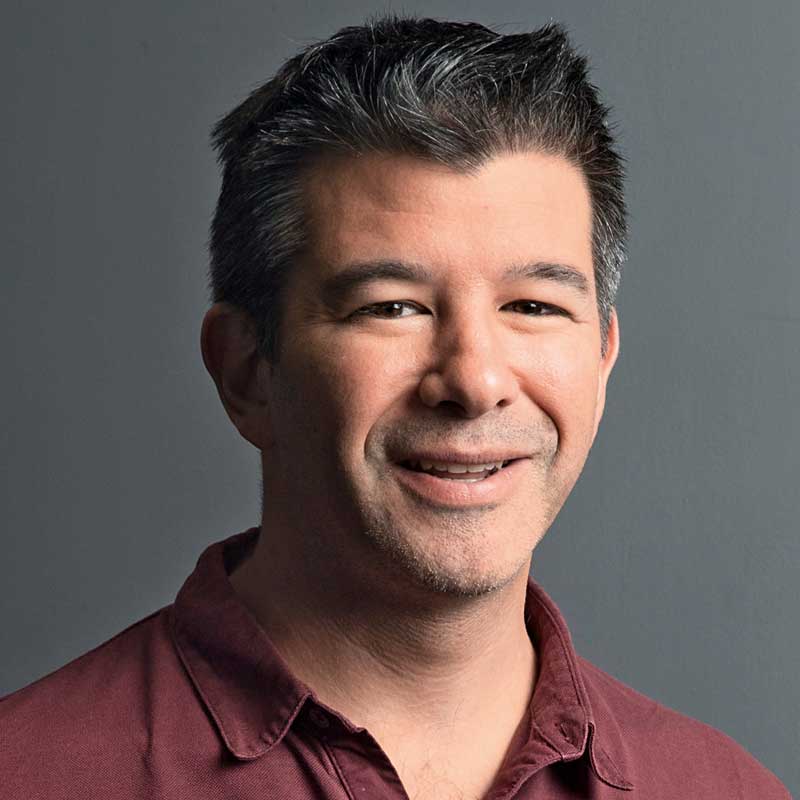 "Stand by your principles and be comfortable with confrontation. So few people are, so when the people with the red tape come, it becomes a negotiation."

- Travis Kalanick
With the internet in more places and mobile devices in more hands, requesting and purchasing things have never been easier. With internet-connected gadgets, people can see anything from across the globe. And not just inside apps, people can also travel and go from one place to another with just simple taps.
And Uber was one of the very first mobile apps that offered this kind of service.
Its founder, Travis Kalanick, was a struggling entrepreneur who had failed multiple times. But Uber made him taste success. The controversial service has been banned in many places and attracted multiple contradiction and restriction. This made Kalanick no stranger to legal battles.
He disregarded many norms and bended rules. He has flouted transportation and safety regulations, bucked against competitors and capitalized on legal loopholes just to get a business advantage.
But as he was able to tackle those incoming problems, he succeeded in making "Uber" a phenomenon word that stands for a business worth billions of dollars on both the internet and the real world.
Early Life
Travis Cordell Kalanick was born in August 6th, 1976. in Los Angeles, California. Growing in the Northridge suburbs, Kalanick was raised in a Catholic family with Czech and Austrian roots with his two half-sisters and a brother. At first, the young Kalanick wanted to be a spy. But his mother that saw his confidence, persuasiveness and ability, convince a career of a salesman for him.
His mother, Bonnie, worked in a retail advertising for the Los Angeles Daily News, and his father, Donald Kalanick, was a civil engineer in Los Angeles.
Kalanick excelled as a young door-to-door salesman for Cutco knives. His former classmate recalls that Kalanick was a good salesman, and someone that was like a chronic hustler that gave the feeling that he was always trying to sell something.
At the age of 18, he launched his first business, an SAT tutoring service called New Way Academy with a course he called "1500 and over."
But Kalanick saw his passion the other way around. He was interested in computers from a young age, and had learned how to code by the time he was in middle school. After graduating from Granada Hills High School, he chose to enroll college at the University of California, Los Angeles, to study computer engineering.
Kalanick was naturally athletic and competitive, and excelled at running track and playing football. He was frequently bullied by older kids who picked on him. But later, Kalanick turned the tables on those people as he went from being bullied to being the aggressor. His pasts shaped many of his future character.
Early Ventures
Scour
Travis Kalanick studied computer engineering and joined the Computer Science Undergraduate Association, where he met classmates Michael Todd and Vince Busam. In 1998, the three dropped out from the University of California to help Dan Rodrigues in maintaining Scour, Inc., a multimedia search engine and also a peer-to-peer file sharing service.
The startup that was running on angel funding raised mostly from one of the co-founders' family members and friends, began in Busam's dorm room, with others cobbling together the application, before the team moved into a house in Los Angeles' South Bay.
Kalanick's role was an employee for marketing and business development, but he often described himself as a co-founder of Scour which often irritated some of the company's actual founders. Nonetheless, investors saw him as a real founder because he did so much for the company.
The team soon moved to a high-rise apartment building in Westwood, Club California, where Todd and co-founder Rodrigues were living. Most employees worked in the living room. Kalanick worked from Rodrigues' bedroom. At one point, the apartment housed 13 employees.
Scour which offered an internet search engine and file-sharing services, was one of the first dot-com companies to enable users to share movies and music online. It allowed users to download files from the hard drives of peers. One early user was Shawn Fanning, who would go on to co-found a similar service called Napster a year later.
Napster that was unlike Scour that didn't crash as frequent. Napster automatically made files shareable once they were downloaded. As a result, the more people used the service, the more sources there were where popular material could be found and downloaded. Scour quickly followed and borrowing Napster's approach.
Two years later in 2000, the company was brought to lawsuit alleging copyright infringement by the Motion Picture Association of America, the Recording Industry Association of America (RIAA), and the National Music Publishers Association (NMPA). The company was sued for around $250 billion.
In September that year, in order to protect itself from the lawsuit, Scour filed for Chapter 11 bankruptcy.
Red Swoosh
Failing in his first venture, Kalanick began plotting his next business immediately with Scour co-founder Michael Todd, who had been consulting on the side. The pair bootstrapped their new startup, which they dubbed Red Swoosh. Kalanick has called it his "revenge business" to turn the 33 litigants who sued Scour.
He wanted to turn every entertainment company that sued Scour into a paying customer.
Kalanick started Red Swoosh in 2001 from a small office space in Westwood, California. Instead of delivering contents they didn't have the rights to, Todd and Kalanick's new business focused on delivering web content to users more cheaply by allowing them to share bandwidth. This way they won't ever have to deal with another lawsuit.
They brought a few friends over from Scour, including the engineer who built most of the Scour Exchange service.
During those moments, the global internet's speed has escalated. Red Swoosh took the advantage to increase its service's bandwidth efficiency to allow users to transfer large files easier. While Red Swoosh was operating as intended, problems came from the inside: Kalanick and Todd had different opinions about how to keep the company afloat, and each made key business decisions behind the other's back.
This grew into many serious disagreements. Eventually, the relationship between Kalanick and Todd was permanently damaged. Todd left Red Swoosh.
Dealing with Todd's departure in 2011, Kalanick found himself living in his parents' house. And by mid-September, the company had run out of cash and Kalanick was yet again busy hustling up a round of financing. To replace Todd, he hired Rob Bowman, an engineer turned startup consultant, who became CEO until 2003. But because the company wasn't able to pay its employee, they left with anger and some parted over disputes involving stock options.
Kalanick was left with no engineers but Evan Tsang. But things also didn't work out between the two, and eventually he left the company to work for Google, where Todd was then employed.
While the company was breaking down from the inside, its outside performance attracted Microsoft that showed a particular interest. In 2003, Microsoft's executives met Kalanick and offered an acquisition for $1.2 million. Kalanick quickly did the math and realized that he will be left with just $300,000 after the needs to pay for notes and liabilities, if the acquisition happened.
Kalanick declined the offer and asked for a raise. However, the two parties couldn't come to an agreement and the negotiation failed.
While the meeting came to a disappointment to both parties, the experience has given Kalanick the chance to sharpen his negotiating skills.
Years later, Todd that hadn't heard any news from Kalanick, came home to find a package on his doorstep. Akamai was interested in buying Red Swoosh. The server giant acquired RedSwoosh for $23 million - $19 million in stock and $4 million in earn-outs.
Those people who had previously doubted Kalanick gave him their praise. He'd made RedSwoosh a success, even though doing so required him to go more than three years without salary, sever ties with his co-founder, move to Thailand, and turn over his team multiple times.
Kalanick and people who had shares in Red Swoosh became millionaires.
Founding Uber
With money not anymore a problem for him, Travis Kalanick put his investment capital to other people's startups. However, he was still seeing himself as a failure than failed in bringing 2 startups to thrive with him. At the age of 30, he was in a state of middle crisis: he wasn't able to enter the Silicon Valley and he restrained himself from making another effort.
Kalanick spent his first year of wealth by traveling and investing. He visited Spain, Japan, Greece, Iceland, Greenland, Hawaii, France, Australia, Portugal, Cape Verde and Senegal. It was during this time that he called up Newscred founder Shafqat Islam for their night out in Geneva.
In 2008, Travis Kalanick was in Paris, France, with Garrett Camp, Melody McCloskey and Gary Vaynerchuk. After attending LeWeb technology conference, Kalanick and Camp had trouble finding a cab that night. Seeing the occasion as something that many people have in common, Camp pitched the initial idea, which was presented as a "time share for limousines."
Kalanick gave Camp full credit for the idea, and he was again inspired. The two then developed the idea to create a service that can provide a ride with just a tap of a button.
"When you open up that app and you get that experience of like, 'I am living in the future. I pushed a button and a car rolled up and now I'm a frickin' pimp,' Garrett is the guy who invented that shit," said Kalanick.
He learnt the service he was about to create, can be a way to lower the cost of a black-car service using people's mobile devices.
At first, the app was called UberCab, a black-car service by pressing a button on a smartphone or by sending a text. Kalanick and Camp was joined by Oscar Salazar and Conrad Whelan. During its development, Kalanack was serving as a "mega adviser" and its "chief incubator."
"Garrett and I incubated Uber at first because we thought it was like this limo company," said Kalanick.
The young company received $200,000 in seed funding that same year and it was able to expand. Making use of the resources, the company was then able to raise an additional $1.25 million seed funding round from First Round Capital, Kalanick's friend Chris Sacca, and Napster (previously was a Scour competitor) co-founder Shawn Fanning.
After its beta launch in 2010, Uber launched its service and mobile app in San Francisco. Ryan Graves was appointed as CEO before Kalanick replaced him less than a year later.
In 2011, Uber raised another $44.5 million in funding. And on that same year, UberCab changed its name to Uber which was said to be a reference to a common slangy "uber" or "super." The word also has its origins in a German word über.
Uber's first big attempt to reach a bigger market was in May 2011 when the company launched its service in New York City, one of its biggest and most controversial markets.
After having success locally, Uber began expanding internationally, starting with Paris, France. It also closed a $32 million Series B funding round led by Menlo Ventures, Amazon's Jeff Bezos, and Goldman Sachs.
In 2013, Uber started expanding to India and Africa. That same year, the company closed another investment funding at $258 million from Google Ventures. This round valued Uber at $3.76 billion. This was followed by a $2 billion funding in private equity, enabling it to fund its international expansion plans even further.
In 2016, Uber got $200 million investment from Russian billionaire Mikhail Fridman and $3.5 billion from the Saudi Arabia Public Investment Fund. On that same year, Uber announced that in mid-July it had completed its two billionth trip, just six months after reaching one billion rides.
Dealing With Uber's Popularity and Struggles
After UberCab made its first debut in San Francisco, its name has spread like wildfire. While Kalanick touted Uber's efficiency and its innovative use of smartphones, cloud computing, and GPS technology, the company was fiercely opposed by many others.
Kalanick's business achievements have won him widespread respect in the tech industry. In just a few years, he was able to turn Uber into a tech powerhouse that can generate $20 million per week. But the road to reach such height wasn't easy: his success wasn't achieved without without stepping on a few toes.
The company has fought numerous regulators. Like for example fighting against rules that state an Uber driver is an employee, not a contractor. This put Uber's underlying business model into question. And as it became one of the most dominant ride-sharing service, Uber also had many difficult times competing with rivals that also provide local ride-sharing services.
It has even confronted threats from the taxi industry and even its own drivers. Furthermore, Uber was banned from several countries due to those problems.
Kalanick was also accused for violating the anti-trust laws by coordinating surge pricing and faced criticism for creating a "win at all costs" culture in his Uber organization. As the founder and CEO of the controversial company, he is no stranger to legal battles.
In September 2015, Uber that aimed for expanding its market to China, raised $1.2 billion round at a $17 billion valuation in order to aid its fight in the new territory. China's market was already occupied by Didi Kuaidi. Seeing Uber as one of its largest competitors, Didi Kuaidi raised $3 billion, or more than twice as much Uber was able to raise. A year prior, Uber successfully raised $600 million from Chinese search company Baidu. The company's mobile-search and maps apps were integrated with Uber, gearing up its fight in China.
Uber's struggle in China continues as rivals are hurting Uber's ability to get most out its potential. Kalanick said that Uber was profitable in hundreds of cities globally, but that money was being reinvested in the fight against China's Didi Kuaidi. The company was said to lose $1 billion each year in its fight in China.
It was in 2016 that the Chinese government legalized ride-hailing, clearing the roads for both Uber and Didi Kuaidi to continue their battle for ride-hailing dominance.
In February 2016, Uber was again hit by class-action lawsuit. The lawsuit questioned its advertisements, and how the company used the terms "industry-leading" and "best in class." Uber agreed to pay $28.5 million to 25 million drivers to settle the lawsuit. After it settled, the company removed the terms in reference to its background checks.
Uber settled lawsuits to lawsuits. With many enemies and friends, its valuation continued to climb with Kalanick sitting as CEO. He was able to make the word "Uber" a real worldwide phenomenon.
Leadership
Uber's popularity, and also struggles, have a lot been caused by how Travis Kalanick leads the company. His passion and ambition to win in life has led him in taking patterns of risks. And many of times, Kalanick has put his ride-sharing company on the brink of destruction.
In his quest to build Uber into the world's dominant ride-hailing service, Kalanick has openly disregarded norms and bended many rules, backing down only when caught or cornered.
To get business advantages, he has flouted transportation and safety regulations and capitalize on weaknesses of both legal laws and loopholes on restrictions. To people that know him, Kalanick is seen as a person that has to win at whatever he puts in his mind into.
He used tools to trick law enforcement agencies and also his competitors; he violated policies, like Apple's, by making the Uber app to track users although the app has been uninstalled.
While this strategy was to create a fraud detection maneuver to prevent drivers to trick Uber for bonuses, it clearly violated Apple's privacy guidelines. This forced him for meet Apple CEO Tim Cook in 2015. At that time, Cook demanded Uber to stop tricking Apple and breaking its rules, or Uber's app would be kicked out of Apple's App Store.
If Uber's app was banned from the App Store, it would lose access to millions of iPhone customers, and this essentially could destroy Uber. Kalanick pleaded guilty in a meeting session that he was dreading
Among Silicon Valley successful entrepreneurs, going through boundaries isn't uncommon. But for Kalanick, the repeated pattern sometimes went too far as he frequently jeopardizes his business. Kalanick has the ability to do this because he controls the majority of the company's voting shares with a small handful of other close friends, and has stacked Uber's board of directors with those who have invested in his success.
In February 2017 former Uber engineer Susan J. Fowler stated that she was sexually harassed by her manager. It was reported that Both CEO Travis Kalanick and CTO Thuan Pham knew Susan's sexual harassment but did nothing.
A few months after hiring former attorney general Eric Holder to investigate the claims, Uber announced that it had fired more than 20 employees as a result of the investigation.
In February 2017, he was again met with controversies that put his leadership credibilty into question. At the time, a video recording showed Kalanick in a heated argument over falling fares with Fawzi Kamel, an Uber Black driver. The video shows Kalanick's personality and short temper, which caused some to question whether he has the disposition to lead Uber, a $69 billion company that spans its business around the globe.
Personal Life
Travis Kalanick is seen as a hyper-rational individual who dislikes systems and rituals that are systematically arranged and formally established. People see him as a smart person, driven and opportunistic, that would do anything to be a true entrepreneur. As much as he is inspirational, he is also controversial.
But on the one hand, many agreed that he is also someone difficult to work with. Some people regard him as an ego-personified person.
Kalanick is routinely touted as one of the world's best entrepreneurs; comparing him to Jeff Bezos and even Steve Jobs. This is because he went against all odds to turn Uber into a multi-billion dollar business that customers love and enemies hate. He has worked hard to achieve this success, including doing things most people wouldn't: including picking fights, bending laws, challenging governments and throwing tantrums.
Kalanick is also a speaker at conferences and business events, such as TechCrunch Disrupt, Tech Cocktail, DLD, and LeWeb.
In December 2016, it was announced that he is joining President elect Donald Trump's Strategic and Policy Forum, as a corporate adviser.
Kalanick dated street half-Chinese half-Caucasian street violinist Gabi Holzwarth. When she was in Palo Alto, the center of Silicon Valley, she found herself among tech executives who would invite her to play at parties and other events. One day, she was hired to play at a party hosted by venture capitalist Shervin Pishevar. This was the time she met Kalanick.
When the two began dating, Kalanick realized that she was dealing with mental health disorders and addiction overcoming her decade-long battle with eating disorder that almost killed her. A few months dating Kalanick, she was on the path to recovery without a relapse.
"Travis, he's been so helpful in my recovery. He's been such a rock. That's a side that no one really sees about him," she said.
Kalanick and Holzwarth dated for two years before breaking up in 2015.
In May 2017, Kalanick's parents were involved in a boating accident. His mother was killed and his father was injured. This incident has put a pressure on Kalanick that further contributed to his judgement and leadership at the company. In June, Kalanick announced that he is taking a indefinite leave of absence, "to grieve my mother, whom I buried on Friday, to reflect, to work on myself, and to focus on building out a world-class leadership team," he said.
A week later, Kalanick resigned from Uber.
"I love Uber more than anything in the world and at this difficult moment in my personal life I have accepted the investors request to step aside so that Uber can go back to building rather than be distracted with another fight," Kalanick said in a statement. Kalanick stepped down from his role as CEO of Uber, but continues to hold a position on the company's board of directors.
As of 2017, Kalanick's has a net worth of $6.3 billion according to Forbes.