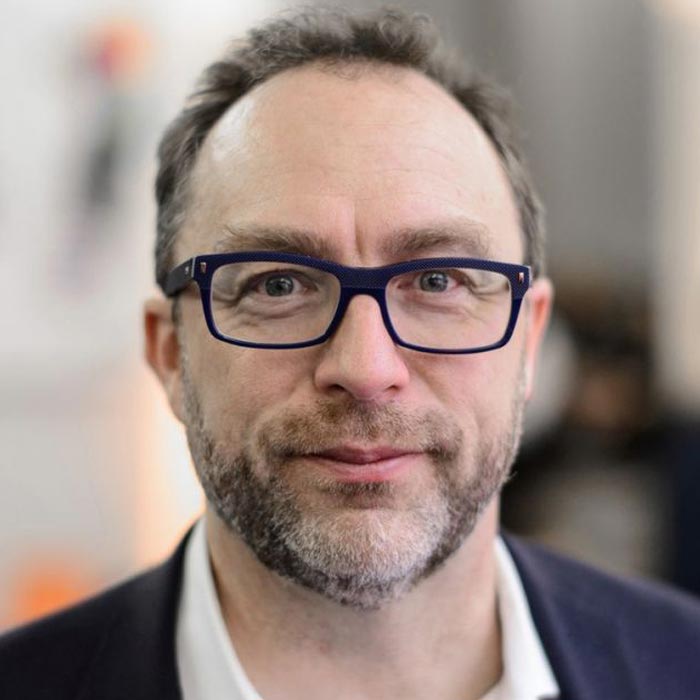 "My original concept was to provide a free encyclopedia for every single person in the world."

- Jimmy Wales
With his early intellectual curiosity, Jimmy Wales spent hours working his way through the Britannica and World Book encyclopedias. He then founded a companion encyclopedia site to which anyone could contribute, the Wikipedia.
Wales was prompted as "The 100 Most Influential People in the World" in 2006 by Time Magazine as Wikipedia grew in prominence beyond his and anyone's expectation.
Early Life
Jimmy Donal Wales was born on August 7th, 1966, in Huntsville, Alabama, United States. His father, Jimmy, was a grocery store manager, while his mother, Doris, and his grandmother, Erma, ran a small private school called the House of Learning, where Wales and his three siblings received their early education.
Wales was a keen reader with an acute intellectual curiosity in which he is able to spent hours reading Britannicas and World Book Encyclopedias in his early age.
Wales attended Randolph School, a university-preparatory school, in which he graduated at the age of 16. He received his bachelor's degree in finance from Auburn University. Wales then entered the PhD finance program at the University of Alabama before leaving with a master's degree to enter the PhD finance program at Indiana University. He taught at both universities during his postgraduate studies but did not write the doctoral dissertation required for a PhD.
Early Career
Jimmy Wales described himself as having been addicted to the internet. He wrote computer codes during his leisure time. During his studies in Alabama, he had become an obsessive virtual role-playing game (RPG) and experienced the potential of computer networks.
With his accumulated capital and inspiration from the initial public offering (IPO) of Netscape in 1995, he decided to leave the realm of financial trading and became an internet entrepreneur. In 1996, Wales and his partner, Tim Shell, founded Bomis, a web portal featuring user-generated content to distribute adult related entertainments.
Nupedia
The adult web portal has made enough money for Wales to pursue his passion for online encyclopedias. While moderating an online discussion group devoted to the philosophy of Objectivism in the early 1990s, Wales met Larry Sanger, in which the two had engaged in detailed debate on the subject on Wales' list
A few years later, after deciding to pursue his encyclopedia project and seeking a credentialed academic to lead it, Wales hired Sanger to be its editor-in-chief. In March 2000, Nupedia, an open-content encyclopedia, was launched.
Nupedia was made to deliver expert-written entries on a variety of topics, and to sell advertising alongside the entries to make profit.
Sanger was frustrated by the slow pace of growth Nupedia endured as a result of its onerous submission process. In January 2001, he was introduced to the concept of wiki by Ben Kovitz, a programming enthusiast. Kovitz suggested that adopting the wiki model would allow editors to contribute simultaneously and incrementally throughout the project, thus breaking Nupedia's bottleneck.
Sanger proposed the idea to Wales, and they created the first Nupedia wiki on January 10, 2001. The wiki was intended to be a project to collaborate the public to write articles, and Nupedia's expert volunteers to review the publication. However, the experts feared the integrity of Nupedia information because mixing amateur and professionally researched content will damage the credibility of the encyclopedia. Sanger eventually separated the wiki project and dubbed it "Wikipedia".
Wikipedia
In a few days after its launch, Wikipedia outgrown Nupedia without even concluding the small community of editors gathered not long after its release. This surprised both Wales and Sanger.
Wales felt that Wikipedia might have the potential to become the open effort of knowledge building he had dreamed of. However, Wales also said that he was worried with the concept of open editing, where anyone can edit the encyclopedia.
Wikipedia was in fact an accidental spin-off of Nupedia. Originally it was only intended to act as a 'feeder site' to generate rough articles for Nupedia, where the articles would then theoretically be 'polished up' by the 'more qualified' volunteer editors.
Sanger developed Wikipedia in its early phase and guided the project. He worked and promoted both the Nupedia and Wikipedia projects until Bomis discontinued the funding in February 2002. Sanger resigned from Nupedia and Wikipedia on March 1 of that year. Wales has supplied the financial backing for the project before advancing with the plan to make it a non-profit foundation.
Since 2002, Jimmy Wales identified himself as the co-founder of Wikipedia. After Wales first began his efforts to identify himself as the sole founder of Wikipedia by downplaying Sanger's early role. Sanger has stated that Wales was the one that had the idea of of an open source, collaborative encyclopedia, open to contribution by ordinary people. He also said that Wales deserves enormous credit for investing in and guiding Wikipedia. Sanger on the other hand, was the one who had the idea to use the Wiki software, initiated to separate both encyclopedias and came up with the "Wikipedia" name. Sanger did most of the early work and calls himself as a co-founder, where Wales thinks that he hired him in the first place.
Wikimedia Foundation
In 2003, Wales eventually set up the non-profit organization, the Wikimedia Foundation (WMF), in St. Petersburg, Florida and later headquartered on the West Coast of the United States, in San Francisco, California.
Wales has been a member of the Wikimedia Foundation's Board of Trustees since it was formed and was the chairman from 2003 to 2006. Since 2006 he has been accorded the honorary title of Chairman Emeritus and holds the board-appointed "community founder" seat.
Awards And Honors
Wales was listed in the "Scientists & Thinkers" section of the Time 100 in 2006 and number 12 in Forbes "The Web Celebs 25".
He was also honored as a special individual that made major contribution to art and culture, and actively imagining a better future. He was the "Young Global Leaders" of 2007 by the World Economic Forum.
Wales is a member of the Berkman Center for Internet & Society at Harvard Law School, the advisory board of the MIT Center for Collective Intelligence, the Board of Directors at Creative Commons, Socialtext, and Hunch.com> He is also a former co-chair of the World Economic Forum on the Middle East 2008.
Wales has received numerous awards in which some of them includes the Pioneer Award, Nokia Foundation annual award, and the Business process Award.
Personal Life
Wales has been married and divorced twice. His first wife, Pam, was a co-worker at a grocery-store in Alabama. His second wife, Christine Rohan, was a steel trader for Mitsubishi, in which they had a daughter before separating.
Wales moved to San Diego in 1998, and after being dissuaded by the housing market there, relocated in 2002 to St. Petersburg, Florida, where he lived as of 2007.
In Summer 2012, he is planning to marry Kate Garvey, Tony Blair's former diary secretary, whom he met in Davos, Switzerland. The couple married in London on October 6, 2012, and have one daughter.
Wales is an atheist. In an interview, he said that his personal philosophy is firmly rooted in reason and he is a non-believer.