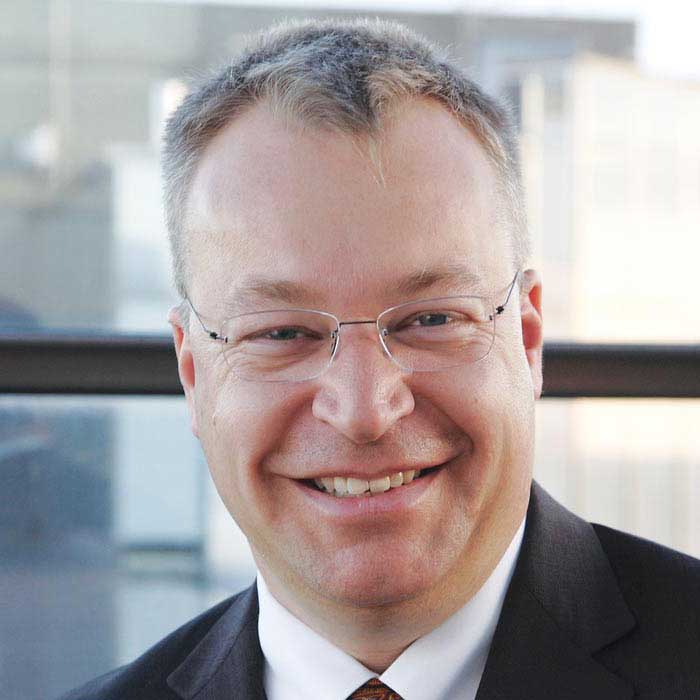 "The more interesting, the more we crave them and the more we want to share them with the people around us."

- Stephen Elop
Stephen Elop is best known when he was the CEO of Nokia. The giant Finnish smartphone vendor that he led was one of the several companies that saw their end before his eyes. There is no saying why Elop has seen many companies met their end during his career, but as a leader and executive, he has the wealth of execution experience and possesses a strong complement of operational and leadership skills.
Elop has the fighting spirit and believes in doing whatever necessary in order to survive. And although he was several times a leader, he does not hide behind any jargon of the company he is working with.
Early Life
Stephen Elop was born on December 31st, 1963 in Ancaster, Ontario, Canada. He graduated near the top of his class from McMaster University in Hamilton, Canada in 1986. While studying for his Computer Engineering and Management degree, he had a side job working 30 hours a week. And during that time, Elop was one of the team member who helped lay 22 kilometers of ethernet cable around campus to create one of the first internet networks in Canada.
Early Career
Stephen Elop was the Director of Consulting for Lotus Development Corporation before becoming Chief Information Officer for Boston Chicken, Inc. in 1994 until the company filed for Chapter 11 bankruptcy four years later.
In the same year, he joined Macromedia's Web/IT department where he shifted to the sales division and held the COO position. Elop has made many contribution to Macromedia by pushing the company to great heights by getting Flash into the mobile market. In January 2005, Elop became the CEO of the company for three months until Macromedia was acquired by Adobe Systems in 2005. Elop then joined Adobe as part of its executives.
Elop was then became the President of Worldwide Field Operations at Adobe until his resignation in June 2006 and leaving in December. In 2007, he was the COO of Juniper Networks, a provider of high-performance network infrastructure, for exactly one year until he decided to meet Juniper's CEO Scott Kriens saying that he was going to Microsoft in 2008, just a few weeks before Kriens intended him to be his successor.
From January 2008 to September 2010, Elop worked for Microsoft as the head of the Business Division, responsible for the Microsoft Office and Microsoft Dynamics line of products, and as a member of the company's senior leadership team. It was during this time that Microsoft's Business Division released Office 2010.
CEO Of Nokia
In September 2010, Stephen Elop became the Vice President of Microsoft's Devices & Services business unit. During his tenure at Nokia he held the CEO position in 21 September 2010, and later Executive Vice President, Devices & Services.
As a Canadian citizen, Elop was the first non-Finnish to be named CEO of Nokia. Elop took the job when the company's grip on the mobile market started to break. He pushed to get new technology to the market and tried elevating Nokia to be once again the pioneer of mobile innovation by introducing PureView camera. Elop also worked his way throughout each and every Nokia's projects to decide which should be scrapped in order to save cost.
Elop said that: "Nokia represented a landscape of unpolished gems as I began to see what was going on in the labs, as I saw the innovation underway, as I accounted for where the R&D dollars were being applied, there were and there continue to be all sorts of great efforts and products and technology available, under way, but they weren't landing in the products. They were certainly showing up in the strength of the patent portfolio, something we're very proud of. But of course, just doing a patent is not sufficient to fully monetize it. They needed to show up in the products as points of differentiation as well."
During this moment, Elop also began to led Nokia into a strategic partnership with his former employer: Microsoft. Elop said that: "We both understand that we have strong dependencies on each other. There are things we need Microsoft to do to support us, there are bets that we place because we're using Windows Phone. But equally they obviously have a strong bet on us by using Nokia as the principle partner for mobile devices."
However, since no one can ever really predict how the future will be no matter how good he/she is, business became tough at Nokia. Elop was pressed by Nokia's shareholders about the lack of results and the insufficient sales to secure the company's survival. During the annual meeting, shareholders said that they were running out of patience with Elop's efforts in putting the company back to the smartphone competition. Some analysts criticized Elop for going all-in with Microsoft. And because at that time Windows Phone was still lacking far behind iOS and Android, some analysts speculated that Nokia aimed to dominate the low-end devices because it already lost the race to Samsung and Apple.
Since Elop took over, the company that had 66,000 employees announced that it made a total of 24,000 job losses (more than a third of the employees). There were also plans to cut down another 17,000 jobs at the equipment joint venture Nokia Siemens Networks. Elop said that: "These planned reductions are a difficult consequence of the intended actions we believe we must take to ensure Nokia's long-term competitive strength."
With this decision, Elop hoped to cut the company's device and services operation's expenses from €5.35 billion in 2010 to €3 billion by the end of 2013. However, in June 2012, the Finnish phone maker sank to its lowest market level for the first time in 16 years. Shares fell more than 16 percent, going below €2 billion for the first time since 1996, and its value dropped 60 percent. Sales in the second quarter declined 19 percent to €7.54 billion. The quarterly loss of €1.4 billion followed by another €929 million loss in the first quarter and compared with a €368 million loss in the year-earlier period. Nokia revenues fell 40 percent, Nokia profits fell 95 percent, Nokia market share collapsed in smartphones from 34 percent to 3.4 percent. Nokia handset sales fell 40 percent from 456 million units per year to 274 million units per year. Nokia share price which was at €7.12 on the day Elop was hired, had fallen to 81 percent to €1.44 two years later. Nokia's fame and credit that was rated A, skydived, and it's market capitalization lost 13 billion dollars in value.
During his moments at Nokia, Elop issued a company internal memo titled "Burning Platform" which was leaked to the press.The memo likened the 2010 situation of Nokia in the smartphone market to a person standing on a "burning oil platform" (the name given to operating systems such as Symbian, iOS and Android). By some, the memo was seen as a wake-up call for Nokia, others saw it as Elop's bad move. The memo has since been called the most damaging memo in corporate governance. At the Board Meeting, Nokia's Chairman Jorma Ollila was angry at Elop.
Although Nokia saw its luck running bad, Elop's alliance with Microsoft was providing hope for the mobile manufacturer: Nokia sold four million Lumia smartphones equipped with Windows Phone in the second quarter. The number was doubled from the amount sold in the first quarter, far above what analysts had expected.
On 3 September 2013, Nokia announced that Elop was removed from his CEO position and President of Nokia, and was resigning from the Nokia Board of Directors. At the same time, it was announced that Microsoft had agreed to buy Nokia's mobile business. With the Nokia/Microsoft deal officially closed on April 25th, 2014, Elop returned to Microsoft as part of that transition and became the Executive Vice President (EVP) of the Microsoft Devices Group overseeing Lumia smartphones and tablets, Nokia mobile phones, Xbox hardware, Surface, Perceptive Pixel products, and others. Other Nokia executives joining Microsoft include Jo Harlow, Juha Putkiranta, Timo Toikkanen, and Chris Weber. Elop became part of Satya Nadella's senior leadership team which includes Terry Myerson, Qi Lu, Amy Hood, Lisa Brummel, Chris Capossela, Scott Guthrie, Mark Penn, Eric Rudder, Harry Shum, Brad Smith, Kirill Tatarinov, and Kevin Turner.
Despite Nokia is not at all bust and far from bankruptcy, some critics, especially in Finland, speculated Elop to be a trojan horse, whose mission was solely to prepare Nokia to be acquired by Microsoft.
Bonus Controversy
A controversy went loud after the media heard that Elop received a €18.8 million bonus after Nokia sold its mobile phone business to Microsoft and he stepped down as the CEO. The controversy was further fueled after it was revealed that his contract had been revised on the same day as the deal was announced. To add things up, Nokia's Chairman gave incorrect information about the contract to the public, and had to correct his statements later. Shortly before his departure from Nokia, Elop had filed for divorce, which he also cited as a reason to reject a renegotiation of the controversial bonus.
Personal Life
Stephen Elop has five children (including triplets) and a boy from his ex-wife Nancy. They also had adopted a daughter from China. And while the U.S. and the Canadian government declined to grant the child's citizenship, Elop took the case all the way to the Prime Minister's office and won.
Elop that is a Honorary Doctor of Laws Degree from McMaster University, is an avid recreational pilot, a dedicated ice-hockey fan, and enjoys sports.