Have a website? That's great. Struggling to gain traction? Everyone experiences that once in a while.
After all, you are competing on the web against many other and older websites with more authority, credibility, where they can have writers with years, or even decades of experience.
Getting up there won't be easy.
If you have an online business, you must have web traffic no matter what. It doesn't matter if you own a company profile website, a blog, an affiliate marketing site, or an information product. If you want success on the web, you have to have web traffic.
We all know that content lies at the heart of any successful SEO and overall online marketing strategy, but with so many different types of content imaginable, it's hard to know exactly what works best.
When people are struggling to get web traffic, they can do just about anything.
But that anything rarely include the knowledge of 'active' and 'passive' web traffic.
Active Web Traffic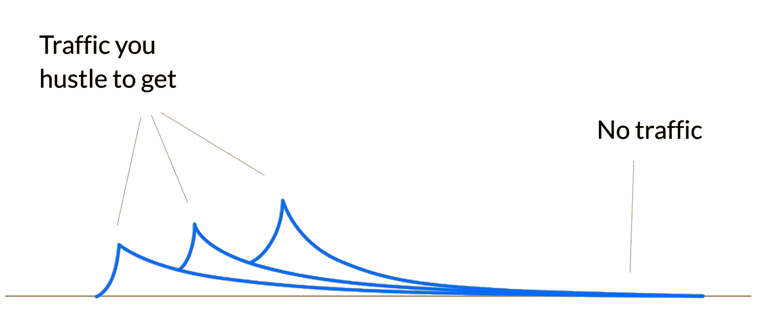 It's called 'active' for a reason.
This is any type of web traffic that you earn, by continuously expend effort to get people to visit your website. This includes activities like blogging or forum, commenting, networking, and social media activities, as well as guest posting.
Active web traffic is easier to get, and can create a lot of traffic in an instant.
Even a brand website can skyrocket their web traffic by regularly using this technique.
Sadly, this rarely last long. In other words, active web traffic can definitely create a lot of short term traffic, but it will only lasts as far as your willingness to expend your effort.
Once you stop marketing your post, the traffic will diminish, and you'll lose a lot of the momentum you've built..
Passive Web Traffic
Passive web traffic is the exact opposite to the active web traffic.
Using this method, you are creating a system that drives the traffic to your site, even when you're not working on it on a daily basis.
This method includes activities like search engine optimization, article marketing, video marketing, leveraging community websites, respond to queries, create newsletters, creating satellite web properties/blogs and more.
Passive web traffic involves a lot more effort upfront, with results that are rarely instant. Plus, it isn't capable of really generating massive amount of short term traffic.
But the good side is that, it can create series of passive traffic that will come again and again, which can accumulate to a huge amount of long-term traffic,
While One To Use?
It depends.
As a webmaster or a website owner, or a blogger or a guest writer, it can be very tempting to write about whatever excites you.
From the latest in the industry topics, breaking news, hobby or knowledge you're eager to share, or even some random burst of thought.
Yes, most of the topics imaginable will have their own audience and readers.
If you're willing to use the active web traffic approach, you will have a higher chance of getting that spike of traffic that can make you smile really wide. Sometimes, web traffic gained through this method can go through the roof, spiking at hundreds or even thousands of percent increase.
When you have a breaking news to share, or a post that is seasonal, the active web traffic may be your best choice. After all, this kind of post is only good when it's hot.
This kind of content is considered a 'quick-decay content' and have short shelf lives. It isn't relevant a 100% of the time, and may be irrelevant in the foreseeable future.
On the other hand, passive web traffic is to write about topics people need.
In this case, the best kind of posts to use this method, is evergreen content.
Evergreen content is usually less demanding to produce and couldn't compare in quality to seasonal content. But the good side of it is that, it never expires, and has far less competition.
Read: How To Renew, Refresh, And Recycle Old Contents To Increase Their Reach