People working with web tools use various platforms to accomplish their task.
Slack that is looking forward to bolster its ability to embrace more users, is playing well with Microsoft, its rival in the enterprise tool business. Here, Slack unveiled integrations that make it easier for users to work with Microsoft's Office suite.
What this means, Slack users can preview Office documents right within its app, essentially removing the needs for users to open the two platforms separately.
So for example, when someone sends a Word document in a chat window, Slack can render the file. And clicking on the file will allow users to scroll through the documents, without having to download it to their device.
This is a convenient, as it can prevent users from downloading unnecessary files to their device, just because they only wanted to retrieve one single piece of information from them.
This is also an advantage in productivity, since Microsoft Office apps are resource hogs and can take a while to open on most lowend devices.
With the Slack's integration with Office 365, things are becoming even more web-based.
According to Andy Pflaum, Slack's director of product management for interoperability, the integrations are part of wider moves to connect Slack with productivity apps from a range of vendors.
One of Slack's biggest strength, is having third-party apps integration. The enterprise tool has added at least 1,500 so far in 2019, allowing users to work without having to switch between apps.
"We recognize that our customers are going to have a variety of tools that they use in the workplace," said Pflaum. "Nobody today has just a single stack from Microsoft, Google, Cisco or Salesforce. Virtually every enterprise has a mix of solutions from different providers."
"We think [the Office365 integration] helps us take a further step forward in being a true collaboration hub," he said.
The integrations are:
Improved notifications for Outlook Calendar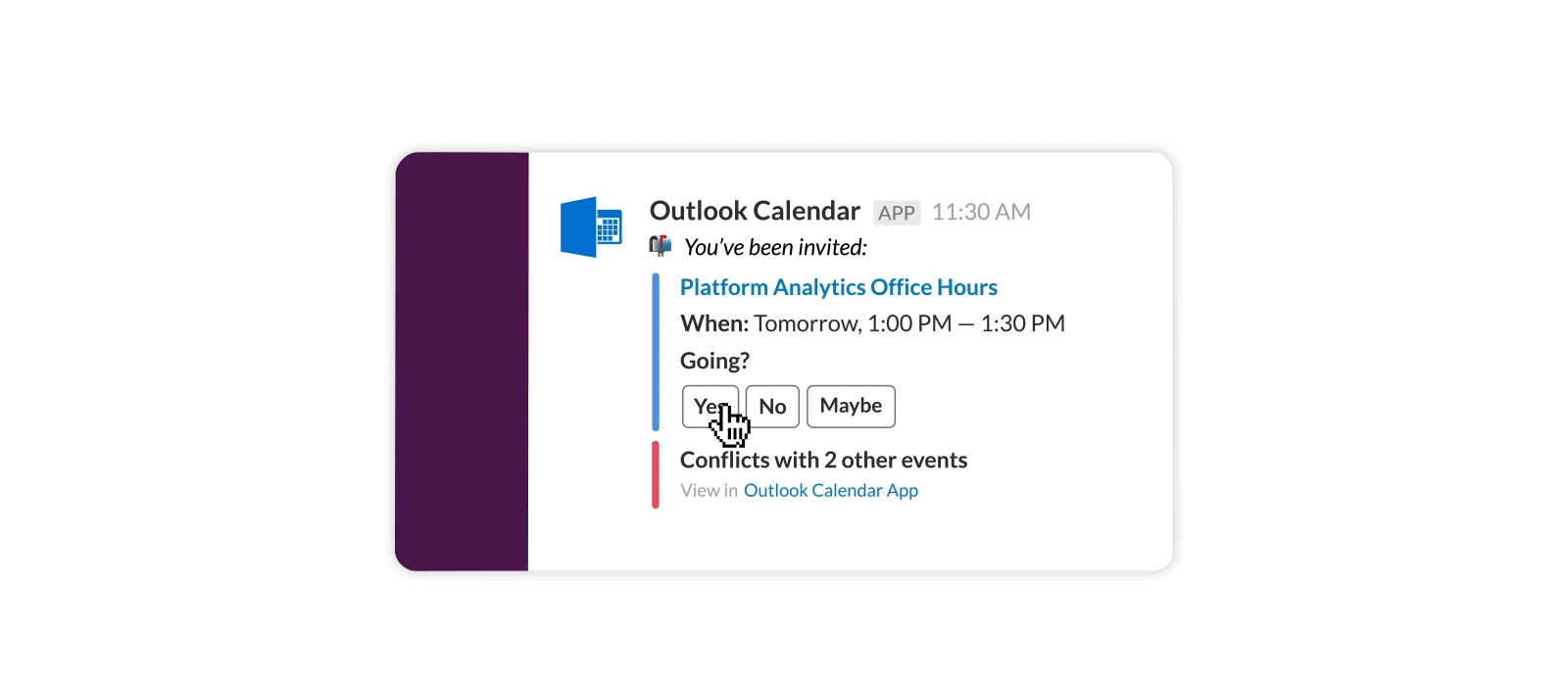 The Outlook Calendar app for Slack can send notification to users, whenever they are invited to a meeting, for example. It can also highlight any scheduling conflicts, among others. Video meeting notifications can also include a link to conferencing apps, such as Webex, Zoom or Skype for Business.
The ability to sync with Outlook calendars also enables automatic updates of a user's Slack status.
What this means, Slack users' status can change in accordance with their Outlook calendar schedule, for example, or "out of office" if they have vacation days booked off.
Email add-in for Outlook
Slack also wants to bridge the gap between its collaboration app and Outlook emails.
And here, the collaboration allows Slack for Outlook add-in to let users forward an email directly from their inbox, to a Slack channel or send it as a direct message. This can be done by users in clicking the Slack icon that appears in Outlook emails, to then selecting the channel or individual recipient.
Team members in Slack can then view the email content from their chat stream, and open any attachments or notes.
Search and import files from OneDrive Slack also announced deeper integration with Microsoft's OneDrive.
Here, Slack users can upload files to Microsoft's cloud storage service, by clicking on the '+' icon next to the message bar. Users can then select OneDrive and choose the file they want to share in a channel or direct message.
Previously, Slack already provides integrations with a variety of cloud storage vendors, including Box, DropBox and Google Drive.
For locally-stored files, which are the type of documents most commonly uploaded to Slack, according to Pflaum, previews of Office files will be available in Slack once a document is uploaded. This allows users to scroll through Word, Excel or Powerpoint files without having to download the whole document and open up the relevant app.
"This is particularly handy not just on desktop but on mobile if somebody is on the go and wants to be able to quickly view a file," said Pflaum.