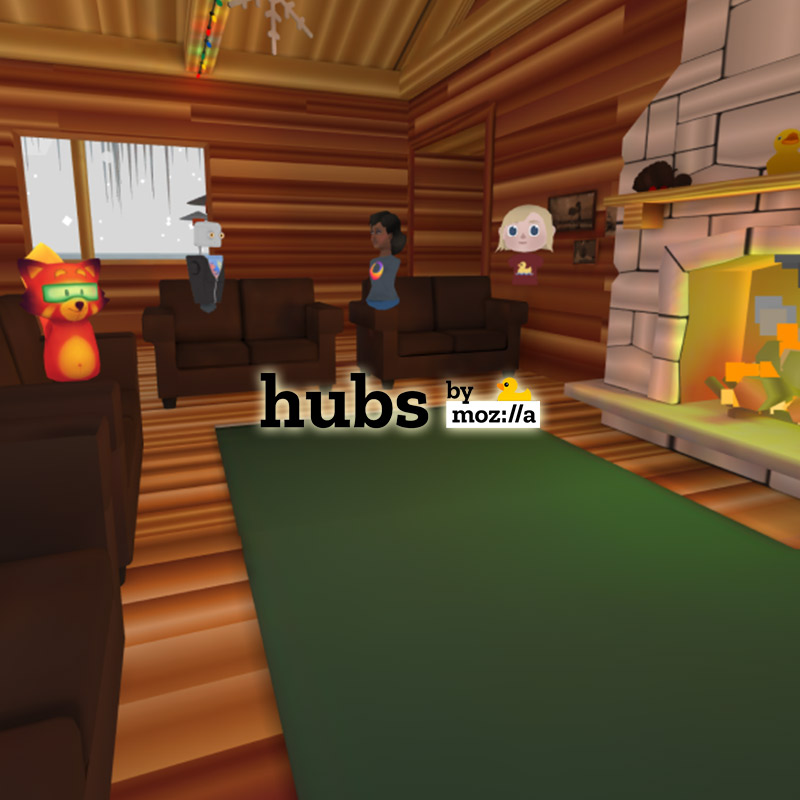 As virtual reality (VR) has become more common, and easier and easier, Mozilla's approach to the field starts with 'Hubs'.
The project began in 2018. And in January 2021, the company has announced an update that refreshes the experience with an updated user interface.
First, Mozilla has made it easier for users to use the platform, whether they're on VR, or joining from a browser.
For example, chat has been redesigned so users can scroll back through messages. "Before today's update, messages sent in Hubs were ephemeral and disappeared after just a few seconds," said Mozilla.
The redesign also removes the chat from being displayed over the room, with Mozilla putting it in its own sidebar with quick text notification.
"With the new chat sidebar, you'll be able to see chat from the moment you join the lobby, and choose when to show or hide the panel. On desktop, if the chat panel is closed, you'll still get the quick text notifications, which have moved from the center of the screen to the bottom-left," Mozilla said.
This way, chat won't take up space.
According to Mozilla on its blog post:
"In the past, our team took a design approach that kept the desktop, mobile, and virtual reality interfaces tightly coupled."
"This often meant that the application's interactions were tailored primarily to virtual reality devices, but in practice, the vast majority of Hubs users are visiting rooms on non-VR devices."
The Hubs redesign here also separates the desktop and mobile experience, making them more straight forward to navigate.
"Just over two years ago, we introduced a preview release of Hubs. Our hope was to bring people together to create, socialize and collaborate around the world in a new and fun way."
"Since then, we've watched our community grow and use Hubs in ways we could only imagine. We've seen students use Hubs to celebrate their graduations last May, educational organizations use Hubs to help educators adapt to this new world we're in, and heck, even NASA has used Hubs to feature new ways of working."
"In today's world where we're spending more time online, Hubs has been the go-to online place to have fun and try new experiences."
A preview of the new chat feature in the lobby of a Hubs room. (Credit: Mozilla)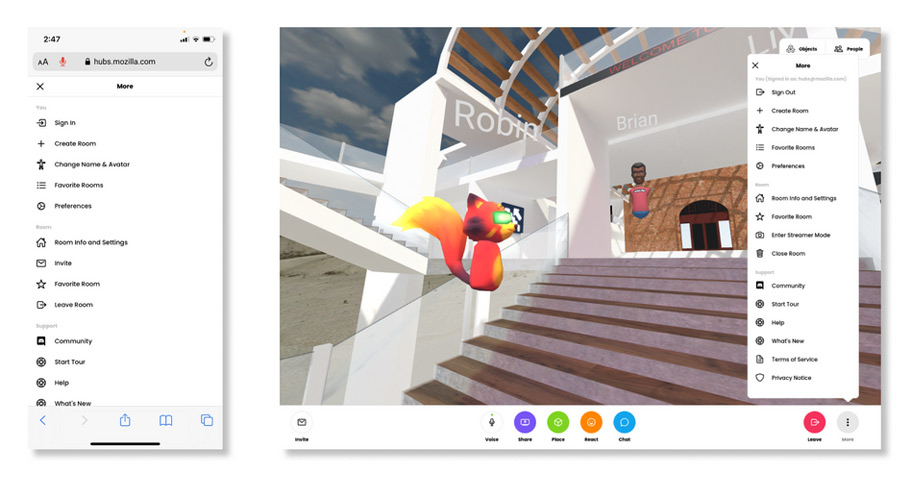 The preferences menu on mobile (left) and desktop (right). (Credit: Mozilla)
While this update should be a good news for Hubs users and VR fans, it's fortunate that the service survived the 'COVID-19' coronavirus pandemic, knowing that Mozilla was forced to lay off many of its employees.
With the update, it's certain that Mozilla wants to continue supporting Hubs, saying that "in the coming months, we'll have additional detail to share about accessibility and localization in the new Hubs client."
Mozilla added that for its Hubs Cloud customers, the company is planning to release the redesigned user interface after March 25th, 2021.
"If you're running Hubs Cloud out of the box on AWS, no manual updates will be required. If you have a custom fork, you will need to pull the changes into your client manually."