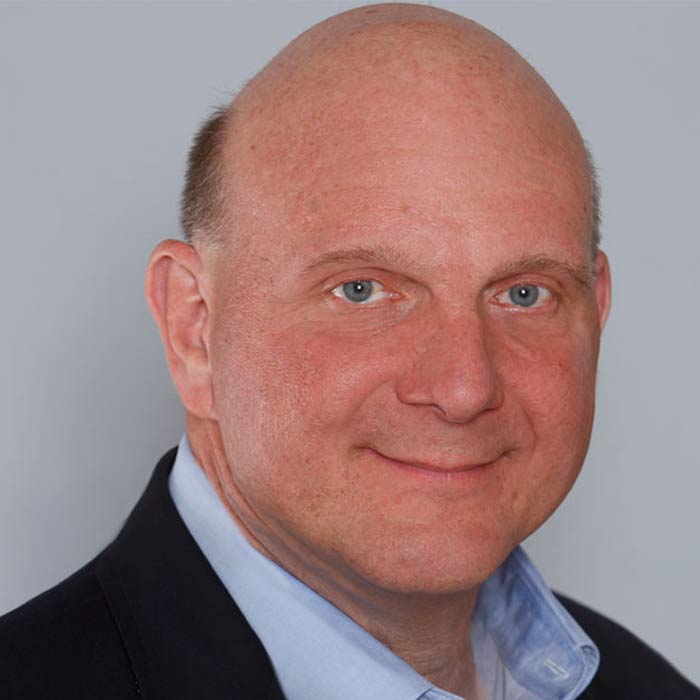 "Great companies in the way they work, start with great leaders."

- Steve Ballmer
There is not so many people who succeeded in their occupations, and created a path toward fame, fortune and significant influence. Steve Ballmer has led a giant company to be seen and feared by the competition with his dynamic persona and powerful salesman's eagerness.
Steven A. Ballmer is Chief Executive Officer of Microsoft. Ballmer joined Microsoft in 1980 and was the first business manager hired by Bill Gates. Since then, Ballmer's leadership and passion have become hallmarks of his tenure at the company.
During the past 20 years, Ballmer has headed several Microsoft divisions, including operations, operating systems development, and sales and support. In July 1998, he was promoted to President, a role that gave him day-to-day responsibility for running Microsoft.
He was named CEO in January 2000, assuming full management responsibility for the company, which includes delivering on the company's mission of enabling people and businesses throughout the world to realize their full potential.
Together with Bill Gates and the company's other business and technical leaders, Ballmer is focused on continuing Microsoft's innovation and leadership across the company's seven businesses. Microsoft's goal is to provide an integrated platform to enable a seamless experience across a wide range of computing and non-PC devices and services.
Ballmer is known for his energetic and exuberant persona, which is meant to motivate employees and partners. He is also well known for his outgoing and competitive personality with his loud and forceful meetings. Variously described him as ebullient, focused, funny, passionate, sincere, hard-charging and dynamic.
Ballmer has infused Microsoft with his own brand of energetic leadership, vision and spirit over the years. Besides being a good listener, Ballmer admitted to being a sponge for information and is recognized for being an excellent strategic thinker.
Early Life
Steven Anthony "Steve" Ballmer was born on March 24, 1956 in Detroit, Michigan to a Swiss American father and a Jewish American mother. He grew up near Detroit where his father worked as a manager at Ford Motor Co. He graduated magna cum laude from Harvard University in mathematics and economics.
While in college, Ballmer managed the football team, worked on the Harvard Crimson newspaper as well as the university literary magazine, and lived down the hall from fellow sophomore Bill Gates.
After college, he worked for two years at Procter & Gamble Co. as an assistant product manager and, before joining Microsoft, attended Stanford University Graduate School of Business. In 1980, he dropped out to join Microsoft.
Steve Ballmer who has worked for Microsoft Corporation since 1980, has left a lasting impression on his business colleagues and the Microsoft employees with his energetic and motivational style. Credited for revamping the Microsoft marketing program, Ballmer has served as second in command to Chairman Bill Gates.
Gates relied on Ballmer for his opinions and as an information provider. Ballmer has continued to benefit Microsoft Corporation by combining his personal charisma with business savvy and a sharp intellect.
Career At Microsoft
In 1980, Ballmer joined Microsoft in the company's first non-programming position. Gates hired him at a starting salary of $50,000. Ballmer's adviced Gates to hire 50 to 60 more people (the company at that time had a base of 30 employees) which Gates reacted strongly. In their first years together, Gates and Ballmer often clashed on strategy.
They learned to work together and modified their strategy so that they planned for the long term, without losing control. Ballmer undertook such tasks as heading the systems software division, driving the company's marketing efforts, and providing a crucial link with key company customers.
Ballmer and Gates worked together in the early years to achieve their long term vision for Microsoft. Although they were fortunate to have International Business Machines (IBM) as a first customer for their MS-DOS program.
Ballmer and Gates actively recruited college graduates to work for the company, and established offices in Europe. They were also careful to ensure that the company had no cash flow problems so that they could continue to keep their focus on becoming a billion dollar software company.
During the late 1980s, Microsoft made new strides in the software industry and continued to penetrate new markets for their products, collaborated with Ashton-Tate to provide a software development kit, released an improved operating system, and signed deals with such companies as Compaq and Novell.
By 1995, Microsoft had annual revenues of nearly $6 billion. Ballmer was responsible for steering the company sales strategy and taking it to unprecedented heights. Between 1991 and 1995, sales increased at the rate of $1 billion per year.
Ballmer was also instrumental in the success of Windows 95 operating system, having previously laid the groundwork for the development of earlier versions. Additionally, he smoothed the original Windows partnership with IBM, a relationship that was not always easy due to philosophic differences and the bureaucracy of IBM.
Ballmer later referred to the relationship as dancing with the bear. Microsoft wanted IBM to install Windows on its computers. IBM, however, wanted its own versions of Windows and DOS, which eventually became known as OS/2 and Presentation Manager. However, the partnership ended in 1992, when IBM announced a plan to combine Windows into OS/2, with the emphasis on the latter. Ballmer argued that the arrangement would not work technically.
Microsoft also opposed IBM's move because it had the potential to undercut sales of Microsoft's successful MS-DOS program. The incident ended a relationship of 11 years between Microsoft and IBM. Shortly after the break in that collaboration, Microsoft changed the name of the newest version of OS/2 to Windows NT, standing for New Technology.
By the year 1995, Microsoft had grown to more than 20,000 employees. In mid-1995 Ballmer and Gates announced the company's next strategic direction, to facilitate customers' use of the internet and intranet applications.
Ballmer promised that Microsoft would lead the way in providing new internet technologies that would satisfy customers needs. The company updated software such as Internet Explorer and Windows NT to keep up with technological advances in the internet.
While Microsoft had excelled in selling PCs to corporate customers, it still had not sold corporate customers on the use of Microsoft software for more centralized corporate functions like record keeping or budget management.
Ballmer recognized that as a weakness and focused company efforts on customer service and developing software that could meet corporate needs. Ballmer also recognized the threat to Microsoft from companies that were working on ways to eliminate operating systems such as Windows from computers. Two contenders included Lotus Development Corp. and Netscape Communications Corp. Bill Gates appointed Ballmer president of Microsoft Corp. on July 21, 1998. His new responsibilities included addressing these problems.
And on January 2000, he was officially named CEO assuming full management responsibility for the company, which includes delivering on the company's mission of enabling people and businesses throughout the world to realize their full potential.
On August 23, 2013, Ballmer announced that he would step down as Microsoft's CEO within 12 months. And on February 4, 2014, Ballmer retired as Chief Executive Officer, when it was announced that Satya Nadella is the new CEO, effective immediately.
Impact And Influence
While Steve Ballmer has been at least partially responsible for Microsoft's rise in the software industry, he also realized that the ongoing government investigation into the company was shaking company relationships with customers and hurting company morale. The probe was initiated when the Justice Department decided that Microsoft was violating the tenets of fair competition when it included its Internet software with every sale of Windows 95.
In 1998, Ballmer admitted that the company, known for its fearlessness, was examining whether its corporate culture needed to change. But Ballmer refused to apologize for the company's aggressive stance in business. Ballmer went on to describe the future of Microsoft, including such as simplifying software, doing everything on the internet, and making software smaller for appliances and bigger for networks.
Ballmer's influence on the computer world is undeniable. His participation in the development of the Windows operating system has meant that the average person can easily navigate computers. Though Microsoft has been accused of being monopolistic, the domination of this operating system has allowed a nearly universal exchange of information.
Ballmer has also contributed to Microsoft, and by extension the computer world, in less tangible ways.
He has brought a new philosophy to Microsoft and the computer world. In a world of technology where Microsoft is sometimes seen as the evil, monopolistic empire, he has understood the importance of maintaining customer satisfaction on all levels, whether the customer is a business or an individual.
According to Microsoft, his new goal is to reinvent the Microsoft working environment so that the company is even more responsive to changing customer needs, new technologies and market dynamics.
Personal Life And Wealth
Steve Ballmer married Connie Snyder In 1990. They couple have three sons. Ballmer which speaks French fluently, was the person who implemented the Microsoft stock-option program that has made many of its employees wealthy.
Ballmer is a billionaire in U.S. dollars based on stock options received as an employee of a corporation in which he was neither a founder nor a relative of a founder.
While CEO of Microsoft in 2009, Ballmer earned a total compensation of $1,276,627 which included a base salary of $665,833, a cash bonus of $600,000, other compensation of $10,794 and no stock or options.
On May 2014, Ballmer became Microsoft's largest shareholder by owning 4 percent of the company (333 million shares) after Gates sold his part for his philanthropy.
Ballmer has several times made his way into the sports industry. His support first started when Seattle Mayor Greg Nickels announced an investment of $150 million to renovate KeyArena in cash from local ownership groups that involved Ballmer in March 2008.
In June 2012, he was also an investor in Chris Hansen's proposal to build a new arena in the SoDo, Seattle, and attempted to purchase the Sacramento Kings from the Maloof family and relocate them to Seattle for an estimated $650 million. This attempt has failed. On May 29, 2014, Ballmer was the highest bidder in an attempt to purchase the Los Angeles Clippers for a reported $2 billion price. His bid was approved on June 4, 2014.
On November 2014, Ballmer and his wife Connie donated $50 million to the University of Oregon. The couple also funded Harvard University's computer science department.
Ballmer has donated $1 million to Council of the Jewish National Fund.
As of December 2016, Ballmer has a net worth of $28.1 billion.