Netflix has reached a milestone, which is exclusive to only a number of apps.
The American technology and media services provider and production company which streams movies and TV shows to users devices, has its Android apps surpassed the 1 billion downloads mark on Google Play Store.
This makes the app the most popular streaming service after YouTube.
In comparison, competitors like Amazon Prime only has around 100-500 million installs, Hulu has around 50 and 100 million installs, Disney+ has 10 million installs, and HBO GO is even far below others with a mere 5+ million installs.
Given by just how popular the online streaming service has become in many countries and regions around the world, it's no wonder that Netflix has reached such an impressive download figure. Of course, that figure is slightly inflated because the Netflix app for Android does come pre-installed on some devices from the factory.
But still, that doesn't take away of the high number of installs.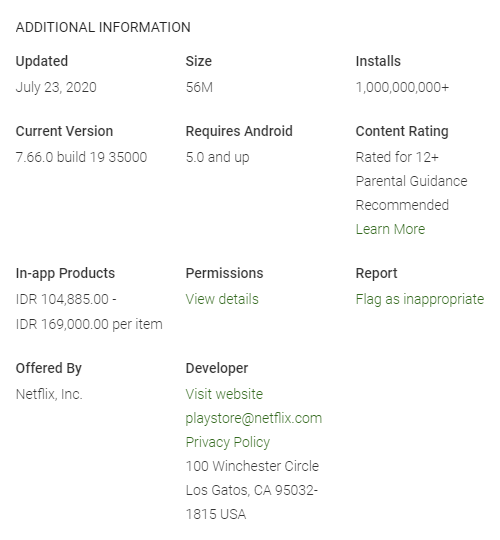 Netflix has attracted many users from its mobile-only subscription options in some regions.
And alongside its support for Google Chromecast controls, Netflix is capable of delivering one of the best video-streaming experiences on mobile.
This was even shown clearer during the 'COVID-19' coronavirus pandemic, where many people are spending more of their times at home.
With an increasing number if people getting stuck at home due to lockdowns in many countries, Netflix has been experiencing more usage than usual. And with that, the app benefited by having even more downloads, that could easily helped it tipped the scale to over one billion downloads on Google Play Store.
This is no small feat, considering that Android apps with more than 1 billion downloads aren't plenty.
And for Netflix, there has been no third-party streaming service that reached this milestone as quickly.
Previously, Netflix announced that it temporarily reduced the bitrates of videos, which affects playback quality. This started since the start of the coronavirus pandemic, where usage of the platform surged. Netflix limited the bandwidth in order to ease network strain in some regions.