8chan, also called Infinitechan or Infinitychan, is a notorious imageboard website composed of user-created message boards.
With less policy and regulations to govern the platform, owners that moderate their boards have minimal interaction from site administration. As a result, the site has been linked to child pornography, white supremacism, neo-Nazism, the alt-right, racism and anti-Semitism, hate crimes, and multiple mass shootings.
This in turn made 8chan full of controversies.
It was in August 2019 that 8chan went offline, in the aftermath of the back-to-back mass shootings on August 3 and August 4, 2019, in El Paso, Texas, and Dayton, Ohio, respectively.
At that time, the site's network infrastructure provider Cloudflare stopped providing its content delivery network (CDN) service. Voxility, a web services company that had been renting servers to Epik, the site's new domain registrar, as well as Epik's CDN provider subsidiary BitMitigate, also terminated their service.
Then in November 2019, 8chan returns, and rebranded as 8kun.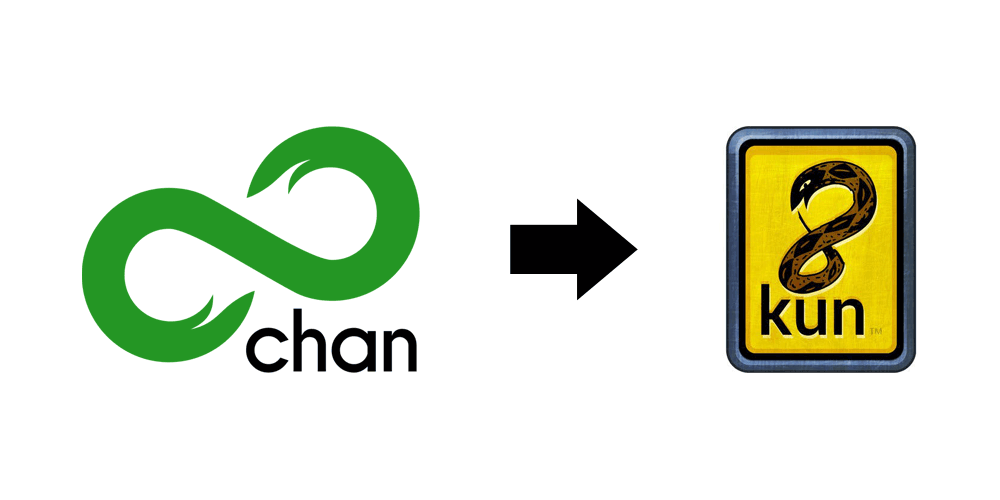 This started in in October, when 8chan's administrator and owner, Jim Watkins, posted a new logo under the 8kun brand.
The logo has a snake which resembles that of the Gadsden flag, that forms a shape of number 8.
Watkins returned 8chan as 8kun after his testimony before the U.S. Congress in September. At that time, Watkins said the racist content is only posted by "a small minority of users" and that he "has no intention of deleting constitutionally protected hate speech."
He also said that site was "offline voluntarily", and it "may" return once it had developed tools to counter illegal content. However, Watkins said that site had "no intent of deleting constitutionally protected hate speech."
On October 9, 2019, 8chan's official Twitter account instructed board owners who wish to migrate to 8kun to send their "shared secrets" (a tool that enables board owner to recover an 8chan board) to an email address at 8kun.net.
8kun has a warning to tell users not to post content that's illegal in the U.S..
I don't want 8chan to come back.

Mostly for personal reasons.

I think its admins are terrible incompetent people. I have a vendetta with them.

I'm not against other imageboards, only ones they run with names like 8chan. Honest enough? https://t.co/zuhn4GXdY9

— Fredrick Brennan (@HW_BEAT_THAT) October 7, 2019
Fredrick Brennan, founder and the original owner of 8chan before Watkins, opposed the site's return saying the administrators are incompetent.
Brennan has long been against 8chan, especially after a failed project of redesigning 8chan, and after 8chan became darker than ever. Here, Brennan vocally opposed 8chan's relaunch, claiming the effort will not change the reputation previously associated with 8chan, and also citing his troubled relationship with 8chan administrators.
Brennan has also said that the success of 8kun will depend on the return of QAnon, a far-right conspiracy theory.
While the Watkins family tried to launch 8kun, Brennan tried to block their effort in order to keep QAnon away.
8kun was set to launch in October 17, 2019, but the attempt was delayed as British server provider Zare discontinued its support, claiming that the team behind 8kun may have provided false details while registering themselves.
Days later, the rebranded site again experienced problems when its domain registrar pulled the plug. Domain registrar Tucows said N.T. Technology, the parent company of 8kun and 8chan, had violated its services agreement.
But still, the struggling site remains live. Among the several ways 8kun tries to return, is by using the open protocol called Lokinet. The network that is based on a fork of the Monero cryptocurrency called Loki, functions like the privacy-protecting Tor network.
"We have been under sustained attacks the past few days and doing everything we can to get things stable again," Ron Watkins reported. "The site is still online—albeit limping along—as we reorganize and restructure to deflect attacks coming from many angles."