People can trade anything these days, and on the web, things are a lot easier.
Instagram is one of the most popular social media, and one of the most highly-valued. With "celebgram" and "influencers" capable of making money with relative ease as long as they have followers, many hackers and cybercriminals are trying to hack them to steal their accounts, to then sell them to the highest bidder.
One of the places, is called OGUSERS. The forum is like a marketplace for hackers and alike to buy and sell hacked and stolen Instagram accounts, as well as others.
But apparently, this forum got hacked. The administrator of the forum said that:
"More unfortunate news."
"It appears someone was able to breach the server through a custom plugin in the forum software and get access to an old backup dating December 26, 2018."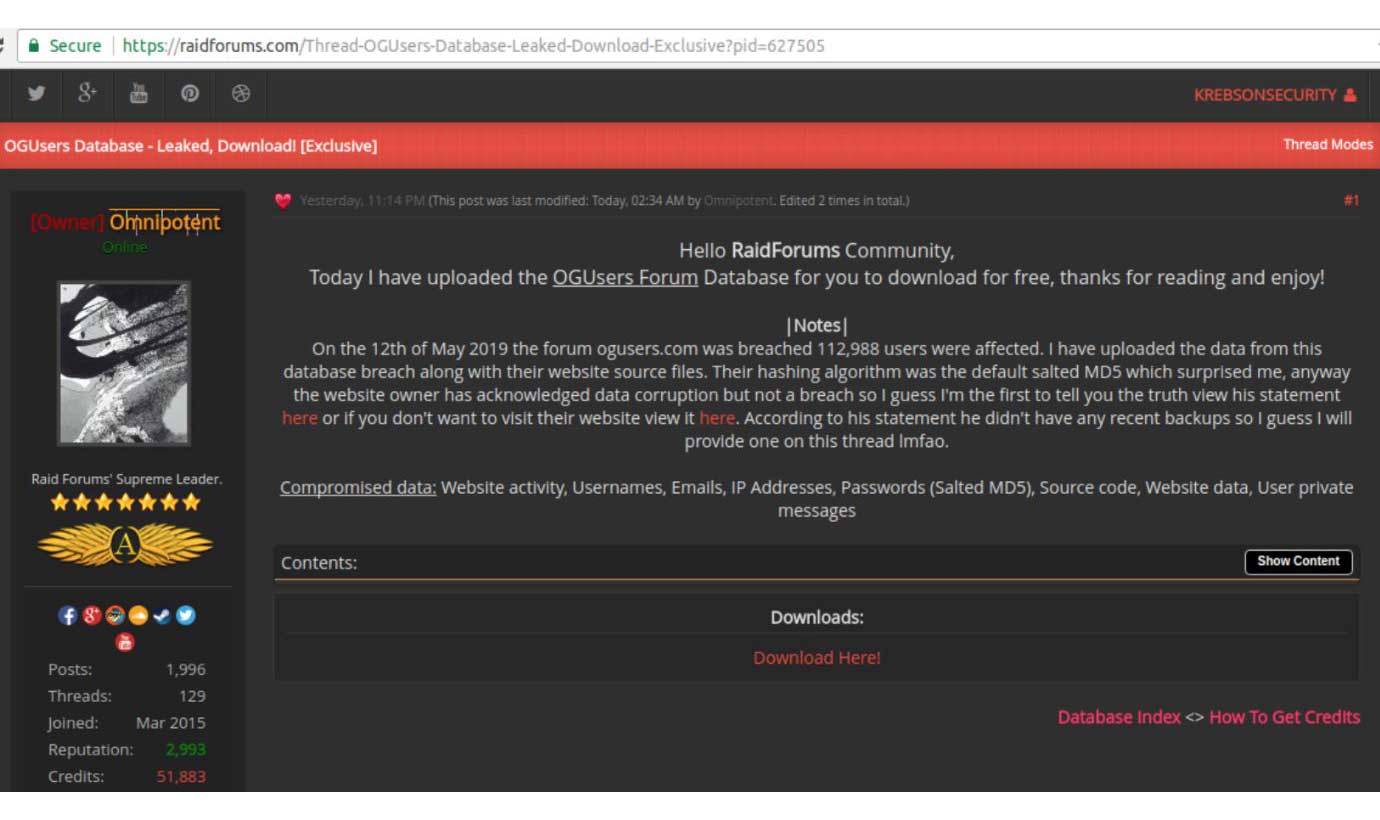 A "Supreme Leader" at the hacking community Raid Forums on May 16 posted the database of passwords, email addresses, IP addresses and private messages of more than 113,000 users of OGUSERS
OGUSERS is popular with its users, especially to hackers who specialized in breaking into other people's accounts, taking control of them, and then selling them to the highest bidder, according to an investigation by Motherboard in 2018.
What happened here was, hackers not from OGUSERS have hacked the forum's database that includes OGUSERS' 112,988 users' credentials, IP addresses, source code, website data, and private messages.
The administrator initially told users that a hard drive failure had wiped out the information and forced the use of a backup. But that announcement fell apart when the administrator of a rival forum made the data public.
"OGUsers has been online close to 3 years now and this the first time any breach has occurred. I do understand everyone's frustration and I am deeply sorry this has all happened recently. You must realize other sites such as Twitter, Facebook, Dropbox, Forums you have used in the past, and many more have been breached at least once. People are targeting the site 365 days a year," the administrator explained.
"Again, I am deeply sorry this occurred and I will do my best to make sure it never happens again."
The forum which is also known as 'OGU' by its members, as originally launched to trade 'OG' usernames, as they are unique, short and can be rare. In addition to social media accounts, OGUSERS also trade other things that can include: PlayStation Network, Steam, Domino's Pizza, and other online accounts.
Following the hack, users started scrambling, changing their email addresses and others to cover their tracks.
"It's like a nuke dropped on the site," said OGUSERS member.
This resulted in users in quitting the site worried that authorities have their data, or that others as well as hackers can now hack their accounts.
"Some people only used OGU pms as their only contact, so if you were to look into it or an FBI agent there is a lot to find."
"OGU is currently fucked," the member said in an online chat. "One more thing and it's dead. One more blow."
Making things worse, after users have started receiving phishing emails, the main OGUSERS administrator even turned off the self-ban feature so that users couldn't leave the site and theoretically cover some of their tracks.