 Modern gaming consoles, powerful PCs and laptops and high-end smartphones can run sophisticated and feature-rich games like no others.
While serious games are making headlines, arcade games, which are literally much simpler games, are still in many people's hearts. They are lightweight, no-brainer, easy to understand and play, but still fun to play. This is why games like these will always have their own fans, no matter how young or old they are.
Back in 2020, Google announced GameSnacks, a project by the company's Area 120 team, which brings lightweight HTML5 games to low-end Android devices.
With the project, Google is giving many users with even low-connectivity the chance to enjoy some casual games to spend their time with.
Initially, users could either go to the project's site to play these games, or use Indonesia's Gojek app where it was integrated.
This time, Google promotes GameSnacks, and starts making its games available in its Chrome browser for Android, where it should get lots of new users.
Read: 'GameSnacks' By Google's Area 120 Optimizes Games For Developing Markets
In a blog post, Google said that:
"We've been thinking about how we can make HTML5 game developers' lives easier to ultimately get more HTML5 games out to more users."
" [...] we've made it easy to access GameSnacks games directly from the New Tab page in Chrome. [...] Users can get to gamesnacks.com via the Top Sites icon on Chrome on Android. The Games section is one of the most frequently visited sections of the page."
At the moment of launch, GameSnacks for Android's Chrome has been made available to users in Indonesia, India, Nigeria and Kenya.
Google is also introducing these games in the Google Pay payments app in India.
Google is exploring ways to start these games directly through a Google Assistant command.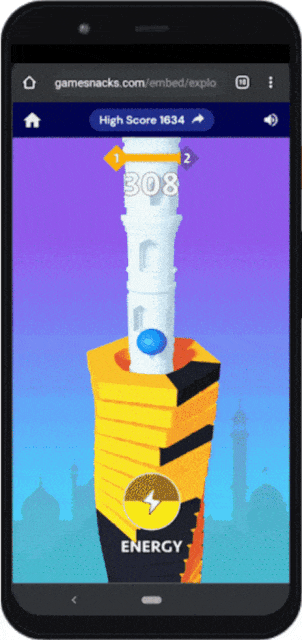 Stack Bounce on GameSnacks on Google Chrome for Android. (Credit: Google)
Google knows that not everyone enjoys fast and stable internet. And also, not everyone can afford a decent smartphone with capable specifications.
Before parts of the web transitions to mobile game apps, there were Flash games. Then there were HTML5 games which are still popular. These games allow people to play without having to download anything. All they need to do, is open a web browser on their mobile device, regardless of their operating system, and fire up the game.
Those games however, can take quite a long time to load.
GameSnacks optimized those games, tweaked them by reducing the size of the initially-loaded HTML page, compressing assets like scripts, images, and sounds, then waiting to load them until necessary. This improves loading time significantly, with GameSnacks saying that its games can load in a few seconds even on network connection as low as 500Kbps.
This way, people can play its games, even in unfavorable conditions.
This should also appeal those people with mobile devices with RAM lower than 1GB.
Games at GameSnacks are simple, casual and those that only last a few minutes. Unlike games on mobile apps that are complex and power hungry, he games are also designed to have straightforward rules so they can be learned without instructions.