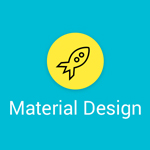 Formerly titled "Cross-platform design", Google first introduced Material Design, its new design language, in its I/O 2014 event. The goal that is meant "to satisfy the diverse spectrum of human needs", is meant to be released with Android L. But Google has given a glimpse of the new design.
"Our latest update is rolling out right now! We're excited to share a sneak peek of what you'll get in the coming days," said the company in a post on Twitter.
In its keynote, Google didn't spend enough time on Material Design. Google has shown a video and a little about the intent and thought behind its new cross-platform look, but there's so much more to be said. The company wants to use the same design principles across the web and on all of its services. These include all of Google's properties, including Android L, Android and iOS apps, and web apps. Furthermore, the company wants app developers to include the same Material Design elements in their own apps.
Google starts with a simple, explanation for Material Design. "Design is the art of considered creation. Our goal is to satisfy the diverse spectrum of human needs. As those needs evolve, so too must our designs, practices, and philosophies," the company writes. "We challenged ourselves to create a visual language for our users that synthesizes the classic principles of good design with the innovation and possibility of technology and science."
Because some Android smartphones may never be updated to Android L, Google is giving the new design to some of its services that are available to all. To showcase Material Design, the company has updated its Google Drive home pages (for Docs, Sheets and Slides) and its Play store to use the new design.
While the update may not seem much of a difference at first sight, checking various listings for apps, movies, books and albums will bring new elements introduced by Material Design. The new Play store app has significantly improved item listings.
Material Design features a cleaner look with a focus on contents, including the simplified menu and extensive use of colors. The design has made the interface similar to iOS 7 that focuses on simplicity and structural unity across platforms. By having a cross-platform design, the design adapts to constant updating and give more technology driven functionality to its core.
Below is the three principles on which Material Design is built.
Material is the Metaphor
Material Design is a design that is created similar to iOS 7 to most uncanny eyes. But actually, the design distinguishes itself from the Apple's product even further. Material Design's focus is contrary to the information on iOS. This creates an understanding of character that differentiate the two.
A material metaphor is the unifying theory of a rationalized space and a system of motion. Material is inspired by the study of paper and ink, but is advanced to open to imagination.
Surfaces and edges of the Material Design provide visual cues that are "grounded in reality". The use of familiar tactile attributes helps users quickly understand affordances. Realistic lighting shows seams, divides space, and indicates moving parts.
Bold, Graphic, Intentional
Both Google and Apple have taken a similar step in designing its interface with their love and passion for typography. But the two use different characters. Material Design provides a straight forward call to action, an issue that often found on iOS design. Key actions on the screen merges well with all other displayed information. And with its bold use of colors and whitespace, Material Design is more attractive to the eyes.
The foundational elements of Material Design's print-based designs are: typography, grids, space, scale, color, and use of imagery. These are Google's guide for visual treatments. Beside just pleasing the eyes, these elements are created in order to create hierarchy, meaning, and focus.
Motion Provides Meaning
Google is ditching Flash. But the company still understands that animations are necessary for the modern days of digital "eye candy". Motion is meaningful and appropriate, serving to focus attention and maintain continuity. And with Material Design, animations are kept approriate in order to aid user experience, not changing it.
In Material Design, motion respects and reinforces the user to advance forward. Primary user actions are inflection points that initiate motion that could transform the whole design.
All action takes place in a single environment. Objects are presented to the user without breaking the continuity of experience. The transitions are meant to be more efficent and coherent. More about Google's design: