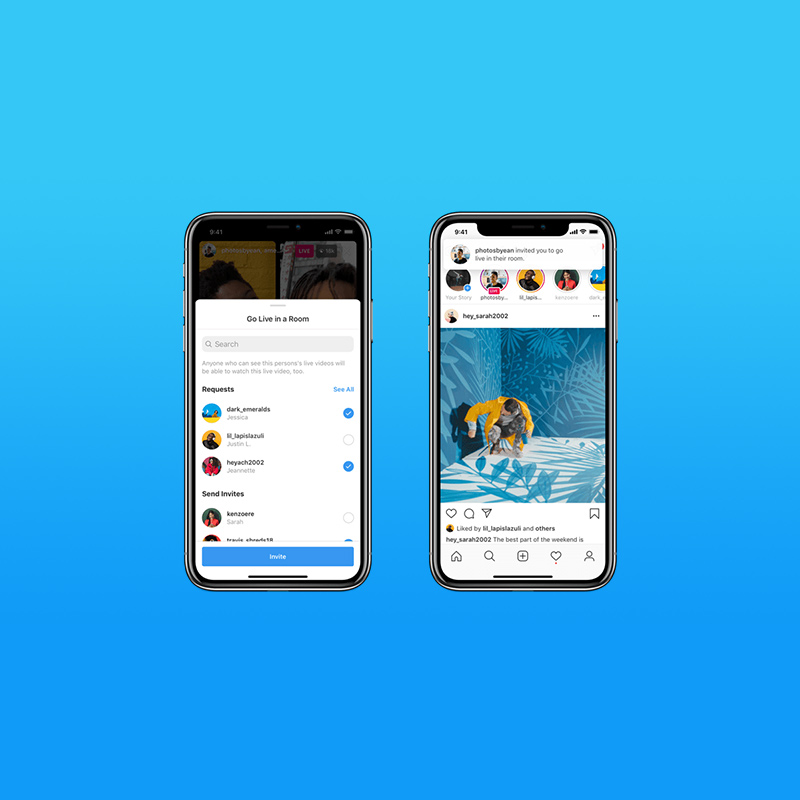 Going live alone is one thing. And the more the merrier.
Instagram is the most popular photo- and video-sharing app. Previously, it allowed users to go live with only one person. With 'Live Rooms', according to Instagram in its blog post, users can "double-up" on their broadcast, as they can go live with three other people.
This should make Instagram a lot more handy for users who want to hang out with friends, interacting with audiences as a group, participating in online classes, and collaborating with others on creative projects.
Live Rooms also gives creators more ways to monetize their work.
For example, viewers can show appreciation for their hosts by buying badges during the streams, and use other interactive features such as Shopping and Live Fundraisers.
To use Instagram Live Rooms:
Swipe left and select the Live camera option.
Add a title and tap the Rooms icon to select the guests. Users should see people who have requested to go live with them, with an option to select more guests to add.
Users can add up to three guests all at once or one-by-one.
Once the live stream begins, guests' followers can also be notified.
Initially, Instagram tested this feature in India and Indonesia, before rolling out globally.
In the world where 'COVID-19' coronavirus is still a pandemic, the feature should be useful, and also popular judging by the success of Instagram Live.
Back in March 2020, Instagram in a blog post said that Live views in the U.S. jumped by 70% from February to March, when the World Health Organization labeled the coronavirus outbreak a pandemic and stay-at-home regulations first came into effect.
"During the COVID-19 crisis, we've seen people supporting their favorite creators in Live with comments, likes and donations. To give fans another way to participate and show their love, we're introducing badges that viewers can purchase during a live video."
"In recent months, we've seen creators embrace Live in new ways, leading to a 70% increase in views from February to March. From fitness instructors to dancers, artists to chefs, Live has helped creators and businesses stay connected to their followers and bring people together."
It was at that time that Instagram introduced badges to Live, allowing creators to earn income from the content they're already creating.
Badges appear next to a person's name throughout the live video.
Viewers who purchased the badges in a Live live stream, will stand out in the comments, and can earn additional features, like a special placement on a creator's list of badge holders and access to a special heart.
"We hope that doubling up on Live will open up more creative opportunities — start a talk show, host a jam session or co-create with other artists, host more engaging Q&As or tutorials with your following, or just hang out with more of your friends," Instagram said.