People have questions all the time. That's obvious because it makes us humans.
On the web, people visit forums, Q&A sites, Wikipedia, and most notably, search engines to look for answers to questions they may have. Windows as the most widely-used operating system wants to help, and that is by improving its built-in search feature.
For a long time, Windows users can look for an app, setting, or a file they've been working on. Using Windows search, users can also look for things on the web.
For example, they can use Windows search bar to know the weather in Paris, the score of the Leicester City match, or even ask things like how do unzip a file.
Windows brings all these searches together in one place, by connecting the search feature to the internet, allowing users to easily find what they want, without having to open a browser first.
According to Alexander Campbell, a senior program manager working on search, as quoted in a Windows blog post:
"The goal was to enable search in Windows to bring the web to where you are."
"People spend a lot of time on the web and in browsers. We saw an opportunity to help people save time in Windows by bringing convenient, fast web results directly to the search bar in Windows. Stay on task and in your flow, just by hitting the Windows key or clicking on the search box."
With the update, Windows Search gets smarter. (Credit:Microsoft)
He added that:
"We have a search experience that gives you quick answers, web results and helps you start your web task. It's amazing what you can do with it."
Here, Microsoft updated Windows search with Bing.
This way, users can search for quick calculations, music videos, movie trailers, sports scores, stock prices, movie times, weather forecasts and much more.
Results will show right in the taskbar, with a way to open the results in a browser.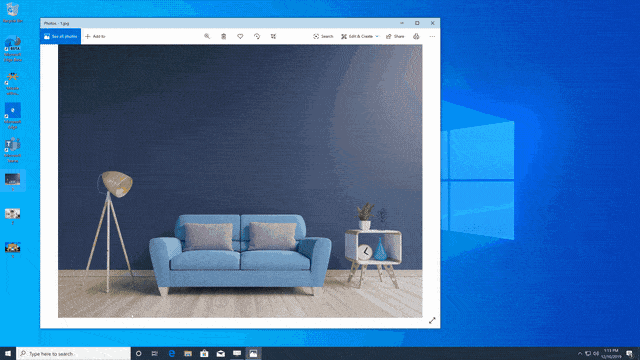 Besides text-based search, Windows users can also search with an image by taking a screenshot. (Credit:Microsoft)
In addition to the above, users can also search with an image by simply taking a screenshot.
Initially rolling out to users in the U.S. using Windows 10 May 2019 Update or newer, users can click on the Bing Visual Search button located at the bottom right corner to snip any part of your screen, to then search the web using that image.
"Visual search is a new way of searching," said Ravi Yada, product lead for Bing Visual Search. "There are a lot of things you can't describe in words to get good enough results. By using an image as input for search, Bing can help you search what you see."
Previously, Bing added camera-based searches in 2017, and made visual search features available in the Windows Photos App, Microsoft Edge, the Bing App and on Android phones through Microsoft Launcher.
"We found people also wanted to search with screenshots, so we brought searching with screen snips to the Windows search bar," says Nektarios Ioannides, Bing Image Search lead.
This update should decrease the friction involved with a traditional visual search, making it a lot easier for Windows users to search for whatever they're looking at. This could be a useful tool for those who want to look for similar products and shop on the internet.
Besides the convenience the update brings to Windows users, Microsoft can increase Bing users, and also eat at least a bite out of Google.
Google Search is still the most popular search engine, and here, Bing is looking forward for a larger share.