Internet web browser allows anyone to browse the web with ease. For Google which owns Chrome, it's business as usual, as it's already benefiting from the largest market share.
But for others, they are trying their best to get a better portion of the market they deserve. And this includes Microsoft with its Edge browser.
It was in December 2018 when Microsoft said that it was shifting its Edge browser to use Google's ubiquitous Chromium platform, which already powered Amazon Silk web browser, Avast Secure Browser, Brave, Opera, Samsung Internet, Torch and more.
So instead of relying on its own EdgeHTML, Microsoft wants to use Chromium to better and faster support the constantly evolving web standards.
In April, the company released this Chromium-powered Edge, in its first Developer and Canary builds of the browser.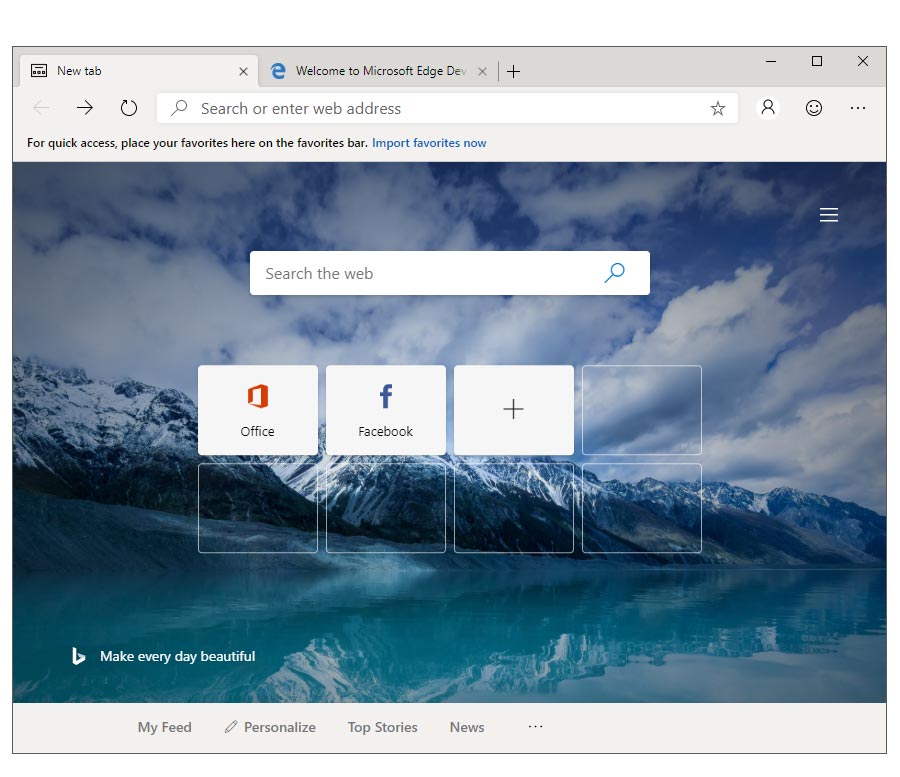 Edge browser using Chromium, looks like the old Edge, with a spice of Chrome
Both Developer and Canary builds allow users to test the early Edge product, before Microsoft launches it to the public.
The first thing that can be seen is that, the browser doesn't simply use Chrome's engine and an Edge's skin. Instead, it aesthetically appear like a cross between Microsoft Edge and Google Chrome web browser.
As it is in beta, the browser doesn't yet support some features, such as the reading list, annotations, and book reader. It also lacks the acrylic effects of Windows Fluent design language.
Upon launching the app, users can choose between three New Tab layouts: Focused, Inspirational, and Informative.
Focused is a plain blank page with a search bar, and some shortcuts to commonly used websites.
Inspirational on the other hand, adds a background image taken from Bing search engine.
And as for Informative, the browser takes appearance of the the old Edge, and include Microsoft's News Feed.
The tweaks include Microsoft in integrating Chromium with its services, including Windows Defender SmartScreen (to detect phishing and malware), Bing and Microsoft News. And at the same time, Microsoft removed or replaced more than 50 of Google's services that come as part of Chromium: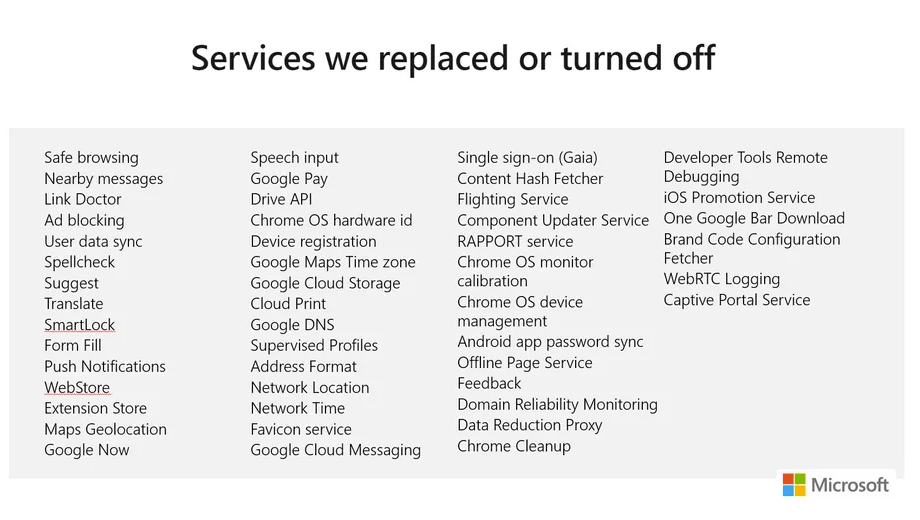 Chromium services Microsoft has replaced or turned off for its Edge browser
Microsoft is also working on ARM support for Chromium, alongside PDF enhancements, battery life improvements, smooth scrolling, editing, layout, dev tools, and web authentication.
"Along with what's visible in the browser itself, we've also begun to make contributions back to the Chromium open source project. These include areas like accessibility, touch, ARM64 and others. We're working directly with the teams at Google and the broader Chromium community on this work and appreciate the collaborative and open discussions," said Windows' Corporate Vice President Joe Belfiore.
Using Chromium, users can sign in with multiple profiles that will sync their data across devices. This is similar to Google Chrome.
In the first impression, the browser works as it should. From casual browsing to YouTube video streaming, things work just like they should. And in some cases or websites, the browser performs even better than Chrome in Windows 10.
But the browser isn't complete, as it misses some features already available on the old Edge browser. However, because it uses Chromium, users can use Chrome extensions, but in this early build, they are limited to downloading only those extensions approved in Microsoft's Store.
Visiting the Google Chrome Store prompts users to enable the 'Allow extensions from other stores' which isn't available yet.
But still, Microsoft is progressing. And with Chromium, Edge should progress even faster. Once complete, the Chromium-powered Edge can be Microsoft's bullet to win back people's heart.
What's more, embracing Chromium also further highlights Microsoft's promise of moving forward towards more open-source platforms.
If users want to use this Chromium-powered Edge, they need to browse Microsoft's Edge Insider website. Microsoft warns users though, that the build is only meant for developers and knowledgeable enthusiasts only.