On the internet, people can talk just about anything. While this is good for free speech, but in return, the spread of misinformation is inevitable.
Fake news and misleading information thrive on social media because, we humans just love to share things.
As a matter of fact, fake news with news that are usually too good or too bad to be true, can spread like wildfire, surpassing the reach of legitimate news by margins.
This is a problem to be solved, and the battle against misinformation just got another powerful contender: Pinterest.
The social network evoked an offensive strategy to prevent fake news from spreading on its platform, by shutting down search queries that are likely to lead to false or misleading information.
"It's better not to serve those results than to lead people down what is like a recommendation rabbit hole," explained Pinterest's public policy and social impact manager Ifeoma Ozomoa.
Pinterest is a small social media, from a much smaller company if compared to the likes of Google, Facebook, Twitter and YouTube, that are known to inadvertently facilitate the spread of misinformation.
But as a social media, it's easy to say that fake news do exist on the platform. Despite not as large as its bigger counterparts and not generally associated with the problem, Pinterest do have misleading information swirling around its platform.
While the problem isn't as large or threatening like on Twitter or YouTube for example, Pinterest wants to take part in preserving a better place for its users, and for everyone in general.
Pinterest starts by no longer offering search results related to vaccinations in an effort to reduce the spread of misinformation. The issue revolves around anti-vaccination content, which accounts for the majority of vaccine-related content found on the sharing platform.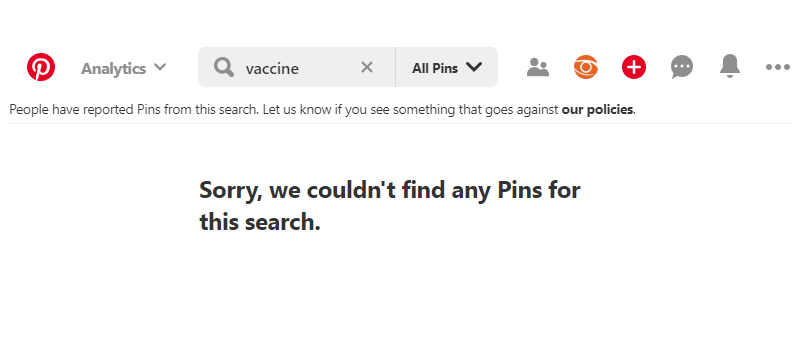 Searching for "vaccine" on Pinterest returns nothing
Fake news are difficult to police.
Social media companies are using AI, a combination of AI and humans, cross-checking with fact checkers and so forth. But still, with the many people sharing and saying just about anything, these companies experience a hard time stopping fake news from spreading.
Mark Zuckerberg, founder and CEO of Facebook, found that fake news have been plaguing his social media for years. With the attempts Facebook has done, the largest social platform on Earth has done little effect to combat the spread of misinformation.
For its part, Facebook has been embroiled in one controversy after another, causing a PR crisis that is unlikely to end soon.
Because the risk is advertising dollars, companies as large as Facebook and Google see fake news as a huge problem.
This is why they started silencing right-wing voices through algorithmic tweaks, as well as using shadow bans to censor users' feed publicly, though making it appear as if it's working as intended.
For what it's worth, all major social platforms have denied allegations.
As for Pinterest, the social media is not at the spotlight. But since it has a share in the social media industry, this is why it's taking its part to make its platform at least safer for users.
See also: Fake Information On The Internet. It All Goes Down To How We Perceive Them