Algorithms can work in mysterious ways. No matter how good they have evolved and developed, there is no solution for all problems.
This is experienced by Pinterest. On the platform, users searching for something they need may not see the recommendations for it by the time they log in. For example, users that search for dinner recipes may instead see recommendations for home decorations in their main feed.
This is why Pinterest is making it easier for users to control the recommendations they see with a setting.
Here, the tool shows the boards, topics, followed accounts and recent history activity that determine recommendations in a user's feed. And using simple toggle switches, users can customize what they want to see by fine tuning them.
To go to this home feed tuner, users can browse to https://pinterest.com/homefeed/edit/ on desktop, or open the 'Home Feed' from the settings panel in Pinterest's mobile app.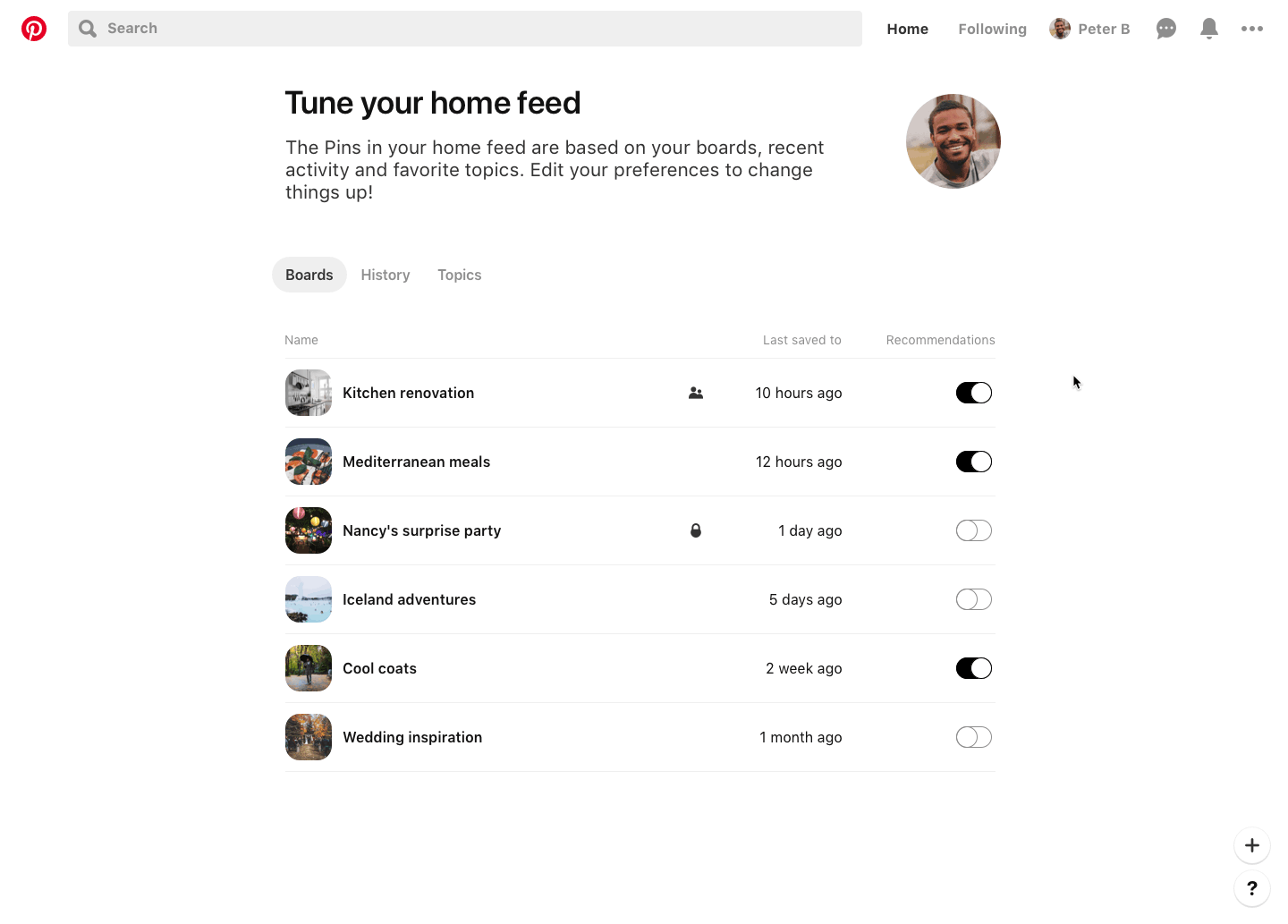 Leveraging this flexibility, Pinterest also noted that users can also have the option to receive recommendations for secret boards, which were previously excluded from recommendations.
"Don't worry - secret boards will still remain hidden from your profile (as noted by the 'lock' icon). However, you now have the option to turn on recommendations if you want to see more about those topics — like a surprise birthday party or board of gift ideas — in your feed," explained Pinterest on its Newsroom post.
Then there is the pin-level controls, where users can see why they've been recommended specific pins, as well as providing them a way to make adjustments to meet their preferences.
"If you ever see a Pin in your feed and wonder how it got there - you're in luck. Now you can tap on the '...' under any Pin to see why you are seeing the Pin and to give feedback if you don't like it. You can also share feedback on why you've hidden a Pin so we can learn not to show you similar ones in the future," added Pinterest.
These features are similar to Facebook's 'I don't want to see this ad' option, or others similar by other social media platforms.
These kind of tools are meant to allow users to control the type of contents (and ads) they see on their feed. However, most of those platforms don't give users a complete control of how their algorithms work.
In other words, those platforms' settings are just a way for users to suggest the algorithms, and not directly tweaking them. Pinterest on the other hand, is giving users the customization not found on other major platforms.
Omar Seyal, Head of Pinner Products said that:
"We built these features in direct response to Pinner needs and to give people a way to turn recommendations on or off, while more easily controlling content that might be irrelevant or sensitive. We approached this in the same way our engineers build recommendations on the backend, by handing a control panel over to the Pinner so she can tune her home feed and have the most relevant and inspirational experience possible."
"We hope these new controls help your home feed reflect even more of who you are and inspire where you're going."