AI in auto-captioning can be useful, and this is proven with YouTube for example, which has this ability for quite a while.
This particular feature arrives to Skype messaging, as Microsoft leverages its AI capabilities. Once the feature is turned on, Skype with automatically create captions and subtitles, and make the text auto-scroll during calls.
"The live captions & subtitles feature provides a more inclusive experience for everyone in the Skype community, especially for people who are deaf or hard of hearing," said Skype's announcement.
Initially, the captions scroll continuously at the bottom of the screen as participants speak, but according to Microsoft, future update would change this.
For example, developers can enable an optional separate window for subtitles so users can scroll back in case they miss something.
The news follows an earlier announcement that PowerPoint is also getting this real-time captions and subtitles.
Tapping the plus icon in a call to select the subtitle option
Captioning works with one-on-one calls as well as with group calls.
Users have the option to enable the feature for a single call or for all calls. To turn it on once, users just need to click on the plus '+' icon in a call and select the subtitle option.
To keep the feature indefinitely, users need to open their Skype profile and go to Settings > Calling to enable subtitles.
The other people on the call don't have to change anything to be included in the app's captions.
Microsoft said that the AI live captions and subtitles feature has been optimized to be "fast, continuous, and contextually update as people speak."
As a matter of fact, the real-time captions feature is only one of the ways Skype has been working on to improve users' communication.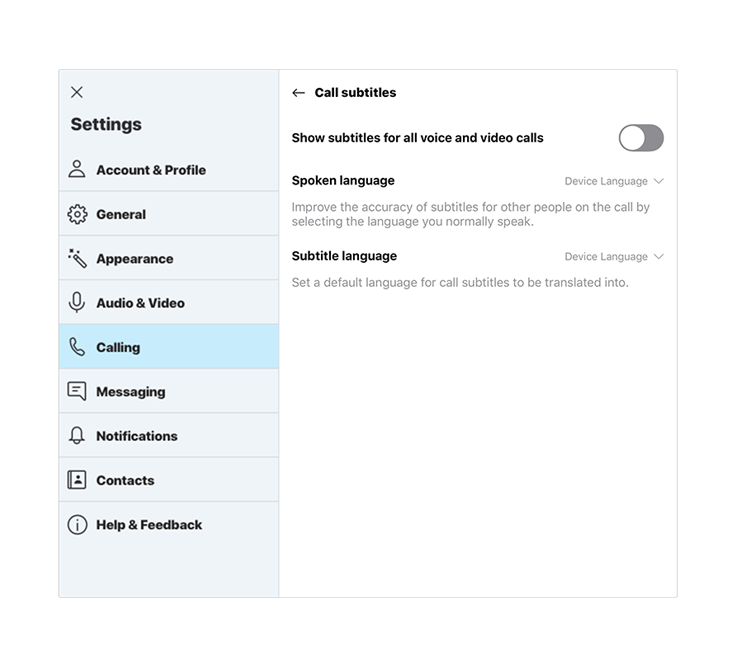 A Settings page for the subtitle option
The other is Skype in expanding its real-time translation capabilities to support more than 20 languages and dialects.
When turned on, Skype users can read the subtitles in the language of their choosing during every call.
What makes this feature interesting is that, not only it is useful for those users with hearing impairment, as it might also help regular users to filter out the noise in a busy video call.
"Whether you're learning a new language, having a tough time understanding your friend from across the world, or attending a meeting that is not in your native tongue, our new translations will help keep you up to speed. Once you turn translations on through a simple setting toggle, you can read subtitles in the language of your choosing in every call," continued Skype.
The real-time captions and subtitles feature is rolling out gradually to all users starting Skype version 8 on Android (6.0+), iOS, Mac, Linux and Windows 10 (version 14).
Skype is rolling out a new feature coinciding the United Nations International Day of Persons with Disabilities