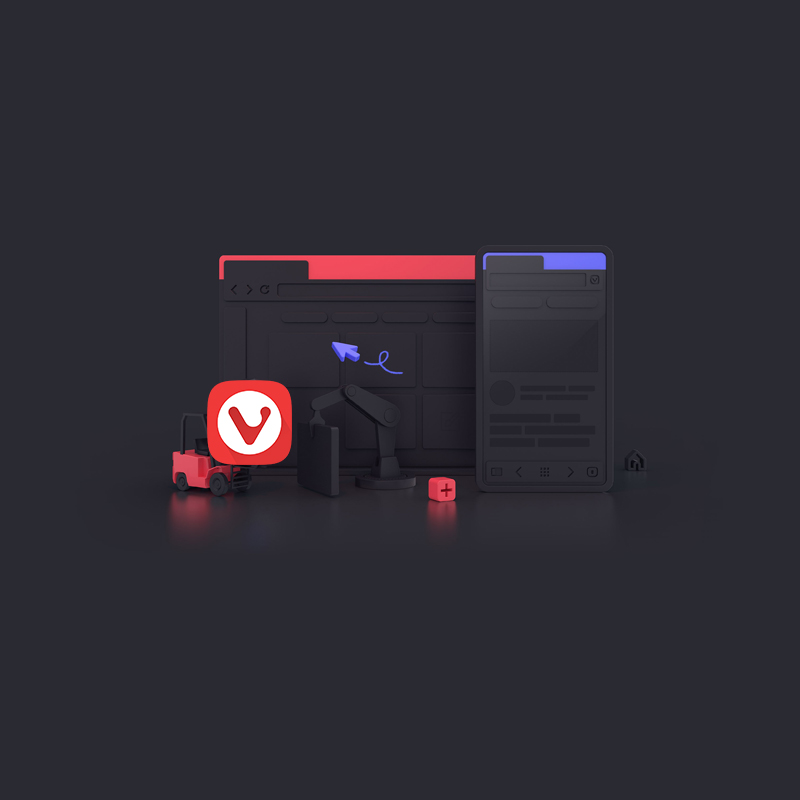 There is no saying where people will go online using their web browser. The internet is never a safe place to be, and things can get dangerous out there.
Vivaldi is a free, cross-platform web browser developed by Vivaldi Technologies, a company founded by Opera Software co-founder and former CEO. Officially launched in 2016, the browser is a more privacy-focused browser than the more 'tracker-friendly' Google Chrome.
And here, Vivaldi has finally launched the stable version of its web browser to Android - seven months after launching the beta, and five months after launching beta 2.
Key features of Vivaldi on Android include:
Ads and tracker blockers, to prevent them from following users around the web.
Syncing data, like passwords, Bookmarks, Notes and more between devices using the browser's end-to-end encryption.
Minimalistic UI, with dark/light mode using desktop-style tabs, and more.
The ability to take Notes on the go.
Allowing users to capture full-length screenshots of any website, or take a snap of the visible area in the browser.
Custom Speed Dials.
Tab management with Tabs strip.
Switch search engines quickly.
Vivaldi web browser on Android. (Credit: Vivaldi)
Vivaldi's ad and tracker blockers are powered by DuckDuckGo's Tracker Radar, a tool released by the privacy-focused search engine in March 2019 to expose trackers that follow users around the web.
By default, both tracker blockers are turned off, meaning that users need to manually change the setting for the first time, if they want to make use of this privacy feature.
When turned on, users can choose three different blocking levels, and add websites in an exception list to exclude them from tracking.
As how the way the blockers work, Vivaldi blocks trackers by relying on a list of well-known tracker URLs and stopping requests to those URLs before they are sent.
DuckDuckGo's Tracker Radar continues to evolve, as DuckDuckGo describes it, "the data set is continually updated by crawling top websites looking for various factors such as usage of resources in a third-party context, cookie-setting behavior, usage of browser APIs, and the likelihood of those APIs being used to identify users (fingerprinting)."
"It has taken us several months of development but I am very happy to announce that Vivaldi now has a built-in Tracker blocker which will prevent you from being followed around the web by the ubiquitous web trackers," wrote Vivaldi's software developer Julien Picalausa, in a blog post.
As for Vivaldi on desktop, the browser has been updated to version 3.0, for users on Windows, macOS and Linux.
It features all the same features as the Android version, including the tracker blocker. The browser also gets a clock in the status bar, which should come in handy if users frequently browse in fullscreen mode.
"As we navigate the difficult times of the pandemic together, the browser becomes center stage," wrote Julien Picalausa in another blog post.
"Now that people are spending a lot more time online, we are doubling down on giving you a browser that protects you from trackers, blocks unwanted ads, and provides you with more useful features than any other browser."
The tracker blockers were written in C++ in order to work on both desktop and Android.
"Because of this, the implementation will be part of the source packages that we release and you will be able to verify that it protects your privacy in the way we claim," added Picalausa.
Vivaldi web browser version 3.0 has three different blocking levels. (Credit: Vivaldi)
Vivaldi on desktop also has Spatial Navigation to reduce the number of keys users need to press to navigate links on a web page. This should be useful for users who don't use a mouse to navigate around a page.
In the 3.0 version, Spatial Navigation has been given a significant boost. With the use of SHIFT and the cursor keys, for example, users can select and visit any link on a web page with reduced key presses. This is a lot faster than just going through all the links on a page, one by one.
Then there is also the Pop-out video (Picture-in-Picture). Starting version 3.0, users can disable it in the Settings under WebPages.
Other features on Vivaldi version 3.0 on desktop include:
Expandable dashboard in the sidebar houses go-to tools.
Tabs that can be grouped (stack and auto-stack), renamed and searched in addition to pin, drag, hibernate, mute tabs.
Built-in tools for capturing screenshots, research with Markdown-supporting Notes, and get in-depth with the Image Property tool.
Redesigned History and customizable Keyboard Shortcuts and Mouse Gestures.
The ability to sync across multiple devices – safely and securely.
Customizable UI, including Themes, Zoom, Reader View, Speed Dials and more.
Fast-Forward/Rewind for search results, assigning nicknames to search engines and switch them the fly.
With this release, Vivaldi becomes one of the very few browsers including Tor, Brave and Opera to include blockers out of the box.