YouTube has billions of videos watched every single day. This makes it the most popular video-streaming platform on the web.
Following some difficult times after advertisers pulling off their ads from the platform due to YouTube showing ads next to extremists videos and those that attract pedophile, the company has made numerous changes, which include: using AI to win back advertisers, tightening the rules for videos that show ads, linking to Wikipedia, and some others.
It even committed $25 million to fighting fake news on its platform, as part of the 300 million Google News Initiative launched in March.
As a step up from those efforts, YouTube is making further improvements by rolling out links to breaking news articles in users' searches. This little change should help YouTube in fighting fake news and conspiracies, while "making authoritative sources readily accessible."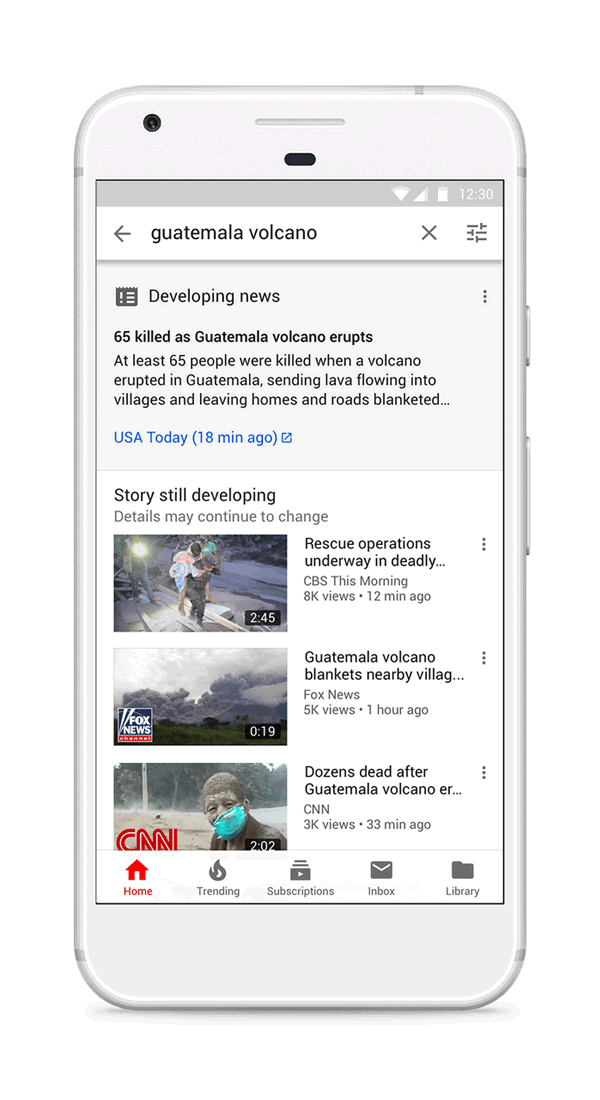 "After a breaking news event, it takes time to verify, produce and publish high-quality videos. Journalists often write articles first to break the news rather than produce videos. That's why in the coming weeks in the U.S. we will start providing a short preview of news articles in search results on YouTube that link to the full article during the initial hours of a major news event, along with a reminder that breaking and developing news can rapidly change."
YouTube is also expanding the Top News and Breaking News.
So when a breaking news event happens, YouTube wants users to know about it. This is by fetching highlights videos from news organizations about that event directly on the YouTube homepage.
Initially, the Top News and Breaking News features are launched in 17 countries, including the U.S., U.K., France, Italy, Japan, India, Mexico, Brazil, South Africa, Nigeria and more.
Other updates include sharing more content from local news, investments in digital literacy education for teenagers, and promising more improvements along the way.
While we can all blame Google, Facebook, Twitter and YouTube for spreading fake news. But let's not forget that the cause of this is because of their massive influence.
In another part of the coin, those platforms have billions of users that include most people on the web.
It won't be a surprise if these implementations garner their own share of controversy. It won't also be a surprise to see fake news creators complaining about their videos being flagged by YouTube's policies. What YouTube is doing here, is putting a bit of boundaries here and there.
On platforms as big as YouTube, freedom has its own consequences. And people should know that.