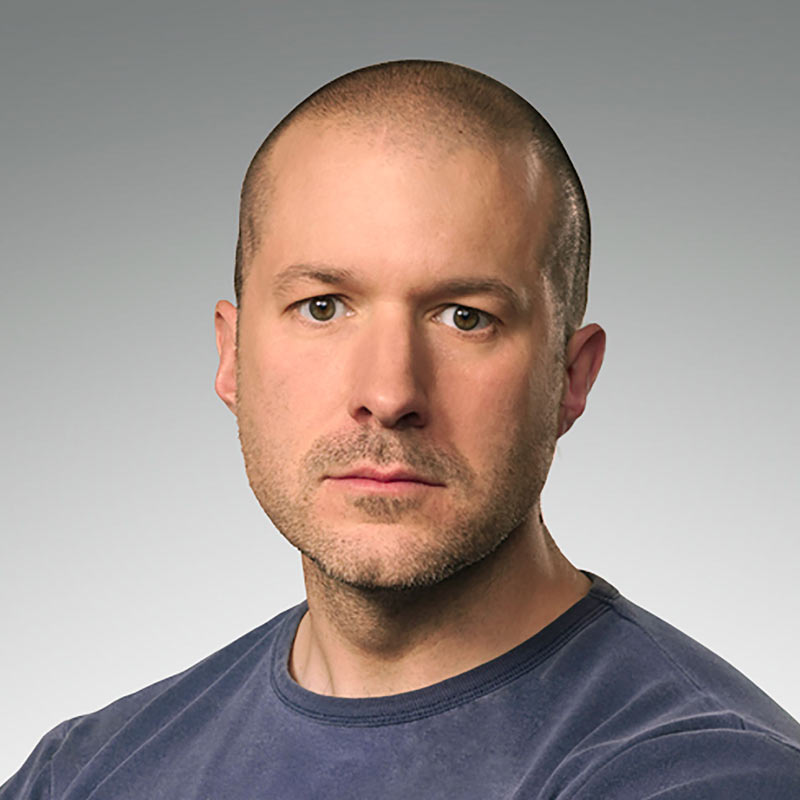 "Objects and their manufacture are inseparable. You understand a product if you understand how it is made."

- Jony Ive
Jony Ive has a name that is almost synonymous with Apple. And with that, he successfully managed to relate his name to wherever the popular brand's products are.
He was responsible for all designs at Apple, including the look and feel of Apple hardware, user interface, packaging, major architectural projects such as Apple Park and Apple's retail stores, as well as new ideas and future initiatives.
Ive has long been interested in designs, and was capable of showing that skill since childhood.
Keeping a high standards for himself and his work, Ive's designs focus on sleek, easy to use and simplicity.
Early Life
Jonathan Paul Ive was born on 27 February 1967 in Chingford, London, England, from a father Michael Ive and mother Pamela Mary Ive.
The young Ive inherited drawing and technical skills from his father, who was a silversmith who once lectured at Middlesex Polytechnic. Ive's interest in design sparked from his early childhood, where he showed the skills at an early age.
His parents were very supportive. As a boy, Ive's Christmas present from his father would be a day of his time in his workshop, during which they would make whatever Ive had dreamed up together.
Ive who was raised outside of London, wanted to pursue his dream of becoming a designer, but was not sure about what to design. His designing interests at that time ranged from furniture and jewelry to cars and boats.
To pursue that goal, he attended the Chingford Foundation School and Walton High School in Stafford where he studied sculpture and chemistry.
After graduating from high school, he attempted to study automotive design in London at some major universities in the city, before briefly considered attending the Royal College of Art. But after experiencing a learning environment that didn't met his criteria, he left to attend Newcastle Polytechnic (University of Northumbria at Newcastle).
Ive graduated with a first class earned a Bachelor of Arts degree in 1989.
As an undergraduate, he twice won the Royal Society of Arts' prestigious Student Design Award, and years later the RSA awarded him the title of royal designer for Industry. He also holds honorary doctorates from the Royal College of Art, the Rhode Island School of Design and Northumbria University.
Having recognizable achievements gave Ive the chance to visit Palo Alto, California, US.. This was when he met design experts, including Robert Brunner whose company would later joined Apple.
After spending six weeks in the U.S., Ive returned home to England to work for a design agency called Roberts Weaver Group, which once was a Ive's sponsor when he was in college.
Early Career
Ive worked for Roberts Weaver for about a year, before leaving and joining a London startup design agency called Tangerine.
Here, Ive worked and designed numerous products, including microwave ovens, drills, toilets and toothbrushes. When Tangerine was a partner of Apple, Ive helped design the initial PowerBook designs.
Brunner that saw Ive's talent attempted to recruit Ive to Apple, but failed because Ive was still working for Tangerine.. At that time, Brunner's company was working for Apple, and he was one of the key people in the company's leadership.
While Ive was happy working for Tangerine, he was later frustrated due to his boss rejecting his work. According to Tangerine, Ive couldn't design a product to meet the company's client standards, stating that Ive's designs were too expensive to make and way too modern.
Feeling unappreciated, Ive disliked working for those who didn't share the same principles with him. This was when Ive turned to Brunner and accepted his offering to join Apple.
Working with Apple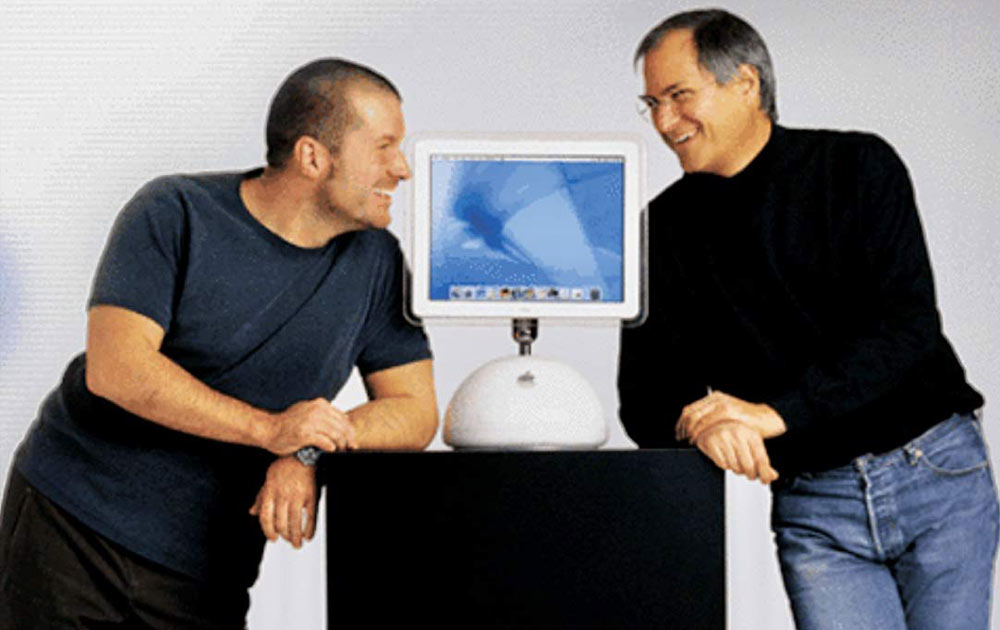 Jony Ive with and then-CEO Steve Jobs in 2002
Ive joined Apple, and became a full-time employee starting September 1992, but his career didn't took off smoothly at first.
His first major assignment was to help design the second generation of the Newton and the MessagePad 110. Ive's initial design failed and lacked the commercial success. The pressure was a burden, and with more pressure from Apple, Ive had thoughts to leave the company in numerous occasions.
But it was Apple co-founder Steve Jobs who put those thoughts away. When Jobs was ousted from Apple to then staging a return, Jobs convinced Ive to join him and take Apple to a different direction.
Jon Rubinstein who was Ive's superior at the time, retained Ive by explaining that Apple was "going to make history" following the revival of the company in 1996.
''I remember very clearly Steve announcing that our goal is not just to make money but to make great products," recalled Ive from that moment. "The decisions you make based on that philosophy are fundamentally different from the ones we had been making at Apple."
This was when Ive's career took off.
Ive became Apple's senior vice president of industrial design in 1997, and subsequently headed the industrial design team responsible for most of the company's significant hardware products. Ive's first role in this position, was leading the design for the iMac.
Later, he also helped designed the iPod, the iPhone, as well as the iPad.
Jobs was fond of Ive, and their relationship was close. In Ive's words: "When we were looking at objects, what our eyes physically saw and what we came to perceive were exactly the same. And we would ask the same questions, have the same curiosity about things."
Jobs' appreciations of Ive grew, as Ive was given his own design office at Apple in the early 2000s. Ive was Apple's only designer with a private office.
Famous for its secrecy when designing products, Ive's office can only be visited by some top Apple executives and around 15 people from Apple in the UK, the U.S., Japan, Australia, and New Zealand. Ive even refused to allow his family members to visit him in his office.
The offices of Jobs and Ive in Apple's Cupertino headquarters were linked through a hidden, built-in corridor with single-access doors.
Jobs said that Ive "has more operational power than anyone else at Apple except me." He once went even further when he referred Ive as his "spiritual partner at Apple."
When Steve Jobs passed away, Ive was "faced with a wall of grief".
"His very, very simple focus on trying to make something really beautiful and great. It really was simple. Heart-warmingly simple. The simplicity seemed almost childlike in its purity. I don't think I've ever seen anyone so happy, as I saw him, this very simple kind of joy, when he would realize, 'This is actually working out. This could be great.' It was just the simplicity of that."
Ive was reportedly paid $30 million in base salary in 2011, with a $25 million in stock bonus. In 2012, Ive provided "leadership and direction for Human Interface (HI) across the company in addition to his role as the leader of Industrial Design".
At this time, Ive was estimated to have a net worth exceeding £80 million.
In 2013, Ive became Apple's Senior Vice President of Design, and in 2015, he was promoted to Chief Design Officer. During this time, there were only three C-level executives at Apple: CDO Jony Ive, CEO Tim Cook and CFO Luca Maestri.
Starting December 2017, Ive was responsible for the company's design in a more executive role, rather than the usual creative role. Two years later in 2019, Ive said that he would depart from Apple and start his own company called LoveForm.
Recognition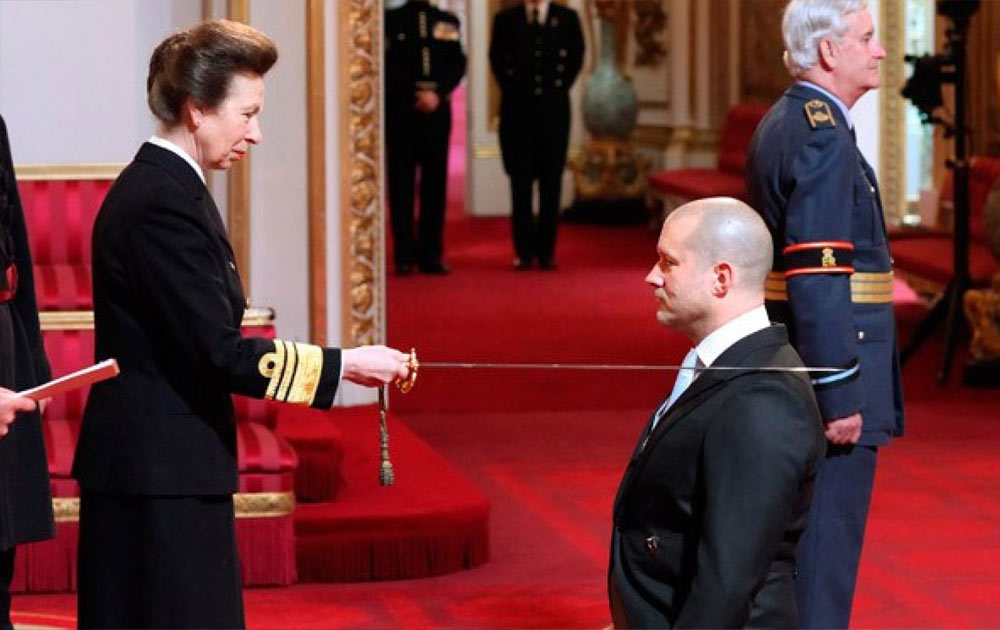 Jony Ive kneels to be knighted by the Princess Royal at Buckingham Palace
Jony Ive is best known for his fashioned machines that were sleek, easy to use and boasting simplicity. These were achieved by devoting "obsessive attention to details that are often overlooked."
Subsequent designs Ive's reflected were touchable amenable to display, in which Ive's effort maximizes efficiency and convenience for users.
Holding more than 5,000 patents, Ive has also been recognized with numerous design awards, including the Design Museum London's first Designer of the Year in 2003, the Design and Art Direction (D&AD) President's Award in 2005 and the Cooper-Hewitt National Design Museum's Product Design Award in 2007. Ive was also named the "Most Influential Person on British Culture" by a BBC poll.
A native of London, Jonathan Ive was made a Knight Commander of the Order of the British Empire (KBE) in 2013 "for services to design and enterprise."
Ive has also been awarded honorary Doctor of Science degrees at the University of Cambridge and the University of Oxford.
On 25 May 2017, Ive was appointed Chancellor of the Royal College of Art (RCA) in London, where he serves the Head of College, governing the college as an academic administrator.
Style and Design Influence
Ive is widely known by his minimalist, downplayed sense of style and presentation of self.
With this bald shaved head and a tightly shaved beard, his looks referred him as one of the "100 Most Powerful Bald Men in the World" by GQ in their 2013 listing. Ive's minimalist look, coupled with his usual multi-colored suits, painter pants, canvas pants, an linen button down shirts, has inspired Halloween costumes, grooming regimens, and a small-scale fashion movement, among others.
Ive was said to have been influenced with the work and principles of Dieter Rams, the chief designer at Braun from 1961 until 1995. He is also said to have been influenced by the Bauhaus tradition (known for its credos form follows function and less is more).
This design approach was also adopted by Audi in the 1980s, which also influenced Ive's design at Apple.
Personal Life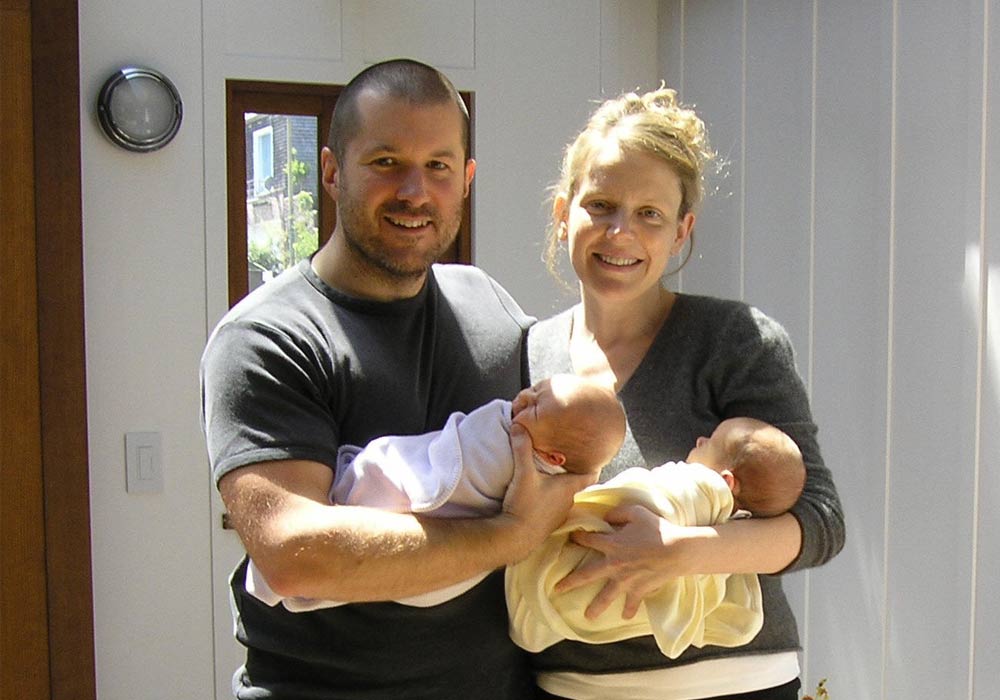 Jony Ive and Heather Pegg Ive with their twins
Jony Ive first met his future wife, Heather Pegg, a British writer and historian, when he was still attending secondary school at Walton High School in Stanford.
After Ive married her in 1987, the couple have two sons, and reside in the Pacific Heights neighborhood of San Francisco, California. The family's home which was worth $17 million in 2014, was an hour and half commute from San Francisco to Apple's headquarters in Cupertino.
Despite his famous role at Apple, Ive is known to keep his private life away from work. But when considering his job, he always put a high standard. He explained this in 2014, saying that if ever his work at Apple fall unappreciated, he would rather "make things for [himself], for [his] friends at home instead".
Having interest in automotive since young, Ive has expressed strong interest in automotive design.
In university, he drove a Fiat 500, and frequently attended auto shots and exhibitions. When his career at Apple took off, his paycheck afforded him Aston Martins, Bentleys, a Land Rover and a Rolls-Royce, which are all British cars.
Ive also did some charitable works, including him in designing a Leica camera for a charity auction that set a world record auction price for a camera, and a Jaeger-LeCoultre sports watch for an HIV/AIDS-charity auction.
In 2013, Ive's net worth was about $150 million.