In the entertainment industry, the most popular combination for success, is young, beautiful and talented.
And Selena Gomez has them all.
Born in 1992, the American singer, actress, producer, and businesswoman began her acting career on the children's television series in 2002. When she was still a teenager, she already rose to prominence after starring in various Disney Channel series.
On Instagram, Gomez is an active users, but experienced quite a lot of drama.
But regardless, the star has reached a milestone 400 million followers on Instagram, making her the first woman to ever reach that number.
Just before this, Gomez became the most followed woman on the app, dethroning Kylie Jenner.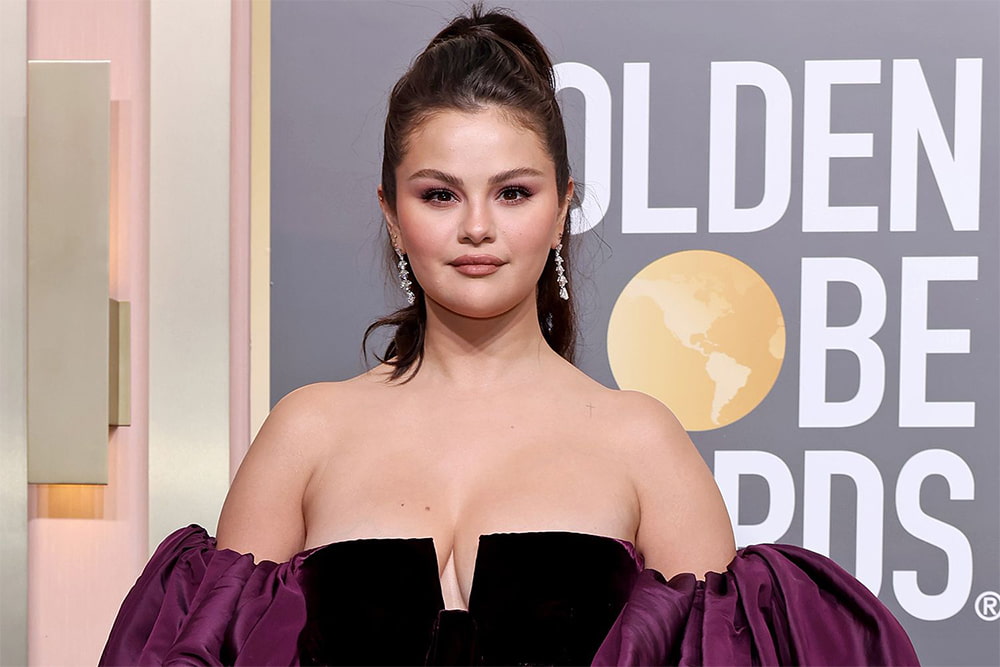 Selena Gomez attends the 80th Annual Golden Globe Awards at The Beverly Hilton on January. 10, 2023, in Beverly Hills, U.S..
Selena Gomez's popularity on Instagram is nothing new.
As a matter of fact, Gomez has consistently been one of the most followed people on the platform for years.
However, her journey with the social media has been a rocky one.
But Gomez reaching the 400 million follower milestone is a result of her winning over her alleged controversy with Hailey Bieber.
Right before this, the social media sphere was literally divided into "Team Selena" and "Team Hailey," who flooded social media platforms with posts about either of the two, and about their "clash."
Rumors suggest that the clash began when Gomez posted a video on her Instagram Story and told her followers that she had her eyebrows "laminated" (a process of lifting and straightening eyebrows using a chemical solution), but they turned out to be more dramatic than expected. She joked that her grooming session did not end well.
Later, Kylie Jenner also posted a screenshot of her facetime with Hailey Bieber which showed their perfectly plucked brows.
Gomez's fans then accused both Jenner and Bieber of bullying Gomez.
Right after the accusations of bullying surfaced on social media, Selena Gomez went live on TikTok and said that she would be taking a break from social media.
"I'm very happy, I'm so blessed, I have the best friends, the best fans in the whole world and I just couldn't be happier," she said in her TikTok video.
"I'm good. I love the way I am I don't care, I'm big, I'm not, I don't care. I love who I am. And yeah, I'm gonna be taking a second from social media, because this is a little silly. And I'm 30, I'm too old for this, but I love you guys so much! And I will see you guys sooner than later, I'm just gonna just take a break from everything," she said.
After ending her live video, Selena deleted her TikTok account.
Gomez made headlines, simply because she and singer Justin Bieber were in a relationship for about eight years, before parting ways in 2017.
A year later, in 2018, Justin Bieber married Hailey, and this had many fans to question the timing of Justin Bieber's relationship with Hailey.
Regardless, both Selena Gomez and Hailey Bieber said that there are no hard feelings between them.
"People can call me ugly or stupid and I'm like, Whatever," Gomez explained. "But these people get detailed. They write paragraphs that are so specific and mean. I would constantly be crying. I constantly had anxiety […] I couldn't do it anymore. It was a waste of my time."
"I went through a hard time in a breakup and I didn't want to see any of the [feedback]—not necessarily about the relationship, but the opinions of me versus [someone] else," she continued.
"There'd be thousands of really nice comments, but my mind goes straight to the mean one [...] There are wonderful things about social media—connecting with fans, seeing how happy and excited they are and their stories. But usually that's filtered through [for me now]. I created a system. Everything I do I send to my assistant who posts them. As far as comments, my team will put together a few things that are encouraging."
Read: Not Using The Internet For 4.5 Years 'Has Changed My Life Completely,' Said Selena Gomez
While Gomez's Instagram fame is nothing new, her record-breaking accomplishment has been applauded by fans and followers alike.
Many said that Gomez has been an inspiration to them, and that she deserves to reach a new height of fame.
Shortly after reaching the 400 million milestone, Selena Gomez shared a post on Instagram with a photo of her and her fans.
"Wishing I could hug all 400 million of you," she wrote in the caption.
At this time, only three accounts on the platform that exceed Gomez's follower count.
They are Instagram's own account with 618 million, Portuguese professional footballer Cristiano Ronaldo with 562 million, and Argentine professional footballer with 442 million.
Trailing close, after Kylie Jenner, is former wrestler champion-turned superstar Dwayne "The Rock" Johnson with 369 million, singer Ariana Grande with 361 million, socialite and media personality Kim Kardashian with 348 million, and singer Beyoncé with 300 million.
Read: Lionel Messi Earns £1.5 Million Per Instagram Sponsored Post, Thanks To His World Cup Fame