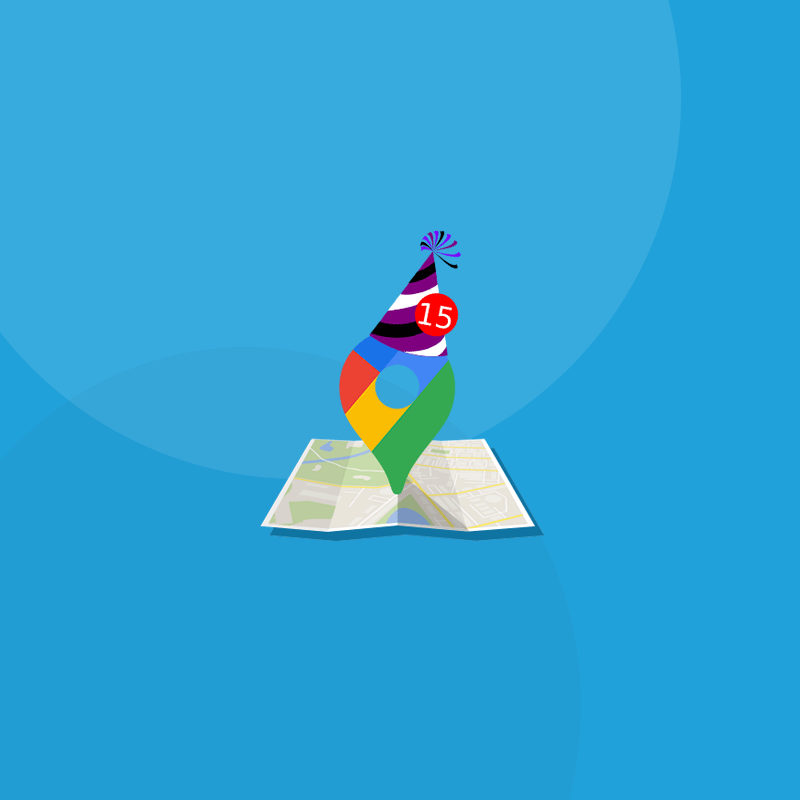 It's difficult for most people living in the modern age of internet and mobile to live without Google Maps.
As one of the many Google products, Google Maps is literally installed on almost every mobile device in the world. It allows users to put the entire world map into their pockets, accurate down to the meters.
Navigating and commuting have never been easier since then.
Google Maps was born on February 8, 2005. And in February 2020, Google is celebrating its 15th birthday, by giving it quite a lot of presents.
First of, is the redesigned logo/icon.
The symbol for the app has been redesigned to look like a pin, marking a departure from the previous iteration of the logo which more closely resembled a map. This is the first time Google updated the Maps app icon since 2015, when the company refreshed the "G" in the icon in the app to match the redesigned Google logo.
"It's based on a key part of Google Maps since the very beginning—the pin— and represents the shift we've made from getting you to your destination to also helping you discover new places and experiences," said Google on its blog post.
The icon incorporates the red, blue, yellow, and green to match Google's existing brand colors.
The next noticeable update to Google Maps on mobile devices is its updated layout, which has been redesigned to feature five tabs:
Explore: Just like on the previous iteration of Google Maps. It provides information on nearby attractions, such as restaurants or music venues.
Commute: Meant to help users plan the route from where they are to their destination, while at the same time providing real-time updates about traffic, alternates routes, and more.
Saved: Giving users a faster and easier way to access all locations and places they've dropped pins on in Google Maps, while also providing an easier way for them to share their saved places with others.
Contribute: Allowing users to give feedback or create reviews on places they've been to. Those who participate in Google's Local Guides program, this tab has been redesigned to be a better portal for them.
Updates: Similar to the 'You' tab on the previous iteration of Google Maps, it contains a feed of new, trending, and must-see locations, as well as picks and recommendations. It also allows users to directly chat with businesses they want to reach.
The features within these tabs aren't necessarily new, but with the update, Google Maps is putting them front and center. In the past, users had to dig into Google Maps' side menu to access some of these features.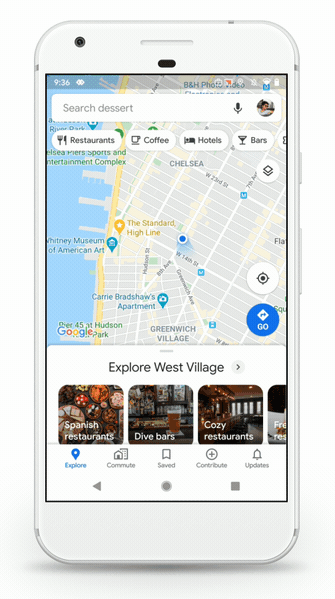 Google also updated Google Maps with even more features. Here, it has the Transit feature to help users stay informed when they're taking public transportation.
In 2019, Google introduced crowdedness predictions to help users know how crowded the bus they're going to take, the train or subway, based on past trips. To help users plan their travels better, Google Maps adds more insights about their route based on past riders.
Here, Google Maps adds:
Temperature: For a more comfortable ride, users can check in advance if the temperature is considered by past riders as on the colder or warmer side.
Accessibility: With this feature, users can identify public transit lines with staffed assistance, accessible entrance and seating, accessible stop-button or hi-visible LED.
Women's Section: In regions where transit systems have designated women's sections or carriages, Google Maps can surface this information along with whether other passengers abide by it.
Security Onboard: Feel safer knowing if security monitoring is on board—whether that's with a security guard present, installed security cameras or an available helpline.
Number of carriages available: Initially available in Japan, users can pick a route based on the number of carriages so that it increases their chances of getting a seat.

And for the last update, Google is making use of the increasingly more powerful mobile devices, faster internet speed and Google Maps coverage.

It was back in 2019 that Google Maps introduced Live View to help users quickly decide which way to go when they start a walking route with Google Maps.

Here, Google Maps leverages Augmented Reality (AR) technology to combine Street View's real-world imagery, machine learning, various smartphone sensors and existing information, to show users their surroundings with the directions overlaid.

"Over the coming months, we'll be expanding Live View and testing new capabilities, starting with better assistance whenever you're searching for a place. You'll be able to quickly see how far away and in which direction a place is," said Google.

Google is known to hide easter eggs throughout its products for users to find out. They can be fun if encountered, and certainly can give a different experience when using Google apps.

The same here in Google Maps 15th birthday, as Google has put a Google party car, which can be found in Google Maps for a limited time to celebrate the app's birthday.

Google Maps has came a long way. But in just 15 years, Google successfully set the standards of what mobile navigation should be, and more. With its depth of information, accuracy, community and wide coverage, Google Maps has become one of the most successful Google products the company has ever created.

Apple has its own Maps feature, which can do quite a lot of things. But until this date, Apple's Maps is a far cry from Google Maps. Apple knows this, and this is also why Google Maps made a return to iOS after briefly being dumped in 2012.

Google Maps for Android is one of the most downloaded app in history, after surpassing 5 billion installations in March 2019.

Read: The Many Ways Google Tracks You. Knowing How Invasive It Is Can Help You Protect Your Privacy