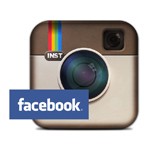 Facebook announced that it has reached an agreement to acquire Instagram, a popular photo-sharing app for mobile devices on April 9th, 2012.
Instagram is a photo editing and sharing app for iPhone, and recently also for Android, which allows users to apply filters to photos and share them on Facebook, Twitter and Tumblr. Instagram is also a growing social network with over 27 million users.
The total consideration for San Francisco-based Instagram is approximately $1 billion in a combination of cash and shares of Facebook. The transaction, which is subject to customary closing conditions, is expected to close later this quarter.
Facebook CEO Mark Zuckerberg shared the news of the purchase on his Facebook page, where he shares good news for Instagram users.
The Instagram team is staying on to continue growing the app. Without the team's vision and leadership, the Instagram experience could be lost. Facebook makes it easy to share photos with friends and family, but the company hasn't ventured into mobile photo editing or dedicated photo apps.
Zuckerberg knows that Instagram users love to share photos on many social networks. To avoid the backlash of angry Instagram users, which can get nasty, Zuckerberg makes it clear that Instagram will continue to support sharing to other social networks.
Facebook has been focusing on building the best experience for sharing photos with friends and family. With Instagram, Facebook can offer a new experience in sharing mobile photos based on interests.
Facebook is keeping and building on Instagram's strengths and features by growing it independently rather than just trying to integrate everything into Facebook. Millions of people around the world has used the Instagram app and the brand associated with it, and Facebook's goal is to help spread the app and brand to even more people.
This is an important milestone for Facebook because it is the first time the company ever acquired a product and company with so many users. Instagram benefits from the access to Facebook infrastructure and engineers, which will help the app continue growing. A strong backend is important considering the addition of 1 million new Instagram users within 24 hours of the Instagram for Android launch.
Facebook users should prepare for an onslaught of filtered photos. Even thought the app won't be built into Facebook overnight, the increased exposure means even more users will be uploading Lo-Fi photos to their timelines.
Kevin Systrom, founder and CEO of Instagram has made an announcement on April 9th, 2012 about the purchase on the Instagram blog, and with his hopes to create a more exciting future for Instagram and Facebook alike.
Instagram app was launched in Apple's App Store on October, 2010, and in Google Play on April, 2012.