Since Quora launched its own self-service ad platform in 2017, the Q&A platform has been prioritizing advertisers ROI by providing measurements and attribution tools to help advertisers reach their goals.
In March 2018, it's announcing three new features to help advertisers better measure and fine tune their advertising campaigns.
Calling it Multi-Event Conversion Tracking and View-Through Attribution, here are the details:
Multi-Event Conversion Tracking
This uses Quora's tracking pixel to track multiple conversion events. For example: Add to Cart, Add Payment Info and Purchase.
Here, advertisers can choose new conversion types when creating a new campaign to match their campaign objective. Each new conversion type requires the associated Quora Pixel to be set up. Existing pixel implementations will continue to work and will be tracked under the "generic" event tag.
This flexibility aims to help marketers optimize their campaigns based on where their customers are in the purchasing funnel.
Advertisers can view this conversion data at the campaign, or summary level with Quora's reports.
View-Through Conversion Tracking
This feature allows advertisers to understand how their ad impressions are influencing people, even when they do not click on the ads themselves.
So if a user sees an ad on Quora, but ended up converting without ever clicking on the ad (either by going directly to the advertiser's website or through organic search, for example), Quora can count and report that instance as a view-through conversion.
This view-through attribution has a 24-hour window, which means that it counts only those that convert within that timeframe of viewing the advertiser's ad on Quora.
Advertisers can choose to add the view-through attribution metric by visiting the campaign and summary reports in the interface.
Updated Metrics Reporting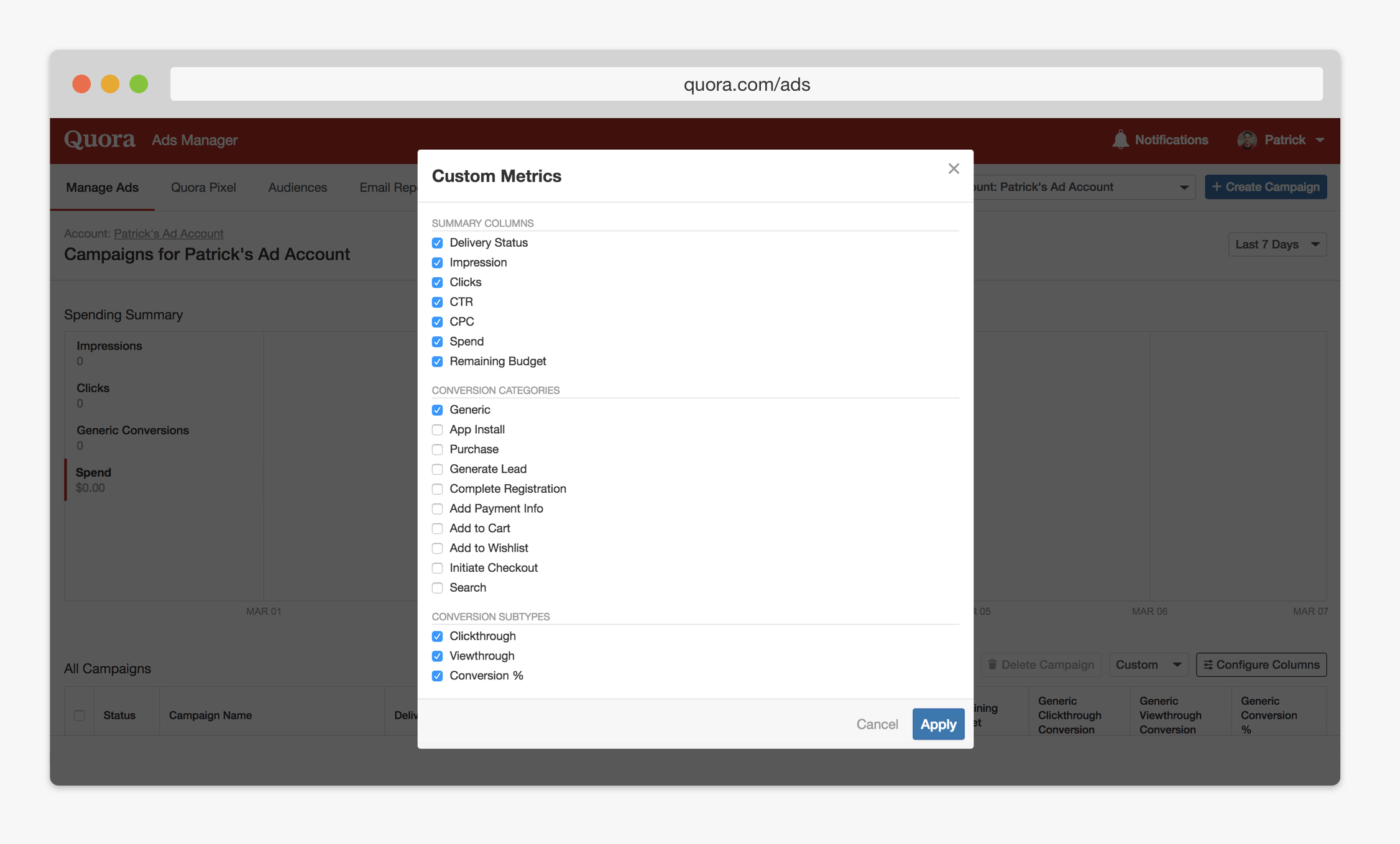 Quora expanded the metrics to include the new expanded conversion types and view-through attribution.
And here in adding the two, "we've made improvements to Quora Ads reporting so you can customize which metrics you want to see in your Ads Manager dashboards," said Quora on its blog post.
The improved dashboard reports also allows advertisers to toggle the metrics on or off.