"You can do some kind of planning, but the future is something you'll never be able to predict."

- Charles Geschke
The world has seen many pioneers, and each of them have successfully carved their names into the history of their fields.
Not many tech founders experienced the golden age of printing, and the advancing internet, and lived to tell the tale of creating a business empire used by billions of people.
Charles Geschke was the computer scientist who teamed up with John Warnock at Xerox, and formed a company that literally rendered traditional printing equipment obsolete.
Geschke was the person behind Adobe, and the co-inventor of PDF.
Geschke died on April 16, 2021. But his legacy shall continue to reign the digital world, as more data becomes digitized.
Early Life
Charles Matthew "Chuck" Geschke was born on September 11, 1939 in Cleveland, a city in the U.S.. His mother was a bankruptcy court paralegal, and both his father and paternal grandfather were workers at letterpress photo engravers.
After attending Saint Ignatius High School, Geschke went to Xavier University, and graduated with an AB in classics and an MS in mathematics. Geschke then taught mathematics at John Carroll University from 1963 to 1968.
Geschke was a religious man, and that he wanted to become a priest.
But that was before he found that computers and programming are more of his passion.
This is why in 1972, he completed Geschke completed his Ph.D studies in computer science at Carnegie Mellon University.
Geschke was also known to have co-author a 1975 book titled The Design of an Optimizing Compiler, with William Wulf, a computer scientist.
Early Career
With his knowledge, Charles Geschke applied and was accepted to work at Xerox's Palo Alto Research Center (PARC) in October 1972.
Among his first job, was getting involved in the building of a computer mainframe.
After that, he worked mostly on programming languages, and also developed software for Xerox.
It was in 1978, that Geschke started working a the Imaging Sciences Laboratory at PARC. There, he made several researches in the areas of graphics, optics, and image processing. This was when he met John Warnock.
The two then developed what it's called the 'Interpress', which is a page description language (PDL) that could describe forms as complex as typefaces. The two tried to sell the idea to Xerox, but the company was not interested because it saw no commercial value of the Interpress.
Disappointed, Geschke and Warnock left Xerox to start their own company.
Founding Adobe, And Running It
Charles Geschke was credited as the man behind PostScript. (Credit: Getty Images)
And the company is called 'Adobe'.
Geschke and Warnock founded it in 1982, and had its first office in Warnock's own garage.
The two named their company Adobe, after the Adobe Creek that ran near Warnock's house.
John Warnock's wife, Marva, contributed her talent as a graphic designer, when she designed Adobe's first "A" logo. Geschke's father also helped during the early days of Adobe, by checking color separation work with his engraver's loupe.
Through Adobe, Geschke and Warnock continued developing Interpress, and evolved it to PostScript.
Adobe's first success, was when it managed to sell the licenses for the PostScript technology to companies that manufacture printers in the late 1980s. Adobe next big success, was when it managed to woo Apple into using PostScript in its first desktop publishing system. With PostScript, users of Apple computers could compose new documents, and see them on the screen exactly as they would appear in a print.
This is process later known as WYSIWYG, an acronym for "What You See Is What You Get."
Geschke worked at Adobe as its Chief Operating Officer from 1986 to 1994, and later became the company's President from 1989 to 2000. Geschke then served as Adobe's Co-Chairman of the Board until 2017.
"We were on a rocket ship," Geschke said in a 2011 speech, recalling his early years at Adobe. He said that he had never studied business and recalled reading only one business book. He didn't know what was the demand, and credited Adobe for finding one.
Adobe was proven to be an alluring company that Apple co-founder Steve Jobs attempted to buy the company for $5 million. Warnock and Geschke refused.
But because investors were so keen, they finally agreed to sell Apple a little less than 20% of Adobe.
Jobs was so happy that Apple paid five-times multiple of Adobe's valuation at the time, plus a five-year license fee for PostScript, all that in advance. The purchase and advance made Adobe the first company in the history of Silicon Valley to become profitable in its first year.
Charles Geschke (left) and Steve Jobs (center). Apple computers were the first to use PostScript. (Credit: Fotografia.it)
The Powerful Adobe
Adobe's first became a leader in the industry, when its PostScript became the first truly international standard for computer printing.
This happened because PostScript has the algorithms needed to describe the letter-forms of many languages. This was something new, and nothing had it.
After PostScript, Adobe also made success by licensing digital fonts. This prompted Apple to create its own competing standard, TrueType, which provided full scalability and precise control of the pixel pattern created by the font's outlines, and licensed it to Microsoft.
After this, Geschke entered the software market when it developed the Illustrator, a vector-based drawing program for the Apple Macintosh. Later, it created Photoshop, a graphic editing software that will become the company's flagship product.
The next biggest milestone, was when Adobe acquired its biggest rival, Macromedia. This added Macromedia's products to Adobe's portfolio, adding Dreamweaver, Fireworks, Flash, and many more.
The De Facto PDF
Then in 1993, Geschke headed the development of PDF, or also called the Portable Document Format, which is later an International Standard: ISO 32000-1:2008.
PDF experienced a slow adoption.
This is because In those early years, PDF was popular mainly in desktop publishing workflows. What's more, Adobe Acrobat, which is Adobe's suite for reading and creating PDF files, was not freely available. PDF files are also larger than text files, making the format very difficult to deal with using dial up modem internet, and less-powerful computers.
PDF only became the standard for distributing richly formatted electronic documents when the world finally realized the use of the World Wide Web, and just in time when computers become increasingly powerful.
Because almost all file formats can be converted to PDF, the format is capable of running in different devices.
And among other advantages, is PDF's ability to secure the content of the file, like through access control by password, and digital signature for validation.
The Flash Controversy
Besides Photoshop and some other products Adobe own, the company is also best known for its Flash product.
Adobe Flash is a multimedia software platform for animations, rich web applications, desktop applications, mobile apps, mobile games, and embedded web browser video players. The technology gained tractions when the web flourished.
Flash was initially used to create fully-interactive websites, before the technology was replaced by a more-modern HTML5. But still, Flash was still in many people's hearts.
It was Steve Jobs who influenced Adobe to have a change of mind. In an open letter back in 2010, Jobs said that he would never approve Flash on Apple's iOS devices due to Flash's numerous flaws.
Because of this, others in the industry started to take notice. Adobe tried to argue and defended Flash, but to no avail. Slowly but steadily, many others began abandoning their support for the technology.
Adobe transitioned Flash to Adobe Air platform, deprecated the Flash Player in 2017, and officially discontinued it on December 31, 2020.
Personal Life
Geschke was married to his wife, Nancy "Nan" McDonough, in 1964, after previously meeting her at a Catholic conference on social action in the spring of 1961.
Both were graduates of Catholic institutions.
Geschke once served on the boards of the San Francisco Symphony, as well as at the National Leadership Roundtable on Church Management, the Commonwealth Club of California, Tableau Software, the Egan Maritime Foundation, and the Nantucket Boys and Girls Club. He was also a member of the computer science advisory board at Carnegie Mellon University.
During his life, Geschke has also received numerous awards.
Among the awards, he was elected to the National Academy of Engineering, elected to the American Academy of Arts and Sciences, elected to the American Philosophical Society, inducted as a fellow of the Association for Computing Machinery (ACM), made a fellow of the Computer History Museum for "his accomplishments in the commercialization of desktop publishing with John Warnock and for innovations in scalable type, computer graphics and printing."
Geschke and Warnock were also recipients of the annual AeA Medal of Achievement, making them the first in the software industry to have received this award.
Geschke also received the Computer Entrepreneur Award from the IEEE Computer Society, won the 2008 National Medal of Technology and Innovation, awarded by Barack Obama when he was the President of the U.S. President Barack Obama.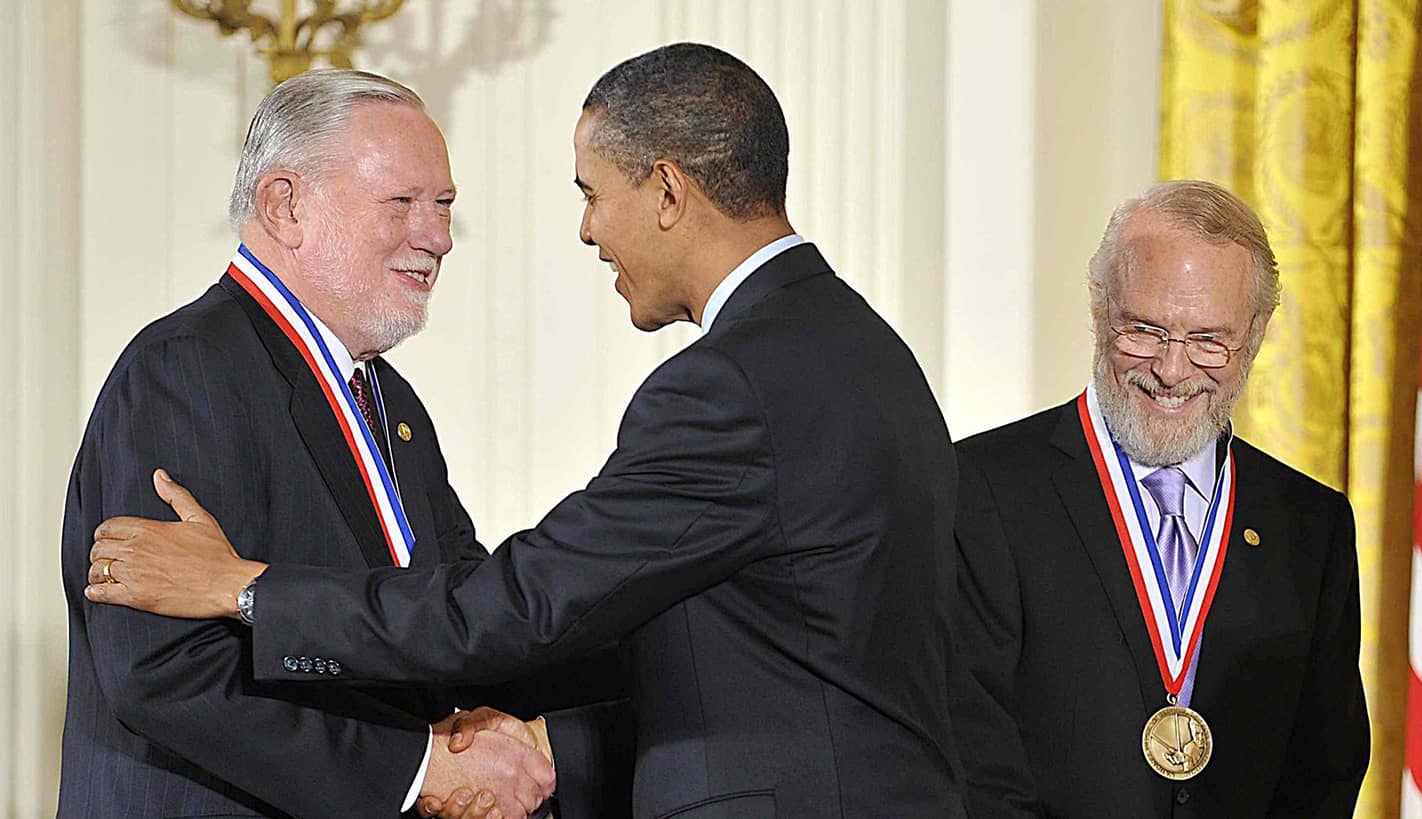 (left - right) Charles Geschke, U.S. President Barack Obama, and John Warnock. (Credit: REUTERS)
Geschke, who was once kidnapped in 1992, was also a recipient of an honorary doctorate of Humane Letters.
Considering his venture as an entrepreneur, leaving Xerox to then founded Adobe was one of his best decision in life.
In 2021, Adobe has a market value of about $250 billion, or around 50 times the value of Xerox.
It was with PostScript, PDF and Flash, that Adobe established the core standards that laid the foundation for desktop publishing, electronic document interchange and interactive web content. And with its flagship product, the Photoshop, Adobe managed to become the leader in the software industry where it is in, with nothing that can come close.
Adobe is a sole fighter, with literally nothing in the competition other than itself.
Geschke died on April 16, 2021, at the age of 81, leaving behind his wife, three children and seven grandchildren.