The owner of the world's largest unattributed and secretive Bitcoin wallet has moved their wallet account worth almost $1 billion to two separate recipients.
The first receiving wallet got 5,000 BTC ($45.8 million), and the second received 96,857 BTC ($887.4 million).
The transfer made to the latter Bitcoin Wallet is considered the second largest until this date, only behind the cold storage wallet owned by cryptocurrency exchange Huobi.
To move a total of 101,857 BTC worth just over $933 million, the mysterious whale paid only $0.48 in associated fees.
The transactions were first noticed and shared by an automated tracking service Bitcoin Block Bot on June 27.
The sending wallet was first funded early in April 2020, through a rather similar transaction magnitude.
Back then, the wallet was holding 0.55% of all existing Bitcoins, making it one of the richest non-exchange Bitcoin addresses. In other words, the sending wallet was speculated to have been owned by clients, and wasn't associated or owned by any exchanges.
At the time, it was the third largest wallet, behind Huobi and Binance, both of which are exchanges.
However, due to the anonymized nature of Bitcoin transactions, the identity of the holder and the recipients remain a mystery.
While funds that belong to exchanges are made up of customer funds, it's unclear whether the wallet was owned by a a single individual, a group of individuals or even an exchange that had yet to declare its affiliation with it.
Some speculated that the sending and receiving wallets could be owned by the same entity
The speculators have also theorized that the wallets may have been owned by large scale investors, such as the Winklevoss twins.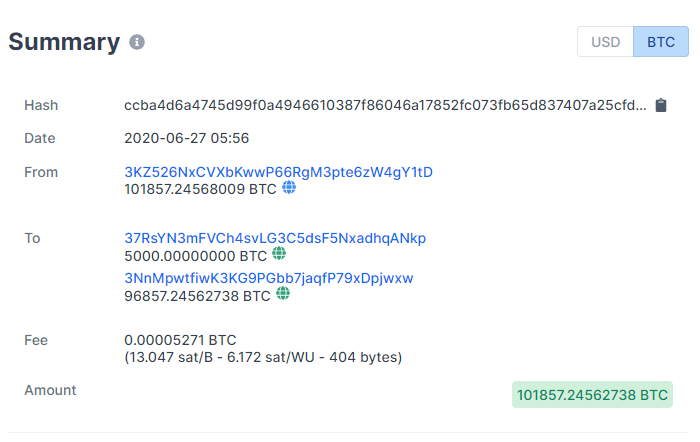 Credit: Blockchain.com
A while later, one Reddit user claimed that the wallet belongs to cryptocurrency exchange BitStamp when it agreed to have the funds in the custody of financial service BitGo.
But when reached, Debra Bar, the Director of Marketing at BitGo, said that for privacy reasons, "we cannot confirm clients or their addresses."
The Redditor cited a tweet from BitStamp co-founder Nejc Kodrič to confirm this.
Then, a more direct confirmation was made by a tweet from Kodrič, who stated that the address of the sending wallet was a cold wallet belonging to the exchange.
With more Bitcoins are mined and the cryptocurrency being traded for transactions, the cryptocurrency world is seeing an increasing number of whales.
These whales that own large amounts of cryptocurrencies, can mobilize their assets as they wish. But at each time, they may disrupt the economy due to their presence often affecting investors' decisions.
Previously, a Bitcoin whale also moved $1 billion worth of Bitcoins back in September 2019, and spent $700 for the transaction fees.