Prince Harry, the Duke of Sussex, is the estranged prince, the estranged brother, and the estranged brother of the next succession to the British throne, after King Charles III.
Harry has lots of reasons to call himself "estranged" because of what he experienced during his life as a prince.
And 'Spare' is his memoir. It's a book where he pour his heart out about what has happened behind the closed doors of the monarch.
There, Harry details his childhood and the profound effect of his mother, Diana, Princess of Wales, her death, as well as his troubled years as a teenager. He also explained how his subsequent deployment to Afghanistan with the British Army gave him an experience he never thought of having, and how his relationship with his brother, Prince William, and his father, King Charles III, and his father's marriage to Camilla Parker Bowles.
In the book, Harry also describes how his marriage to American actress Meghan Markle gave his life back, and is seen as one of the reasons why he took the decision to step back from his royal roles.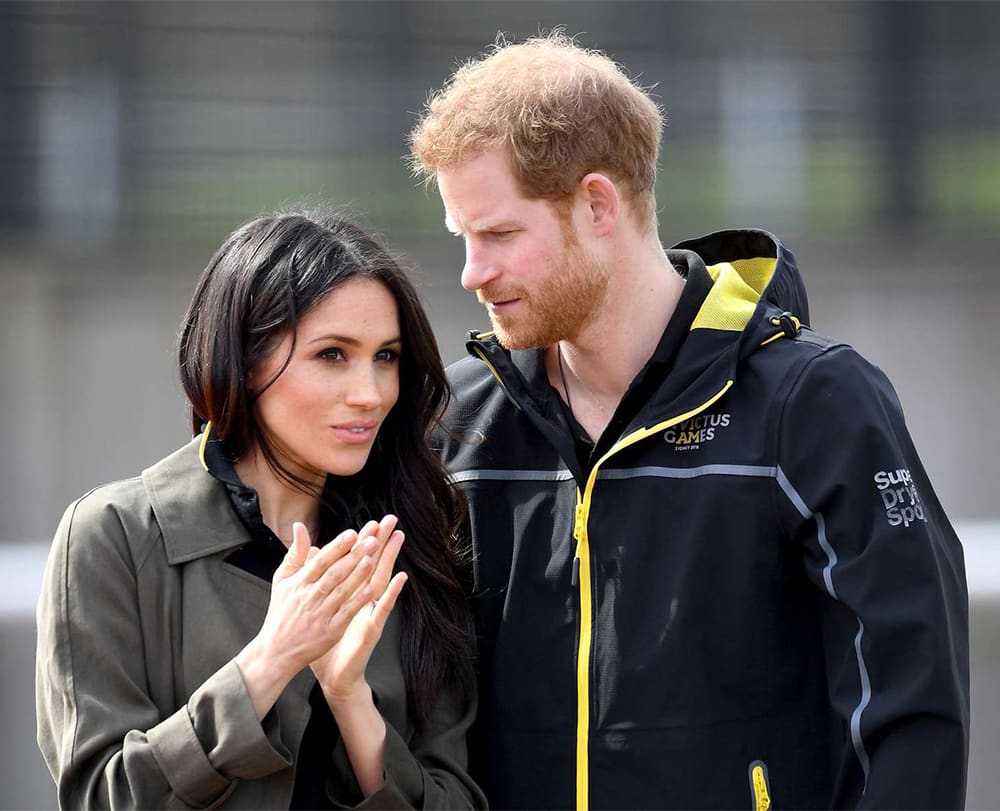 Meghan Markle and Harry.
Spare is highly anticipated, and soon after its release on 10 January 2023, it was quickly sold out.
It received mixed reviews, not because of the way things were written, but because of how Harry's openness were critical, and that he included way too many personal details.
For example, Harry reflects on the day he was born, when his father Charles supposedly told his mother Diana: "Wonderful! Now you've given me an heir and a spare – my work is done." Harry adds that he was seemingly born as a "spare" to William, in case his brother needed an organ transplant or blood transfusion.
He also debunked rumors that he's Princess Diana's former lover Major James Hewitt's son.
"Pa liked telling stories, and this was one of the best in his repertoire," Harry wrote in the book. He said Charles used to joke, "'Who knows if I'm really the Prince of Wales? Who knows if I'm even your real father? Maybe your real father is in Broadmoor, darling boy!'"
Recalling how Charles would "laugh and laugh."
Harry went on to say it was "a remarkably unfunny joke, given the rumor circulating just then that my actual father was one of Mummy's former lovers: Major James Hewitt."
He also admitted that he took cocaine, and at one occasion, also took mushroom at a party at Courteney Cox's house, that made him hallucinate in the bathroom that he talked to the bin and the toilet.
Harry also admitted to losing his virginity in a field behind a busy pub to "an older lady, who loved horse." During sex, the woman treated him "like a young stallion."
And just like some blokes in a bar, the duke has experienced excessive drinking and "tried to pick up fights."
And during his duty in Afghanistan, he stated the he flew on six missions, and killed a total of 25 Taliban members, whom he did not view as "people" but instead as "chess pieces," like pawns, that had been taken off a chess board.
Harry also explained his the relationship between Charles and Camilla, and how Harry and William had "long harbored suspicions about the Other Woman."
Harry likened his first time meeting her to "getting an injection" and added Camilla was "bored", partly because Harry was not Charles's heir, and isn't a threat to her. But regardless, Harry wanted both his father and Camilla to be happy.
And later in the book, he admitted to have had a frostbitten "todger" following his trip to the North Pole, and when he was advised to apply Elizabeth Arden cream to it, the smell of which reminded him of his mother.
In fact, Harry made more than 15 references to his male reproductive organ throughout his memoir.
Read: The Internet Captivated When Netizens Realized 'The Older Woman' Who Took Prince Harry's Virginity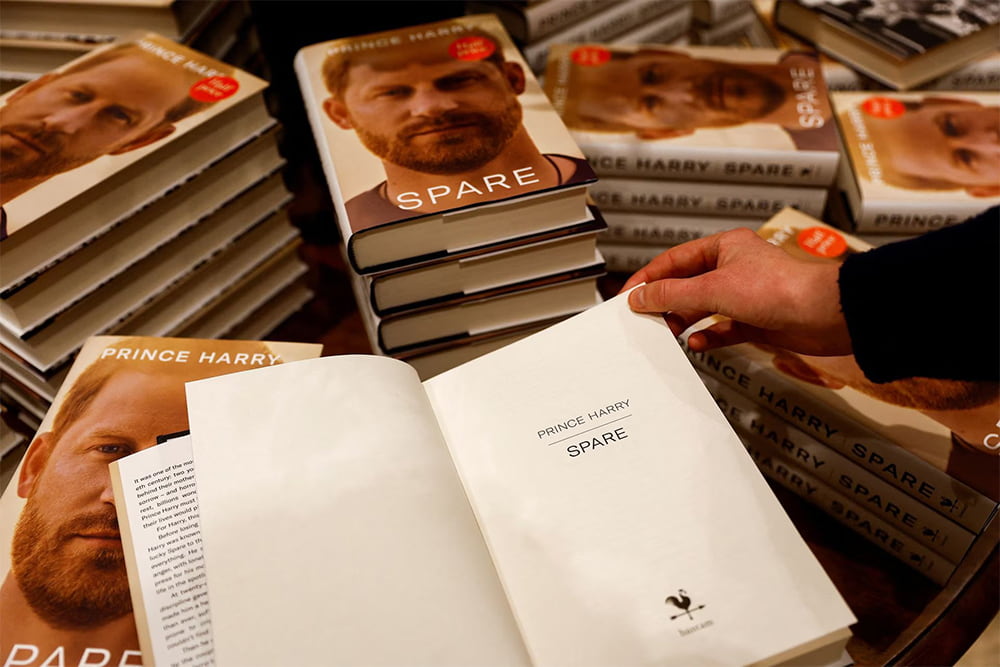 Prince Harry's autobiography 'Spare' displayed at Waterstones bookstore, in London, Britain January 10, 2023. (Credit: REUTERS/Peter Nicholls)
Just like any other books, one chapter can stand out more than the other, and in this case, it's the chapter where Harry described his relationship with Meghan.
One of which, is how Harry regretted using Google to search for Meghan's sex scenes on Suits.
Meghan character in the series had a love relationship with one of the leading characters of the series. And at one of the scenes, filmed at a file room, Meghan's character acknowledged her feelings, and quickly, the two had sex in there.
"I'd witnessed her and a castmate mauling each other in some sort of office or conference room," the Duke of Sussex wrote.
" I didn't need to see such things live."
And another thing about Meghan, is when Catherine, Harry's sister-in-law, had tensions from the very beginning.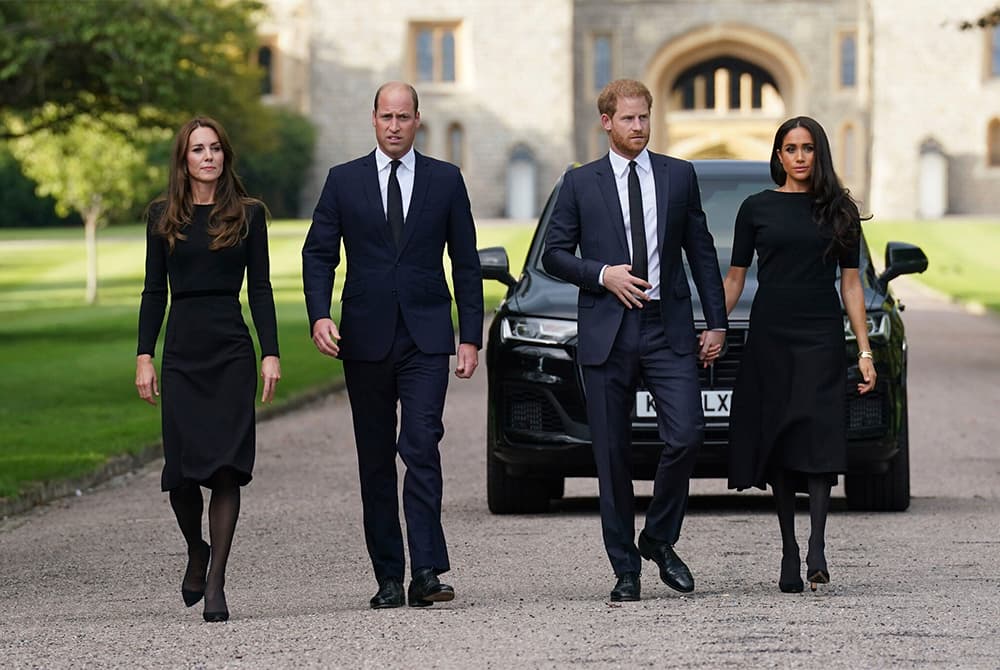 Kate, William, Harry and Meghan. (Credit: Kirsty O'Connor/AP)
At one point, Harry details a confrontation between him and William at Nottingham Cottage in 2019, which Harry claims happened during a visit by his brother who wanted to talk about "the whole rolling catastrophe" of their relationship and struggles with the press.
Harry describes William was "piping hot" by the time he got there, and suddenly confronted him by describing Meghan as "difficult," "rude" and "abrasive."
Harry alleges that William "grabbed me by the collar, ripping my necklace, and he knocked me to the floor. I landed on the dog's bowl, which cracked under my back, the pieces cutting into me."
There is also mentions about how he claims Charles wanted to support him and Meghan, how he didn't expect to lose his state-funded security after stepping back from his royal roles, and how Harry describes William as "my dear brother, my archnemesis."
Then, there is also mentions that Charles told him to come alone on the day of Queen Elizabeth II's death.
Read: The Internet Spreads And Fights Hoaxes Surrounding The Death Of Queen Elizabeth II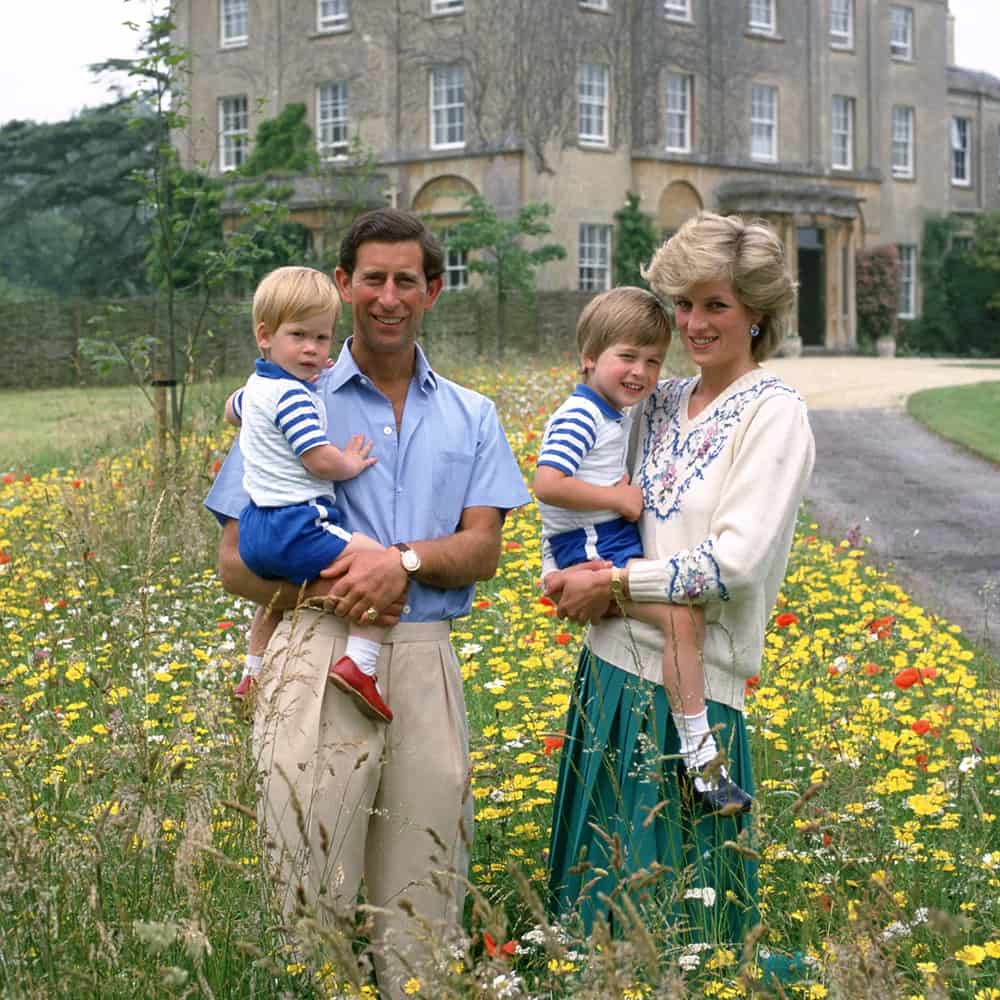 Charles, Diana, William and Harry.
Harry's memoir has uncover many things about the British monarchy, and how their private lives are behind their closed doors.
The thing is, some of the points are debatable, and others are questionable.
For example, in his tell-all autobiography, Spare, Harry said that Meghan purchased a first-class ticket for his father, Thomas Markle, so he could fly from Mexico to the UK, so he could escape concerns about harassment in his adopted homeland.
"We told him, leave Mexico right now: A whole new level of harassment is about to rain down on you, so come to Britain. Now," Harry said. "Air New Zealand, first class, booked and paid for by Meg."
The thing is, Air New Zealand never operated flights between Mexico and the UK.
"We've never had flights between Mexico and the UK. And we only have Business Premier," said an Air New Zealand spokesperson to New Zealand Herald.
Then there is the statement that said Harry killed 25 Talibans.
Harry is sad that parts of the book were leaking way before the book's release, and blamed the media for exaggerating things.
"Without a doubt, the most dangerous lie that they have told is that I somehow boasted about the number of people that I killed in Afghanistan," Harry said.
Harry claimed media outlets had intentionally chosen to "strip away the context" of his account.
"If I heard anyone boasting about that kind of thing, I would be angry. But it's a lie. It's really troubling and very disturbing that they can get away with it... My words are not dangerous - but the spin of my words are very dangerous to my family. That is a choice they've made," he said.
Then there is the statement that said Harry described Meghan's date-night outfit for their first ever date as a black sweatshirt, jeans, and heels outfit. The duke even called it "heart-attack beautiful."
The thing is, as per Meghan's own confession earlier, she actually wore a blue dress on their first date.
There is also one claim where Harry said that on his 13th birthday in 1997, his aunt bought him an Xbox. Xbox only hit the market in 2001.
Then, there is an error, in which he referred King Henry VI who ruled England in the 15th century as his "great-great-great-great-great-great-great-grandfather". The King in fact had no descendent.
Harry also mistakenly named the world's largest diamond as the Koh-i-Noor and referencing 'The Governor General' of Bermuda, when Bermuda actually has a Premier and not a Governor.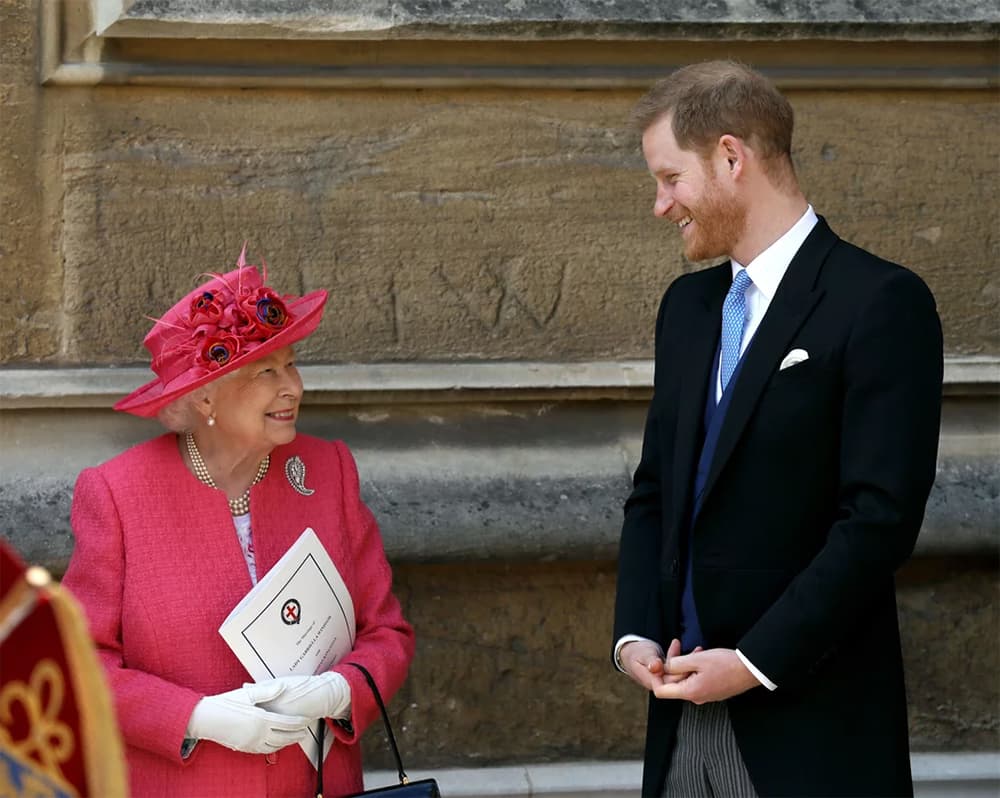 Queen Elizabeth II and Harry, as the two leave after the wedding of Lady Gabriella Windsor and Thomas Kingston at St. George's Chapel in Windsor Castle, near London, UK, in May 18, 2019. (Credit: Steve Parsons/REUTERS)
In the book, he also said he remembered being at school, when Queen Elizabeth The Queen Mother died.
In fact, photos being widely shared by the media suggest that Harry was actually returning from a skiing holiday from Switzerland with William and his father King Charles III.
Regardless, Harry pursue the book because he said the monarchy violated his privacy, and in order to preserve his privacy, Harry needs to violate the monarchy's.
According to New Yorker J.R. Moehringer, Harry's ghostwriter for the book, Spare simply prove "the line between memory and fact is blurry."
"The line between memory and fact is blurry, interpretation and fact," he said.
"There are inadvertent mistakes of those kinds out the wazoo."
He said that people can deal with "intense memories," and "often record the emotion alone, all detail blurred into unreadable smear."
In the end, Harry readily conceded in his book.
"That's the story, anyway. It's appeared in many accounts of my life, as gospel, and I have no idea if it's true," he said.
Mistakes, factual errors, and things like that can happen. And in this case, if the source of everything in the book is Prince Harry's own memories, there is no way to validate or crosscheck and cross-reference every single statement, without third-parties help or witnesses.