Apple has just launched iOS 14 on September 16.
Through the version of the mobile operating system from Apple introduces a number of new features, some of which have been long awaited.
While the operating system version was giving developers headaches when Apple first announced its release date, things are different for users.
According to Mixpanel's report, iOS 14 (iPadOS 14 for iPad devices) has an adoption rate of 30% in the first five days after its official launch. In comparison, iOS 13 which was launched in 2019, only hit 20% uptake after seven days. As for iOS 12 which came in 2018, the adoption rate was even slower than that.
The biggest reason for this fast-paced adoption rate, is because iOS 14 introduces users with massive user-facing change, which include the widget feature as the most popular.
The appeal of widgets, made many people on the web (through social media networks) to boast and showcase their home screen.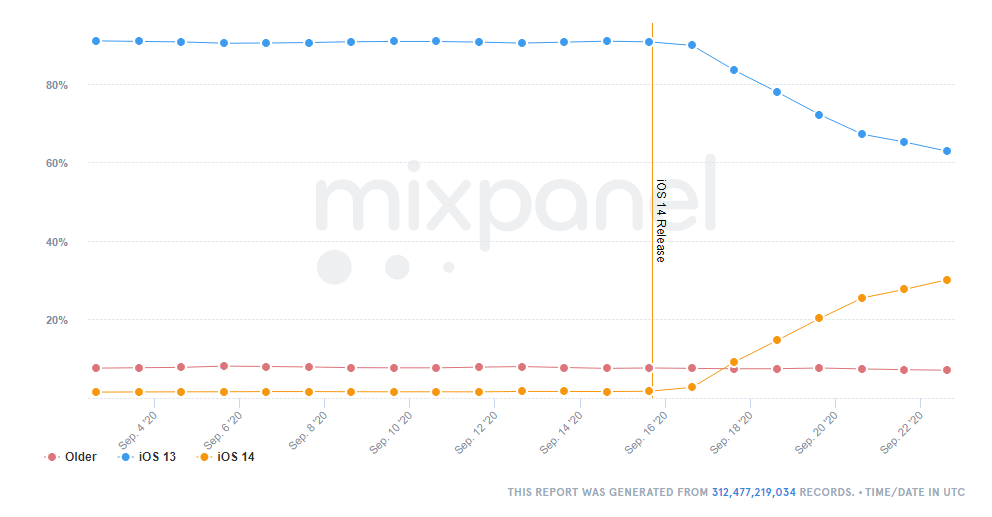 Adoption rate for iOS 14 is faster than previous iOS versions. (Credit: Mixpanel)
iOS 14 introduces widgets that allow users to add customizations more than ever before.
This makes the operating system from Apple to be a bit similar to Android devices, which typically allow users to customize almost everything about the operating system's appearance. Prior to iOS 14, Apple users were forced to have their apps in a grid of boxes.
Using widgets, and a creative workaround using the Apple's Shortcuts app, users can change the look-and-feel of their iPhones.
Users can customize their home screen with new icons, photo boxes, and even creating entire color schemes.
As a result of this, iPhone customization went viral.
One of which, for example, is the "How to make your iOS 14 home screen aesthetic AF" video on TikTok, which quickly garnered more than 20 million views in less than a week.
"I knew I needed to hop on as soon as iOS 14 launched," said Katarina Mogus, who made the video and is the founder of En Flique Creative, a company that advises brands on how to stand out on social media. "I was sitting in my room thinking, you know what, I love this, I'm just going to share it with everyone and teach other people how to make this look really cute as well."
Read: How IOS 14 Widget Feature That Is A Decade Late, Managed To Embarrass Google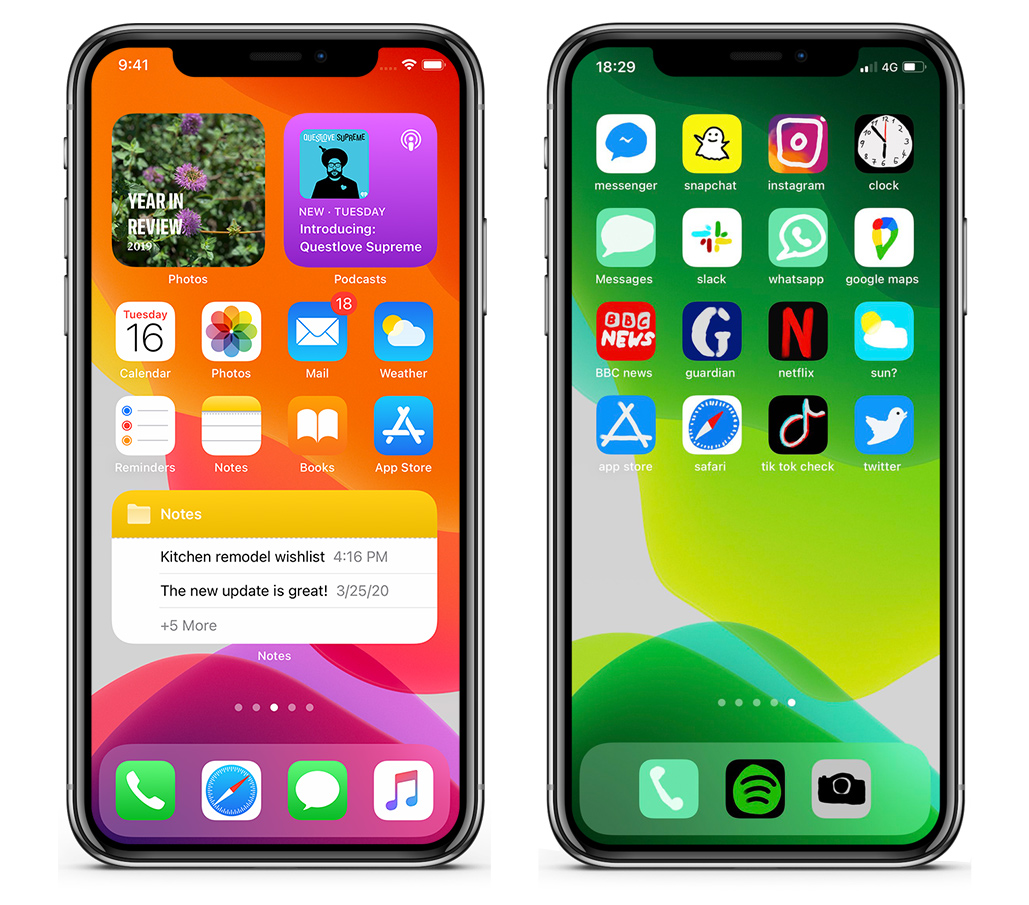 Using widgets (left), and changing the home screen icons using Shortcuts (right) are possible using iOS 14. (Credit: Apple, @Olima / Twitter)
iOS 14 in allowing customization, is creating a craze that is driving more downloads.
Apps that help users customize iPhones with widgets and Shortcuts are also experiencing an increasing number of downloads.
One of which, is Widgetsmith. The app was launched only on September 16, has been downloaded more than 2 million times, according to an estimate from Sensor Tower, an app analytics firm. As a result, the app went straight up on Apple's App Store in the U.S., as one of its top free app.
David Smith, the app's developer, tweeted on Friday that "Widgetsmith went viral on TikTok, which is a phrase I don't even understand but is having a rather robust result on my life right now."
Another iOS 14 feature that is also proven popular, is the ability to set third-party browser and email apps as default.