Social media is indeed a great place to get referrals to your website. But since fake news are plaguing social media, search engine referrals are again topping the chart.
For the first time since 2014, according to Shareaholic, search outpaced social in the percentage of overall traffic it delivered in 2017. According to the analytic platform's data, search referrals are at 34.8 percent of site visits in 2017, compared to social networks which generated 25.6 percent.
A similar trend has been observed by Chartbeat. The analytic platform also saw an increased traffic from Google search to publisher websites up more than 25 percent since the beginning of 2017.
"Google Search has always been the largest referrer to Chartbeat clients," wrote CEO John Saroff, on Chartbeat's blog. "In late August, Chartbeat data scientists noticed that Google Search referrals across our client base were trending up."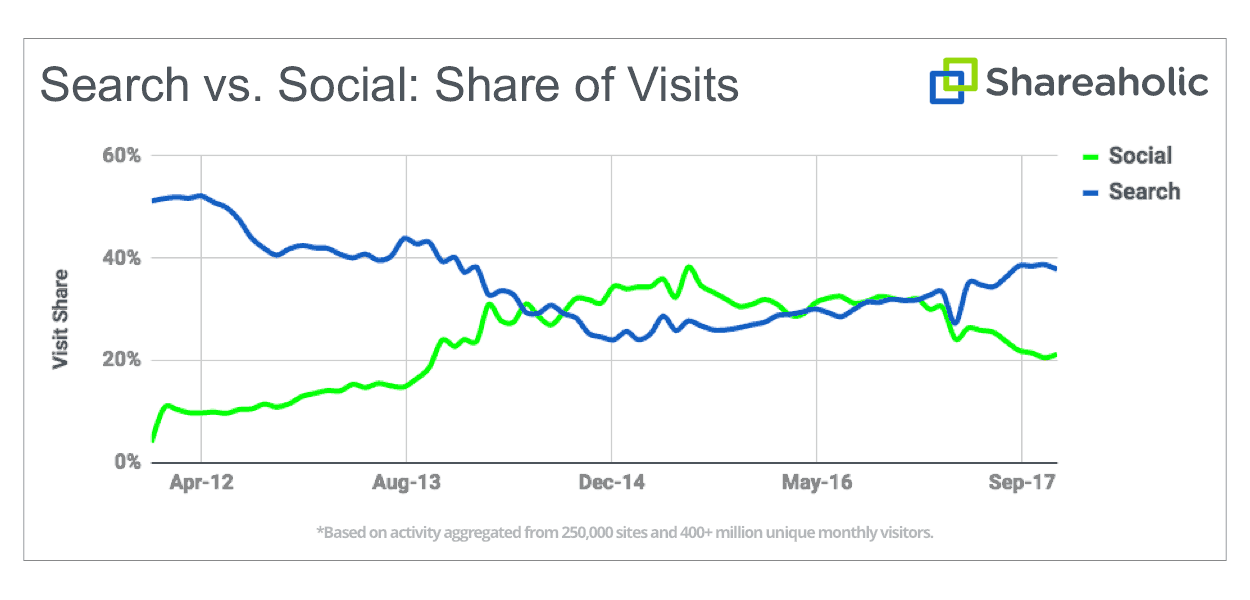 Saroff said that his team initially thought the rise in Google referrals were related worldwide events like 2017's solar eclipse and Hurricane Irma, but traffic continued to rise even after the news headlines around the events subsided.
Instead of falling back into normal patterns, Chartbeat saw Google Search driving a steady increase of traffic to publishers' websites.
Besides fake news that decreased people's trust in clicking on links on social media, this was also caused by more people accessing the internet through mobile devices, making Google capable in boosting the reach of AMP websites.
Shareaholic's findings are based on traffic generated by more than 250,000 mobile and desktop websites that have opted-in to the its publishing tools.
The company said that it has analyzed a variety of traffic sources, including direct traffic, social referrals, organic search and paid search, for websites that ranged in size from a thousand monthly unique visitors to one million, and spread across a wide selection of categories (food, tech, fashion and beauty, marketing, sports, general news, and more).
As the largest search engine on the web, Google tops the overall traffic referrer in 2017, with a 36.82 percent share of visits during the second half of 2017. At the same time, Facebook's dropped 12.7 percent. Even with a huge drop, Facebook remained the top social media for share of visits.
According to Shareholic, changes in Facebook' News Feed algorithms played a huge role here. As it boosted contents from trusted news sources while penalizing clickbait and spammy articles, publishers of any kind experienced drop in Facebook referral traffic.
"After a rocky 2016 US election year, Facebook made a number of major changes to what content they display in the news feed and how they display it."