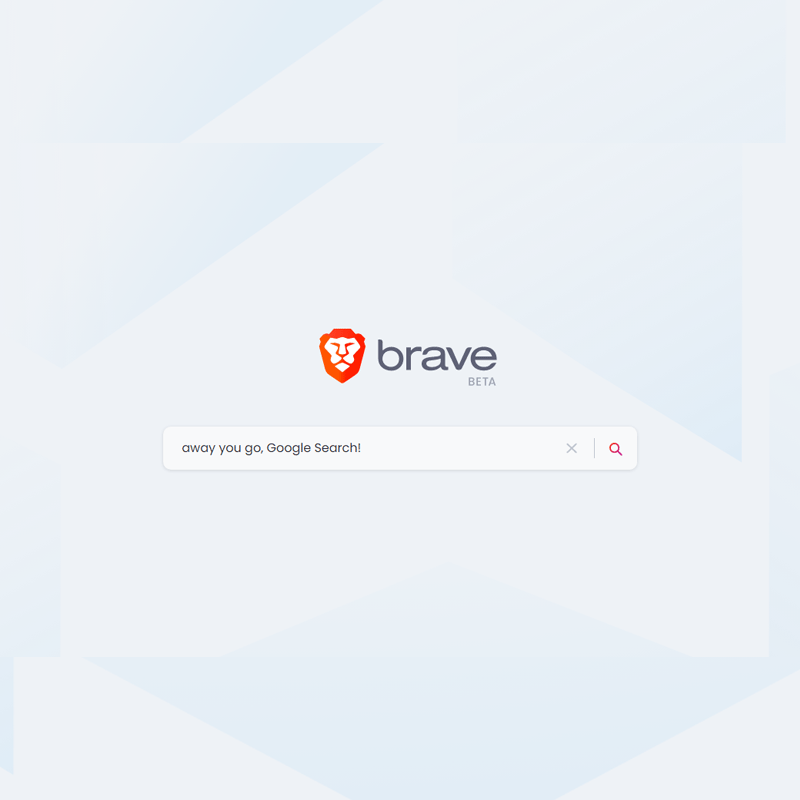 Google Search is the world's largest search engine, and it holds that title because of many reasons.
The search engine is extremely fast, very reliable and extremely capable, ubiquitous, and know-it-all. But among the many advantages Google is having, it lacks one very obvious thing: privacy.
Google is not the search engine that puts privacy at its utmost focus, simply because Google's business model relies on profiling its users for advertisement purposes.
Brave is a privacy-focused browser, and this time, the company behind it is initiating a very bold move.
And that move is ditching Google Search as the browser's default search engine.
In its place, Brave is putting Brave Search, its own search engine.
Initially, Brave is doing this to all new Brave Browser users in the U.S., UK, and Canada. It furthermore replaced the privacy-focused search engine Qwant for its new users from France, and the privacy-focused search engine DuckDuckGo for its new users from Germany.
"Today's Brave desktop browser update (version 1.31), as well as the Brave Android app (version 1.31)* and the Brave iOS app (version 1.32) all automatically offer Brave Search as the default for new users in these five countries, with fully localized versions in non-English geographies," announced Brave in a post.
Brave the company only launched a beta version of the Brave Search search engine in June 2021.
The search engine is an independent search engine, working on its own resources, meaning that it doesn't rely on the indexed databases of larger search engines, like Google or Microsoft.
To develop Brave Search, the company acquired the search engine Tailcat, and the team responsible for it. The deal was made back in March 2021.
As a privacy-focused search engine, Brave Search is designed with the same design principles as Brave Browser: private, user-first, choice, independent, transparent, seamless and open.
Alongside the announcement, Brave Search's Web Discovery Project has also been launched.
Brave describes it as a "a privacy-preserving system for users to anonymously contribute data to improve Brave Search coverage and quality, and its independence and competitiveness against Big Tech alternatives".
The project allows Brave to build Brave Search's index independently.
Web Discovery Project uses the STAR cryptographic protocol to identify URLs that users visit, while preserving privacy, and discarding queries that are too long or suspicious.
"The Web Discovery Project runs automatically while a user is browsing the web, so it requires no effort on the part of contributors. Users who have opted in but no longer wish to participate can opt out at any time," said Brave.
Brave Search, the default search engine on Brave Browser (Credit: Brave)
Brave Search's Web Discovery Project requires users to opt in. (Credit: Brave)
Initially, Brave Search has no ads.
However, the company has plans to introduce ads to the search engine in the future. The company also plans to launch a premium version of Brave Search, which is dedicated to those who wish to use the search engine without ads.
According to Brave, Brave Search has reached "nearly 80 million queries per month" since its official launch in June 2021.
"Our users are pleased with the comprehensive privacy solution that Brave Search provides against Big Tech by being integrated into our browser," said Brendan Eich, CEO and co-founder of Brave.
"As we know from experience in many browsers, the default setting is crucial for adoption, and Brave Search has reached the quality and critical mass needed to become our default search option, and to offer our users a seamless privacy-by-default online experience."
While the browser is defaulting to Brave Search, it does give users a way to switch back to Google, or choose any other available search engine besides Brave Search.
All users need to do, is visit the settings page, and go to the 'Search engine used in the address bar' which defines the search engine that is used.
From there, users can change the default search engine for the browser.